Our luck wouldn't last forever, we knew that, but it's a thought that we had banned to the very back of our heads. Ever since we had arrived in Spain, we had been enjoying magnificent weather. Lots of sun and very often agreeable enough temperatures to spend at least some time of the day without clothes. But once we passed Malaga, we could see that the trees outside were taking weird shapes that could only be caused by strong winds.
We were on our way to Costa Natura, one of Spain's most popular naturist resorts in the southern coastal town Estepona. We had been looking very much forward to this, Costa Natura is one of those empty spots on our map that urgently needed to be filled. Even though we were traveling in January, pretty much the worst period of the year for a nakation in Spain, we couldn't just pass on the opportunity. And we would have to take the weather as it came. An excellent choice, as we would both agree when we left the resort several days later.
How to get to Costa Natura
Estepona is roughly located about halfway between Malaga and Cadiz, in the center of the Costa del Sol. If the name of the town doesn't ring a bell, next door jet set city Marbella probably will. If you're arriving by car, Costa Natura is located close to the AP-7 highway. Coming from the direction of Malaga, you want to get off the highway in Estepona and travel a bit further south on the A-7 to reach the resort. Coming from the south, you can also take the AP-7 north and get off in Estepona, or you can take the coastal A-7 road which passes right at Costa Natura.
The most popular way to visit Costa Natura is by fly & drive. Malaga is home to the main airport of the Costa del Sol with direct connections to pretty much everywhere in Europe. If you're coming from outside of Europe, you will probably have a layover in Madrid or Lisbon. From the airport of Malaga, you can often find cheap car rental deals for the 1-hour drive to Costa Natura.
You can also reach the resort by public transport. Estepona has a bus station that connects to Malaga and several other cities in Andalusia. From Estepona, you can take a local bus that stops right in front of Costa Natura. During the low season, these local buses are not very frequent, so make sure to plan your trip accordingly.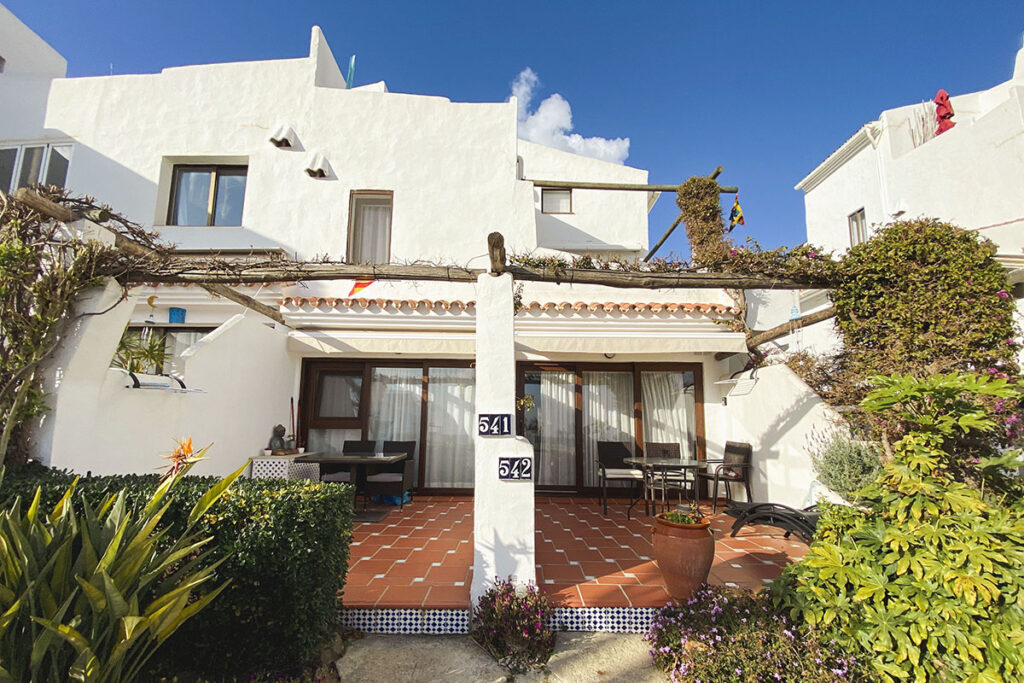 Where to stay at Costa Natura
Costa Natura is an apartment resort, so you won't find any hotel rooms. In fact, it's an urbanization, which is like a closed-off neighborhood. This is a very typical construction form in Spain and we have to say that we can't always appreciate this. Many urbanizations just look very ugly. But not Costa Natura. It has been designed to the example of a typical southern Spanish village. Meaning that it's a maze of small streets and stairs connecting the many different building blocks. All totally white. Just like in our most favorite Spanish towns, we regularly got lost in Costa Natura.
Finding your perfect apartment or studio can be a bit complicated. Some are managed by the general administration, but many privately owned places can just be booked directly. We stayed in
one of those privately owned studios
and we can highly recommend these. They are completely modernized, very comfortable and have great views over the Mediterranean Sea.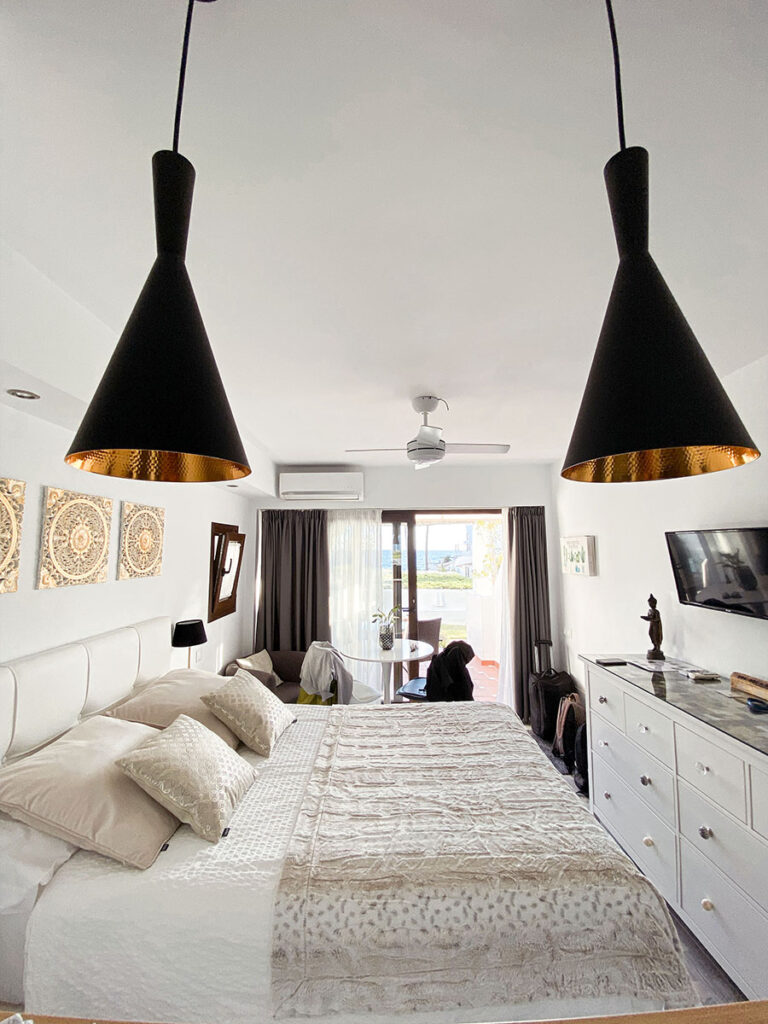 What to do at Costa Natura
There are quite some highlights at Costa Natura, but the most important ones are probably the nude beach and the swimming pool. Because the weather was not on our side, we couldn't really enjoy either of those, but we imagine that as soon as the sun is out these are the places to be.
For us personally, there were a couple of other highlights though. The restaurant, for example. When we think about restaurants at naturist resorts, this one really stands out in terms of food as well as staff. We have no idea how Anita and her team do this, but it seemed like they got to know us way before we got to know them. Do you recognize that feeling of being an appreciated guest at a bar or restaurant? Where the staff doesn't see you as just a customer? That is the exact feeling that we had when we ordered our first glass or wine. And our second. And the ones after.
Another thing we very much appreciated was that there was never a question about whether we could be naked or not. This may sound obvious in a naturist setting, but it definitely is not. Especially in this kind of naturist urbanizations – or naturist villages if you wish – we are often required to put on clothes at one point or another. Even in the
naturist town Vera Playa
there were places where we couldn't be naked. Or worse, where we were never sure. We believe that there's nothing that can ruin a naturist vacation as much as constantly needing to wonder if it's okay that you're naked or not. Well, none of that at Costa Natura. Here we were regularly told that we could be naked wherever and whenever we wanted to.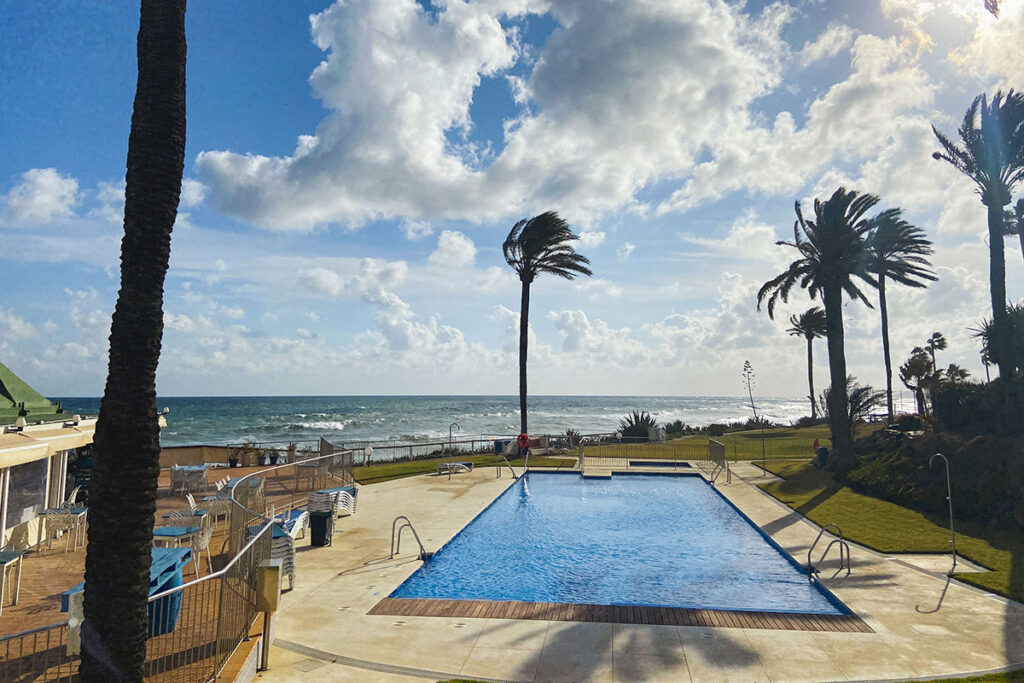 Around Costa Natura
We'd like to blame the weather once more, but that wasn't just the only reason why we barely left Costa Natura. We just really enjoyed hanging out at this place. And we are already quite familiar with Andalucia from our previous travels. If you aren't, you're really up for a treat though. Some of Spain's most famous cities like Malaga, Sevilla, Cordoba, Cadiz, and Granada can easily be visited on a day trip. Then there are the many beaches of the Costa del Sol and the high peaks of the Sierra Nevada mountains. There's really something for everybody.
Andalucia is also the perfect region for food lovers. Gazpacho (cold soup), oxtail, and different types of ham are really from the region. And the coastal side is definitely known for its excellent seafood as well. Granada, on the other hand, is the capital of Spain when it comes to tapa culture and all over Andalucia, you'll find a lot of Arab influences in the cuisine as well. A foodie paradise, that much is sure.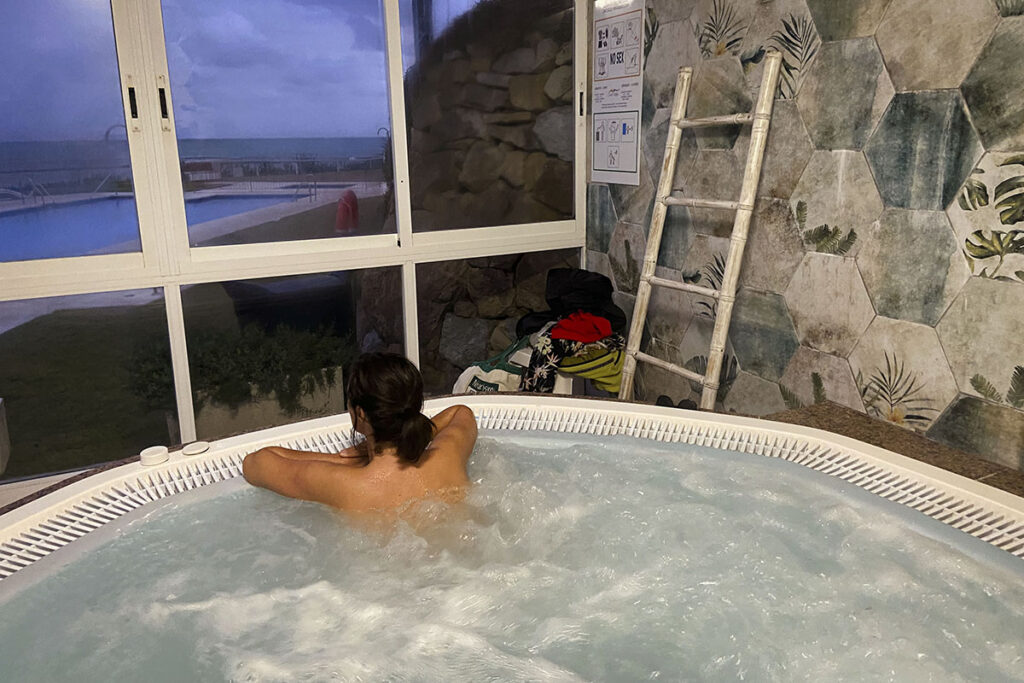 Staff of Costa Natura
It's a bit hard to give our opinion about the staff of Costa Natura. Because how do you define staff? Abdon and Elena, whom we rented the apartment from, can hardly be called staff. They are just owners at Costa Natura. It's also hard to call the restaurant crew staff because in the couple of days that we were there they've become much more to us than just the people who served our food. We did exchange some friendly greetings with the people watering the gardens and received some friendly greetings back. So as far as we're concerned, the staff was great!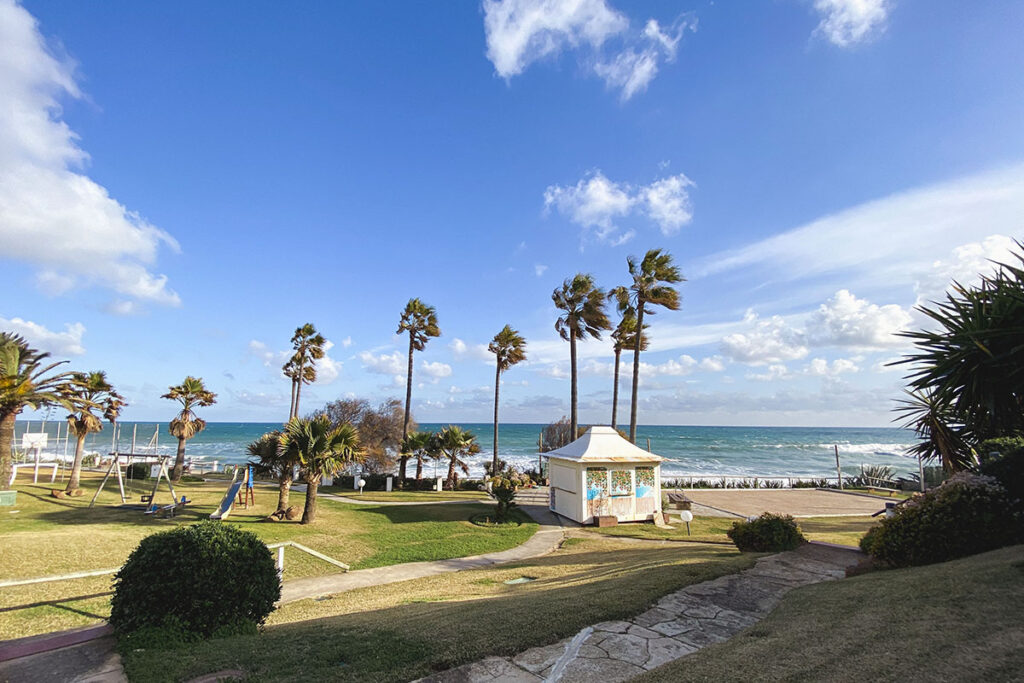 Guests at Costa Natura
When we talked earlier about the things we enjoyed the most at Costa Natura, we left out one specific thing. Because we wanted to talk about it in this part of the review. It's the atmosphere. Given the weather conditions, we would have understood that not everyone was in their best mood. But if that was the case, we barely noticed anything about it. Everyone was just as friendly as if it was a warm summer evening.
What probably helped a lot is the long-standing tradition of the 5 o'clock aperitif. Around this time, many of the guests and residents get to the bar for a drink and a chat, which creates a very nice social atmosphere and the ideal opportunity to meet some of the other naturists.
During our stay, there was an interesting mix of nationalities. The most common were Dutch and German, but what we found particularly interesting was that there were quite some guests from the Nordic countries. We have always wondered where they take refuge during the cold and dark winter months in Sweden and Norway. Apparently, it's at Costa Natura.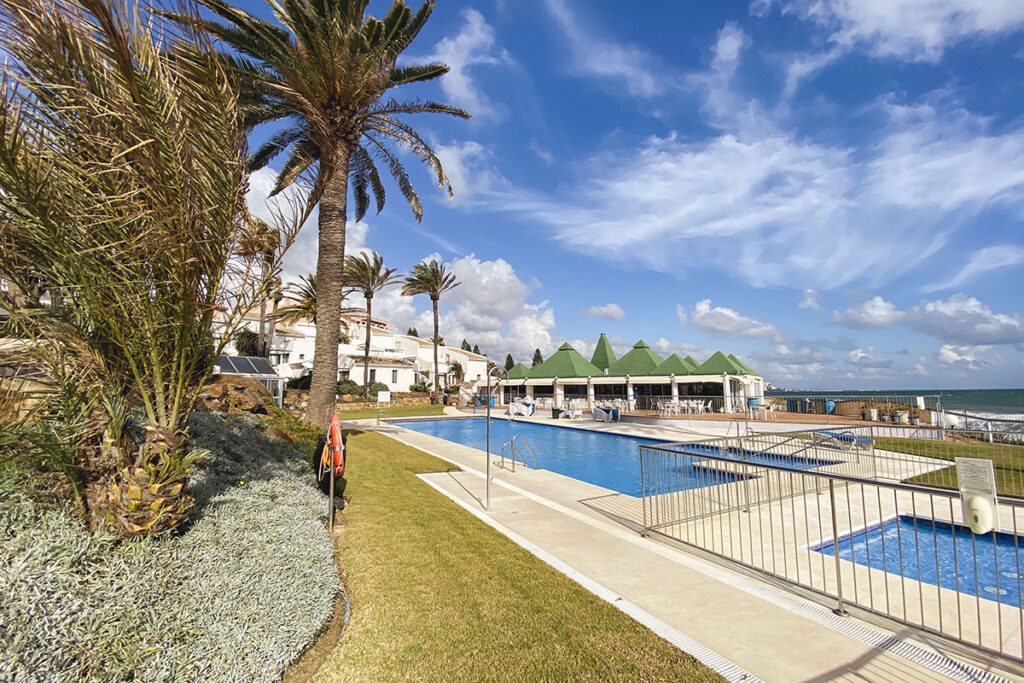 Reservations & Contact
As mentioned before, there are a lot of privately owned apartments for rent at Costa Natura and we can't give you an overview of all the options, nor vouch for their quality. But we can recommend to you the studio we stayed at from Costa Natura Studios.
You can reach them via:
Languages: English and Spanish are fluently spoken.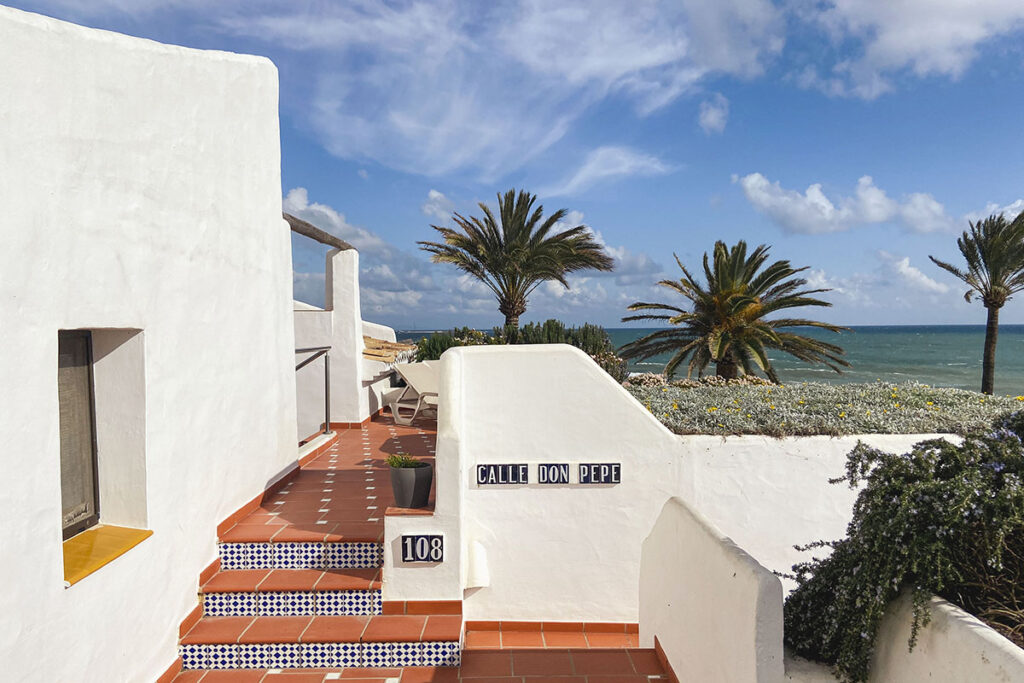 Summary
We're glad that we can finally check off Costa Natura from our "to go" list, but we very well realize that we haven't seen the resort at its full potential. And this only means one thing: That we will have to return another time. And we're sure that if we already loved the place in winter, we will appreciate it even more so in warm weather.
---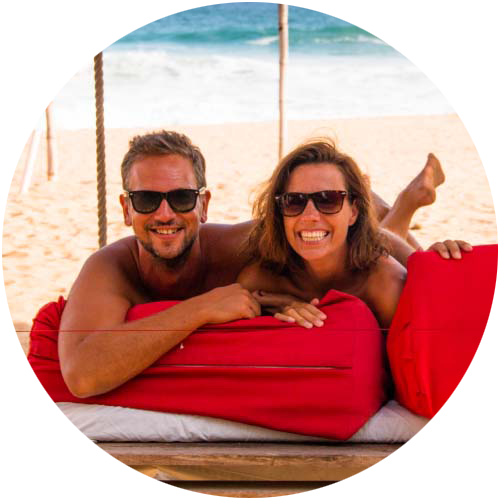 Support Naked Wanderings
Do you like what we do for naturism and naturists? Did we make you laugh or cry? Did we help you find the information you were looking for? Then definitely join our Patreon community!
---