The summer months have finally arrived in the northern hemisphere and many European naturists are looking forward to their well-deserved nakation. Maybe you have already arrived at some tropical destination. Or maybe you're reading this blog post while stuck in one of those infamous traffic jams on the "Route du Soleil".
A question we really get a lot is which naturist campsite in France would be best to visit as a family. Because travelling with children asks for a little more research. There have to be at least some facilities for them, like a playground. Maybe some activities as well. And preferably there are other children with whom they can make friends and not just a bunch of adults.
As we have visited quite a lot of naturist campsites in France already, here are the ones that we would specifically recommend.
View this post on Instagram
But first…
Before we start with a list, there are a couple of things we feel that we need to mention. One is that European families tend to travel between the 2nd week of Juli and the 3rd week of August. So if your kids are the social kind that loves to make new friends, this is the period when you want to travel as well. Unfortunately, this is also the most expensive period.
Secondly, this list is probably far from complete. There are more than 150 naturist campsites in France and pretty much all of them happily welcome families. The campsites that follow are those where we've personally noticed that they are popular among families.
And lastly, if you have more questions about family naturism, maybe you also want to read
this blog post
and
these tips
.
CHM is one of the best-known naturist campsites in France and also one of the largest ones. In the heat of the high season, CHM has more than 10 000 visitors per day. That is A LOT of naturists. Obviously, when there are so many people, there will also be many families. But that's not the only reason why we added CHM to this list. The campsite is also known to value family naturism very much and this reflects in their magazine, their signs, their facilities and activities.
View this post on Instagram
Bélézy is said to have the largest naturist swimming pool in France, and that is not even their only swimming pool. There's also one specific for water sports and one for very young children. Other than that, Bélézy has a huge list of daily activities and many of those are focused on children and teenagers. Your kids will never have a dull moment at Bélézy.
One reason why some naturist campsites fail to attract young families is that they just don't know how to build an environment that is enjoyable for kids. Well, none of that at Le Couderc, because this campsite is being run by a large family of several generations, including one that is still in diapers (at least they still were when we visited a couple of years ago). As all generations can have their say, this campsite can be enjoyed like a board game, from 1 to 99.
Most kids love water and a couple of cool slides obviously add to the experience. For many years, Les Lauzons has been a top destination for naturist families and many come year after year. Add a number of activities to the list and a large domain to explore, and you know that you have a good recipe for a successful naturist vacation.
When it comes to family naturism in Corsica, Bagheera is definitely at the top. The huge nude beach definitely has something to do with that, as well as the variety of activities. Next to the playground, there are several activities for the younger ones and fun sports like kayaking or paddle boarding for teenagers (and their parents).
View this post on Instagram
Le Sérignan Plage campsite consists of 2 parts: Sérignan Plage and Sérignan Plage Nature. The latter is the naturist part. As guests of the naturist part get access to the textile part (but not vice versa), this creates double the amount of facilities for your kids. The loose clothing rules also seem to work well to the campsite's advantage when it comes to teenagers. It's totally fine if they want to wear a sarong or clothes, only in the water facilities do they have to be naked.
Honestly, we didn't enjoy our stay at Castillon de Provence all that much. It was probably a combination of circumstances: There was a heat wave and we had no shade around our tent, it was COVID, and there was lots of loud music when we tried to sleep (due to the heat wave there were very few hours when the temperature in our tent was agreeable). Anyway, not a top experience. But we do remember how many teenagers we saw at Castillon de Provence. Until today, we haven't figured out why that is, but there must be something in the air.
Fun naturist campsites for families don't always have to be those that overload your kids with things to do. A good example is L'Eglantière. They do have daily activities for children and families, but just like the rest of the campsite, most of these are about nature and natural living. L'Eglantière also has an abundance of space and forest where children can hang out away from their parents.
View this post on Instagram
Here's yet another one of the most popular family naturist resorts in France. La Sablière is like a big amusement park with pools, playgrounds, and activities. By the end of your vacation, your kids probably still haven't done half of everything you can do at this campsite. One downside though is that La Sablière is located on a steep slope and that some guests take their cars to drive up and down. And they often don't stick to the 10 kmph maximum allowed speed, which can be a bit dangerous for free-roaming kids.
On the other side of the river of La Sablière, you'll find another campsite that's popular among naturist families. Unlike its neighbour, La Genèse is not built on a slope, but completely on the river banks. There are plenty of activities for children and youth, but the most interesting part is the river. Because at most parts it's not more than ankle-deep, it's actually pretty safe even for young kids. And the older ones will quickly find the deeper jumping spots.
But lastly…
There's one more thing we would like to mention before we leave you. As we don't have kids of our own, all of the above info is based on what we've seen, but not on what we've experienced. If you are a naturist family, we would love to hear in the comments what your favourite campsites are and what your requirements are for a great family naturist holiday.
---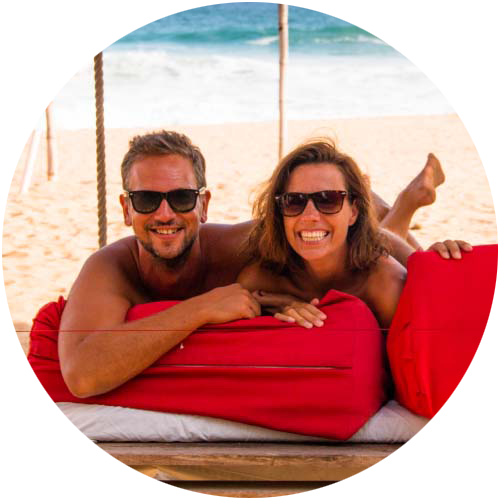 Support Naked Wanderings
Do you like what we do for naturism and naturists? Did we make you laugh or cry? Did we help you find the information you were looking for? Then definitely join our Patreon community!
---