One of the things that we were really looking forward to on our
Big Nude Tour de France
was spending some time in the Provence region. It's often said that this part of France contains everything that the country has to offer. Excellent landscapes, delicious food, top-class rosé wines, and great weather. But that's not what attracted us. The region is also home to quite a large number of naturist campsites. And if there's one thing we love more than French cheese and wine, it's camping without clothes.
The Provence can roughly be divided into 3 important regions: The coastal region, Le Cote d'Azur, also called the French Rivièra. The mountain region, the high Alps which border with
Italy
. And the lower Provence where the lavender and sunflower fields are the most typical.
The coastal region doesn't have any naturist campsites, but the other regions definitely do. In this blog post, we'll focus on the fresh air and pine forests of the French Alps.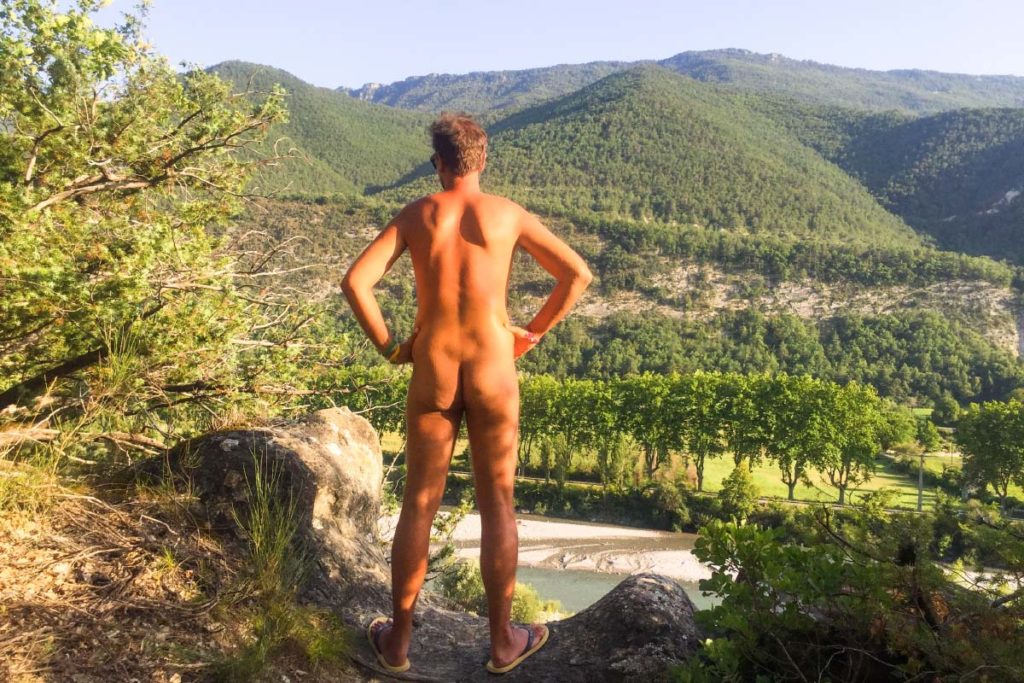 Splendid landscapes at Origan Village
If amazing landscapes, high mountains, and impressive rock formations are your thing, you'll definitely love the French Alps. Our ride from the coastal city Nice towards naturist campsite Origan Village was a sequence of "ooooh" and "woooooow". Also, the campsite is nothing less than impressive. Located in a small valley between high cliffs, you feel as if you're far away from the outside world. Even though the town is just around the corner.
Origan Village is just a big chunk of mountains and nature. It's camping in the wild, but with a decent amount of comfort. Their large swimming pool is excellent to cool down during the hot days (even though you're in the mountains, it does get pretty hot here) and the bar/restaurant up on the hill provides amazing views over the pool and the campsite down below. The paths on the campsite can be steep, so even the walk from our tent to the bar felt like a hike. But there's much better hiking to do. Lots of them nude. We loved walking down to the Var river, via a path that ended up at a secluded spot where we could skinny dip. We could see the road on the other side, but it's unlikely that the people over there could see us.
✅ Why go: To camp in an amazing mountain landscape.
❌ Why not go: If you don't like hiking or steep paths.
➡️ Read more on the Origan Village Website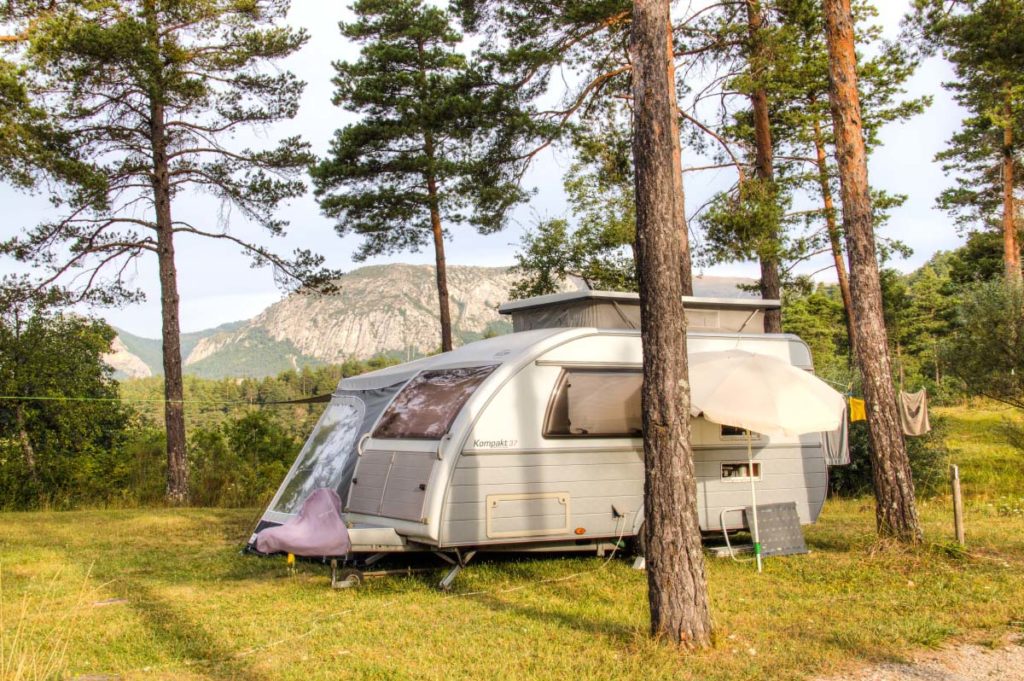 Into the wild at Le Haut Chandelalar
Now and then we just discover a great naturist place by accident. That's exactly what happened with Le Haut Chandelalar. We couldn't find much about the place during most of our research, just now and then we saw the name pop up. Curious as we are, we had to check it out. What we found made us happy and sad. Happy, because we had just found one of the most amazing natural campsites that we had ever seen. Sad, because their season was going all but well. The combination of COVID and their lack of advertising had brought only a few guests for the summer.
So here's a shout-out. If you want to visit a naturist campsite which is completely in nature (we're talking about 80 hectares of forest and 30 kilometers to the nearest supermarket), you just HAVE to visit Le Haut Chandelalar. It feels like camping in the woods, except that you do get access to warm showers, a beautiful swimming pool, and a restaurant. Also here, the views from the campsite are just spectacular. There's lots of space for nude hiking, but most of all, you want to enjoy the silence and the sounds of nature.
✅ Why go: if you like to camp in complete peace and quiet and great nature
❌ Why not go: If you're looking for a party
➡️ Read more on the Le Haut Chandelalar Website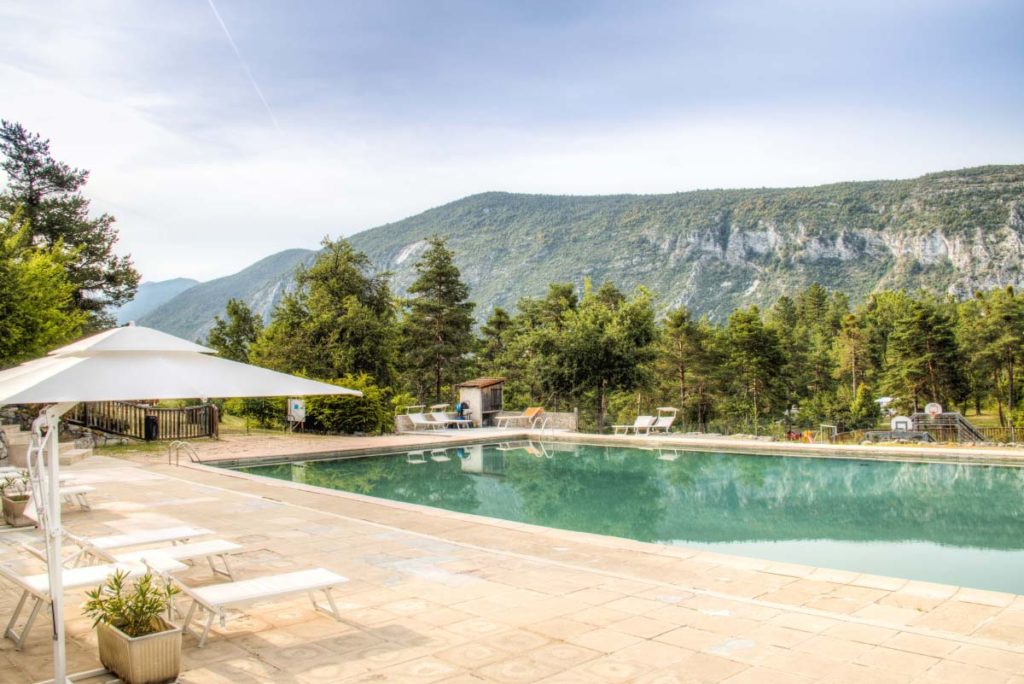 Party hard at Castillon de Provence
After the quietness at Le Haut Chandelalar, we found the complete opposite at our next stop: Castillon de Provence. We have to admit, we weren't big fans of the place from the first minute. None of the campground pitches that we could choose from (in fact, none of the pitches at all) provided shade. Having arrived in the middle of a heatwave, this was not the kind of news that we were hoping for. What did surprise us was that the campsite was pretty much running at full capacity.
Naturists from the Netherlands are definitely the preferred guest at Castillon de Provence, something we quickly noticed because most of the staff speak much better Dutch than French. In the evening, the campsite band started playing Dutch songs. This quickly turned into a big party until the wee hours. If it wasn't that we were trying to maintain physical distancing because of COVID during this trip, we probably would have had a drunk night with a lot of fun and new friends. Now, however, we were mostly annoyed by the loud music, and by knowing that around 7 AM the sun would be chasing us out of our tent.
✅ Why go: if you're looking for a big Dutch party
❌ Why not go: If you're looking for peace, tranquility, and shade.
➡️ Read more on the Castillon de Provence Website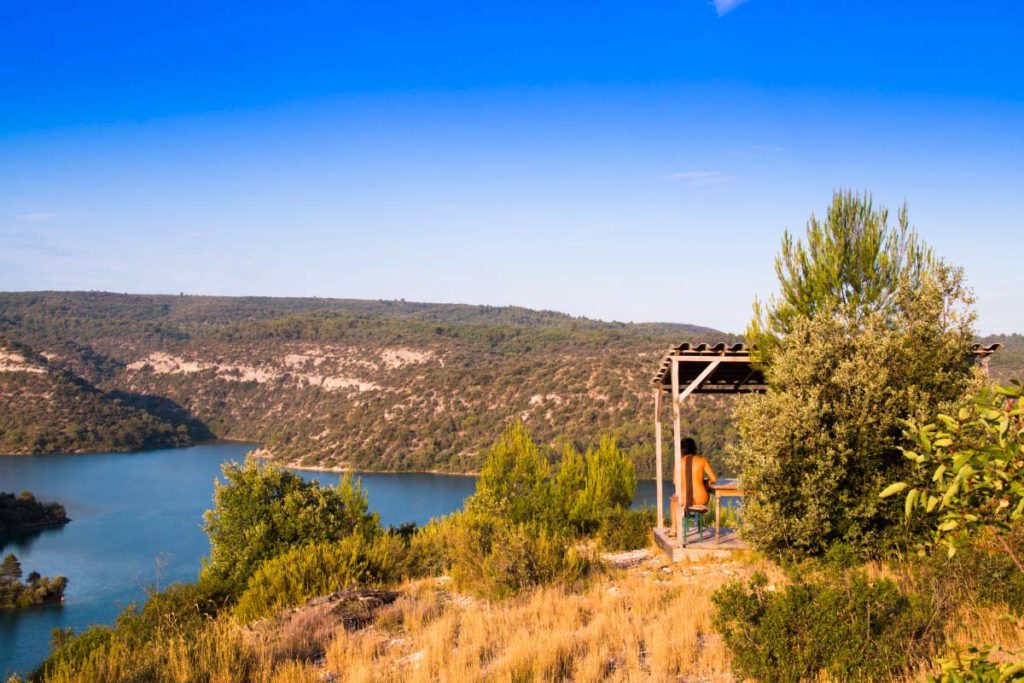 The big lakes at Verdon Provence
Naturist campsite Verdon Provence wasn't part of our
camping trip through France
of this year, but we have been there on our
French road trip
last year and had enjoyed the place so much that it's definitely worth another mention. Also here, being naked in nature has never been so amazing. The young owner Melanie has just started this campsite a couple of years ago, and it's quickly becoming one of the most popular ones in the region.
The big attraction at campsite Verdon Provence is that it's located right inside the Verdon Regional Park, one of Europe's largest canyons. From the campsite, you get amazing views over the area and a short hike gives direct access to one of the lakes. The campsite has many short and longer hiking trails that you can easily walk in the buff.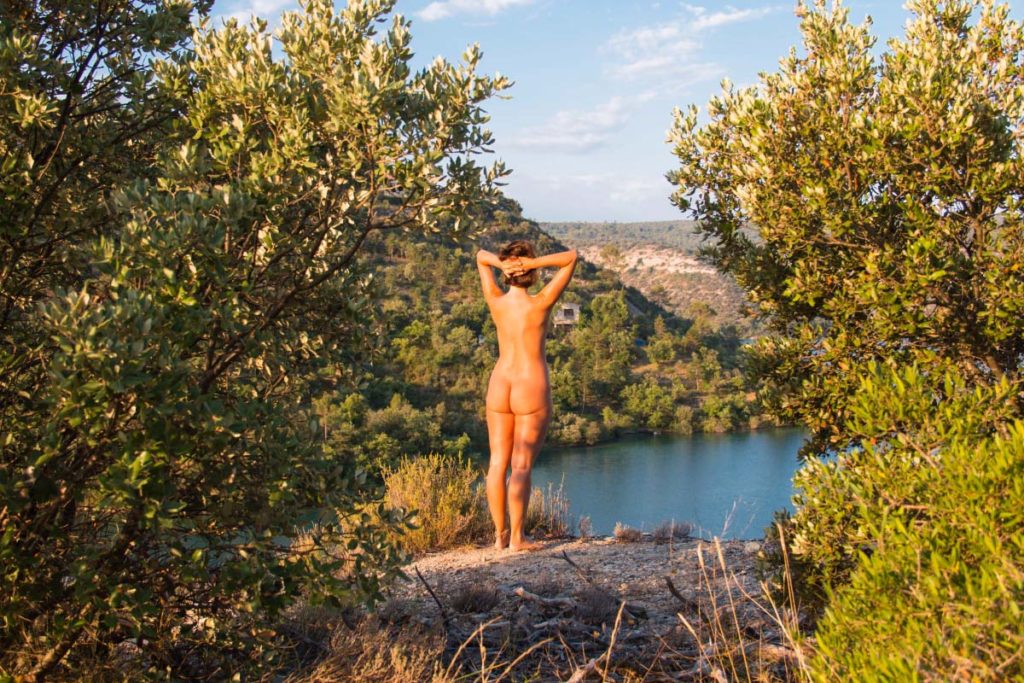 Summary
We always say that nature can also be found in small things. A park, a secluded piece of beach, or a meadow for example. But if you want impressive nature and you want to explore it without clothes, you definitely want to visit one of the above-mentioned campsites. Or preferably all of them.
---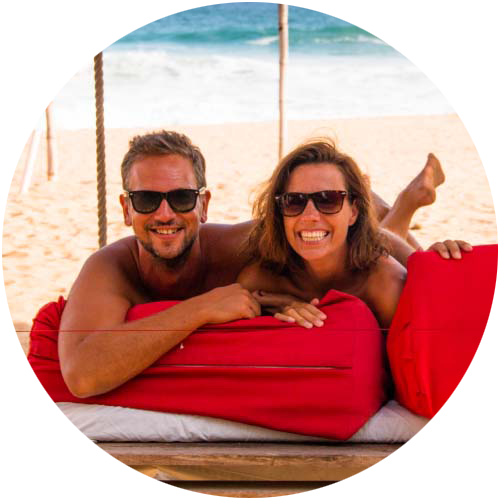 Support Naked Wanderings
Do you like what we do for naturism and naturists? Did we make you laugh or cry? Did we help you find the information you were looking for? Then definitely join our Patreon community!
---