For almost 6 years, we have been publishing at least one blog post a week and a question we regularly get is where our inspiration keeps coming from. The answer is simple: From you. From the people we meet online and offline. From long talks and intriguing social media conversations. One of the platforms that never fails to inspire us is Reddit. Like this recent post about
what people see as the biggest problem within nudism
.
In itself, it's quite a simple question. But the 85 comments (at the time of writing) do give some very interesting insights into what naturists and nudists are struggling with these days. In this blog post, we'll talk about the most recurring issues as well as the ones that we personally find particularly interesting.
View this post on Instagram
Gated environments
Nudism still happens a lot behind high gates, complete with gatekeepers who may ask for membership cards, proof of identity, and in rare cases even do background checks. It's a way of keeping nudist places secure, but it's also daunting for first-time visitors.
We remember going to a naturist campsite in Austria. We had found the address on the internet and just showed up in front of a large gate in the woods. We rang the bell. Several minutes later, an elderly man opened the gate just far enough to stick his head out. In basic German, we asked whether this was a naturist campsite. He replied "Yes". We asked whether we could camp there, and he just closed the gate again. We looked at each other, thought that this probably meant no and walked back to the car. When we were ready to turn around in search of another place to camp, the gate opened again and another man came over to ask questions. Whether we had been to naturist campsites before, if we had any membership cards, etc. Eventually, we were allowed in. But we can't say that we felt really welcome.
Another problem with gated environments is that they create some kind of mystery. On one hand, we like to shout that nudism is normal and that we're not doing anything wrong. But on the other hand, we keep hiding from the outside world. This obviously raises questions and is often a source of rumours.
View this post on Instagram
Nudism is disappearing
Nudist clubs fail to attract younger members, which seems to turn them into naked retirement homes. The members who pass away are not replaced by new members, and eventually, the club has to close its doors. We've seen this happen with our own eyes, and it's easy to conclude that there is less and less interest in nudism.
We've also seen something else happening though. Back in the eighties, which are often considered the heydays of nudism, there were the "nudist camps" and "nude beaches". These were spread over a handful of countries in Europe, North America, and Oceania. Today, you can find nudist resorts in many different forms. The campsites are still the most popular, but there are also nudist bed and breakfasts, hotels, guesthouses, all-inclusive resorts, and cruises. And lately, you can also notice an uprise of nudist events, that don't always happen inside nudist resorts.
The geography of nudism is changing as well. During the last decades, nudist organisations have been popping up in
many Latin American countries
, Asia, and South Africa. There are specific nudist groups for young nudists, Christian nudists, black nudists,… So we don't think that we can say that nudism is disappearing. Personally, we think that it's evolving and that the clubs that fail to attract new members are actually failing/refusing to join the evolution.
View this post on Instagram
Nudism is perceived as sexual
This has been seen as a huge issue of nudism for many many years. That's not so strange. For centuries, there has been no such thing as recreational social nudity. When you were naked with other people, it was either for practical reasons (like communal showers) or to have sex. As nobody will drive for hours and pay an entrance fee just to have a shower, the conclusion was that nudist resorts must have something to do with sex.
There are other factors like the before mentioned high gates to keep curious eyes away. Or the uprise of sex clubs and swingers clubs where people were also naked together. It's just a lot easier to make the link with sex, which has already been programmed in people's minds than to try to understand the totally new concept of non-sexual social nudity.
Personally, we think that this just needs time. We have to remember that naturism as we know it only exists for a century and that it takes generations to adopt a new concept. There was a time when being gay was perceived as a kinky fetish or a mental disease, just because it was impossible for heteros to understand the love between two people of the same gender. Similarly, it's still often impossible for people who only get naked to have sex to understand that you can also be naked with others without feeling the need to jump on everything that moves.
View this post on Instagram
Nudism attracts people with the wrong intentions
This problem is partially related to the previous one. If you think that nudism is about having sex in public or swapping partners, and that is something you would like to experience as well, you go to the nudist club (and end up disappointed or being kicked out).
Then there are voyeurs and exhibitionists, who get aroused by watching naked people or by being seen naked. For them, nudist places are obviously just a big playground. And there is the issue of sex on the beach. This is as illegal on nude beaches as it is on any other beach, but nude beaches do seem to attract more of this. We don't know the exact reasons, but we think that these people often see a visit to the nude beach as foreplay. Another reason might be that at a nude beach, you can't get caught with your pants down. You actually need to get caught while having intercourse in order to break the law.
Honestly, we think that voyeurism and exhibitionism will keep existing forever, but that we, nudists, will get better at handling them. Think about this: There are millions of people who have a foot fetish. They get sexually aroused by looking at your bare feet. Has this thought ever stopped you from wearing flip-flops? As nudists get more comfortable with their own nudity, we think that they will start to care less about the intentions of others.
View this post on Instagram
Nudist extremism
This is also one that we have unfortunately experienced with our own eyes. There was this nudist couple who invited a couple of textile friends to their mobile home at the nudist resort. These textile friends knew about the nude-obligatory policy at the resort and were interested in giving nudism a try. But they wanted to take it slow and not get naked from the first minute. They had barely emptied the car when some naked guy started shouting "Hey! This is a nudist resort! You have to be naked here! Take off those clothes!".
They did not take off their clothes. Instead, they packed the car again and drove off. It's likely that they will never try nudism again. We call this type of nudist the "nudist police". Although they are not staff members, they feel like it's their duty to make sure that everyone follows the rules to the letter.
Other types of nudist extremists are those who think that 10°C is still a comfortable temperature to be naked and that everyone else should think this as well, those who think that more years of being a nudist gives them a higher rank, and those who think that they know more about nudism than others. Shortly summarised, while equality is a very important value in nudism, nudist extremists like to believe that they are better nudists than others.
View this post on Instagram
It's a secret
We personally believe that this is indeed still a very big problem in nudism: We keep nudism a secret. We go to nudist places, have an amazing time, and then we tell nobody about it. Not because we don't want to share this great experience with anyone else, but because we're afraid of the comments. We think that nobody will understand.
It's definitely true that there are some stigmas around nudism, but we think that not openly talking about nudism actually feeds these stigmas. There are some horror stories about how people lost their job when their boss found out that they were nudists or people who were disgraced by their families just because of their naked pastime. But we believe that those cases are fewer than most nudists think.
When our story
suddenly got published in newspapers around the world
, literally everyone we knew learned that we are nudists. And we can tell you, the negative responses were little to none. Some of our friends had questions, some felt uncomfortable talking about it, and some made jokes, but nobody treated us differently just because we like to spend some of our time without clothes.
View this post on Instagram
Nudist influencers
Someone replied: "I think the biggest problem with nudism are the ones who get the most attention. They are the ones dropping nudes on social media just to garner followers and likes.". In other words: nudist influencers. Obviously, this caught our attention because it felt really personal. Especially because later in the comment, this person talks about "The world travelers who have the ability to be nude in accepting exotic locations which also changes nudism from a nudist lifestyle to a nudist traveling lifestyle."
This person's point is that we picture nudism as something exotic. In our pictures and videos, there are always smiles, always great weather, and always beautiful locations. And this does kinda marginalize the everyday nudist who just goes to the local club or practices nudism at home.
We're not that pretentious to think that this comment was only about us (or about us at all), but our personal opinion is that pictures with a big WOW factor just attract more interest than the typical "naked morning coffee in my kitchen" shots. It's true that our pictures probably inspire people more to try nudism in an exotic location than at home, but at least they'll try it. At least they'll take the first step. And they'll quickly learn for themselves that a beach in Jamaica is not the only place where being naked is fun.
View this post on Instagram
The lack of diversity
Another stigma of nudism is the "old white naked dude". This is basically a summary of 3 issues within nudism: That it is male-dominant, white-dominant, and something for the elder generations. And there is definitely some truth in this idea. Let's look at some possible reasons for this.
Male-dominant: It's sometimes said that men have fewer body issues than women, but we're not sure whether that is true. We think that this is mostly cultural. Throughout history, women have been taught that they always have to behave "decently", much more than men. The concept of slut shaming also applies to women only. And women tend to be much more harassed than men.
White-dominant
: Nudism started within white cultures and has always been very white dominant. So it requires a lot of courage from differently coloured people to join this community. We recommend reading the short novel
Excuse My Nudeness
to learn about the struggles of a black person joining a nudist club.
Elderly-dominant: We've talked about this earlier in the blog post.
We strongly believe that thanks to the changing demographics and mentality of nudists, this is something that will solve itself. We already notice this in places where nudism is rather new, like in Latin America or Asia. If you visit a nudist resort in those parts of the world, you'll find that the "old naked white dude" is rather an exception.
View this post on Instagram
Our biggest problem
Before we talk about what we personally see as the biggest problem of nudism, we do want to give an honourable mention to the person who wrote: "Winter is the biggest real problem with nudism. Everything else is made up". It's funny, but we think that it is also spot on. Something typical for minorities is to think that the world is against them, and this makes us see problems where there are none.
A lot of nudists seem to think that everyone who is not a nudist is automatically against nudism. But from our experience, this is hardly ever the case. It's like veganism. Most of you who read this are probably not vegans. Does this mean that you are against veganism? Personally, we couldn't care less that there are people who refuse to eat anything derived from animals. As long as we can still get a steak and some cheese now and then, we don't give a damn about what's on other people's plates.
The only times when we tend to dislike vegans is when they're too bitchy about it. This brings us to our personal problem with nudism: The "the world is against us" mentality and the big deal some of us like to make about nudism. Of course, there are anti-nudists, just like there are anti-vegans. But the large majority of non-nudists just don't care. Bombarding those people with pro-nudist propaganda will be counterproductive. We might think that we're teaching them about nudism, but instead, we're just annoying them. Instead, we're just pushing them to the other side.
What do you think is the biggest problem in nudism/naturism?
---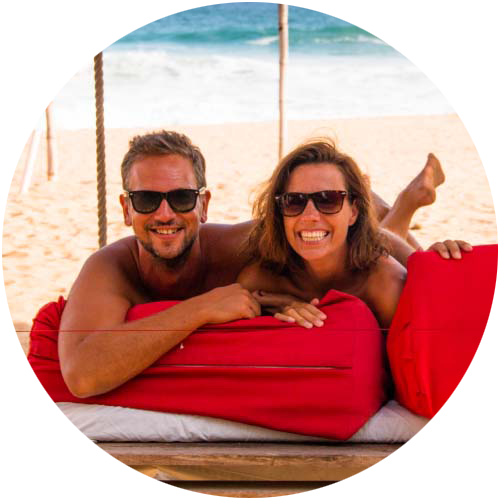 Support Naked Wanderings
Do you like what we do for naturism and naturists? Did we make you laugh or cry? Did we help you find the information you were looking for? Then definitely join our Patreon community!
---