Many naturist campsites are run as family businesses. We've heard the story several times before. A couple gets tired of their everyday jobs and starts dreaming about their own tropical paradise. Someplace where they can spend their days in the nude and share the experience with thousands of other naturists. The dream becomes reality. They sell their belongings, make a deal with the bank, buy a property, load their kids in the back of the car, and head off towards their nude adventure. They become the happy faces that have greeted us at so many naturist places.
The story of Le Couderc was probably something similar. A dream that became reality in the early eighties. Today, Le Couderc couldn't give more meaning to the term "family business". During the last 40 years, the family has expanded and is now being run by three generations of naturists. The variety of ideas and goals that come from the whole family is probably what makes Le Couderc such a lovely place. What makes everything feel just right. What made us wish that we could have stayed just a little bit longer. Well, actually a lot longer.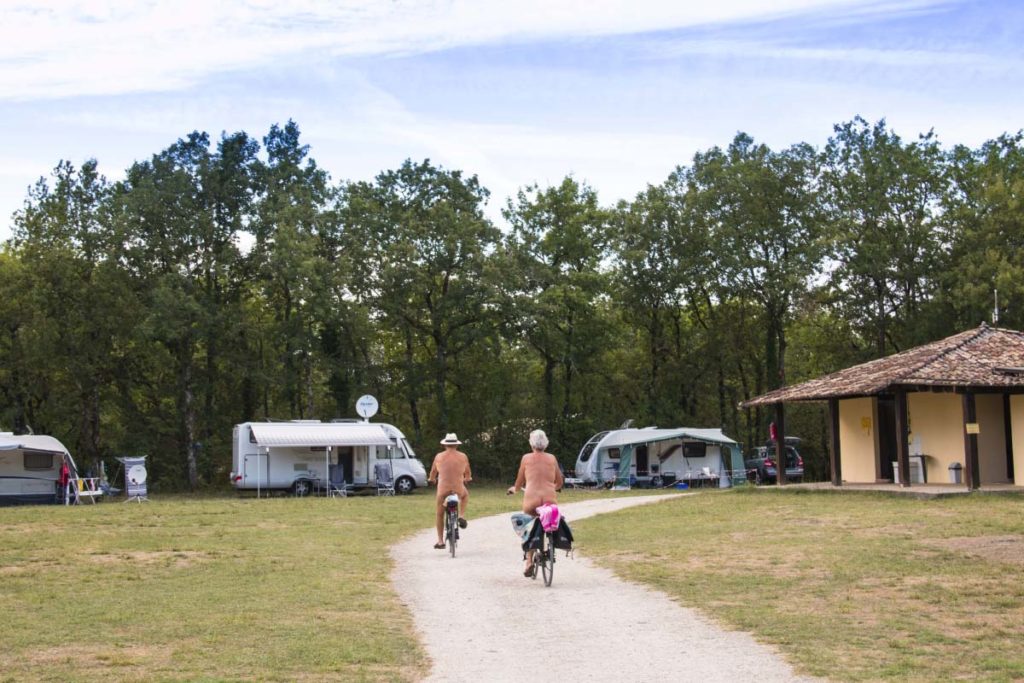 How to get to Le Couderc
The best way to get to the Dordogne region is definitely with your own transportation. From the north of France, you want to take the A10 highway which connects Paris to Bordeaux, or the A20 going towards Toulouse. Coming from the east or south, you also want to follow the Toulouse signs and then switch onto the A20 in the direction of Limoges. Your best point of orientation will be Bergerac, Dordogne's capital, and from there follow your GPS for more accurate instructions.
If you're coming by train, you can take the high speed (TGV) connection between Paris and Bordeaux which only takes about two hours. From Bordeaux, you can take a local train to Bergerac. There's also a cheaper, but quite slower, local train from Paris to Bergerac. From Bergerac train station it's less than half an hour's drive to Le Couderc.
Coming by plane is also an option. The nearest airport to Le Couderc is Bergerac-Dordogne-Perigord which has several connections within France, to the UK, and the Netherlands. Larger airports with connections to all over Europe can be found in Bordeaux and Toulouse.
Whichever option you decide on, having your own transportation is pretty much a necessity. Not only to reach Le Couderc but also to explore the amazing Dordogne region. Car rental offices can be found in all before mentioned airports and train stations.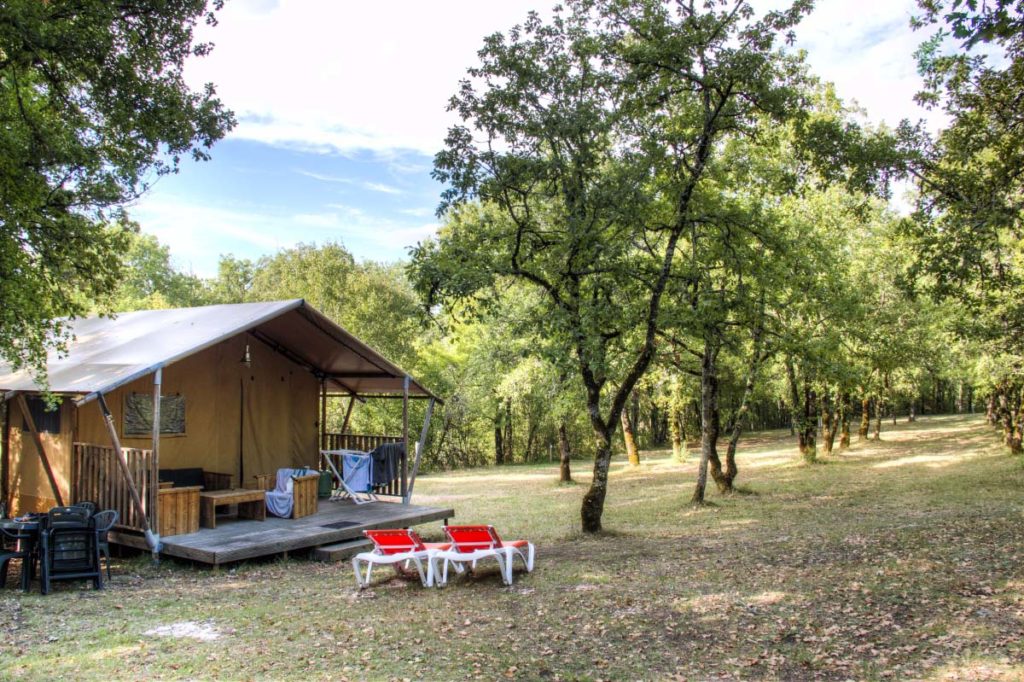 Where to stay at Le Couderc
The 33-hectare domain of Le Couderc has 180 camping pitches and 31 rental accommodations. During the summer months, the campsite easily becomes a home away from home for 250 families. We were truly surprised when we heard this. Because of the structure of the campsite, in many different segments, we could have never imagined that there were so many spots. Only during happy hour at the bar, we got a grasp of how many other guests there really were.
This is one thing we really liked about Le Couderc. Moving closer to the central area, we got to enjoy the social scene of a naturist campsite during high season. But when we preferred some space and time on our own (blog posts don't write themselves, you know, and naps are a great pastime), there was lots of space to escape to.
We stayed in one of the very large safari tents located at the back of the campsite in the "truffle forest". A part where peace and quietness are the norms and where the songs of the birds drowned out any other noise. If this sounds like your perfect spot as well, make sure to ask for the "La Carpe" tent. But there are several other safari tents and chalets spread over the domain of which we're sure that they'll provide you with equal comfort.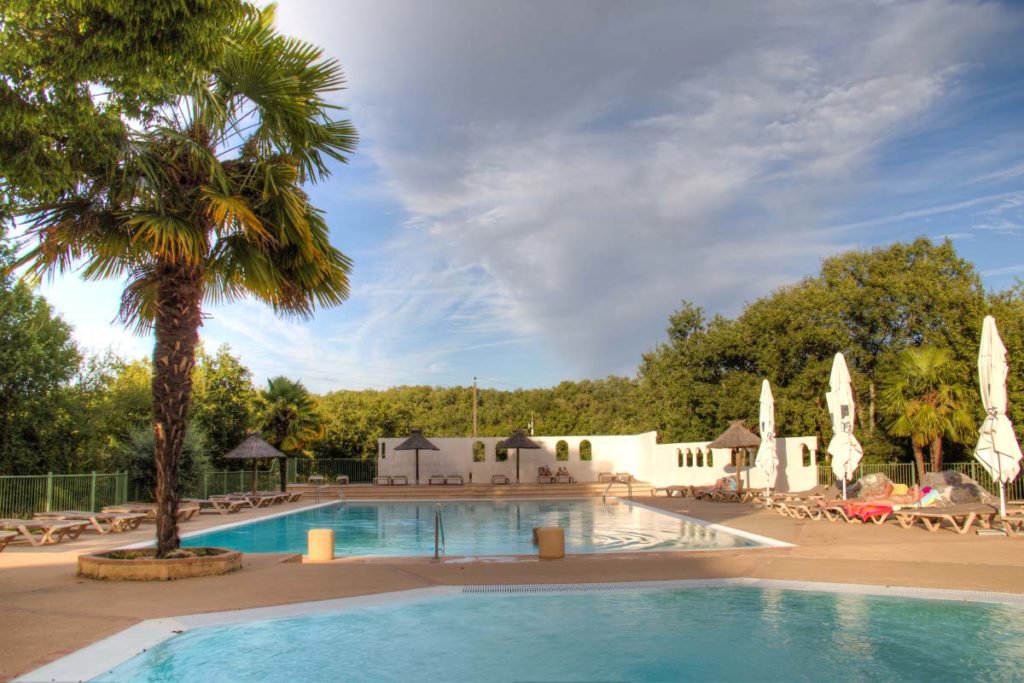 What to do at Le Couderc
We arrived at Le Couderc with high expectations. The campsite is well known among naturists who like to travel in France and several times before, people had been telling us how much they loved the place. The things that always stood out in those conversations were the atmosphere and the activities. After having traveled to so many naturist places in France before, we were a bit skeptical. It has become pretty hard to impress us. How much better could it be than all those other great places?
Then again, sometimes it's not all that difficult to steal our hearts. The Belgian beer that was offered to us as a welcome drink was already good for a couple of bonus points, and then we still had to discover the bar. We can honestly say that it's one of the coolest bars that we've ever seen at a naturist place. The style of a traditional Dutch pub is something we enjoy a lot, but when we noticed the variety of Belgian beers on the menu, we were truly sold.
In and around the bar is where most of the magic happens. Happy hour is the perfect time to socialize and meet new people. Often it's followed by the activities which naturists all around France had told us about. One of the most popular ones is the open mic, where campsite guests get the chance to showcase their musical talents or jam with other music enthusiasts. As a passion for music is sometimes rather something theoretical, also the music quiz is always a great success.
On a culinary level, the options can be quite limited at campsite this size. Often they rely on not much more than theme nights, communal dinners, and snacks. Which can be great, if you happen to love the food that's served during your visit. But we'll never forget how we managed to miss out on every single "moule-frites"-night last year. Anyway, at Le Couderc they just provide a mix of all the previous. There's one recommended dish every night, several a la carte options, and a snack bar for those who feel like pizza or burger night on any chosen day.
Before we end up writing a whole novel about the food, drinks, and activities at Le Couderc, it's important to point out that it might be the other facilities which make the campsite perfect for yourself. There's a large swimming pool, for example, and a swimming lake for those who prefer natural water. The hot tub is large and hot (trust us, this is not as obvious as it sounds). There's a sauna, nude hiking trails, sports facilities, playgrounds, in short: the complete package to keep yourself entertained.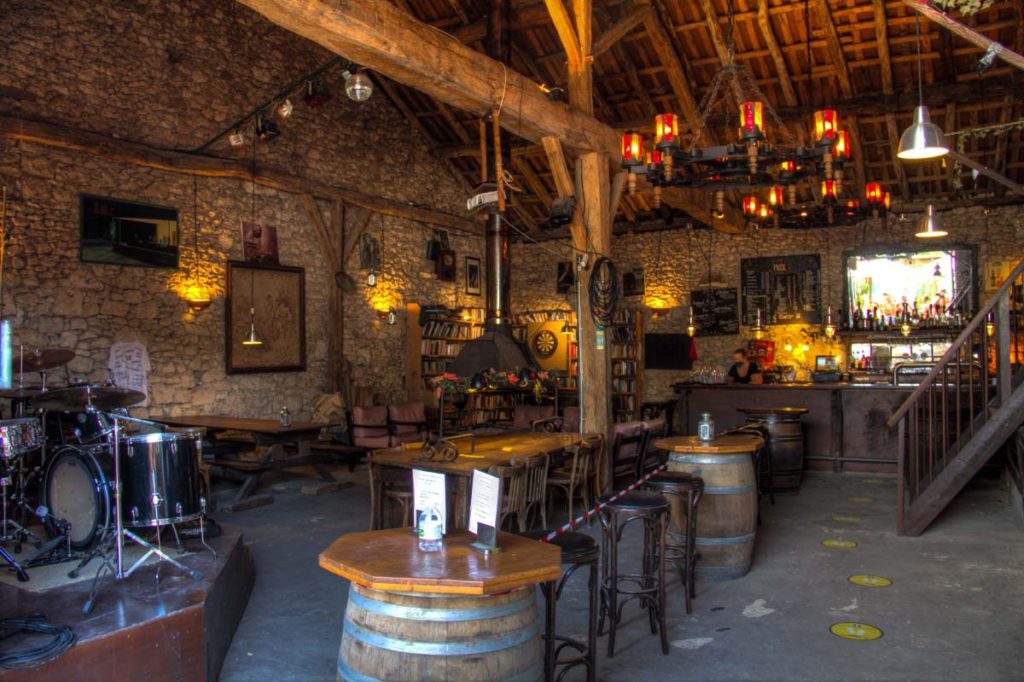 Around Le Couderc
If you're anything like us, it'll take some effort to convince yourself to put on some clothes and leave Le Couderc for a day. The surroundings are definitely worth it though. Dordogne is a much-visited region in southern France and not without reason. Nearby highlights include the historic cave paintings of Lascaux, the many castles where activities are organized on a daily basis, and numerous cozy historical towns like Monpazier, Périgueux, Sarlat, or Rocamadour.
The Vézère valley is the place to be if you like to have some action. The options for hiking, cycling, canoeing, horse-riding, and swimming are endless. Meanwhile, you can enjoy some of the most magnificent landscapes of Dordogne and awe at the region's extraordinary wealth of prehistoric sites.
Another important reason for us to visit this part of France is (come on, you can guess this) the excellent food and drinks. The local cuisine is famous for its duck and goose as well as for foie gras, truffles, cheeses, and walnuts. And the many vineyards produce some of the world's finest wines. If you prefer to prepare your own meals, the many markets in the region will prove to be a source of known and new ingredients.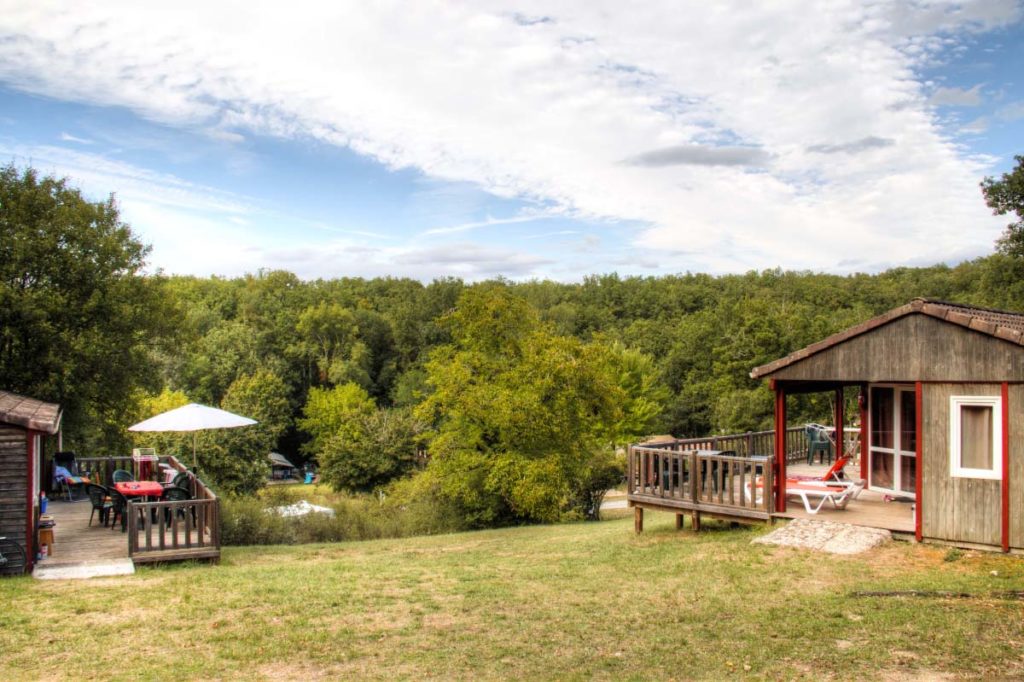 Staff of Le Couderc
As mentioned in the introduction, Le Couderc is a true family business. Not just because it happens to be run by a big family but also because everyone takes part in the organization of the campsite. Every single day of our stay, we saw the founder wandering around the campsite or sipping from her beer on the terrace. Today, she gets the chance to fully enjoy her own paradise, because her children Marieke, Olivier, and Nico have taken over the daily management. Their children, Lieke, Max and Emil, are in pole position for being the next generation of managers. And a happy bunch of toddlers assured us that Le Couderc will stay within the same family for a long time to come.
The family is already large, but add to that an even bigger team of partners, boyfriends, girlfriends, and volunteers and it's not hard to imagine why everything runs so smoothly. Why we never had to wait long for our food and drinks, why the activities are plenty and the facilities spotless. Why every member of the staff greets you with a smile and takes all the time needed to answer your questions. Why Le Couderc is such a happy place.
Another great thing about having such a large number of staff members is that they can start their facilities and activities whenever they want. While many naturist campsites tend to become a bit empty and boring outside of the high season, at Le Couderc everything is open and running from the first day of the season to the very last one.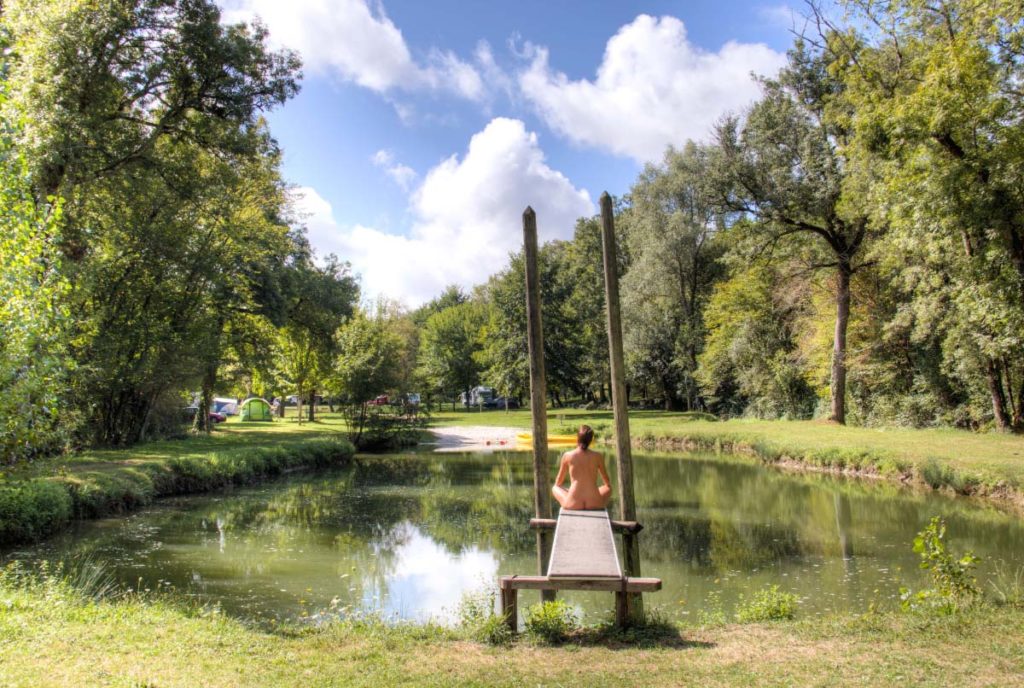 Guests at Le Couderc
If there's one thing we definitely learned during the last months, it's that the nationality of the campsite owners often directly reflects on that of the majority of their guests. French naturists seem to find their way more easily towards French-owned naturist campsites for example. Another example is the phenomenon of the "Dutch naturist campsite", venues where the owners are Dutch, the large majority of the guests as well, and often even the menu and the signs. As if they moved some part from the Netherlands to a place with better weather.
Being Dutch-owned, Le Couderc definitely attracts a lot of Dutch guests. But the campsite is everything but the typical "Dutch naturist campsite". Most of the family has been living in France for most of their lives. They managed to create a typical southern French style, but meanwhile also a very international atmosphere. The fact that pretty much all of the staff members are fluent in French, Dutch, and English certainly adds to that.
This makes Le Couderc an enjoyable place for everyone. More and more French families are finding their way to the campsite, Belgian license plates are not an uncommon sight on the parking lot, and also many British cross the channel to spend their nude vacations here. Although the latter could also be caused by Mike, the fun British volunteer who's always around for a chat.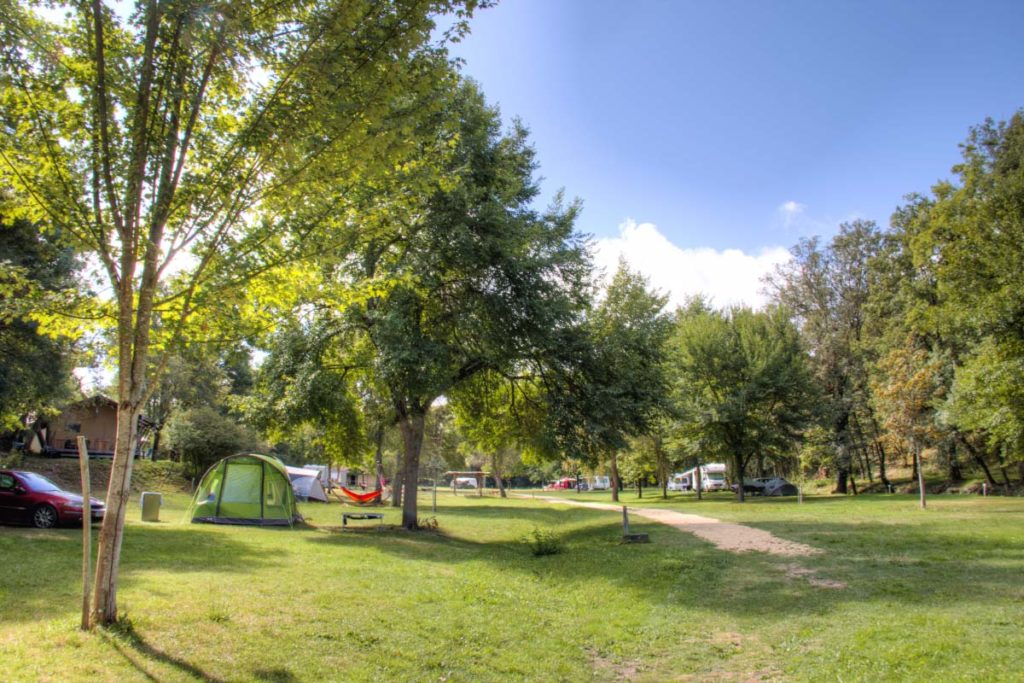 Reservations & Contact
Le Couderc is a very popular naturist campsite and tends to run completely full throughout the summer. The rental accommodations often get booked a year in advance. So if you want to make sure of your spot, it's recommended to make a reservation.
It's possible to communicate in French, English, German, and Dutch.
Summary
A true family naturist campsite with awesome staff, awesome guests, and awesome facilities. Located in one of France's most beautiful regions. Do you really need us to summarize this review to be convinced?
Disclaimer: We have been invited as guests of Le Couderc, but of course all opinions are our own. We are super confident you will love this place as much as we did!
---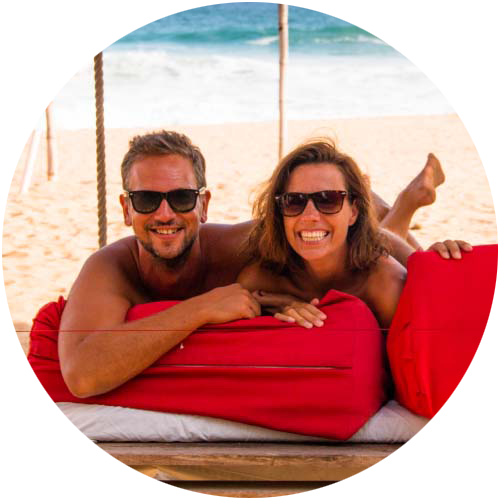 Support Naked Wanderings
Do you like what we do for naturism and naturists? Did we make you laugh or cry? Did we help you find the information you were looking for? Then definitely join our Patreon community!
---