We are regularly asked for a complete overview of all the naturist places in a certain country or region, or even in the world. This is something that this website is indeed lacking. That's not because we never thought about it, or because we are too lazy to create this, but rather because we don't think this fits within the concept of Naked Wanderings. The core of our website is still a blog in which we talk about our personal experiences. And that's how we want this site to be, a place where all the information is first-hand.
Luckily, there are quite some places on the web where you can find information about naturist destinations. Some are better known and more complete than others. What follows is an overview of the websites that we use for researching our naturist trips.
View this post on Instagram
Although we don't provide overviews of every naturist spot out there, we did visit quite a lot of naturist resorts and beaches during the last few years. On our
Naturist Destinations page
, you get an overview per country of all the places that we visited, complete with reviews and stories about our personal experiences.
The only place on this website where you do find complete overviews for certain countries is in our
Naturist Guides section
. Here you can buy guides that give you a complete overview of everything there is to know about naturism in several countries.
This is one of the longest-lasting directory websites for naturism worldwide. You'll find overviews of naturist resorts, clubs, and beaches, organised by country or sometimes even by region. The lists are not always complete and sometimes a bit outdated (you'll find resorts that are long gone and might miss some newer resorts), but overall you'll get a very good overview of what certain countries have to offer to the naturist traveller.
NUDE
is one of the most complete directory websites when it comes to naturist resorts around the world. With the search function, you can find places in very specific regions and you can choose to only search for certain types of resorts (e.g. Campsites, hotels, B&Bs, etc). For each resort, you'll find a lot of practical information like address, phone and website, and an overview of the facilities. Also interesting are the visitor reviews, where you can read the experiences of previous visitors to the resort.
View this post on Instagram
GetNakedGermany is a German naturist association that strives for more acceptance of social nudity. A while ago, we already published an
interview with the founder of the association
, but this time we're going to focus on a very specific part of their website: Their
Naktivity Map
. On this map, you will find lots of naturist places worldwide, including resorts, beaches, nude spa centres, and so on. This map is very complete, especially for Europe. This is one of the very few websites that provide a decent map of nude beaches.
With only 332 resorts and 338 spa centres (at the time of writing), we definitely can't say that this website provides a very complete overview. Nevertheless, we do like to use this website from time to time in combination with other websites because it provides a very simple and easy-to-use interface. Just click on a country and you'll get a map and a simple list. Another plus for this website is that it comes in 3 languages: English, French, and Dutch.
When it comes to user-friendliness, this website is quite behind on the previous mentioned. The search function and the filters are difficult to use and don't always give the correct info, and the maps for certain countries can be so full that they are really hard to navigate. This being said,
Blootkompas
does have some interesting advantages too. For one, that it is very complete (especially for Europe) and frequently updated, so you won't find a lot of outdated info.
Another advantage is that it shows many different types of naturist places, including resorts, saunas, beaches, and swimming pools. The reason why we personally like to use Blootkompas is that it has many user reviews. These provide a lot of additional information and very accurate ratings. The website is available in 4 languages: English, Dutch, French, and German, but beware, the search function only works in Dutch. For example, if you want to search for places in the USA, you have to type "Verenigde Staten" and not "United States" or "USA". The information on the maps is only in Dutch too.
View this post on Instagram
Federation websites
If you have already decided in which country you're planning to have your next nakation, the websites of the local naturist federations often also provide good overviews. For example this
very complete map
on the website of the French Naturist Federation. It has to be said that some federations offer much more complete overviews than others and that they use different criteria. For example, the
website of AANR
(USA) will only show you the resorts that are affiliated with the association. The website of the Spanish Naturist Federation, on the other hand, has an
excellent map for finding nude beaches
, but only lists very few resorts.
Location dependent websites
For popular naturist destinations, you can sometimes find independent websites created by locals or by previous visitors. For the famous nudist beach town Zipolite on the Mexican coast, for example, there is the website
zipolite-mexico.com
that will give you a lot of information about the town, the best places to eat and drink, how to get there, and an overview of all the nudist accommodations.
Another example is
Captain Barefoot's Naturist Guide to the Greek Islands
. On this website, you'll literally find everything you need to know about nude beaches in Greece. This website has existed for a very long time, but since it's updated by a dedicated community, the information keeps being accurate. This website was our naturist bible when we were in
Greece
.
Which website(s) do you use to research your naturist vacations? Let us know in the comments!
---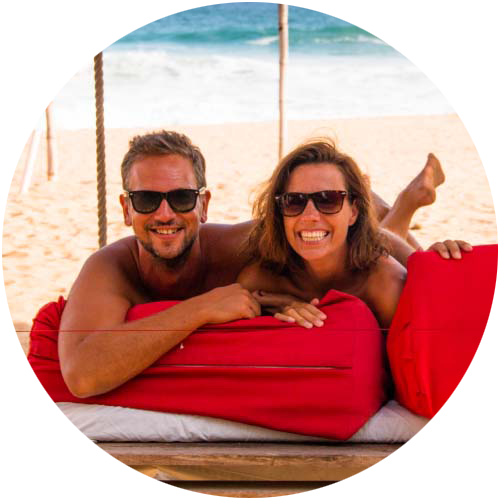 Support Naked Wanderings
Do you like what we do for naturism and naturists? Did we make you laugh or cry? Did we help you find the information you were looking for? Then definitely join our Patreon community!
---