As you may remember, we have spent the last three months on our
Epic nude road trip through France
. We had been to naturist campsites in France before, but then we mostly stayed in rental accommodations. This year, due to the ongoing COVID-19 pandemic, we decided to get back to basic and bring our own tent and our own gear.
It definitely was epic. We discovered so many
great naturist campgrounds in France
, we fell in love with the wonderful island
Corsica
and we've spent most of our summer in wonderful nature. That's absolutely the coolest thing about camping in a tent. You live outside. Even when inside, only the thinnest piece of fabric is what separates you from the smells and the sounds of the outdoors. And, of course, we've learned a lot. Today, we'll share with you some of the knowledge we gathered last summer.
Preparing a nude camping trip
1. Practice setting up your tent: We are lousy packers. Because we're so much on the move, we often delay our packing to just before we actually have to leave. When we're traveling with just a backpack, that's often not an issue. But now, with a tent and lots of gear, it is important to check some things upfront. Like setting up the tent. By trying this before you leave, you'll make sure that you have everything packed and that you don't look like a complete newbie at your first destination.
2. Check ahead the services of the campground: Campgrounds come in all different kinds and sizes and the services differ a lot from one place to another. There are some things you want to check first to avoid surprises:
Is there a (free/paid)service to freeze your freeze blocks?
Is there a laundry service?
On which days are interesting activities?
Is there (free/paid) wifi?
Do you get 4G reception?
Is there a shop/restaurant?
Are pets welcome?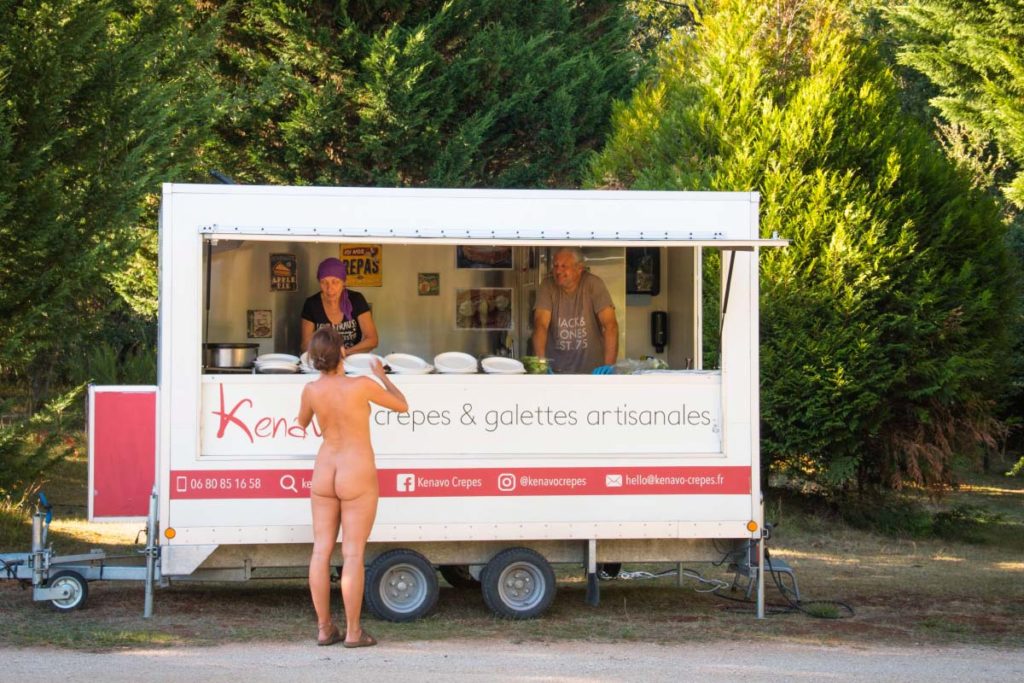 3. Understand the pricing system
: It has taken us a while to completely understand the pricing system of
naturist campgrounds in France
. At first, we were surprised about the low rates that we found for "pitch for a tent". We figured that this camping trip might end up being cheaper than backpacking in Southeast Asia. It didn't. There are so many extras you need to pay for, that it's best to bring a calculator.
It starts with the period. Most often, there are 4 or more different periods at different prices. The high season (July-August) being the most expensive and the very low season (May & October) being pretty cheap. Then there's before mentioned "pitch for a tent", but keep in mind that this is exactly what it says. The pitch. Then comes a fee per adult or child, sometimes a fee per vehicle, a fee for electricity, a fee for pets, and so on.
4. First impressions are not always right: You can learn a lot from looking at the campground's website. If it's not well maintained or looks like it was built in the late eighties, chances are that this will be representative of the facilities. But not always. Especially the smaller campgrounds often don't have the time and money to invest in fancy websites.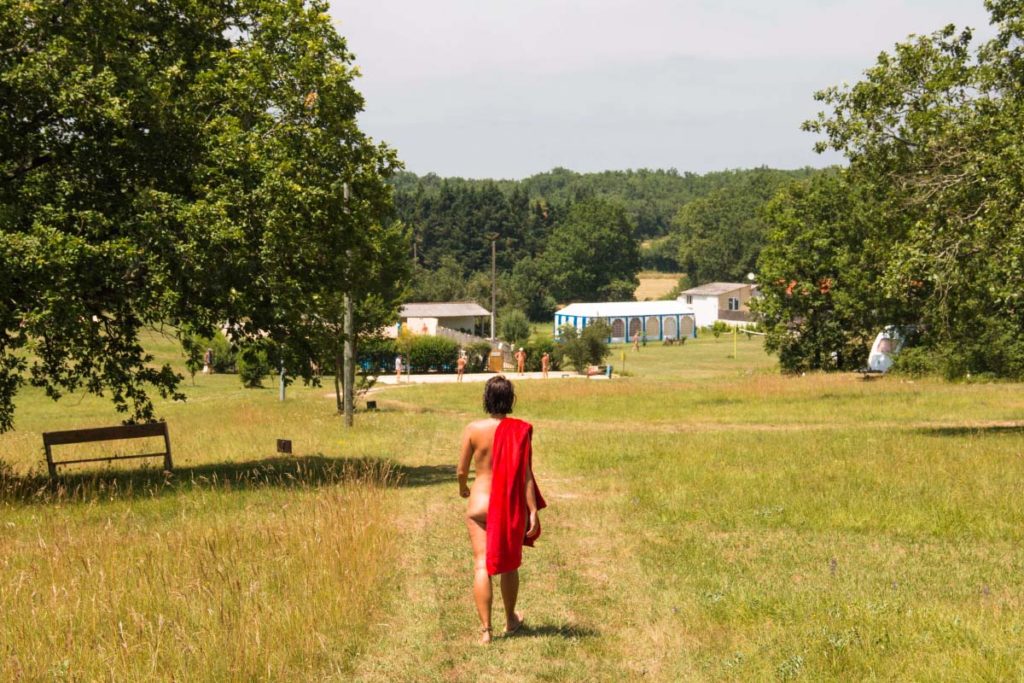 Getting to the naturist campsite
5. Check the road conditions (especially when coming with a caravan or camper): Naturist campsites are often in the middle of nowhere. This is great, but this also means that the access roads may be difficult. Especially if you have a large vehicle, it's best to check upfront whether you'll be able to reach the campsite. Some mountain roads also have curfews for large vehicles, for example between 8 AM and 1 PM you are only allowed to drive down, and between 1 PM and 5 PM you're only allowed to drive up.
6. Distances between campgrounds should be measured in time: France has lots of naturist campgrounds and when you look at the map, they often appear to be right next to each other. But the winding roads can be tricky. Instead of looking at the distance in miles or kilometers, it's better to check your GPS for the distance in minutes or hours instead.
7. Double-check the location: Not all naturist campgrounds can be found by name on a GPS and the road signs are not always existing either. Add to that, that the internet and even Google Maps sometimes give wrong information as well. If you want to be sure of a quick arrival, it's best to write down the GPS coordinates that you can often find on the campground's website.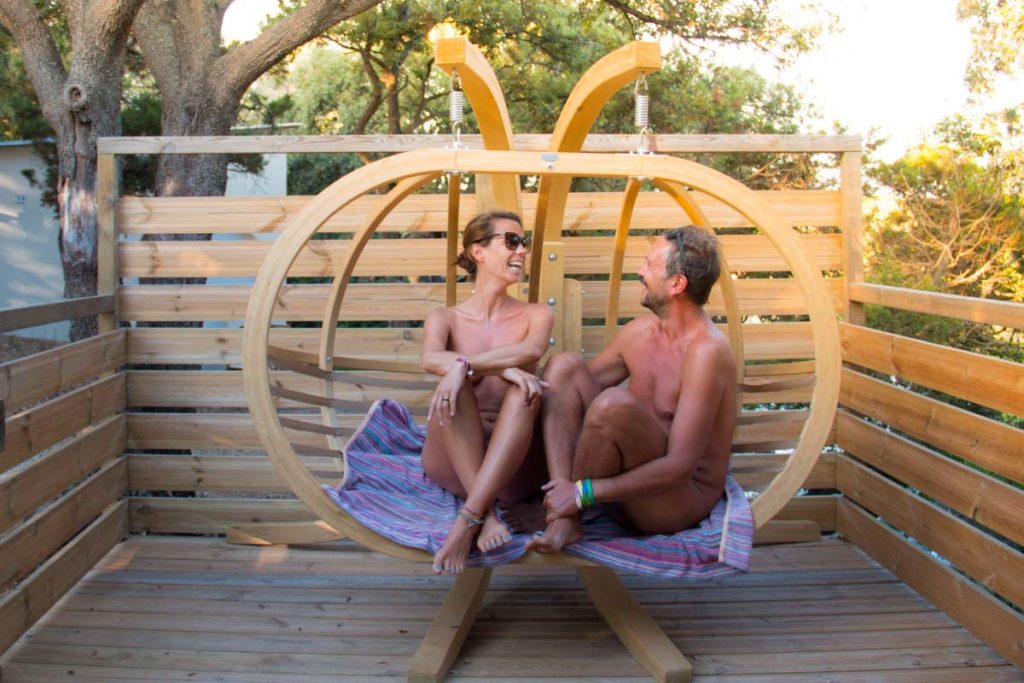 8. Visit a supermarket before getting there: Depending on the region, supermarkets might be quite a drive from the naturist campsite. More than once, we had to drive for over an hour to the nearest shop. If you happen to pass by a supermarket on your way to the campsite, it's best to get some groceries first and avoid a later ride.
9. Make sure to have enough cheap gas: You'll find lots of gas stations in France, even in the most desolated areas. But the prices tend to differ a lot. On the highways, for example, gas is likely to cost 25% more than in the villages. And in remote areas, the prices tend to go up as well. If you're passing by a cheap gas station, it's always worth filling up. We found the cheapest gas stations near supermarkets (Intermarché, for example).
10. Mind the reception closing times: Most naturist campsite's receptions are open from 8 AM to 6 PM. Even during the high season. Of course, it's possible to arrive after 6 PM, but in those cases, it's better to warn the campsite staff upfront so they're expecting you. Otherwise, you may find yourself searching the whole campground for a staff member.
Many campsites also close around noon, often between 1 PM and 3 PM. Also then, it's most of the time still possible to arrive and register, although we visited some campsites that don't do registrations during those hours. That sucks if you arrive at 1:05 PM after a long drive. So better check upfront.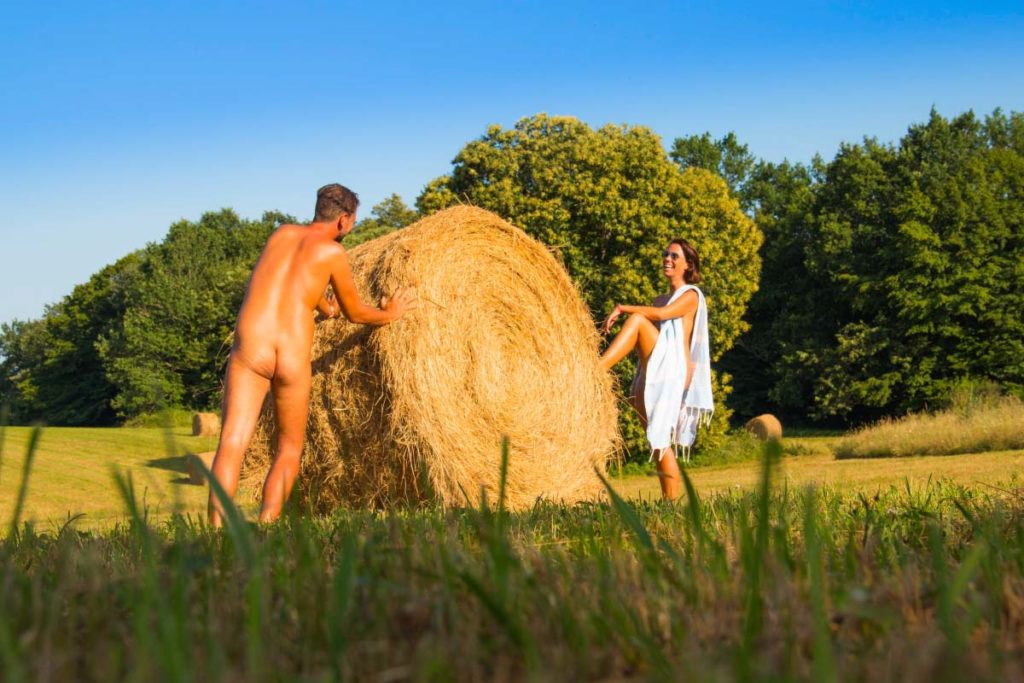 Consider the weather
11. Read the sun
: One of the most important things that we learned the last summer, was reading the sun. You really want to know when the sunlight and shade will be at which part of your camping pitch. Also, keep the temperatures into account. When we had a heatwave while camping in
Provence
, we wanted to avoid having sunlight on our tent before 10 AM and preferred shade at the rest of our pitch in the afternoons. But when the weather turned and got significantly colder, we very much appreciated the morning sun on our tent and the afternoon sun on our pitch.
12. Expect cold nights
: France is a very popular summer vacation destination, especially the south of the country. When we looked at the weather forecast, we often saw temperatures between 30° C and 40° C. That is excellent naturist weather. What we didn't look at, were the low temperatures. Even in southern France, we got pretty cold nights. Especially when we were camping on altitude in
the Alps
, the night temperatures often dropped below 10° C. Be prepared for that.
13. It won't rain a lot, but it might rain: Summers in France often have excellent weather. But still, the country isn't Mexico that has 4 months of rain and then 8 months without a drop. In France, there's always a chance of rain. Maybe not much, maybe just for an hour, but it can rain. Be prepared for that, make sure that you can put your gear in a dry space, that there are no holes in your tent and that you have something to keep yourself busy on a rainy day.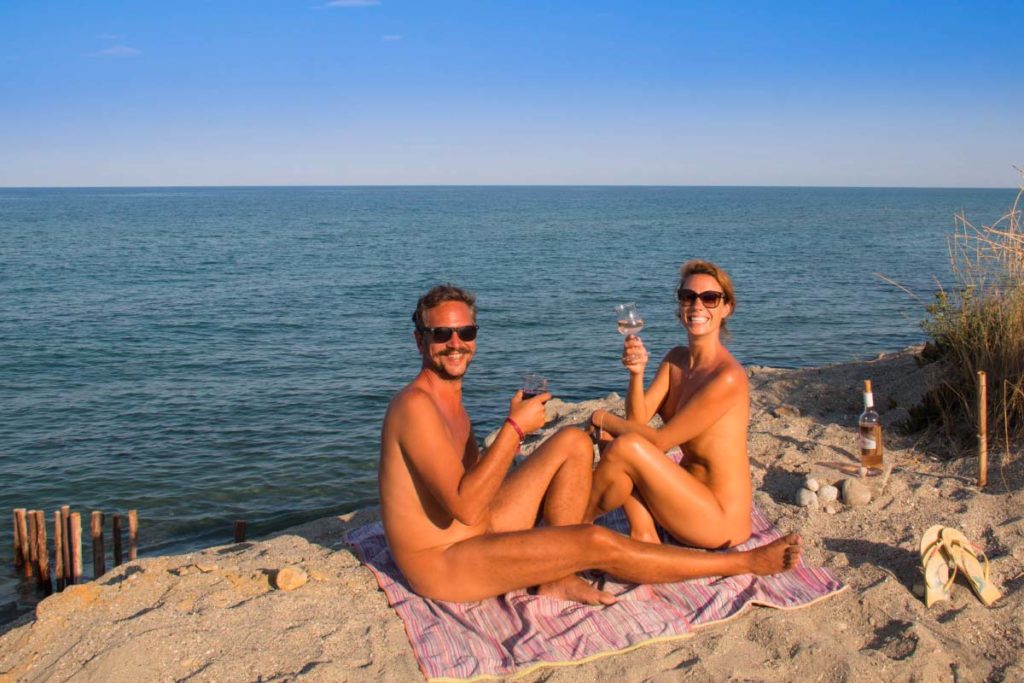 Bring your tools
14. Get a CEE Adapter: Most campgrounds will have pitches where you can connect to the electricity network. Keep in mind though, that most of them will not work with the standard European power plugs. Instead, you'll need a CEE Adapter. You'll often find those at campsite shops, but they're much cheaper if you buy them online.
15. Bring a hammer: Your tent pegs need to get into the ground. On grassy meadows, you can easily do this by hand or with a shoe. But lots of camping pitches are on a rocky surface, so you'll need a hammer to get the pegs into the ground. Also important are decent pegs. The cheap ones bend easily and quickly become useless. Strong pegs are well worth the investment.
16. Cover your pegs: It's not a question of whether you will trip over your tent pegs, it's only a question of when. And we can tell you, it hurts. It's always a good idea to cover them with some sticks or rocks. Your toes will thank you later.
17. Prepare for bugs: Especially if you're camping near open water, expect to receive some tiny unwelcome guests. We mostly use citronella candles and natural repellent to keep (most of the) bugs away. An environmentally friendly way to create mosquito repellent is by mixing lemon with eucalyptus.
Another great tip is to never leave your tent zipper open. Before you know it, there will be all kinds of little friends who would love to join you for the night. Hey, that's nature! But it's better to avoid this by closing your zipper immediately after exiting or entering.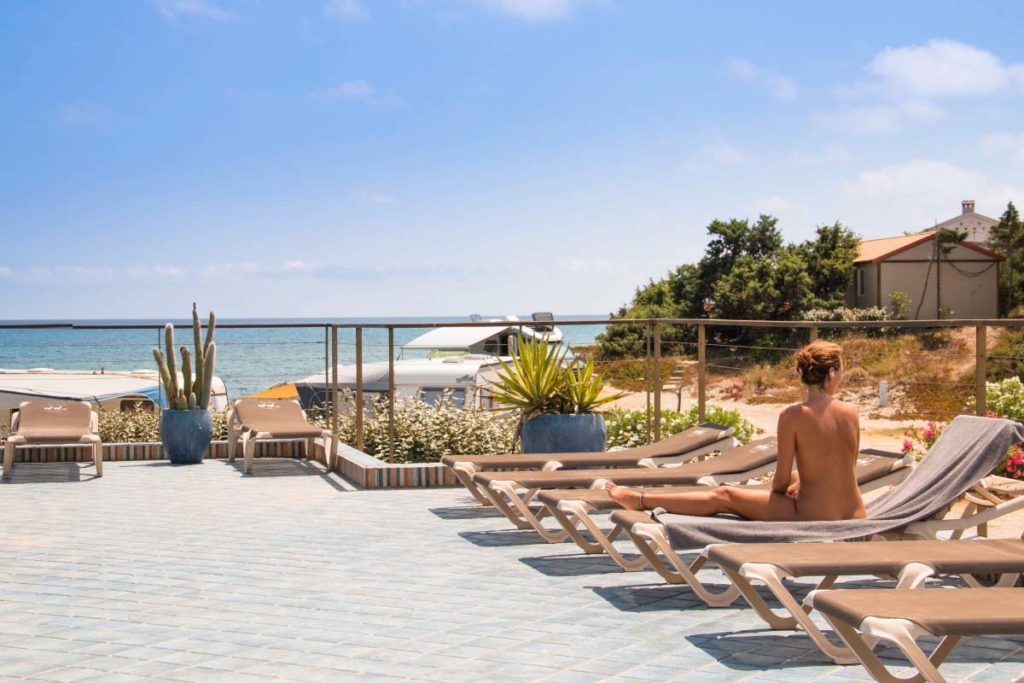 18. Use sunscreen: We know, it's a tip that we always give, but especially when you're camping it's important to protect yourself. You'll be outside most of the day and even when your sitting in the shade, UV rays can/will reach your body.
19. Duct tape is your best friend: Some people say that duct tape is the perfect tool for the Unhandy Harry. But it's definitely great for campers as well. Lots of things can break when you're in the outdoors and lots of them can be quickly fixed with a piece of duct tape.
20. Invest in quality stuff: An even better solution than duct tape is to get quality camping gear to start with. Especially when you're camping for a long time. We bought cheap camping chairs before our trip through France, they lasted exactly one week and immediately got the trophy of worst investment ever. Penny-wise, pound-foolish.
21. Let there be light: When you're camping, you're living at the pace of nature. During the summer in France, this means that the sun goes down around 9 PM and from then it's often pitch black. If that's not your preferred bedtime, we advise you to bring extra lights. Personally, we've used old Christmas lights to decorate our tent. This created a nice atmosphere as well.
22. Recycle: Most campgrounds will have a recycling point with lots of options to separate your paper from plastic from glass and from other dirt. The difficulty is that you don't want to walk all the way to this point whenever you have some garbage. A great trick is to bring different bags, so you can already recycle next to your tent and then just put the bags in the right containers at the end of your stay.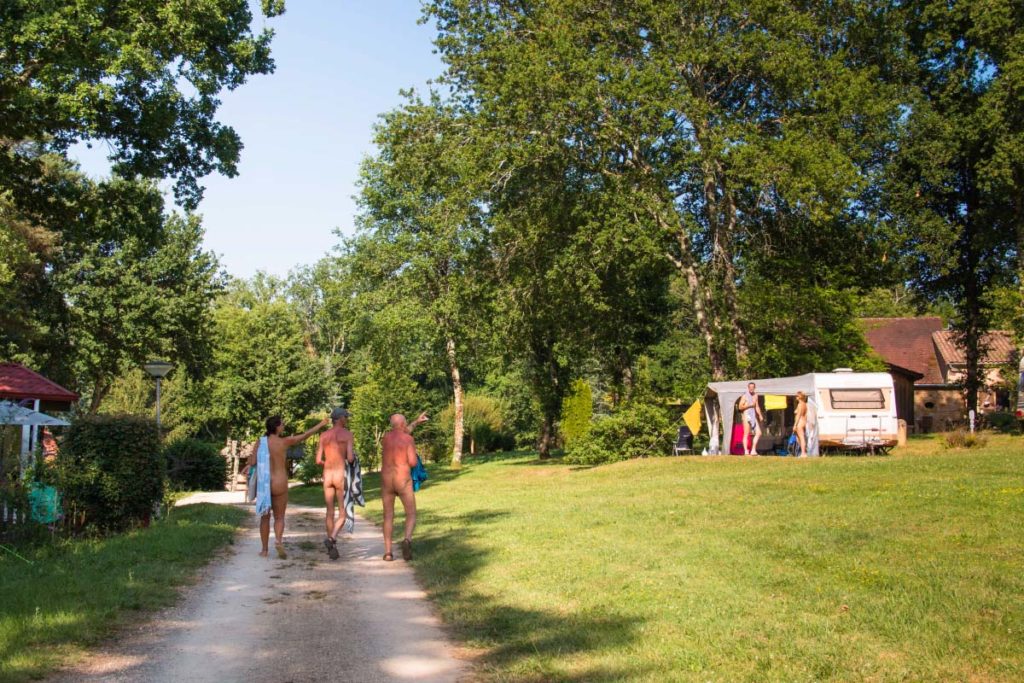 Finding the perfect camping spot
23. Mind the sun: We've mentioned this before, but we can't stress it enough. Sunlight can make your stay wonderful or a living hell. On hot days, you don't want to be chased out of your tent at 6 AM because it got too hot, and on cold days you don't want to spend your time in the shade. Most campgrounds will let you choose between different pitches, check when the sun will be where and choose accordingly.
24. The sanitary strategy: You don't want to set up camp too far away from sanitary blocks unless you're counting on your evening shower or midnight pee for those extra hiking kilometers. But you don't want to be too close to those blocks either. During hot days, they can spread a smell that's not particularly enjoyable. And also, the lights often stay on throughout the night, lighting up your tent as well.
25. Check the grounds: When deciding on the perfect spot, it's best that you have a good look at the grounds before setting up your tent. Any large rocks or sticks are best removed first, or they'll become a pain in your nude behind (probably literally) for days to come.
26. Where's the electricity: If you want to use electricity, it's always best to find the source before deciding on a pitch. At most campgrounds, you'll find electricity within 25 meters from every pitch. But that's not always the case. Also check if there are free sockets and if those free sockets work. If there are no free sockets but you just love that little place you discovered, ask your neighbors if they are willing to share electricity. They often will be.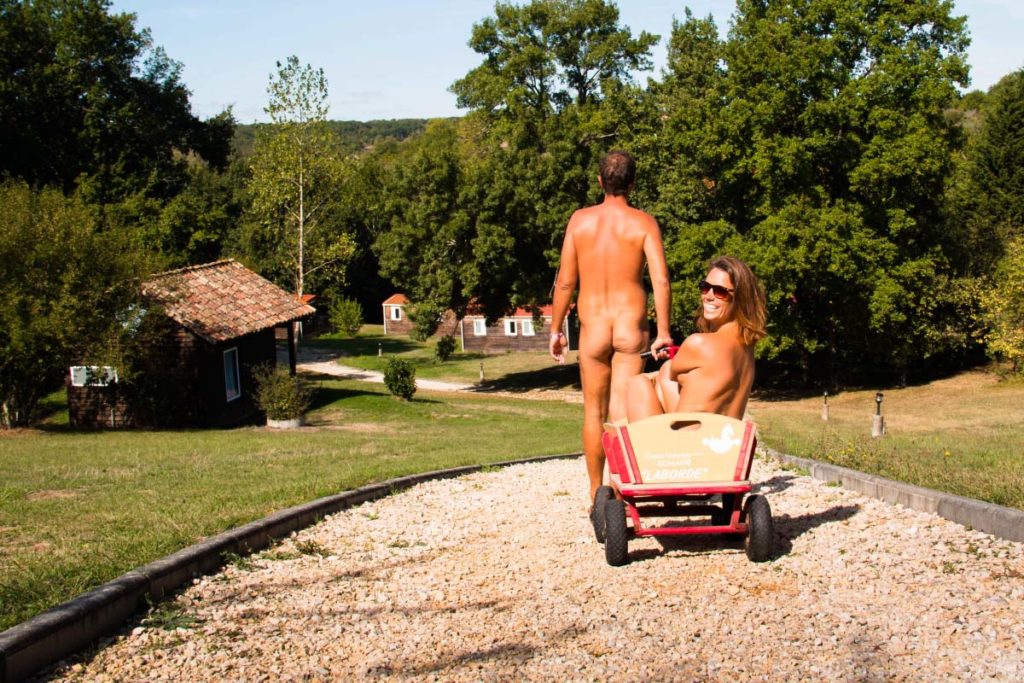 27. Move your car: About half of the campgrounds that we visited this summer, have "no car next to the tent policy". With this, they create a nicer and more natural view and avoid that people keep riding up and down the campground all day, disturbing everyone else. You will always be allowed to bring your car to unpack when you arrive and to pack when you leave again. But it's a good idea to bring some boxes for your stuff, so you don't have to keep walking to the parking lot every time you need something.
28. Check your mobility
: If you're
less mobile or disabled
, it's best to check upfront what the options are. The staff will often be able to give you a place close to the main facilities or with easy access to the sanitary blocks.
29. Mind the bears: The coolest thing about tent camping is that you can hear literally everything outside. The wind, the rain, and the song of the birds in the morning. If you're camping close to others, however, this also means that you can hear the sounds of your neighbors. We quickly figured out that quite a lot of people snore like bears. Make sure to keep your earplugs close if you're a light sleeper.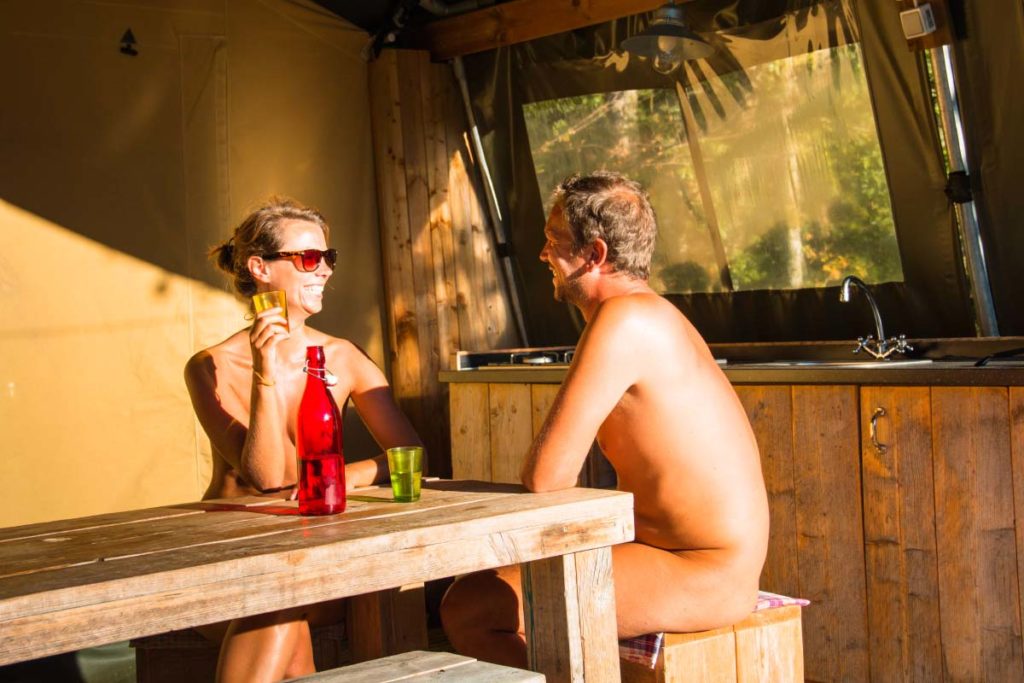 Food and drinks
30. Where to shop: Most naturist campgroundss have a small shop or sometimes even a mini-market. Those are great in case you forgot something, but if you're buying all your groceries there, they'll have a decent bite in your budget. If you can plan your consumption a bit upfront, it's much better to get your food and drinks in supermarkets or local markets.
31. Order your bread: Every naturist campground that we ever visited in France has a bread delivery service, so you get freshly baked baguettes and pain au chocolat in the morning. Keep in mind that you often have to place your order the day before. The best thing you can do is to order bread as soon as you arrive, and then again every morning when you pick up your bread. Otherwise, you WILL forget, trust us, we speak from experience.
32. Get a cooler: If you like to cook, it's definitely recommended to get your own cooler. We got one on electricity which works like a charm. It doesn't only keep our food fresh, but also our wine cold. That's very important in France.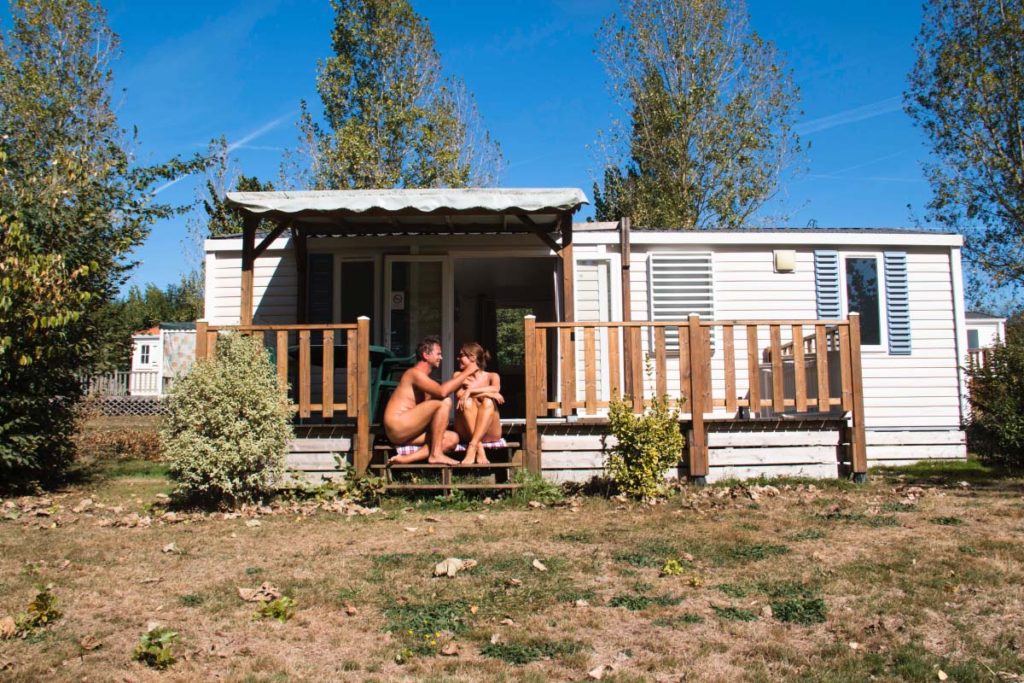 33. Don't bring a barbecue: In most parts of France, because of frequent wildfires, open fires are not allowed. So don't bother bringing a barbecue. You are allowed to use any cooking utilities that run on gas though and pretty much every campsite can refill your gas bottle.
34. You can drink the water: In France, the water is always drinkable unless it's specifically mentioned that you should not drink it. Well, that's the official guideline. In our experience, we have encountered water that we preferred not to drink. At least not directly. Boiling or purifying the water did make us feel more confident.
35. Clean your dishes: On hot days, we dine late. Often way after sunset. We have a couple of wines and we feel nothing for cleaning our dishes anymore. So we leave them for the day after. Not always a good idea, because dirty dishes do attract wildlife. Ant colonies will be found in your pots and pans and several times we woke up in the middle of the night with the sound of a cat, wild boar, or some other animal that had gained an interest in our leftovers.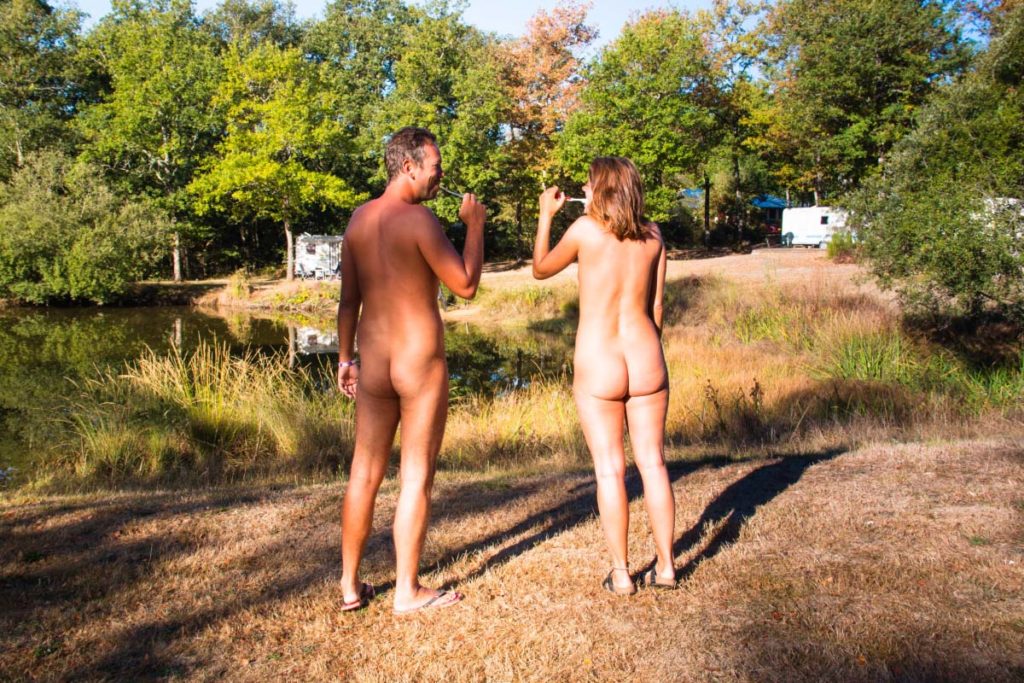 Using the facilities
36. Pick your shower times: Unless you're a fan of queues and busy communal showers, it's better to plan your showers. From our experience, most people on French naturist campsites take a shower between 8 AM and 10 AM, and between 6 PM and 8 PM, in between those times, you'll often find the block completely for yourself. Do keep into account the cleaning times as well. Most of the time, cleaning takes less than half an hour, but we've seen campsites that close down their facilities for more than 1.5 hours. Also, don't wait to shower until after sunset. When the sun goes down, so do the temperatures.
37. Pick your pool times
: We've noticed that pools at
naturist campsites in France
tend to be the least crowded between 1 PM and 3 PM (when lots of people have a nap) and between 6 PM and 8 PM (when everyone's in the shower). Those are perfect times to have the pool pretty much all for yourself.
38. Pick your sauna times: Lots of people like to get into the sauna right after dinner. This means that saunas tend to have queues between 7 PM and 9 PM. If you like to have some space in the sauna, it's better to go earlier. Or very late.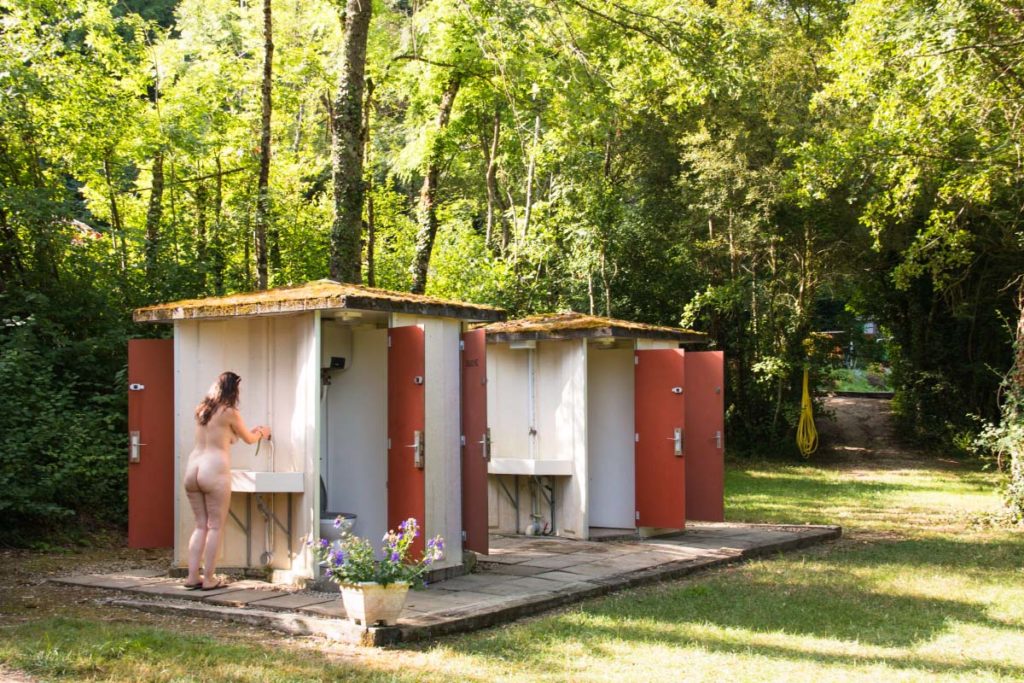 39. Learn to sing along: There was a time when karaoke was a big thing on naturist campsites. In France, campsite owners quickly understood that even though your talent should not be questioned, most other guests would prefer to hear something else than yet another version of "Wild Thing". Luckily, there are professional artists who happily make your heart sing every evening of the week. Some better than others, but the cool thing is that these local cover bands often have their way to make you stand up, sing along and maybe even push out some long-lost salsa moves.
40. Bring games
: Although many campsites have a nice variety of activities, you will find that you suddenly have lots of free time. We like to play card games when we're camping, but also board games are an excellent pastime. And of course
petanque
, the national (naturist) sport.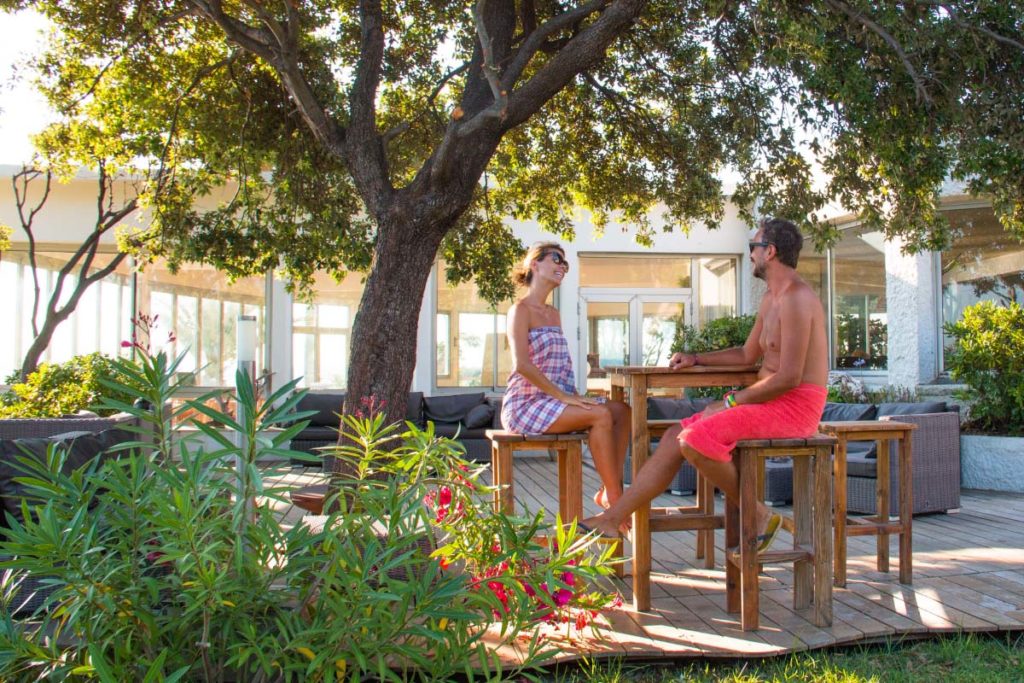 Nude or dressed
41. Dressed dinners: This is one of the things that we found extremely awkward during our first naturist vacations. On hot summer evenings, when the temperatures are still in the twenties (centigrade), we would go nude to the restaurant and everyone else would be clothed. We learned that this is a European thing. Europeans like to dress up for dinner, even at naturist places. If you do decide to dine nude, most often this is not an issue. But there are naturist places where some kind of coverup is mandatory in the restaurant.
42. The sarong is here to stay: If you don't feel comfortable walking, shopping, or doing sports in the nude, a sarong is widely accepted at most naturist campsites in France. Only in and around the water facilities, you will be expected to be completely nude.
43. Bathing suits are a big no: While sarongs are very common, bathing suits definitely are not. This is where most naturist places draw the line. Either you're nude, or you cover with a sarong, or you're clothed. But no bikinis.
44. Covered kids: When it comes to (no-)clothing rules, there is often an exception for children and teenagers. Adults with no intention to ever get naked will be frowned upon eventually, children and teenagers are often allowed to remain dressed except in the pool. On one hand, this does make the naturist campsites a more agreeable place for teenagers who do want to travel with their parents but don't want to join the naturist lifestyle. On the other hand, it's quite intimidating for naturist children when all the other kids are wearing clothes.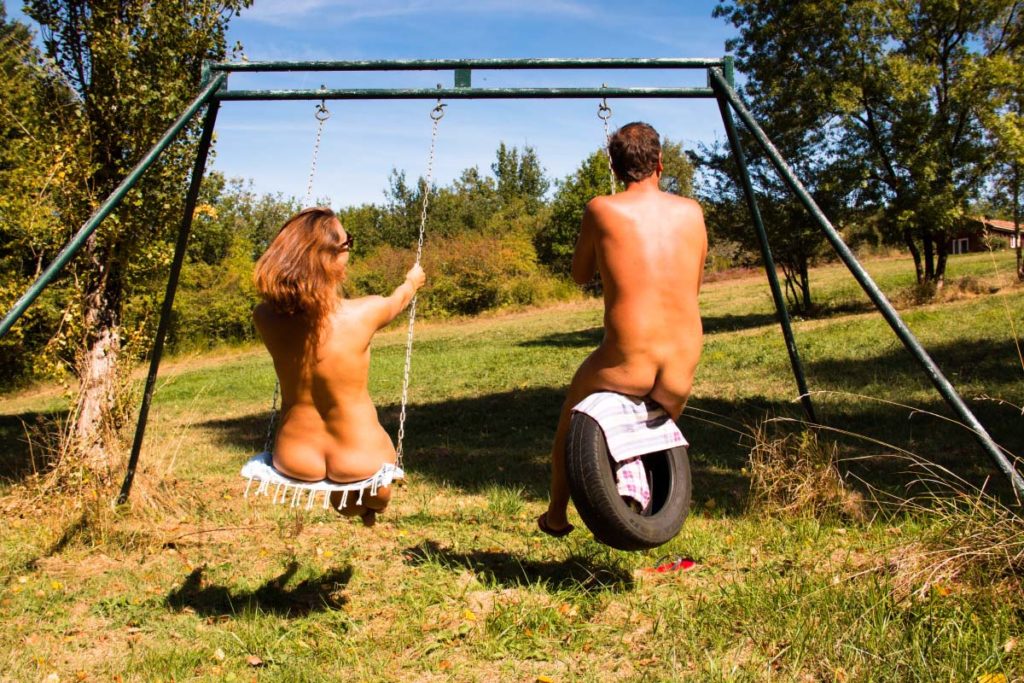 Packing up
45. Wait for the dew to leave: Your trip came to an end or you're moving on to the next place. Before packing up your tent, it's best to wait until the morning dew has evaporated or you'll end up with a smelly home away from home.
46. Last night's rental
: If you do need to leave early in the morning, it's often possible to get a cheap rental option at the naturist campsite for your last night. This avoids that you have to pack a wet tent or that you'll wake up half of the other guests with your packing rituals in the early morning. If the campsite does not have a rental for early leavers, we recommend picking a nearby
Airbnb
instead.
More questions about naturist camping in France?
---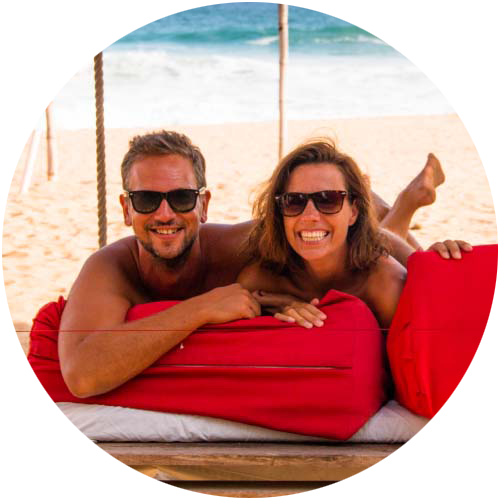 Support Naked Wanderings
Do you like what we do for naturism and naturists? Did we make you laugh or cry? Did we help you find the information you were looking for? Then definitely join our Patreon community!
---