Cap d'Agde probably doesn't need an introduction. Many have visited the huge naturist resort at least once in their lives. Even if you haven't been there yet, the name probably does ring a bell. Or you've already heard some stories about the place. Those stories aren't always very positive and that was the exact reason why we kept avoiding a visit to Cap d'Agde. Until now.
More and more we started to think that, as a world-traveling naturist bloggers, we couldn't stay away from Cap d'Agde forever. One day we would have to find out if the stories are right. The timing couldn't have been any better. The high season had just started, we were in the region and we had something to celebrate. So on the day of our second "travelversary" we walked through the gates of the famous Cap d'Agde. It was time to see the myth and the legend with our own eyes.
How does Cap d'Agde work?
We had decided to forget everything we had ever read or heard about Cap d'Agde. Prejudices are not a good thing when you visit a place like this. And we didn't do any preliminary research. This we already regretted even before we walked into the nude part of Cap d'Agde. We found ourselves at a ticket booth where we had to present our passports. Something we didn't bring along. Because why would we need a passport to visit a village?
That's the first misconception about Cap d'Agde. It is indeed a village, but you are not allowed to be nude everywhere you want to. Inside Cap d'Agde there's a section which is called the "
naturist village
". That's where nudity is allowed everywhere. Or pretty much everywhere, but that's something for later in this story. The naturist village is basically a huge part of town with its own marina, beach, bars, restaurants, clubs, shops, hotels, and of course the world's largest naturist campground:
René Oltra
.
To enter the "naturist village" you are required to register (hence the need for a passport) and to pay an entrance fee. At first, we found it a bit disturbing that we had to pay 8 euros per person to enter a part of a town, but then again it's probably the world's cheapest day fee for a naturist resort.
TIP: You can actually avoid paying the day fee by parking your car Marseillan and following the beach to Cap d'Agde. But this means that you'll pass by a specific part of the beach which we'll discuss further. Don't take your kids via this route…
The Cap d'Agde naturist village
Although we feel that the term "village" gives a false description about Cap d'Agde naturist village (it's not like it has its own postal code or any business which isn't in the tourism sector), we have to admit that it does have all the looks of a real town. The naturist village can be compared with Lloret de Mar in Spain, Fira in Santorini, or Playa del Carmen in Mexico. Except that most people walk around nude. At Cap d'Agde you get the chance to experience what life would be like if clothes didn't exist. You can drive your car nude, go to the shops nude, walk the streets nude, have a choice of nude restaurants, and in the evening get a couple of drinks in a bar. All nude.
The other word in the term naturist village, "naturist", didn't seem 100 percent appropriate either. One of the first things we noticed when we entered the naturist village were large signs advertising sensual hotels, sexy experiences, and swinger parties. The non-sexual idea behind naturism didn't seem to have all that much value. But hey, we weren't going to judge. Yet.
Cap d'Agde naturist beach
When we arrived at Cap during a hot afternoon in early July, the naturist village almost seemed abandoned. Except for the many parked cars, the streets were empty. The restaurants and bars were closed and the shop keepers were half-sleeping behind their counters. During the first ten minutes or so we barely saw a handful of naturists. Just when we thought that this could have been the worst 8 euros ever spent, we arrived at the naturist beach.
We have to tell you, we've been to lots of naturist beaches before, but we've never seen anything like the naturist beach in Cap d'Agde. It's a very large beach and it was PACKED. Thousands and thousands of naked people. And this wasn't even the top of the high season yet. The only way we could think of to get a decent impression of this amount of naturists was to go for a walk. Just like at any other nude beach in the world there was a large variety of sunbathers. Young, old, thick, thin, large, short, hairy, shaven, singles, couples, groups of friends, tattooed, pierced, you name it. Every type of person you can imagine was there. Except for the clothed.
The naturist beach is mainly located right in front of the René Oltra campsite. At the point where the campground stops are two bars and then the beach just continues with several thousand more nude people. By the time we arrived at the bar we figured that all those sex stories about this famous nude beach were quite exaggerated. The only activities we noticed were swimming, sunbathing, some ball throwing, and generally having a good nude time. A nude beach as it's supposed to be. We sat down for a while to enjoy a beer and the lounge music and then we continued our walk.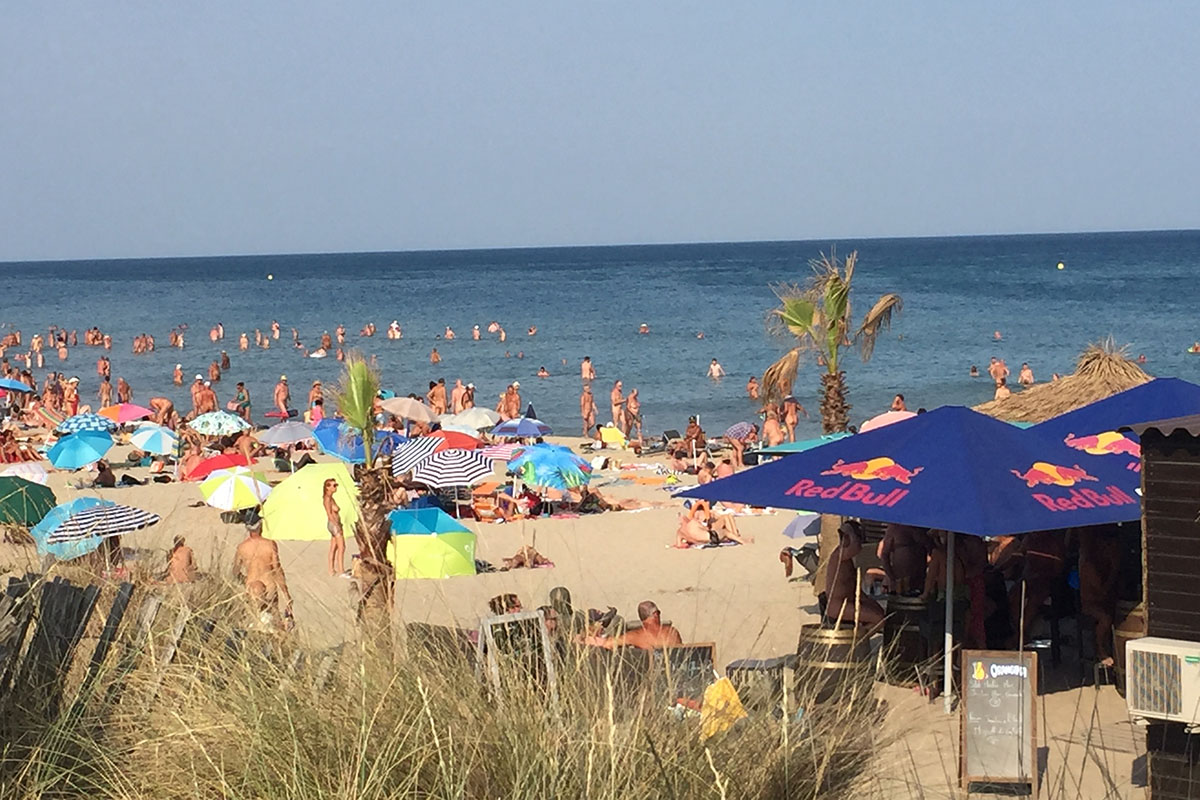 Cap d'Agde not-so-naturist beach
We could immediately sense that the beach behind the bars had a bit of a different atmosphere. It was as packed as the first part but here we felt eyes on us when we walked by. People seemed to enjoy watching us and several times our friendly nod was answered with a couple of penis strokes. You can guess where this is going, right? The further we went, the more we saw visitors playing with themselves or with those around them. We're talking about a whole different level of beach games here.
As genuine naturists, the right thing to do would have been to turn around and go back to the other side of the beach. But that's not how we roll. These are the stories we had heard. The stories that made Cap d'Agde (in)famous. So we bought a beer from an ice cream vendor (this visit was also our celebration, remember) and sat down to see how many of the other stories would become reality. Then something weird happened. Suddenly a bunch of maybe 30 men gathered around a couple. What was going on? Did one of them get a stroke? Did they fall? Were they in need? Well, they must have been in some need. Out of the blue, they had started having sex and the men just stood around them watching and masturbating.
It's one of the strangest things we have ever seen. When the couple was finished, the men looked around and walked towards another couple who were just about to start their show. This happened several times in maybe half an hour. We were speechless. During a quiet moment, the gay couple near us tried to drag some attention but the men did not seem to be interested in them. At that point, we noticed who they were aiming for next… Some had already gathered near us and when one placed himself at about a meter away, smiling and masturbating, we knew that was our cue to walk back to the bar.
Cap d'Agde nude beach bar
Pretty disgusted of what had just happened, we walked into the Paralia Beach Club. The bar that's right on the beach looking all exotic and fancy with deejays and cocktails and happy vibes. A bunch of friendly bouncers made sure that we didn't bring our own booze or narcotics and kept an eye on the general atmosphere. If there's one thing we can tell you about this bar, it's that it was one of the best nude beach bars we've ever seen. And also one of the most expensive ones, but this is also what Cap d'Agde is famous for.
All of the pervert tension of the not-so-naturist beach was gone. This is a place where people enjoy themselves and are respectful towards others. Even when a couple who could have been our parents showed interest in spending the night with us and we kindly turned them down, everything was greeted with smiles. Obviously there were others interested in something more but that was not going to happen inside the bar. And most of all, every opinion is respected. Just like that time when we visited the
Desire Resorts in Mexico
, also here we found that
naturists can perfectly mingle with swingers
without the whole thing becoming gross.
Cap d'Agde nightlife
Our time at the beach bar was legendary and we had the most fun. This was our travelversary as we had wished it to be. Dancing, socializing, and drinking beer. From what we know now, the best thing we could have done when the bar closed was to leave. But that's not what we did. We wandered back into town and found those thousands of people who were previously on the nude beach enjoying their evening with dinners and drinks. With one big difference. Suddenly everyone was dressed. Suddenly we were the only nude people in Cap d'Agde. That doesn't really matter to us. The evening was hot and we knew that we were so much more comfortable than all the others.
After dinner in a Thai restaurant (here's a good tip: never order boeuf tartare at a Thai place) it was time to taste some of the nightlife. We found a street with bars and what immediately caught our eye was the dress code. Or better, the mix of dress codes. There was leather, see-through, latex, stuff that put breasts in a weird shape, and lots of sexy lingerie. Another story about Cap d'Agde appeared to be true. Not that we cared much. Although all these sexy clothing does not represent a "true naturist idea", we also believe a lot in
freedom
and in letting people wear whatever they like to wear. Or not wear.
After being scared away by the masturbators on the beach, we thought that we had seen the worst of Cap d'Agde. But the saddest part has yet to come. It happened when we tried to walk into the Melrose bar.
Bouncer: "Sorry, you can't come in".
We: "Why is that?".
Bouncer: "Because you're naked".
We were refused entrance to a bar in the largest and most famous naturist place in the world because we weren't wearing any clothes. When we walked away we saw a completely nude stripper at the pole spreading her legs. Maybe it was for the better that we didn't get in.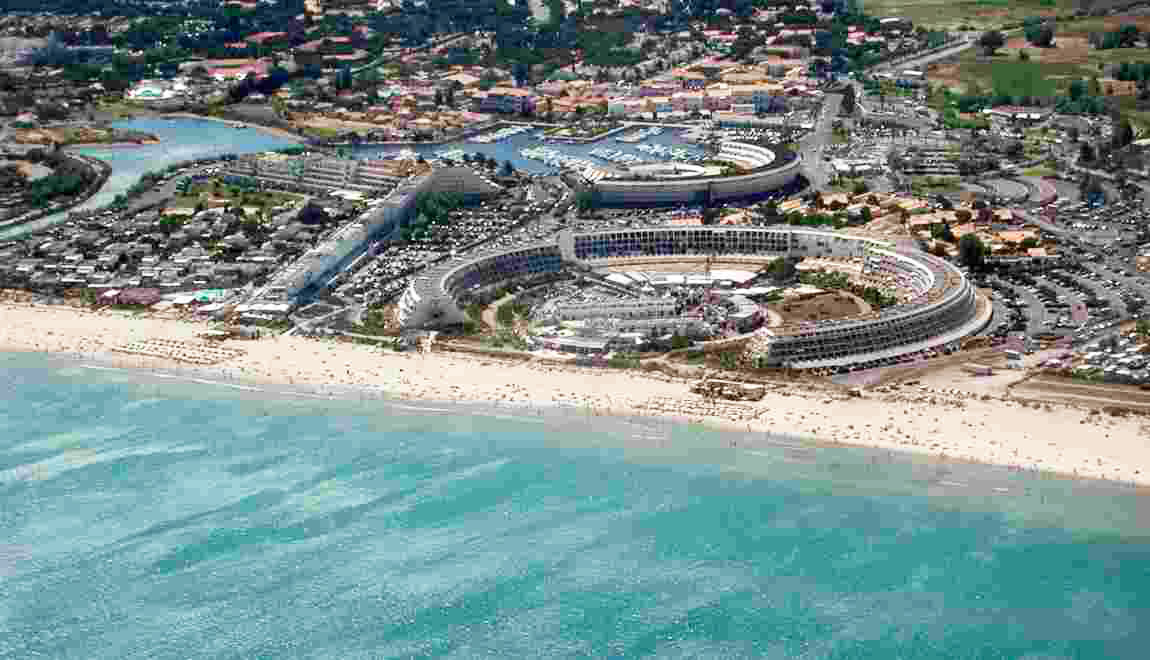 Why you really shouldn't go to Cap d'Agde
We've spent about 12 hours in the Cap d'Agde naturist village and found out that all the stories we had ever heard about the place appeared to be true. What bothers us the most is that the place is still called a "naturist village". We've seen lots of garbage, we've seen lots of sex, we've been treated disrespectfully and we've been prohibited to be nude. There go all the naturist values. Given the fact that Cap d'Agde is often the first place where people get in touch with social nudity, we're not very surprised that
naturism is still often linked to sex
.
The Cap d'Agde tourism board probably couldn't care less about our opinion, but from now on we refuse to call it a naturist village. We're going to call it a nude village. Because that's what it really is. It's like a village, except that you can be nude. Most of the time.
Why you really have to go to Cap d'Agde
In the last part of this blog we mentioned the sexual side of Cap d'Agde a lot, but keep in mind that during most of our short stay we just had a great nude time. The René Oltra naturist campsite is not only world-famous but has done a lot in the past to support
naturism in France
and outside of the country. We didn't have the chance to visit the campsite but we have lots of reasons to believe that at René Oltra the naturist values are still well respected. The same goes up for the first part of the naturist beach.
If you know where to go, and especially where not to go, we're sure that you can even have a family-friendly nude holiday without seeing anything you don't want to see. Or which you don't want to explain to your kids.
More than anything, Cap d'Agde is an experience. There is only one place like this in the whole world. That alone is a reason for us to say that it's worth a visit. In the end, we are happy that we've seen Cap with our own eyes. Even if it was only for a day. And probably also the last one.
Find guesthouses and private accommodation in Cap d'Agde on Airbnb: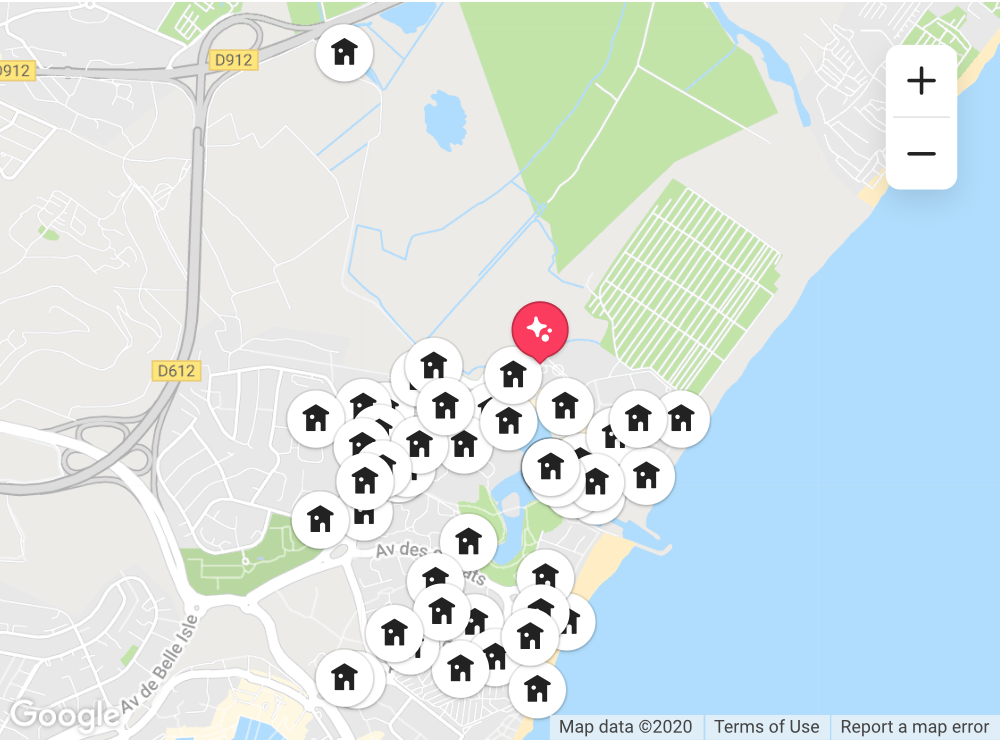 Naked Wanderings' Ultimate Guide for Naturism in France: Occitanie ebook

Are you looking for great nudist resorts and nude beaches in Occitanie?
Are you looking for the best tips for a nude vacation in Occitanie?
Then our ebook will be the perfect resource for you!

Learn More
Need help with planning your trip? Check out our Resources Page for an overview of the best companies we use during our travels
---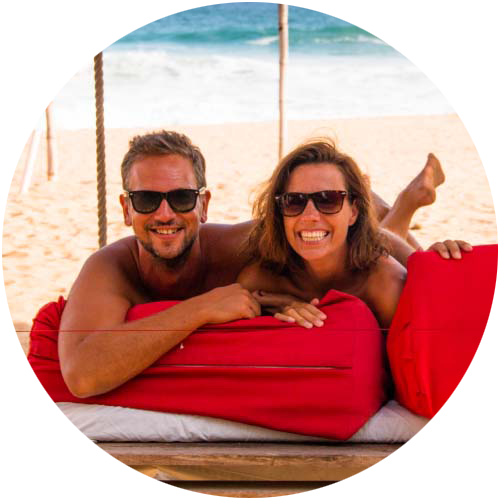 Support Naked Wanderings
Do you like what we do for naturism and naturists? Did we make you laugh or cry? Did we help you find the information you were looking for? Then definitely join our Patreon community!
---