This blog post has been made possible thanks to the sponsorship of France4Naturisme.
For the longest time, naturism was very much connected to the "going back to basics" principle. Camping was the only way to have a naturist vacation because the goal was to get as close to nature as possible. An additional advantage of this concept was the price tag. Camping is cheap, compared to most other types of vacations. Even today, a pitch at the most luxurious naturist campsites is still significantly cheaper than the most basic hotel room or Airbnb.
Of course, this came with a downside as well. What if you don't like camping? Not everyone likes to sleep in a tent or is the proud owner of a camper or caravan. Going on a naturist holiday was either out of the question for the non-camper or a serious attack on their comfort level. There was a gap in the market waiting to be filled.
View this post on Instagram
Cap d'Agde changed everything
Those of you who have been following this blog for a couple of years, know that we have
mixed feelings about Cap d'Agde
. Today, the place can hardly be called naturist, although it does keep holding on to the name "naturist village". But back in the 1970s, Cap d'Agde started a revolution in naturist vacations. When the government of the French president Pompidou drew up plans to develop the Mediterranean coastline, the Oltra family, who had a small naturist club at the coast, convinced the authorities to include Cap d'Agde in the plans.
A smart move, because not much later the development of the first naked city would draw guests from all over the world. Of which plenty would stay at the René Oltra campsite. But the development plans also included apartment complexes, so also the naturists who don't like to camp would also have the opportunity to have a vacation in what would soon become the world's most mythical naturist resort.
View this post on Instagram
The uprise of luxury naturism
Cap d'Agde proved that there was a demand for more comfortable naturist vacations, and it didn't take long for others to start copying the model.
Charco del Palo
on Lanzarote island became another naturist village. On the mainland Spanish coast,
Costa Natura
and
Vera Playa
would open their doors in the early 1990s. The concept was always identical, with privately owned apartments that were rented out to naturist tourists.
The hotel sector noticed this new opportunity too and naturist hotels started popping up all around Europe. The Vera Playa hotel and Vritomartis in Greece might ring a bell, and there are many more. In fact, today you can find a naturist version of any type of holiday resort, ranging from the 2 bedroom B&B to all-inclusive resorts and even cruises. No matter your level of comfort or budget, there will be a place where you can spend your vacation naked.
View this post on Instagram
Where did the nature go?
This revolution in naturist accommodations does also raise an important question: Can we still talk about nature-ism in places that are mostly built in concrete? Although we very much enjoyed spending a couple of days in the superdeluxe naturist resort
Intima Resort
 in Mexico, we have to admit that the connection with nature is quite low on the agenda at places like this.
This has always been the advantage of the naturist campsite. Not only does a tent give you the ultimate connection with nature (except for those willing to sleep under the stars), naturist campsites are typically located on large natural domains. The moment you step out of your tent or camper, you are in splendid nature and not in a hotel lobby. Even with all these new types of naturist accommodations, something was missing.
View this post on Instagram
Luxury naturist camping
Mobile homes were the first solution to this problem. Yes, it means that you're staying in a plastic brick, but at least it's located on a naturist campsite. Over the years, the quality of mobile homes significantly improved and chalets were added to the options. And then came glamping, which is probably the perfect luxury alternative to camping with a tent. A piece of canvas is still the only thing that separates you from the outside nature, but you're sleeping in a real bed and (depending on the type) you get other facilities like a kitchen and/or a private bathroom.
Especially the larger naturist resorts in Europe jumped on the luxury camping trend. The
France4Naturisme group
puts a lot of focus on a luxurious genuine naturist experience and their resorts keep improving year after year. Last summer we also spent quite some time at
Bagheera resort
in Corsica, which also started upgrading its rentals during the last years. We got a glimpse of their renovated seaside villas and when you're sipping wine on your private sea-view terrace, it becomes hard to imagine that you're still on a "campsite". But you still get the experience of being in nature.
Years ago, when we started noticing these upscale naturist camping opportunities, we figured that they were mostly for the elderly naturists who may not be mobile enough to sleep in tents of small campers. But here's an interesting observation from our camping trip last summer: It's often the younger couples and families that are going for the comfort upgrade.
View this post on Instagram
The natural naturist village
The typical naturist villages like previously mentioned Vera Playa and Charco del Palo have the disadvantage that you can't really call them natural areas anymore. They're villages, not nature reserves. Yet, there's one option that we haven't really mentioned yet. In fact, we're writing this blog post at one of these places:
SunEden resort
in South Africa.
We can't really come up with a term for this kind of resort, but "natural naturist village" probably comes very close. We'll publish a complete review of SunEden soon, but just to give you an idea, we're talking about a domain that's 35 hectares large. There is a small campground area, but the most important accommodations are privately owned villas. The concept is pretty similar to the traditional naturist villages, but instead of staying in an apartment in a concrete jungle, here you'll stay in a house surrounded by nature.
SunEden is not unique in this, although similar options are still few.
La Jenny
in France and New Cambium in the Dominican Republic are the only similar resorts that come to mind. If you're looking for a top luxury naturist vacation while still in a natural environment, these are places that are worth looking into.
---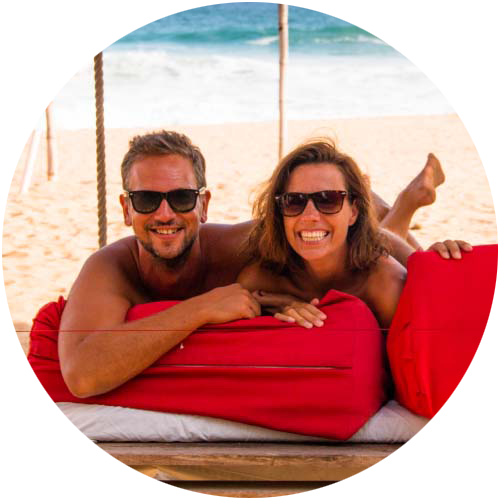 Support Naked Wanderings
Do you like what we do for naturism and naturists? Did we make you laugh or cry? Did we help you find the information you were looking for? Then definitely join our Patreon community!
---