A couple of months ago, we were among the first tourists that were allowed to
enter Italy again
after the 3rd strong wave of the COVID pandemic. That was in early June, quite a popular travel period as the weather in Italy is not that hot yet as in the high season, but definitely already naturist-friendly. From our talks with the resort owners during the weeks that followed, we learned about the many cancelations.
People were still too afraid to travel, too afraid that they would lose their money or get stuck in a foreign country. Many preferred to wait a little bit more, see what would happen with the pandemic and the ever-changing rules, and maybe have their vacation a couple of months later. Today is later, and we hear from many of you that you are now ready to travel. But how do you plan this on such short notice?
https://www.instagram.com/p/CGhh-ccBMp7/
1. Check the COVID rules of your destination
If you are reading this in the future and COVID is meanwhile under control, feel free to skip this first tip. But at the time of writing, this is very accurate and to many, also pretty confusing. A lot of people seem to think that proof of vaccination is enough to be allowed inside another country, but that is definitely untrue. Everything depends on where you're traveling from, which places you've been in the last 14 days, and several other local rules and restrictions.
A good place to start is the
IATA Travel Centre
, they give lots of information for every destination around the world. IATA is an air travel company, but in the very large majority of countries, the same restrictions apply to those who travel by air as to those who arrive overland.
Being allowed inside a country is not the only thing you want to make sure of. Different rules may apply if you also want to travel within that country and depending on which activities you want to do. France and Italy, for example, also require proof of vaccination or a negative COVID test if you want to go to restaurants, bars, etc. This info is mostly found on the website of the local government.
https://www.instagram.com/p/CEW-QUABnV6/
2. When to travel?
A lot of people are used to travel during the same period every year. Keep in mind that the weather may be different if you're traveling during a different period. This may sound obvious, but we did make such a mistake. More than once actually. We often used to do a quick search on the average temperature for a certain month (the most important factor for naturists, right?) but completely forget to check the rainfall and end up soaking but not from the swimming pool. A good website to check climates around the world is
Climates To Travel
.
Different seasons also come at different costs. In Europe, you can expect to pay about double for naturist accommodations when you're visiting between mid-July and mid-August. That also counts for textile resorts, by the way. So, if you're a bit flexible, you can save yourself a lot of money.
https://www.instagram.com/p/B7dyfSTBl3O/
3. How to get there?
If you're traveling with your own transportation, the number of places you can visit completely depends on how far you're willing to drive. As soon as you know the possible radius around your home, you can use a website like
NUDE
to see what your options are.
If you're willing to take a plane, there are several websites that easily show you what your options are. We often use
Google flights
for this, because you're not restricted to a certain destination. For example, you can use the nearest airport as your origin and then type in "Europe" or even "World" as your destination. By playing with the travel dates and the other parameters like "number of stopovers", you get an idea of which places you can easily get to. Again, you can then use a website like
NUDE
to see what your naturist options are.
For traveling by public transport, it's a bit more complicated. We often use the website
Rome2Rio
to figure out how to get to one place or another. But you do need to have already an idea of where you want to go.
https://www.instagram.com/p/CDY9ycshpFN/
4. How to book your stay?
Many naturist resorts have an online booking system on their website these days. That's definitely a good place to start. If you find available accommodation that you like at the resort you want to visit, go for it and book the thing.
If the booking system says that the resort is fully booked, do know that there still might be options. Some resorts don't add all their accommodations in the booking system, to avoid double bookings or to give "showups" a chance too. It never hurts to give the resort a call or send an email to ask about the options. If they are really full, they can also tell you about alternative travel dates.
Also important to know is that more and more naturist resorts, especially the ones with rental accommodations, can be found on
Booking.com
as well. If you book regularly with
Booking.com
, you can profit from the Genius discount which may result in a cheaper stay. Unfortunately, this website has no filter on "naturist/nudist/clothing optional resort", but if you know which place you want to visit, you can just type the name in the search field and see if they have availability on
Booking.com
.
Talking about discounts, if you are a member of a naturist federation, you often get a discount at naturist resorts as well. If this isn't mentioned in the online booking form, you may want to enquire about this via phone or email.
https://www.instagram.com/p/B5vaxCuBspr/
5. How to get around?
One of the most difficult parts of planning a vacation, at least for us, is to organize day trips and local transportations. There are so many websites with all different kinds of packages and prices that you're never really sure what you are actually buying. This especially applies to car rentals. Did we get one driver or two? Are we insured? How many kilometers can we drive? What about the gas? And so on.
We have so much experience with this, both positive and negative, that meanwhile, we've learned which companies we can trust. That is why we've put the
Resources Page
on this website. These are all websites we regularly use and of which we're sure that they are not just a rip-off.
Still not sure?
Planning a trip can be daunting, especially when it has to go fast like for a last-minute naturist vacation. But here's some good news: We can help you with that. We have been to
many places
and we know how to get around. So if you do still have any questions or you're not really sure about how to arrange something, just
send us a message
. We're happy to help!
---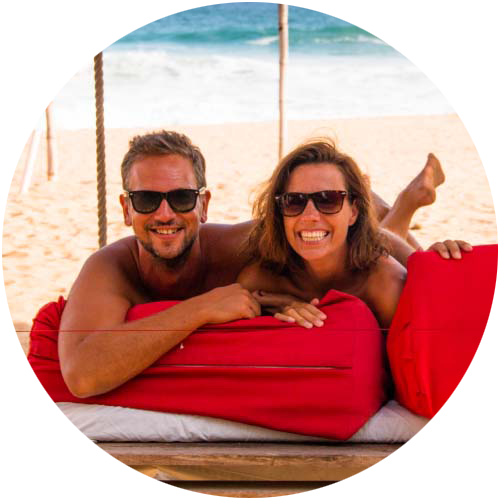 Support Naked Wanderings
Do you like what we do for naturism and naturists? Did we make you laugh or cry? Did we help you find the information you were looking for? Then definitely join our Patreon community!
---