Next month, it will be three years since COVID was first discovered. Can you imagine? Three years! How much has happened since then? Who would have guessed that this little bugger would turn our lives upside down and back. We still haven't gotten rid of it, and as things seem now, maybe we never will. But if there's one thing that humans are good at, it's adapting to new circumstances. We just found ways to live with this new threat in our lives.
We like to believe that every crisis creates opportunities and throughout the whole pandemic we've been looking at how COVID did or did not have an influence on naturism. At first, it didn't look good at all, at least not through our own eyes, the eyes of naturist travellers.
View this post on Instagram
When planes stayed on the ground
We had a pretty nice itinerary worked out for the spring of 2020. We just got back from the
Zipolite Nudist Festival
when we boarded a plane to Cuba to check out the nude beaches in the country. From there, we would continue to Jamaica, Saint Martin, and eventually Florida, USA. A very naked spring, so to speak. Unfortunately, we didn't even make it to our first Cuban nude beach when, after just a couple of days in Cuba, we were kinda kicked out again because the country was going to close its borders.
Travel came to a halt and this was very bad news for many naturist resorts that rely on tourists. We managed to travel back to Zipolite with one of the last planes in the air and got "stuck" in
Casablanca guesthouse
. Note the quotes, although we couldn't really continue travelling, the situation could have been much worse for us. At least we were under the warm Mexican sun and not wearing any clothes for months in a row.
We made the best of this sudden downtime, but we saw a potential disaster come our way. We were the only guests at Casablanca, a place that's normally fully booked months in advance during this period. How long would places like this survive without an income?
View this post on Instagram
A new way of travelling
Meanwhile in Europe, there was huge uncertainty. Resort owners didn't know whether they would be able to open up for the summer or not. In most European countries, the white smoke came around mid-June. The resorts had missed the first months of their season, but at least they could receive guests during the busy summer months. The only question that remained was whether people would dare to travel.
Some did, others didn't, and although most resorts didn't run at full capacity, there was an interesting statistic popping up: The number of first-time naturists was much higher than average. Later, we would identify main two reasons for this. One was that lots of people did want to travel, but were searching for places where they get lots of personal space and plenty of nature. Something they could find in pretty much every naturist resort.
The second reason was that faraway destinations were out of the question, so people were searching for new experiences closer to home. Instead of hopping on a plane to Bali, the idea of having a vacation without clothes sounded like an interesting alternative.
View this post on Instagram
Naked at home
Naturism also sneaked into the lives of those that preferred not to travel. It was simple logic, because of the lockdowns they could not leave the house and the possibility of someone ringing their doorbell was little to none. Putting on clothes suddenly felt so unnecessary. There are quite some funny videos of people who seemed to have forgotten that they're not wearing pants during a zoom call with colleagues and then suddenly get up to grab a drink. Some were probably fake, but we believe that the tendency of wearing fewer clothes at home or none at all was definitely a fact.
One could say that not wearing clothes at home is not truly naturism and that those people probably won't call themselves naturists, but we should not neglect what this does to your body image. It's a proven fact that the first step to becoming confident being naked among others is to first become confident naked in a private environment. These people may not be naturists yet, but unknowingly, they've taken a first step that may lead to much more.
View this post on Instagram
Naturism online
Humans are social beings and probably the worst effect that the COVID pandemic had on our lives was that it heavily reduced our social interactions. Luckily, this pandemic arrived during the age of the internet, so although we had fewer real-life social contacts, we could still communicate via words, voice, and video. Online naturist events became a thing.
British Naturism
positioned itself as a leader in organising online events, at a certain point they had several different ones a day. This strengthened the naturist community and provided an alternative to a visit to naturist resorts. Maybe more importantly, this too created opportunities for aspiring naturists and naturists who don't get the chance to visit nude beaches or resorts to enjoy social nudity.
With naturist organisations starting to focus on using the internet for their events and promotion, they suddenly started reaching a much larger public as well. This immediately reflected in the numbers. British Naturism saw a huge growth in membership and even much smaller organisations managed to create growth. This morning we were talking with the board members of the
Gauteng Naturist Association
in South Africa. Before COVID, they had barely 200 members. Today, this number has almost tripled.
View this post on Instagram
Will this growth continue post-COVID?
Unfortunately, there are also sad stories. The famous
Vassaliki resort
in Greece had to close its doors for good, and other resorts around the world suffered heavily or did not get the needed funds to guarantee their growth. Yet, many other resorts seem to have come out of the pandemic more successful than ever.
We believe that this trend will continue for years to come. Of all the people who try naturism, only a very small percentage turns away from it afterwards. Once you got the taste of it, there's often no way back. So all those people who chose a naturist vacation as an alternative to something else, are quite likely to have another one the next time. All those who tried being nude at home will potentially take the step into social nudity. And now that online naturist events are becoming fewer and fewer again, many of these "online naturists" may take the next step into real-life naturism.
We don't have a crystal ball to look into the future, and maybe we're just being overly positive, but we believe that today we might be at the doorstep of a new golden age for naturism. Well, at least we can hope so.
---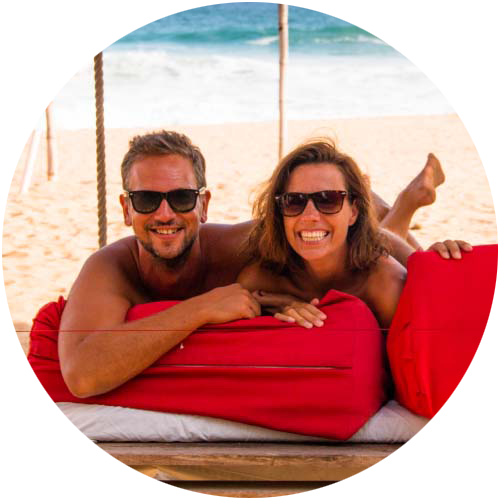 Support Naked Wanderings
Do you like what we do for naturism and naturists? Did we make you laugh or cry? Did we help you find the information you were looking for? Then definitely join our Patreon community!
---