Naturism and camping have been going hand in hand from the early beginning as they both emphasize a close and harmonious relationship with the natural world. Not too long ago, the most commonly used term for a naturist resort was "naturist camp" (or nudist camp). Today, as the options for naturists are wider than ever, naturist camping has not lost its popularity. You can find naturist campsites in Europe, Africa, Oceania, and the Americas, in all possible sizes. The big question is now how to find a naturist campsite that fits your needs.
THIS BLOG POST HAS BEEN SPONSORED BY FRANCE4NATURISME, A GROUP OF 7 TOP-CLASS NATURIST CAMPSITES SPREAD AROUND FRANCE.
View this post on Instagram
Naturist club campsites
Many naturist campsites originate from a club. A group of naturists bought a piece of land to organise their activities, with a designated part to set up the tents or campers of the members. As not all members are always there, and sometimes there are more pitches than there are members, some of these pitches are rented out to visitors.
Typical for club campsites is that they often require a certain membership. Either from the club itself or from a naturist federation like
INF-FNI
or
AANR
(USA). There's often a very social atmosphere as the whole point of a club is to bring like-minded people together. The service and facilities might not be abundant, as most clubs uniquely rely on volunteers. Clubs are also known to enforce nudity whenever possible/comfortable.
View this post on Instagram
Commercial naturist campsites
With the uprise of naturist tourism, some clubs decided to take a more commercial approach. They started providing more facilities and services, hired paid staff members, and focused on attracting the travelling naturist in addition to the local members. On the other hand, a new generation of naturists started seeing the potential of commercial naturist resorts. Especially in Europe, the commercial naturist campsites soon outnumbered the naturist clubs.
The advantages of a commercial campsite are that they rarely ask for membership and that they tend to have more and more modern facilities than clubs. As these resorts try to reach as wide a public as possible, their rules are often less strict than those at clubs. When it comes to nudity, for example, at most commercial campsites the water facilities (pool, sauna,…) will be nude obligatory, whereas at the rest of the campsite, there's no real dress code. While you can often find a social vibe at commercial naturist campsites, they tend to be more anonymous than club campsites.
View this post on Instagram
Naturist holiday villages
An extension to the commercial naturist campsites is the so-called holiday villages. Technically, they are not real villages as they are still private property, but they have all the looks of an actual village. Many of them have a choice in restaurants and shops, an abundance of facilities and activities, and attract thousands of guests per day during the high season.
The advantage of naturist holiday villages is that they often have something for everybody. Do you like volleyball, aqua gym, pottery, surfing, fine dining, wine tasting, whatever… you're likely to find it at these resorts. They are the kind of places where you don't need to leave (or put on clothes) if you don't want to because everything is available right at your doorstep. As these are often very large domains, you can spend a lot of time hiking or cycling on the property. They are also often very anonymous, just because they are so large and receive so many visitors. Some examples of naturist holiday villages are
Euronat
in France and
Koversada
in Croatia.
View this post on Instagram
Pitches and rentals
It's a common misunderstanding that you always need to bring your own accommodation if you want to go to a naturist campsite. While this is still the case at the smaller campsites, most others will provide the opportunity to rent accommodation. The options really depend from campsite to campsite. At some, the rentals will be basic chalets, mobile homes, or caravans, while at others you'll get the chance to stay in an actual villa. The rentals at
Bagheera
in France, for example, have recently been upgraded and provide more comfort and luxury than the average hotel room.
If you do bring your own accommodation, finding a good pitch is very important. We've gotten pretty good at this, but only because we made so many mistakes in the past. If you travel with a camper, you want to make sure that it actually fits on the pitch and that your outdoor area is not facing another camper. The availability of electricity is very important too.
When we travel with a tent, we try to stay as far away as possible from the campers to get a more natural feel. We also try to stay away from lights that could keep us awake at night. We learned that camping close to a sanitary block might seem convenient until the cleaning team starts making noise at 6 am. Shade is a tricky part. During really hot weather, you want to put your tent on a pitch that has shade in the morning. But during the shoulder seasons, you'll very much appreciate the morning sun.
View this post on Instagram
Glamping
Although we appreciate the variety of rental options that exist today, we do often wonder if you can still talk about camping when you're staying in a two-story villa. As we mentioned in the introduction, naturist camping is a lot about the connection with nature and if you're surrounded by concrete walls, connecting to your surroundings might not be that easy.
About a decade ago, a new style of rentals started to gain huge popularity:
Glamping
. It's the best of two worlds. You are still staying in a tent and can fall asleep with the sounds of the outdoors. But you'll be sleeping in a real bed, have lots of space, and often have your own equipped kitchen and water source. Some even have a private shower and toilet. Glamping tents come in all different sizes and with different amenities.
Bélézy
has family glamping tents with two floors and at
Creuse Nature
, we once stayed in a glamping tent that had a bathtub.
View this post on Instagram
Campsite activities
Where you want to stay is obviously an important question, and another one is what you're planning to do. Are you the type of camper who prefers to spend your time in the woods, away from humanity? Do you like sports? Do you like
naked hiking
? Do you like wine and dining? Swimming?
Petanque
? The answers to those questions will determine which naturist campsite is better for you.
If you like to have your choice of activities and a lot of things going on, the naturist holiday villages and the larger commercial campsites will probably be your thing. All the
France4Naturisme campsites
, for example, should be included in your selection. If facilities and activities are of less importance and you prefer to stay somewhere quiet, you might want to look at the smaller commercial campsites or the club campsites instead.
View this post on Instagram
How to find a great naturist campsite?
There are quite some good resources online that give an overview of naturist campsites around the world, including a list of facilities and often reviews from previous guests. We regularly use
Blootkompas
,
Naturist Directory
, and
GetNakedGermany
.
In the
Naturist Destinations section
of this website, you can find our personal reviews of the naturist campsites that we have visited, with an overview of the facilities and the general feel of a campsite. On our brand new YouTube channel
Destination Clothes Free
, you will soon also get to see the inside of naturist campsites around the world.
Another good indicator is always the reviews on Google. By reading what people like and dislike about a certain campsite, you can often get an idea of whether this place will be something for you or not.
---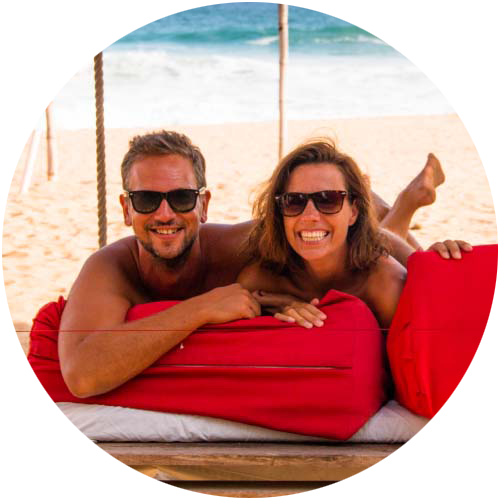 Support Naked Wanderings
Do you like what we do for naturism and naturists? Did we make you laugh or cry? Did we help you find the information you were looking for? Then definitely join our Patreon community!
---