We have joked a lot about petanque over the years, in our blog posts, and in real life. Through naturist history, the balls have become an essential part of being a naturist (pun intended). Every naturist resort we ever visited had at least one petanque court. Often several more. Petanque tournaments are always on the naturist calendar. It's what naturists like to do, throw a couple of big balls towards a small ball.
We've also complained about the naturist petanque scene. From our point of view, this could be one of the reasons why naturism fails to attract a younger audience. Let's be honest, the "Annual naturist petanque tournament" doesn't really seem as attractive to a 30-something like a concert, a party, body painting, or pretty much every other sport. In fact, where we are from, petanque is merely seen as a sport for the elder generations. Unfortunately, also naturism is often considered as something you do when you're well over 60. We figured that if we wanted to get rid of the stigma that naturism can't be fun for the younger generations, we better start with throwing out the petanque courts.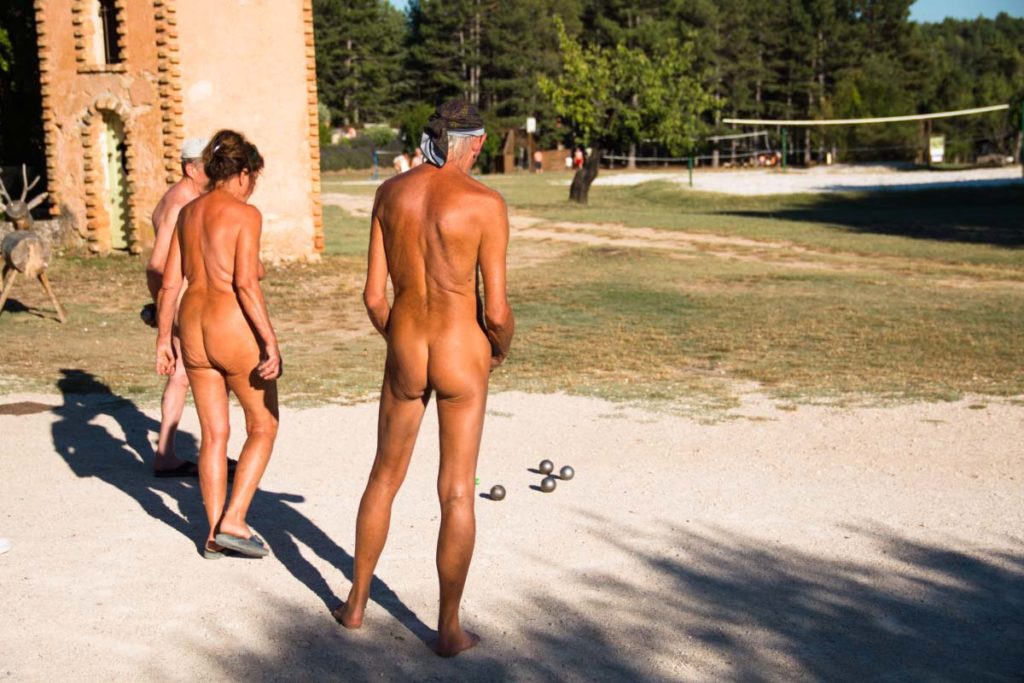 Why does the naturist play petanque? (we think)
Let's start off with a bit of history. From as early as the 6th century BC, there have been recordings of ancient Greeks throwing big flat stones towards a coin or a smaller stone. Yet, the game of petanque as we know it, also called "jeu de boule" or "boules", was only invented in the early 20th century in the
Provence region in France
. In fact, at about the same time as the first naturists started gathering in Germany. A coincidence? Most probably.
During the next decades, naturism spread in the direction of France where it got quickly picked up. Already in 1924, the iconic Héliopolis was established on Île du Levant. A few decades later, the international naturist federation (INF-FNI) was established at the other side of the country, in the beachside resort
CHM Montalivet
. France became an important place for organized naturism, that much is sure.
Meanwhile, also petanque gained popularity. Lots of villages and cities in France have public petanque courts, where people can spend a couple of hours throwing balls with friends, or with strangers. Friendly tournaments during weekends are all but rare. The official petanque federation in France (Fédération Française de Pétanque et Jeu Provençal), counts more than 300 000 members. Believe us, it's a popular thing. Anyway, although the following is purely hypothetical, we don't believe that there's a coincidence between France seeing a rise in naturism and naturists adapting the game of petanque. It was probably the most logical consequence.
That time when we started playing petanque
During our recent
nude road trip through France
, we looked with suspicion at all those petanque games in the late afternoon. The typical image of the naturist campsite. The image that we wanted to get rid of so badly. What's so great about it anyway? Can't they do something else, something cool? What would the image of naturism look like if skydiving, surfing, or climbing became our preferred sport?
The thought got its grip on us, until one sunny evening. The day had been hot and we had been hanging around the swimming pool most of the time. With the sun dropping, we started to feel like doing something. Something not too hard, not too heavy. Just something else than lazing around. We had noticed the sign at the resort's reception saying "free rental petanque balls". From our camping pitch, we noticed that the petanque court wasn't occupied yet. Should we play a game?
We took some snacks and a bottle of rosé wine (hey, if we're doing typical stuff from the Provence, we're going all the way). We picked up some balls and started playing. Since then, we've been playing petanque at pretty much every naturist resort that we visited along the way.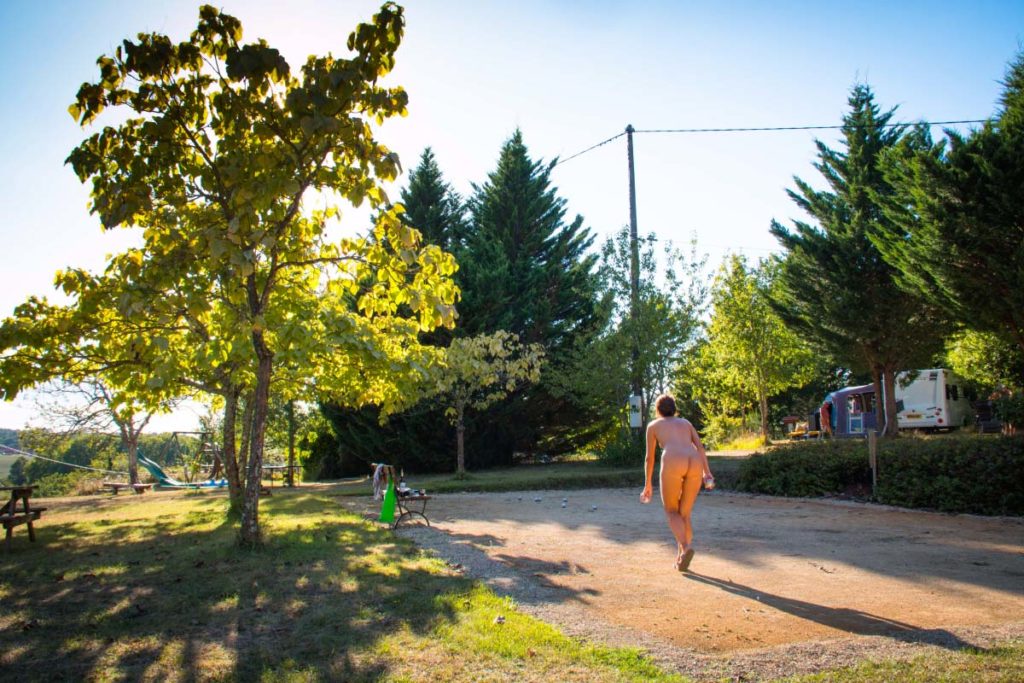 Why does the naturist really play petanque?
It definitely wasn't as boring as it seemed. In fact, if you're a bit competitive, you're likely to have some hair-rising, nail-biting games. The cool thing is that you don't really need specific skills. There's no long learning curve. If you can throw a ball more or less in a certain direction, you're ready to get started.
We don't want to make it seem like super-easy though. Some people get pretty great at petanque. That's the fun thing. You start at a moderate level and once you learn to aim better, control your throwing distance, estimate how far the ball will roll, and predict the effect of the court on your ball, you just get better. But everyone can play it and actually enjoy it. No matter how little experience.
We weren't far into our first game when another couple showed up and asked if they could join. That's when we started to understand the social aspect of petanque. It's much more than just a game, it's also an ice breaker for conversations and a great way to meet new people. And there is no limit to the number of players. Lots of people can be in the same game.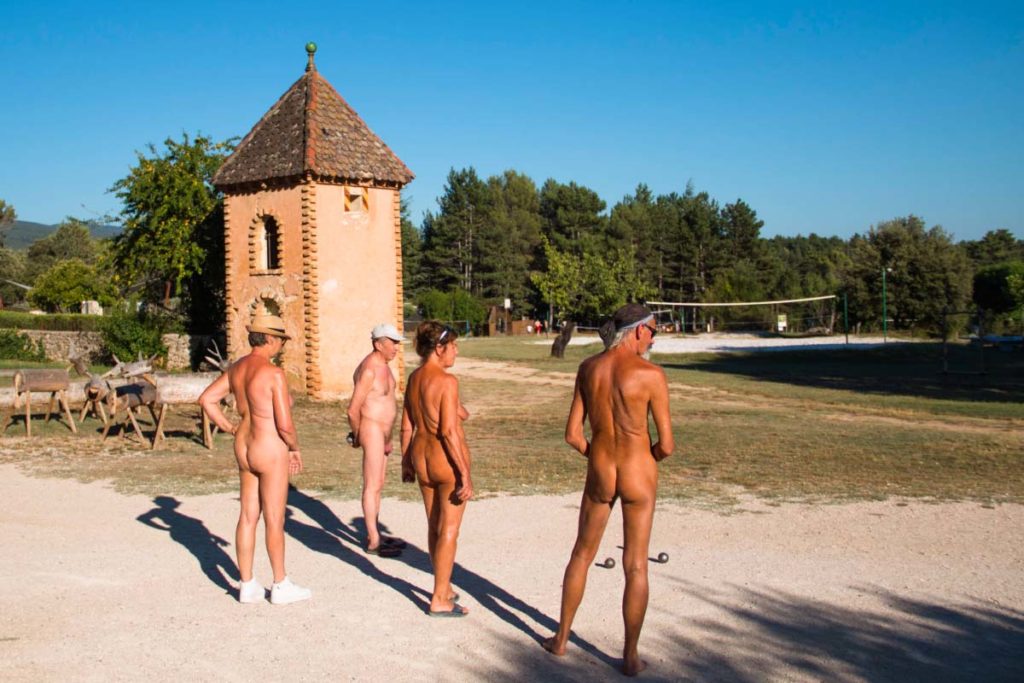 The game of naturists
We have tried as many sports and games in the nude as we could. Just because we just enjoy the new experiences. But not every naturist feels the same way. Many have told us that they feel nothing for
nude yoga
, for example, because it can be very exposing. Others don't enjoy nude volleyball, because they don't like the feeling of their yo-yo-ing body parts. These are things that you don't need to care about when playing petanque. Just like swimming, there isn't any reason why you should not play it in the nude.
The fact that anyone can play petanque, adds to this inclusivity. In naturism, we're all the same and it's great to have a sport that can be enjoyed by anyone. Young or old, athletic or less mobile, it just doesn't matter. Also, the social aspect of naturism is found in petanque. More than often, we found that the chat is more important than the actual game. It's a fun way to get to know other naturists. Yet, if you're skilled in petanque, you'll also find your peers at naturist resorts and get the chance to play some high-end games.
Have we become petanque converts?
We still believe that the picture of a bunch of elderly naturists playing petanque isn't the best way to promote our lifestyle towards the younger generations. But we've definitely learned why so many naturists love to play that game. And we'll surely play again at the next naturist resort that we visit.
If we look at the previously mentioned values, the inclusivity, the friendly games, and the friendships it builds, we can't really think of a better sport to link to naturism. What used to look like a bunch of old people playing a boring game, has now become a great representation of naturism. We only hope that the rest of the world can see this through the same eyes.
---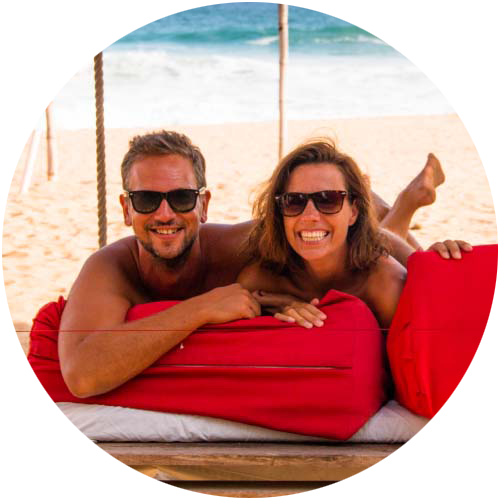 Support Naked Wanderings
Do you like what we do for naturism and naturists? Did we make you laugh or cry? Did we help you find the information you were looking for? Then definitely join our Patreon community!
---