The last time we visited Intima Resort in Tulum was literally just weeks before COVID would shut down the world. It was one of the last nude resorts that we would visit for a long time to come. Obviously, we didn't know that at the time. What we mostly remember are the very luxurious accommodations, the lovely swimming pool, and the fun atmosphere. More than three years later, we return to Mexico and we are very much looking forward to seeing if Intima is still how we remembered it.
How to get to Intima Resort
The international airport of Cancun is the second largest in the country (after Mexico City) and receives direct flights from more than 100 destinations in North and Latin America and Europe. Making it a very convenient place to get to. For your trip to be even more comfortable, the local tourism industry has made it super easy to get from the airport straight to Tulum.
Hiring a private driver or taking a taxi are obviously the fastest and most convenient ways to get from the airport to the resort, but also the most expensive ones. Shuttle buses are a lot cheaper and so is the local ADO bus line. Do keep in mind that these drop you off in the centre of Tulum, from where it's still about 1.5 kilometers to the resort.
If you're reading this blog post in 2024, there should normally be a brand new airport in Tulum, which will make getting to Intima Resort a lot quicker. Also the construction of the Maya Railway, which has a station in Tulum, should be concluded by then.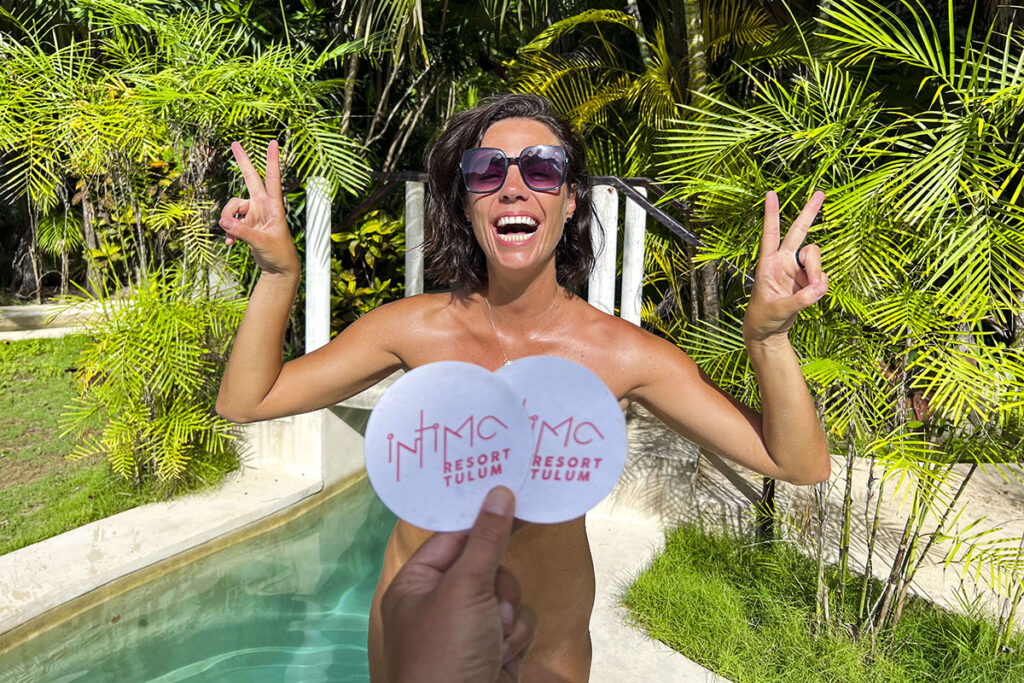 Where to stay at Intima Resort
At the resort, you'll find an array of delightful condominium styles to choose from. There is the cosy Studio Suite, equipped with a bathroom and a convenient kitchenette. For those seeking a bit more space and luxury, the Junior Villa comes with a living room and a full kitchen. But if you truly want to indulge, the One Bedroom Master Villa and the Two Bedroom Master Villa are the epitome of comfort.
This time, we stayed in a One Bedroom Master Villa at ground level, and the best part was definitely that these have a private terrace with direct access to the swimming pool. There is a spacious living room with cosy couches, a large and fully equipped kitchen, and a large bedroom with an ensuite bathroom. Other than the large shower, we very much appreciated the thoughtful selection of natural, regional shower gel and shampoo. The generous windows provide a great view throughout the whole villa, hinting at the promise of another delightful day as we woke up each morning.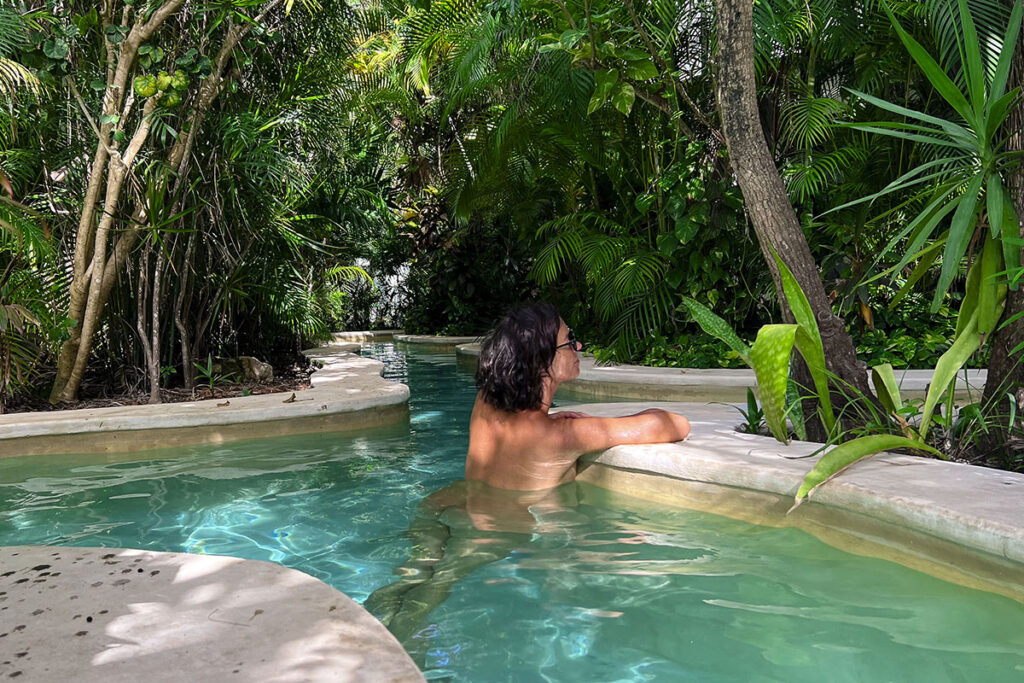 What to do at Intima Resort
The last time we visited Intima Resort, we came in the middle of the high season when Tulum is bustling with crowds, noise, and dust. We remember how Intima became our refuge, a serene oasis of tranquillity and lush greenery while still just steps away from the busy streets. This time, we visited in the low season and the town was a lot less busy. Nevertheless, Intima was still the same green oasis as we remembered it.
The top highlight of the resort is the swimming pool. It's beautifully designed with round shapes instead of sharp corners and a variety of "rivers" take you to private sitting areas and the swim up sections of the condominiums. There are sunbeds around the pool, as well as in the very shallow sections where you can soak up sun while keeping your feet wet.
When the sun starts to set, we and several other guests preferred to retreat towards the jacuzzi, which is a couple of degrees warmer than the main pool and a great place to socialise. The bar and restaurant were unfortunately closed during our stay, so we couldn't enjoy the delicious cuisine that we wrote about in our
previous review
. Luckily, our kitchen provided everything we needed to cook our own food on the days when we didn't want to eat out or get delivery.
Around Intima Resort
A trip to this part of Mexico wouldn't be complete without exploring the magnificent Maya ruins. Even for those not particularly drawn to culture or history, these awe-inspiring structures are bound to leave you breathless. Among the most renowned ruins in the region, you'll find the majestic Chichen Itza, located about a 2.5-hour drive from Tulum. For a less crowded yet equally remarkable experience, consider visiting the ruins of Coba (just an hour away) or the ruins of Tulum (accessible with a mere half-hour bicycle ride!).
Another highlight in the area is the cenotes. These spectacular subterranean lagoons offer opportunities for swimming, snorkelling, and even diving. Some of the most famous cenotes near Tulum include Dos Ojos, Nicte-Ha, Calavera, and Aktun Ha. If you're really looking for a unique experience, get in touch with the company
Tulum Diving & Travel
. Their guides can take you to a less crowded cenote that can be enjoyed without bathing suits.
Of course, we cannot overlook the allure of Tulum Beach. Once the epitome of bohemian charm, it has undergone significant development with massive resorts claiming sections of the beach as private property. Nonetheless, you can still relish a touch of that old-time boho ambience by lounging in a hammock at one of the beach bars. We found two sections of the main beach where nude sunbathing was allowed. One right next to Azulik Resort and the other in an area called Santa Fe, just south of the ruins. As these are unofficial nude beaches, going naked is at your own risk.
If you're more into pristine, untouched white beaches, a journey southward to the Sian Ka'an Biosphere Reserve is a must. The vast emptiness of the reserve permits secluded moments, therefore these beaches are also known to attract nude sunbathers. But these too are unofficial nude beaches.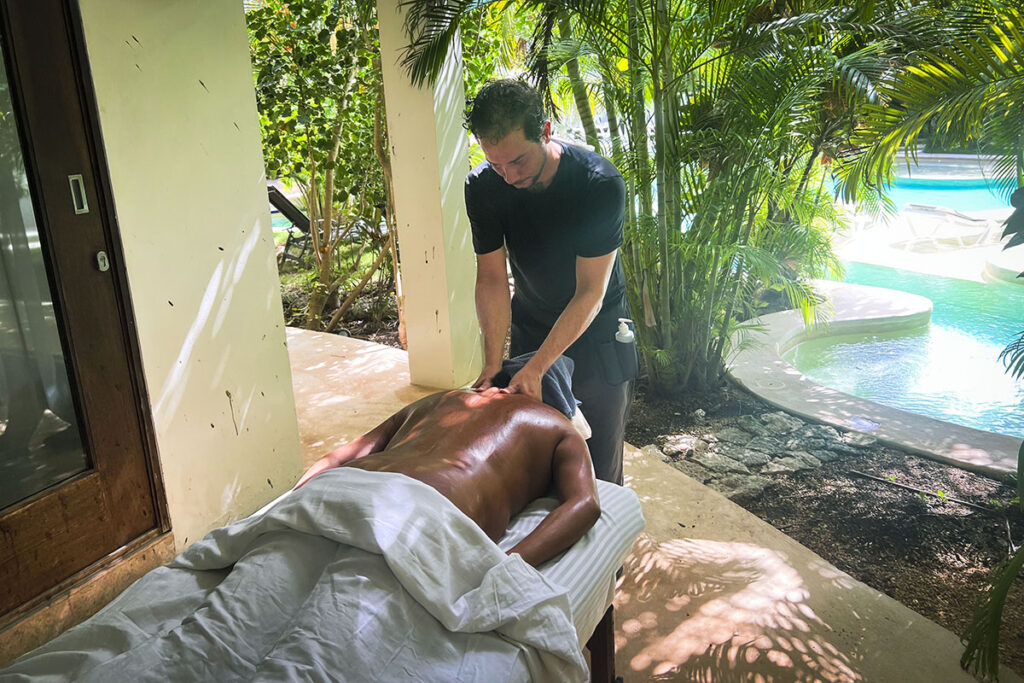 Staff & Guests of Intima Resort
As this was the low season, there wasn't an abundance of other guests. We did meet several other couples during our stay as well as a number of day visitors who just came for the afternoon. Day visits are also popular among groups of local nudists. The low season (May to September) is a great time to visit Intima Resort if you prefer quietness and tranquillity. If you would rather enjoy a lively atmosphere, we recommend going in the high season.
As the restaurant and bar were closed during our stay, we didn't meet that many staff members other than the lovely receptionists and the very friendly cleaners and security people (who let us in and out outside of reception hours). Everyone did their very best to make sure that our stay was as comfortable and memorable as possible.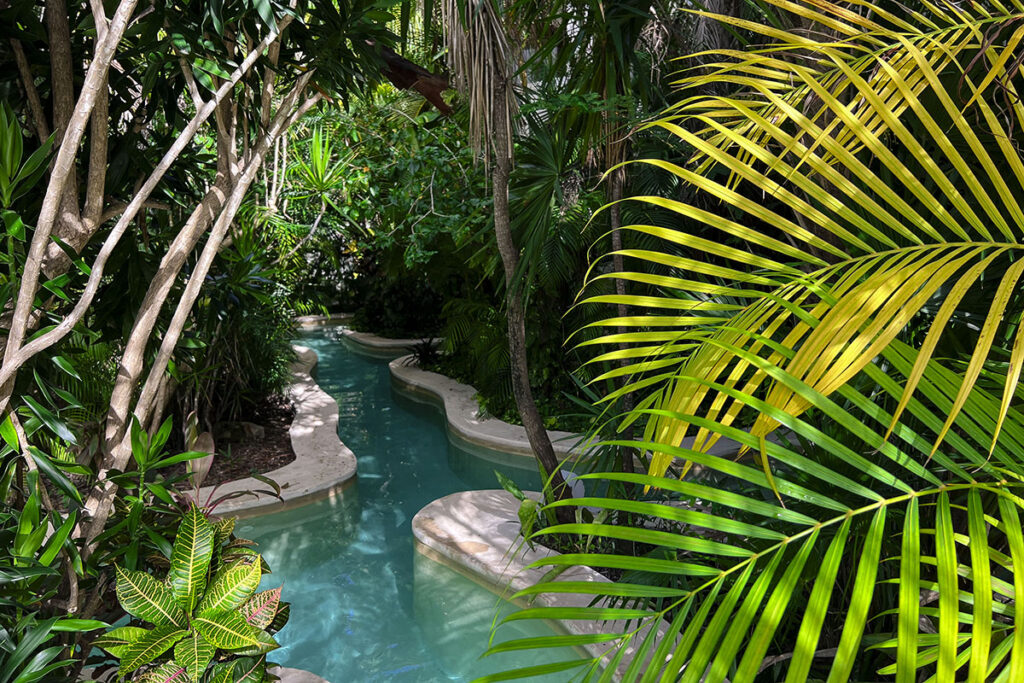 Book at Intima Resort
The best ways to book at Intima Resort are:
English and Spanish are fluently spoken
Summary
It was great to see that not all that much had changed at Intima Resort since our last visit. It's still the lovely green oasis within bustling Tulum as we remembered it, and we were happy to experience the resort during a different season. The next time we're in the area, we'll definitely be back again.
---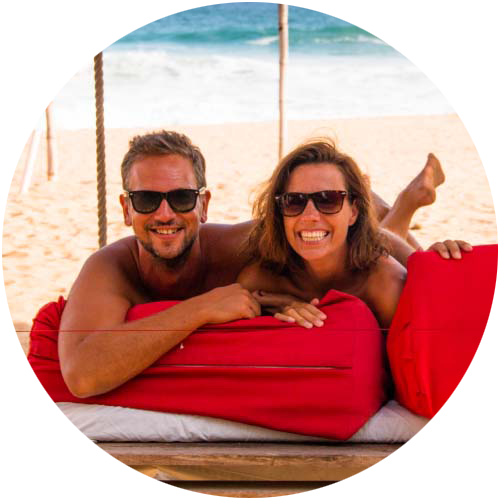 Support Naked Wanderings
Do you like what we do for naturism and naturists? Did we make you laugh or cry? Did we help you find the information you were looking for? Then definitely join our Patreon community!
---