This blog post has been made possible thanks to the sponsorship of France4Naturisme.
Over the years that we've been blogging about naturist destinations, some of you have asked us to put actual ratings in our blog posts. A scale from one to five or to ten. This would make it easier for you to pick out the best places in the world for your future naturist vacations. But the thing is, there's never a guarantee. It's not because we think that a place is the best in the world that you will enjoy it as much as we did.
That's why we're not such fans of ratings. We don't think that it's right to influence your choice by giving a certain resort an 8 out of 10 instead of a five. There are so many external factors that may determine your experience, like the people you meet, how well you sleep and even the weather, and that might have you end up enjoying a place much more than we did. Or much less.
Ratings do make sense, however, when they are purely based on tangible things. On the facilities and accommodations. And this is what's being done in France.
Campsite stars in France
The system of campsite stars is universal in France, so there's no difference being made between naturist campsites and textile campsites. They are all rated based on the same set of rules. As mentioned earlier, a higher rating is not a direct indication of a better experience. But it does tell you a lot about what to expect at a campsite. Based on the number of stars you do get an idea of whether a certain campsite will fulfil your needs or not.
Campsites in France are rated by stars, with one star being the minimum and five stars being the maximum.
1-Star Campsites
These are the very basic campsites. A general rule is that toilet and shower facilities should be available, but hot water is not guaranteed. We don't think that we've ever visited a 1-star naturist campsite in France. Probably some of the small naturist clubs would qualify as a 1-star campsite, but may not be using the star system.
2-Star Campsites
To qualify as a 2-star campsite, hot water should be available in the showers and there have to be electric power points. Another criterium for 2-star campsites is that shower facilities need to be available with individual cabins. We're not sure whether this applies to naturist campsites as well. We honestly can't remember if every two or more star naturist campsite we visited had individual shower cabins. We never use them either. Why would you want to shower in a small cabin instead of a spacious communal shower?
3-Star Campsites
As of 3 stars, you'll start to notice big differences. The pitches will be larger, at least 80m² compared to 70m² for the one and two-star campsites. Clean facilities with hot showers are guaranteed. There has to be a possibility to buy food at the campsite or in a nearby store. The reception staff should at least speak 2 languages. And you're very likely to find a children's playground, sports facilities and a swimming pool.
4-Star Campsites
The difference between 3-star and 4-star campsites is largely in the facilities. There will be more sports facilities, more shops, more activities, often several swimming pools, one or more restaurants, a laundry service, and so on. The pitches are typically also a bit larger at a 4-star campsite than at a 3-star one.
5-Star Campsites
These campsites are considered the best of the best when it comes to facilities and luxury. While a 4-star campsite may stand out in some things (like amazing activities, or several swimming pools), the 5-star campsites are expected to stand out in everything. At the moment, there are only two 5-star naturist campsites in France:
Bélézy
and
Le Sérignan Plage Nature
. Both are members of the
France4Naturisme group
.
View this post on Instagram
Other specifications
While these qualifications may give you some insights into what to expect, like an onsite restaurant, a large pool, or at least hot running water, they will indirectly also tell you a lot more about a campsite. For example, if you look at the number of facilities that are needed to qualify as a four or five-star campsite, you'll realise that this can't be possible at a place with only a handful of pitches. Hence, campsites with more stars tend to be larger as well.
More facilities also make a campsite more interesting for families. So if you're travelling with the offspring, you might want to look at campsites with more stars. While if you're trying to escape kids, you may want to look at fewer stars. The price too is directly related to the number of stars. It's quite easy to find one or two-star campsites for less than 30 euros per night. Even in the high season. Whereas you might be looking at 50 euros or more if you're going to the 5-star campsites. That price is per pitch, by the way, not for rentals.
A tricky part is wifi. Theoretically, wifi should be available at the campsites with 2 stars or more. "Available" means that you should at least be able to read your emails. BUT… There are a number of exceptions. If the campsite has a "no wifi" policy, to encourage digital disconnection, wifi is, of course, not required. Another exception is when providing wifi is technically impossible. Something that is actually very common in France. We have been to 4-star campsites where the only wifi possibility was a shared 3G connection. We can tell you, when there are hundreds of others using the same line, checking your email will take a very, very long time.
View this post on Instagram
Clef Verte
Campsite stars are not the only rating system you may want to look at. If you're concerned about the environment, you also want to check the
Clef Verte label
. This is an internationally recognized label that is granted to campsites who actively spread environmental awareness, ecologically manage their water, energy, and waste, and encourage responsible shopping.
Which campsite to choose
As we've mentioned earlier, campsite ratings only give you an idea of what to expect and are not a guarantee of whether or not you will enjoy a certain place. Personally, we think that other than just looking at the facilities, it's also necessary to see the context. For example, Britany in the north of France is known for its… ehm… questionable weather. Access to a swimming pool may be less important in this part of the country than in let's say the hot Provence region.
Another example is campsite
Bagheera
on Corsica island. This is a 4-star campsite and as far as we're concerned, they could easily get the fifth star. But that's unlikely to happen because they don't have a swimming pool. The thing is, they don't really need one, because they have direct access to the sea and to the longest nude beach in Europe.
View this post on Instagram
Campsite groups
One last indicator that may help you choose the right naturist campsite in France is by looking at the campsite group. There are several of these groups in France, like
Naturisme et Terroirs
which puts the focus much more on a natural environment than on facilities. There's
naturisme.com
, which focuses on mid-size campsites with a lot of comfort. And then there's
France4Naturisme
, a group of large campsites that are considered the top of the bill when it comes to luxury.
The advantage of campsite groups is that they have their own set of requirements that are applied to all their campsites. Meaning that if you enjoyed one campsite in the group, you will probably enjoy the other ones as well because you can expect pretty much the same values, service, and facilities.
Depending on your wishes and needs, the campsite stars, the other labels like Clef Verte, and the campsite groups should help you in your search for the ideal naturist vacation destination.
---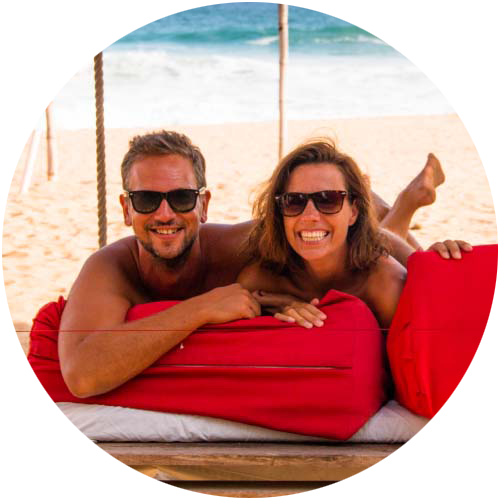 Support Naked Wanderings
Do you like what we do for naturism and naturists? Did we make you laugh or cry? Did we help you find the information you were looking for? Then definitely join our Patreon community!
---