For the longest time, going on a naturist vacation meant that you had to go
camping
. There was no way around it, naturist campsites were the only places in the world where you were allowed to stay and mingle with others, without clothes. But those days are over, for quite a while already. As nude vacations started to gain popularity, the need to accommodate those who don't feel much for staying in a tent or camper became more apparent. As a result, the first naturist hotels started opening their doors.
View this post on Instagram
How "naturist" are hotels?
Many of you will agree that naturism is about more than just being naked. It's also about appreciating our bodies, meeting great people, and being close to nature. If you're staying in a hotel, to what extent can you still connect to your surroundings?
It's easy to get dragged into the good old "naturist vs nudist" conversation, but we don't really like putting specific labels on people. In the end, it's all about what your preferences are and how much you value the different aspects of naturism. If the connection with nature is the most important part for you, maybe a naturist hotel may not be your preferred vacation destination. Just like camping deep in the woods is not ideal if you like to meet many other naturists.
As far as we're concerned, as long as we're talking about places that promote nudity in a non-sexual way and that create spaces where respect for others is important, we believe that we can talk about naturist hotels. But feel free to replace the word "naturist" with "nudist" or any other term of your preference in the following paragraphs.
View this post on Instagram
Naturist BnBs
Naturist Bed and Breakfasts are the smallest type of naturist hotels and often consist of not more than a handful of guest rooms. We've noticed an increasing popularity in these during the last few years, especially in Europe, North America, the Caribbean, and
Bali
. The idea is that you're staying in a private person's house, or at least on their property and that breakfast is included in the price. In France, you'll find the concept of "chambres d'hôtes", where you'll often have the chance to join your hosts for dinner as well.
Naturist BnBs are very social places and most often you can expect a lot of interaction with your hosts and the other guests. Unlike large hotels, B&Bs provide an intimate and cosy atmosphere, often hosted by locals who offer genuine hospitality and insider knowledge about the area. As there are few rooms, there often aren't that many facilities either. If you're planning to travel with the family, it's best to check upfront if there's enough to do for your children.
View this post on Instagram
Naturist Boutique Hotels
One step higher on the naturist hotel ladder are boutique hotels. These smaller hotels are known for their individual character and design, often reflecting the local culture. With a limited number of rooms, guests can expect a more tailored and attentive service, as staff can focus on their specific needs.
Similar to BnBs, if there is a restaurant, it will often have locally sourced cuisine. Naturist boutique hotels are a great choice if you appreciate authenticity and personal service, but if BnBs are a bit too small for you. The number of facilities will also be larger than at a BnB. Naturist boutique hotels are increasing in popularity in Europe, especially in countries like
Italy
,
Portugal
, and
Greece
.
Naturist Hotels
Then we get to the actual hotels. Just like in the textile world, naturist hotels often have a large number of rooms and typically provide a comprehensive array of amenities and services. They will also more often be found in popular destinations, like at the beach. On the other hand, they offer a less intimate and personalised service and often have a specific dress code, like no nudity in the restaurant.
Naturist hotels are a great choice if you appreciate a lot of things to do and meet many other guests, although some people specifically choose a hotel because it gives them more anonymity. Naturist hotels are common in popular naturist destinations in Europe like
Vera Playa
, and Île du Levant as well as in the Caribbean. In Thailand, naturist hotels are the default type of naturist accommodation.
View this post on Instagram
Naturist All-Inclusive Hotels
The final step on the naturist hotel ladder is all-inclusive hotels. One of the primary benefits is the simplicity and ease they provide. All-inclusive packages typically include accommodation, meals, beverages, and often entertainment and activities, all bundled into a single upfront price. This eliminates the need to constantly budget and make dining or entertainment decisions, allowing guests to fully relax and enjoy their stay.
A downside of all-inclusive hotels (and to an extent also regular hotels) is that they are often not very environmentally sustainable. Many all-inclusive hotels end up with lots of waste and water and electricity usage. This is partly due to their concept, but also partly the responsibility of the guests. So if you stay in one of these, please mind the environment. Turn off the air conditioning when you're not in the room and don't take more food than you can eat.
Naturist all-inclusive hotels are great if you just and to get away from the world and don't want to think about anything. Many people choose these hotels for pure rest and relaxation, although there are quite often activities being organised. Naturist all-inclusive hotels are mostly found in the Caribbean.
View this post on Instagram
Naturist Hotel Activities
So what do people do at a naturist hotel? The possibilities largely depend on the type of hotel that you choose. Most naturist bed and breakfasts will have a swimming pool and sunbeds, some will also have spa facilities like a sauna or jacuzzi. The most important activity here is socialising though. Boutique hotels will often have more facilities, like a bar or a petanque court, and are more likely to organise activities for their guests. Often with a local touch.
Naturist hotels and all-inclusive hotels provide the largest range of facilities and amenities, often featuring different pools, a beach, sports, wellness, etc. They will also have the most activities. In many naturist hotels, it's very easy to keep yourself busy from morning to evening if you're not the "lay next to the pool all day" kind of person.
View this post on Instagram
How to find a great naturist hotel?
There are quite some good resources online that give an overview of naturist hotels around the world, including a list of facilities and often reviews from previous guests. We regularly use
Blootkompas
,
Naturist Directory
, and
GetNakedGermany
.
In the
Naturist Destinations
section of this website, you can find our personal reviews of the naturist hotels that we have visited, with an overview of the facilities and the general feel of a hotel. On our brand new YouTube channel
Destination Clothes Free
, you will soon also get to see the inside of naturist hotels around the world.
Another good indicator is always the reviews on Google. By reading what people like and dislike about certain hotels, you can often get an idea of whether this place will be something for you or not.
---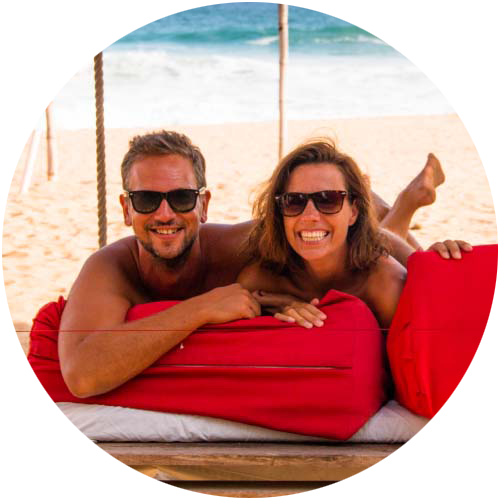 Support Naked Wanderings
Do you like what we do for naturism and naturists? Did we make you laugh or cry? Did we help you find the information you were looking for? Then definitely join our Patreon community!
---