The summer in Europe has come to an end, many naturist campsites have either already closed their doors or will do so in the following weeks. Half a year ago, we didn't dare to imagine how busy this summer would end up being. Then suddenly, the world started opening up again and we quickly started making plans to hit the road. Before we realized it, we had a busy itinerary ahead of us, one that would bring us to Italy, Belgium, Croatia, and France.
As we would be traveling pretty fast, and hopping from one country to another, bringing our own accommodation didn't seem like a possible option. Even though the majority of the naturist resorts on our list were campsites. Luckily, there's always the glamping option. Something we do enjoy a lot because we like the atmosphere at naturist campsites, we like being close to nature, but we also appreciate a certain level of comfort.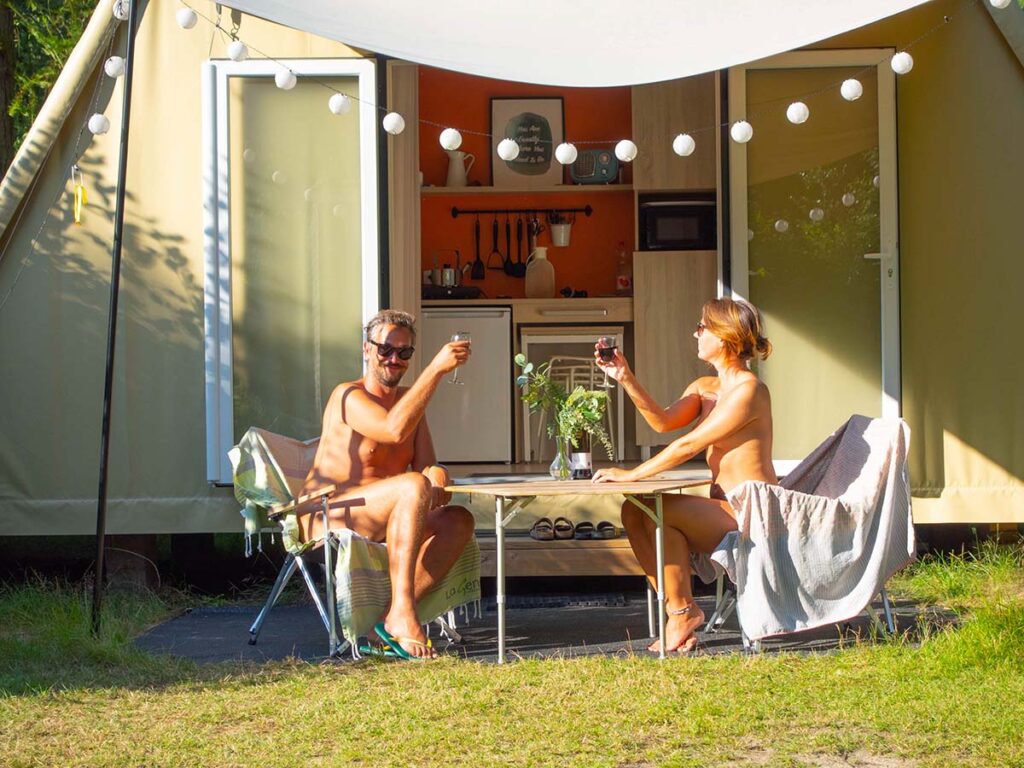 What is glamping?
The word "glamping" is a mix of the words "glamorous" and "camping". As the Oxford dictionary explains it much better than we ever could: "Glamping is a form of camping involving accommodation and facilities more luxurious than those associated with traditional camping".
Mobile homes have been popular for a long time and can be seen as a form of glamping. During recent years, the range of options has been expanded enormously and other accommodations like chalets and many different styles of luxurious tents have been popping up at naturist campsites around the world. The days when camping meant sleeping in an igloo tent or investing in an expensive camper are long behind us.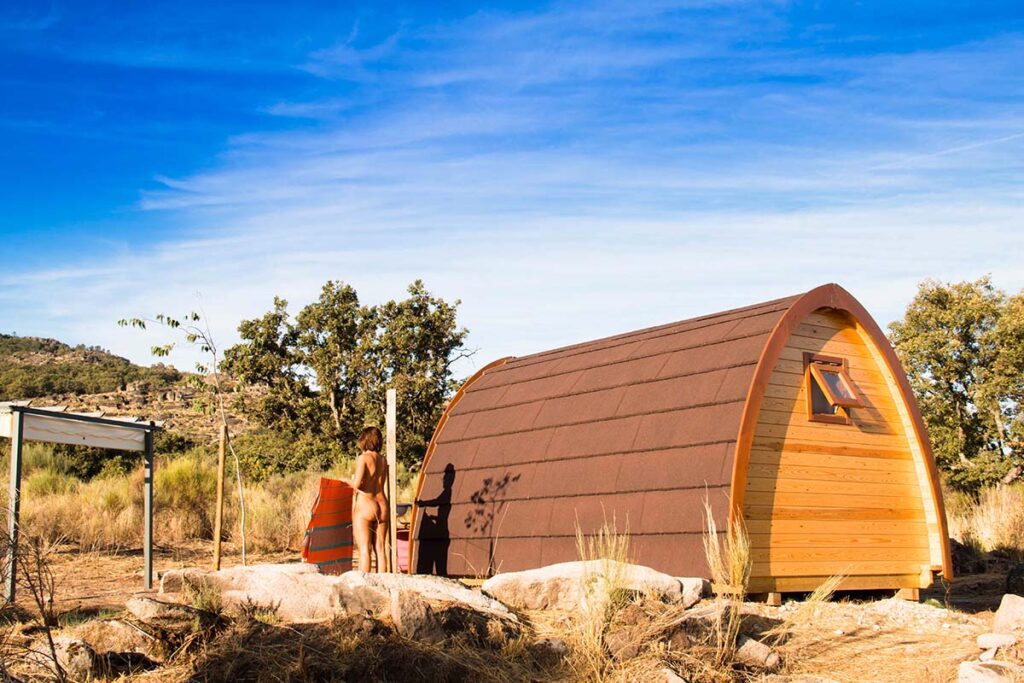 The things we missed while glamping
We stayed in several different glamping accommodations throughout the summer and absolutely loved it, but there were several things that we did miss. Maybe we will now sound very snobbish or overly critical, but we hope that the following points may be a help for future glamping travelers as well as for resort owners who are looking to improve their glamping facilities.
The camping basics
One thing we often noticed was that the focus is still often on the traditional camper, meaning the person who brings everything. Some glamping tents come with a welcome package that includes a sponge, dishwashing liquid, some soap, etc. Other tents had none of these. As we try to travel as light as possible, those are exactly the things that we try to avoid carrying along. We imagine that there must be others out there like ourselves, who come by some form of public transport and just can't pack all those necessities.
We would appreciate it if those basics were already available, maybe not for the whole stay, but at least for the first day or two. Having to find your way to the nearest supermarket to buy a sponge just isn't the perfect start of a vacation. Another thing we'd love to receive for the first day is coffee. It's not so hard to pack coffee, but different places have different coffee machines, so you're never sure whether your filters or pods will actually fit.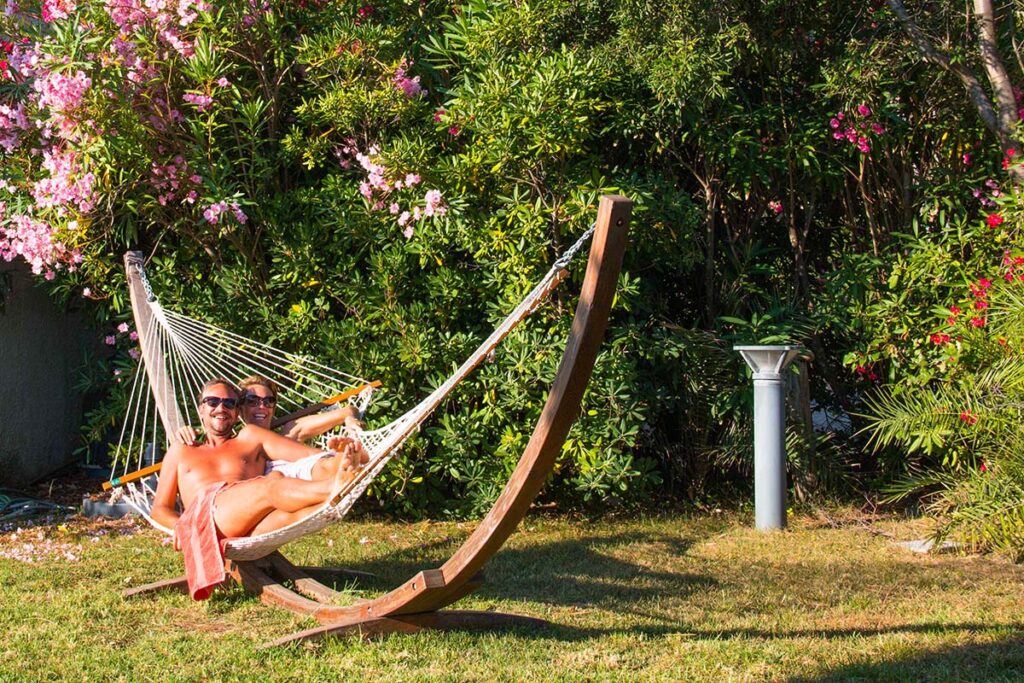 Bedding
We could consider this part of the camping basics, but it deserves to be a separate item because bedding isn't something you can just buy in the supermarket. Well, you could, but that would make a glamping trip particularly expensive. Most campsites do have the option to rent sheets and pillowcases though.
We do have to note that in our experience, this seems to be a very European thing. When we camped in other parts of the world, bedding was often provided by default. Maybe it's an ancient concept in European naturist camping to bring your own bedding, but we always wonder why these can't just be included in the price.
A mirror
This is something we found particularly surprising, the lack of mirrors in a glamping tent. What happened with the "glamorous" part of glamping? Not that we need to spend hours getting hair and make-up right, it's mostly for the little things. We both have contacts, for example, and we need a mirror to get those in and out. It's just not convenient having to walk to the shower block to take out your contacts late at night.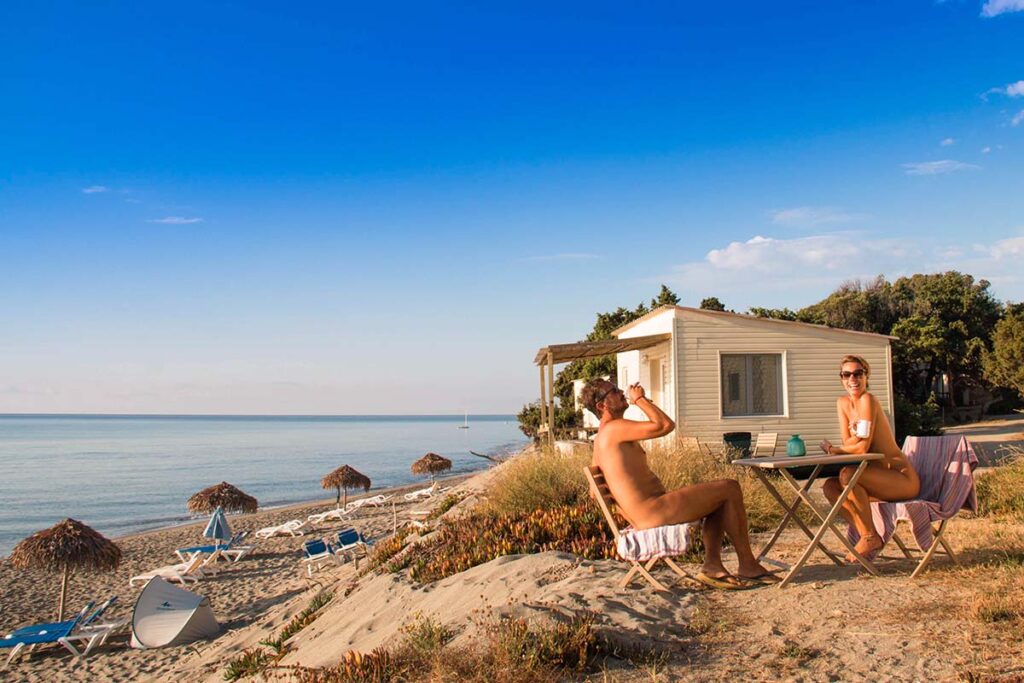 Hooks and sockets
Our friend who owns a naturist guesthouse once told us that there are two things you can't have enough of in a hotel room: Clothing hooks and sockets. Yet, those are two things that we're often missing in glamping accommodations. Why would we need clothes hooks at a naturist campsite, you may ask. Well, just because of that. Because we spend a lot of time naked, we can use the same clothes for several days. Hooks would just be perfect to store them. And, most importantly, we need hooks for our wet towels.
The lack of sockets may be something personal. Most glamping tents come with several sockets, we just need more than several. Since we travel with a lot of electronics, we always have phones, cameras, laptops, and drone batteries that need to be charged. Preferably all at once during the night.
Folding chairs
Glamping tents are often very nicely designed and the furniture tends to be in wood to make it blend even more in the natural environment. It all adds to the "spending time in nature" atmosphere. But the thing is, those wooden chairs are heavy to drag around. Especially at the beginning and the end of the summer, the evening and morning temperatures can be very agreeable in the sun, but pretty chilly in the shade. If our glamping tent doesn't happen to have morning and/or evening sun, this means that we often sit in the grass on our sarong to have our coffee instead of on a chair next to our tent.
Light folding chairs could easily make this more comfortable. Something we can just drag along to wherever the sun makes it pleasant to have breakfast in the nude. Folding chairs would also come in handy if the campsite is near a beach. And while we're at it, so would a light umbrella. It's just an idea, dear campsite owners.
What are the things you have missed during your glamping trips?
---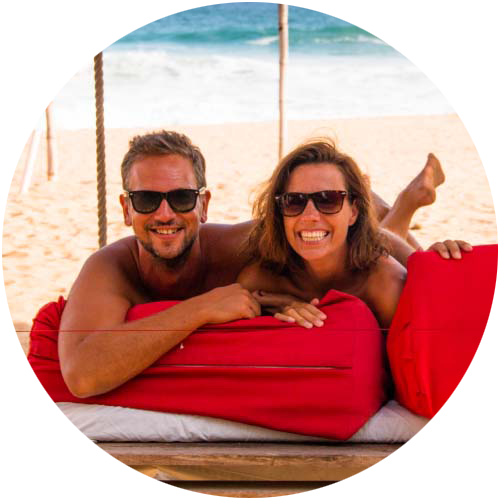 Support Naked Wanderings
Do you like what we do for naturism and naturists? Did we make you laugh or cry? Did we help you find the information you were looking for? Then definitely join our Patreon community!
---