There is no one-size-fits-all when it comes to naturist holidays. Although it sometimes still looks like we're trying to achieve that. Until not too long ago, the organization of many naturist resorts looked pretty much the same. They had the same facilities, the same kinds of accommodations (campsites basically), and organized the same activities.
When someone started a new resort, most of the time they would just copy the blueprint of an existing one. No matter where you went, you could be sure that there would be a petanque tournament and a communal dinner during your stay. It was a general perception that these are the things that the naturist traveler wanted to do.
If you've been following this blog for a while, you probably already know that we don't believe in this one-size-fits-all concept. That we believe that everyone can be a naturist and that every naturist can have different likes and preferences.
The commercial naturist
A major evolution started with the uprise of "commercial naturism". In the past, naturist places were strictly organized in the form of clubs and federations. Every resort had its own club which was associated with a federation. If you wanted to visit the resort, you needed to become a member. Being a member had certain perks, like a magazine and discounts. But membership also came with responsibility, and in many cases, you were asked to join the volunteer system.
With the uprise of naturist tourism, there was a demand for an alternative system. More and more naturists wanted to spend their vacations at a naturist resort in a foreign country but didn't feel much for going to the local club. Nor for doing chores on sunny Saturday afternoons. They didn't mind paying a little extra if this meant that they could skip the membership part.
Today, many resorts around the world still have their own club, but membership isn't mandatory anymore. You get the choice: If you want to become part of the organization, great, but if you don't, you can also visit without any further obligations from your side.
24/7 naturists vs occasional naturists
The mantra "dressed when practical, nude when possible" has probably existed since the uprise of naturism. Being naked was the central idea of naturism and naturists would take every opportunity to get undressed. With naturist resorts becoming more widely available and much easier to access, a whole new range of naturist travelers appeared.
You can easily see this in the so-called
Naturist Villages
, huge resorts that cater to thousands of guests. Everyone who goes there has the intention to spend at least some of their time without clothes. But definitely not all guests go for the "nude when possible" idea. Some will spend their whole vacation without clothes, others will just get naked when sunbathing on the beach or for a skinny dip in the pool.
Not everyone enjoys this sudden textile uprise. We have experienced being the only naked people at the restaurant of the naturist resort and we have to admit that it does feel kinda weird. Is this something we'll need to learn to get used to? Or will we see a growing distinction between places with strict nudity rules and more clothing-optional places?
The naturist tourist
A common misunderstanding about naturist vacations is that we spend every minute of our time inside a resort. Some definitely do. Others use the naturist resort mostly as a place to sleep and spend a big part of their time exploring the surroundings.
We noticed that the majority of the naturist travelers balance somewhere in between. In our experience, the average naturist traveler really takes their time to enjoy the resort, but also likes to get a taste of the local culture, nature, and gastronomy and doesn't mind putting on some clothes for that.
The comfortable naturist
One of the biggest changes during the last years, in our opinion, is that more and more naturists like to have some level of comfort. The old stigma that naturists set up camp deep in the woods, in places without wifi, electricity, or hot water, is almost completely gone. Many naturist resorts offer the same facilities as any textile resort would and camping is definitely not the only option anymore. Today, there are naturist hotels, bed and breakfasts, and even cruises.
Also on the campsites, there is a growing variety of rental accommodations that still give you the sense of camping in nature, but with a real bed, a private bathroom, and much more space. Many resorts these days have spa and massage facilities and are much more focusing on relaxing and rewinding than on the "back to nature" idea.
What kind of naturist traveler are you?
No matter how you like to spend your vacation, if you like to spend some of it without clothes it's quite likely that there will be a number of naturist resorts that you will enjoy. Personally, we are 24/7 naturists when inside the resort and when the weather permits it. But we're also naturist tourists, and we definitely don't spend all our time inside the resort. And even though we love camping, we notice that over the years we're also becoming more and more comfortable naturists who prefer a good bed over a thin air mattress.
And we're curious, what kind of naturist traveler are you? Can you find yourself in any of the above categories or do you experience your naturist vacations in an even different way?
Let us know in the comments!
---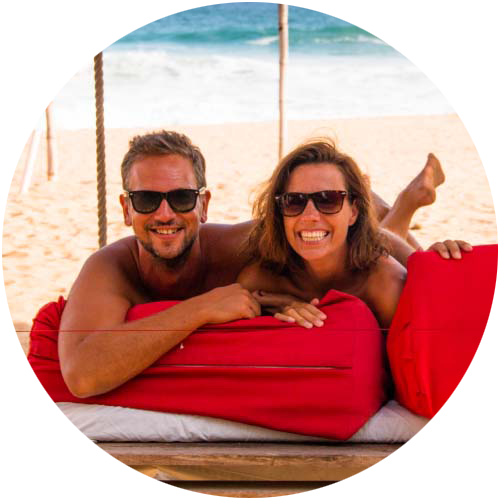 Support Naked Wanderings
Do you like what we do for naturism and naturists? Did we make you laugh or cry? Did we help you find the information you were looking for? Then definitely join our Patreon community!
---