When we talk with people about being a naturist, we notice that a common misunderstanding is that naturism is pretty boring. We understand how they come to this conclusion. On the rare occasions that naturism is featured in the news or a mainstream documentary, you're likely to see some naked people doing not much more than lazing around the pool, half asleep on the beach, or sitting together for a chat.
It's also how we often promote naturism: "We do everyday things, except that we do them naked". It's a great way to show the world that naturists are just like everybody else, but regular people doing regular things is not really a working concept for promoting anything interesting, right?
Luckily, there are lots of fun things that you can do at naturist resorts that you won't often see in the news.
1. Naked hiking
Many naturist resorts are located on quite a large domain or are so far away from the inhabited world that you can easily have some nude walks in nature.
Naked hiking
is hugely growing in popularity because it's one of the best ways to connect with nature and to do something active without having to wear clothes. Some resorts are that that large that just a walk around the campsite takes several hours. Others have a nude beach to hike on. Some even have very scenic hiking trails.
2. Ball games
Should we make a pun here? Nah, we'll leave that up to you. Sports have been an important part of naturism since the early beginning, and are still very popular at naturist resorts. And we're not just thinking about
petanque tournaments
. Especially ball games are often played and volleyball is definitely a favorite.
In some resorts, it's much more than just throwing a ball at each other on a sunny afternoon. We once participated in the volleyball tournament at
Bare Oaks
. Damn, those Canadian naturists take it seriously. Basketball and soccer are also common at naturist resorts and there are two resorts that even have their own golf court.
3. Archery
Archery? Really? Yep, that was our reaction as well when we traveled to naturist resorts in France for the first time. Pretty much every naturist resort in the country provides the option to shoot some arrows to the bullseye. It's still not 100% clear to us why the European naturist likes archery so much, if you know, please let us know in the comments.
4. Running
Where archery is popular in Europe, naked runs are on the other side of the Atlantic Ocean. In the Americas, a weekend of activities at a naturist resort is not complete if there hasn't been a naked 5K run. We have to admit, we're not really all that much into running but we definitely understand why people enjoy naked runs. Not being restricted in your movements is very liberating and you can push your body just that little bit further because your biological cooling system (aka sweat) works much better.
If you're not a top athlete either, don't worry. Naked 5K runs often happen in different categories. And some resorts also organize varieties to the standard run, like the "beer run" at the
Olive Dell Ranch
.
5. Yoga and aerobics
Another big trend of recent years is naked yoga, but similar types of exercises have been done clothes-free for a long time at naturist resorts. Water-aerobics and Tai Chi are probably the most common ones. Since the uprise of naked yoga, however, we've been seeing more and more variations and stretching exercises coming up. At
campsite L'Eglantière
in France, we participated in "Wake up your body" sessions in the morning. Normally we just use lots of coffee for that, but these sessions were probably a lot healthier. And fun too.
6. Concerts
During the summer months in Europe, you'll find a live band playing almost every night at the naturist campsites. Most of the time these will be acoustic cover bands or jazz bands, but also here, you'll find diversity. And not just in Europe. Also at the previously mentioned
Olive Dell Ranch
, we went to a real naturist rock festival, with several rock-n-roll and blues bands on the line-up. Funny anecdote: One lady started completely reliving her hippie years and put on a t-shirt so she could flash the band.
There was a time when karaoke was also hugely popular at naturist places, but – luckily for most of us – it seems like this is more and more something from the past. We've done our share part of naked karaoke performances, most of them are memorable but not for our vocal talent. Yet, one time we sang "
Knocking on Heaven's Door"
at camping
La Genèse
with the support of a live band. That sounded pretty epic, but probably mostly thanks to the band.
7. Relax
Wait a minute, wasn't this blog post written for those who don't want to have a nap on the nude beach? Yes, but we're talking about real relaxing here, about disconnecting, about zen, those things. Many naturist resorts have some spa facilities and some resorts rather look like a huge spa center that also has a campsite.
Riva Bella
resort has actual multi-day spa packages. Every day you get different massages and treatments, and in between, you do something active from the list above or have a nap on the nude beach.
8. Enjoy the moment
Sometimes, it just doesn't need to be active. Naturist resorts have the tendency to easily make you forget that there's also a world outside. Because it looks so different. Well, at least the people do. Everyone is just naked and friendly and sometimes this makes you want to sit down, sip from your wine and just enjoy the moment. And when you found your perfect spot, close your eyes and start musing about how great life can be, a camera crew passes by and before you know it you're one of those lazy naturists on TV.
What is your favorite activity at the naturist resort? Let us know in the comments!
---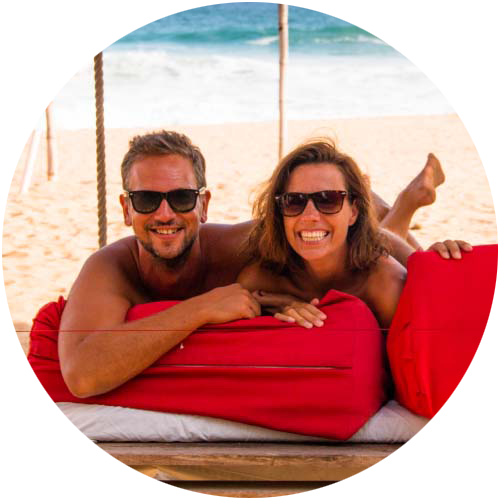 Support Naked Wanderings
Do you like what we do for naturism and naturists? Did we make you laugh or cry? Did we help you find the information you were looking for? Then definitely join our Patreon community!
---