Olive Dell Ranch was going to be our last stop in the USA, well, nudism wise, we had another week planned in Las Vegas and the Grand Canyon but we kind of estimated that the bouncers at the Bellagio or the rangers at the world's most impressive canyon would probably not be too happy seeing our naked bodies appear on their premises so we considered the Olive Dell our last nudie stop in the country. And boy what a blast did we have!
We arrived at the Olive Dell right in time for their yearly music festival called "Rockin The Ranch". Imagine a couple of blues-rock bands, some magicians, a huge ribs barbecue, cheap booze, lots of sunshine, and a bunch of people who were ready to get this party started.
Other than that it was also a happy reunion with people we had met before, a bunch of NitOC members who had accompanied during previous events, and Rolf and Cynthia, the fabulous owners of
Arroyo del Sol
were all there to enjoy the festival. Add to that a load of friends we hadn't met yet and a lovely couple with a stash of Tequila and you kind of get an idea of our weekend.
SIDE NOTE 1: Because of the festival and the reunion with friends, our opinions may not be 100% objective.
SIDE NOTE 2: Because of the tequila some parts of the weekend are a bit blurry but we will try to reconstruct the best we can.
How to get to Olive Dell Ranch
Without realizing, we had probably passed by within miles from the Olive Dell Ranch without even knowing it. The place is conveniently located in Colton near San Bernardino which has an easy connection with most of the major freeways in Southern California. As for most nudist places in California, a GPS is a well worth investment if you don't want to spend hours looking for a sign that you're not going to find. And let's face it, even though we're pretty open about being a nudist and we don't mind the world to know about it, asking a random guy on the street for directions to the nudist place is still a bit awkward.
If your GPS makes you end up at a dust road and you think that "this can't be it", you're on the right track. Just keep following and you'll get there (just make sure that you're still on some kind of dust road, if the road disappears, do not keep going further but get back to the store and buy a better GPS).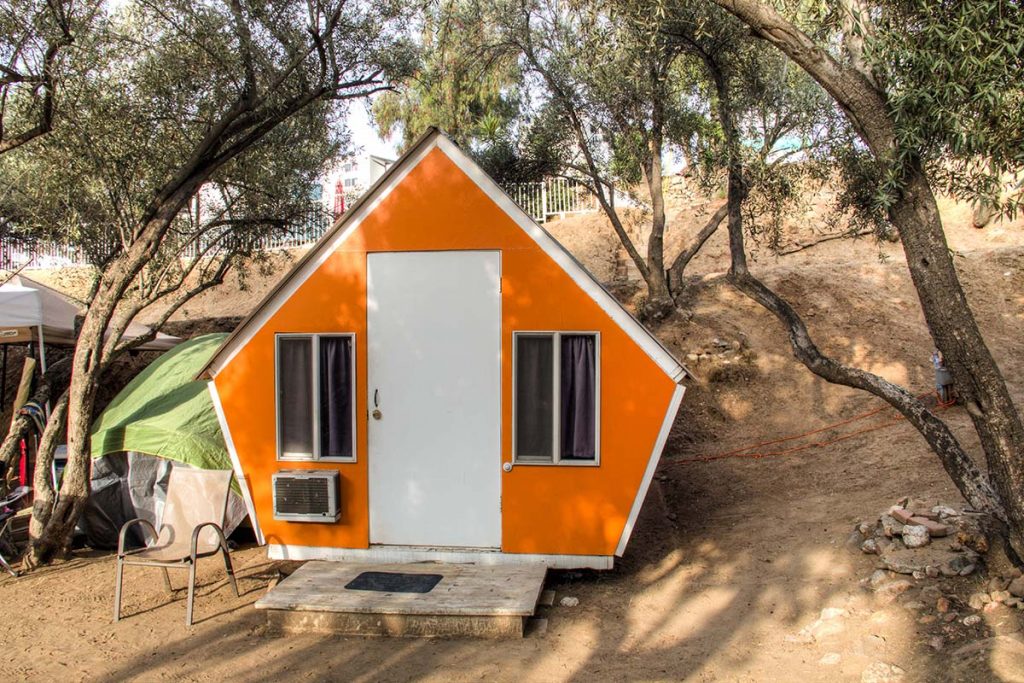 Where to stay at Olive Dell Ranch
Accommodation at the Olive Dell Ranch is simple, either you bring your own camper or tent or you stay in a birdhouse. We're only half-joking here, the cabins at the Olive Dell are lovingly called birdhouses by the guests and after talking about this with Bobby, the owner, he told us about how his dad designed the cabins based on an actual birdhouse. Pretty cool, right?
We have to warn you though when you see one of those cabins from the outside for the first time, chances are that you'll be thinking something like "how the hell am I going to fit in that thing" (or something similar but more polite) but we can promise you, once you get in you'll notice how conveniently organized they are. If you like to spend your holidays in your room it's probably not your best accommodation but in any other case, it'll be just perfect.
What to do at Olive Dell Ranch
After spending so much time in resorts all over California, it's hard for us to keep writing new things about the facilities because most of them are pretty alike. Yes, the Olive Dell has a very nice swimming pool and yes, they also have a very nice hot tub. Their sauna is worth a mention although the weather was too nice for us to spend any time sweating in a small wooden cabin but one of their best facilities (next to the bar with a pool table and cheap alcohol) was probably their restaurant. Dude, these burgers are DELICIOUS. And large! After working our way through one of those we had to lay down in the grass for about half an hour wishing that we were not too ashamed to ask a doggy bag for half a burger.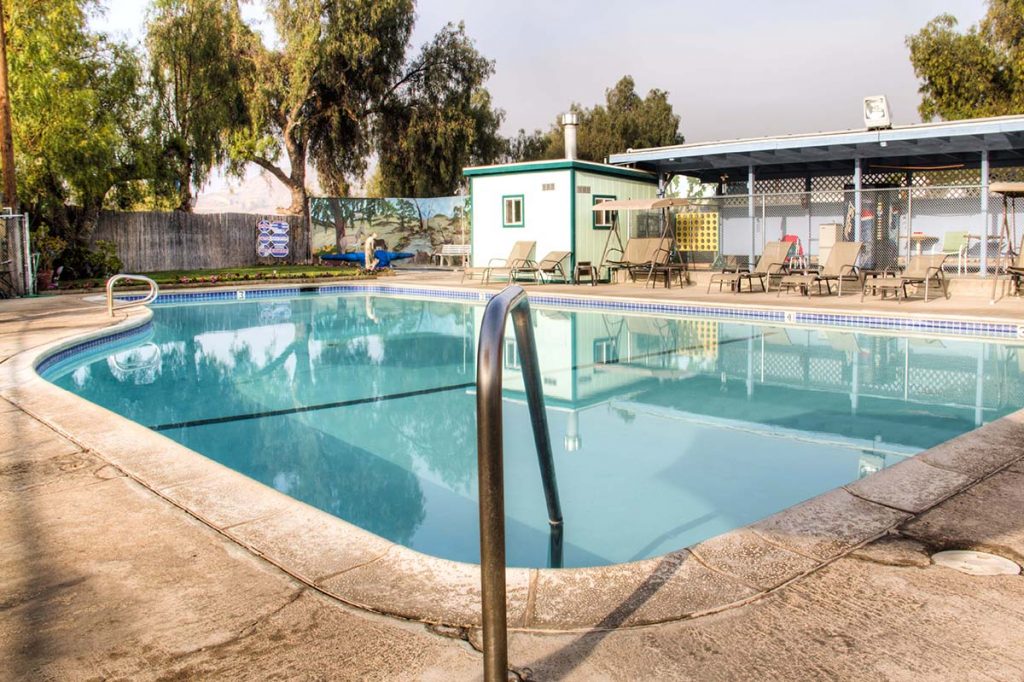 Around Olive Dell Ranch
During the festival, the local nudist club NitOC had organized a naked laser tag game in the nearby village on Sunday morning and by the time we got back the festival was already starting up again so we didn't really have the chance to explore most of the surroundings (or we did have the chance but preferred to drink beer while watching a local cover band, tomayto, tomahto).
From what we've heard, the owners of the Olive Dell Ranch have done an amazing job creating hiking tracks all around the resort where you can spend hours with your naked butt in nature and we promise you that we really had the intention to explore those on Monday morning, but our hungover legs didn't take us very far. After several nice views of the resort from the nearest hill we gave up. We're not always as professional as we would like to be.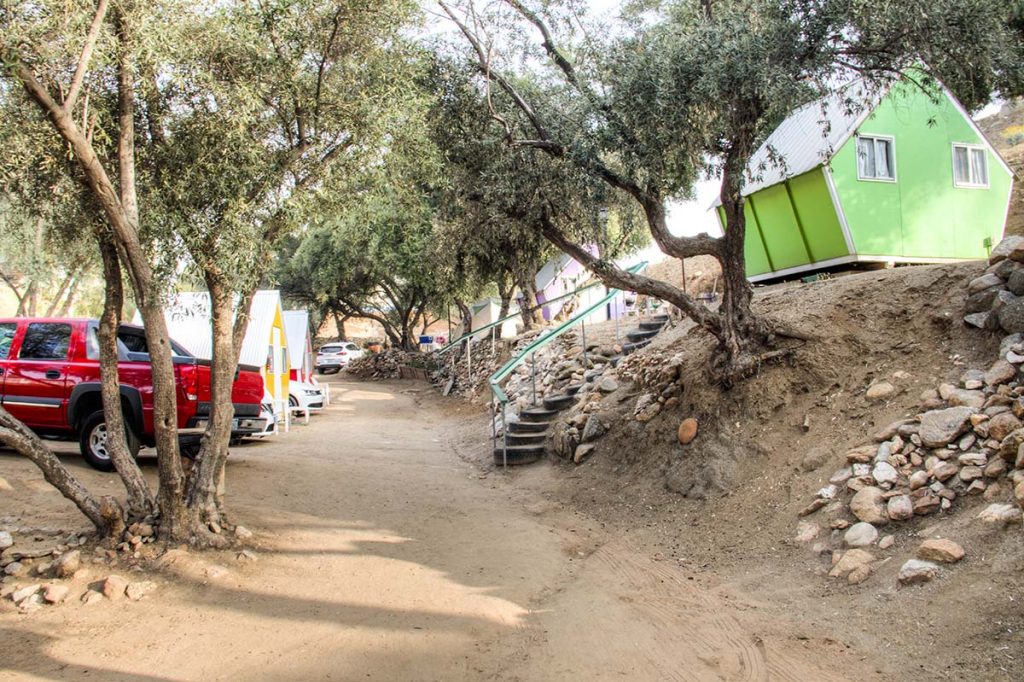 Staff at Olive Dell Ranch
First of all, there's Bobby and his wife Becky, they own the place and Bobby is actually the second-generation owner. His father bought it somewhere in the seventies (if we remember well) and the Olive Dell has always been Bobby's home. It takes about a minute and a half talking with him to feel that it's also where his heart is. He breathes Olive Dell and he's doing everything possible to make his place a top nudist resort. And it works!
Then there are a number of other staff, just like at Lupin Lodge we weren't always sure who was actually part of the staff or who was just helping a hand. There was a nice couple running the bar in the afternoon and the lovely lady providing the drinks in the evening. Every time she made the same joke by multiplying the price of the beer by 100 and every time it did put a smile on our faces.
And then there's Tony, we're not going to tell you much about him but trust us if you ever go to the Olive Dell, you HAVE to meet Tony!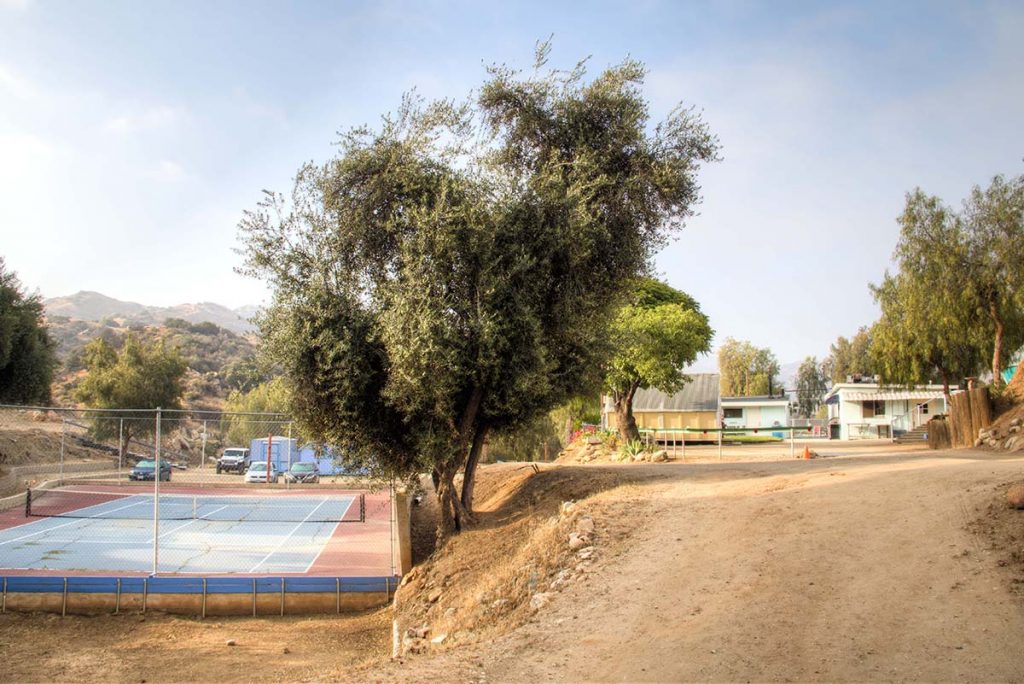 Guests of Olive Dell Ranch
As mentioned in the introduction, our visit to the Olive Dell somehow felt like a summary of the four weeks before, people wise that is. But other than those we had already met, we were welcomed instantly by the other guests. At the Olive Dell, everybody is the friend of everybody else and it felt like one big naked family. Another funny thing that happened was that several of the other guests already knew us from our website or social media profiles. There was Dan, a regular at the Olive Dell and someone we had been mailing with before and there was a lovely couple about our age with whom we've closed both the nights we were there. If we could remember all of it, we're sure that those would be great memories.
This list can go on and on, there were the climbers, the couple from Florida, the couple with the Tequila, the band members, the lady who did an impressive Janis Joplin, and plenty of others.
Summary
A bed can be as soft as you want, the food can be the best quality in the world and the swimming pool can be as Olympic as possible, but in the end, the memories (at least to us) come from the company. And the company at the Olive Dell was amazing and this made it a unique experience. One we'd love to repeat one day.
Naked Wanderings' Ultimate Guide for Nudism in California ebook

Are you looking for great nudist resorts and nude beaches in California?
Are you looking for the best tips for a nude vacation in California?
Then our ebook will be the perfect resource for you!

Learn More
Need help with planning your trip? Check out our Resources Page for an overview of the best companies we use during our travels
Disclaimer: We have been invited as guests of Olive Dell Ranch, but of course all opinions are our own. We are super confident you will like this place as much as we did!
---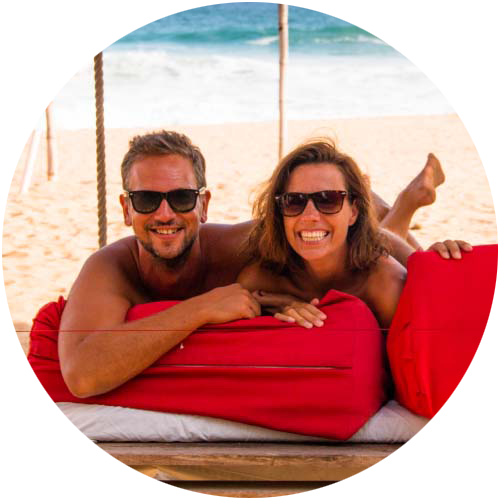 Support Naked Wanderings
Do you like what we do for naturism and naturists? Did we make you laugh or cry? Did we help you find the information you were looking for? Then definitely join our Patreon community!
---