Reddit
has always been an excellent source of information and inspiration. It's definitely not the first time that we mention this at the start of a blog post and we're pretty sure that it won't be the last time either. Once again, we stumbled upon
a thread
on which we want to elaborate so much that we decided to write a blog post about it.
The thread presents the results of a survey conducted on 824 people from around the world, of different genders, and with an average age of 27 years. The purpose is to test how comfortable people are with nudity in various situations. During our years of blogging, vlogging, and visiting countless naturist resorts and nude beaches, we can say that we got quite comfortable with nudity. But we do remember that we've touched our boundaries of comfort several times over the years.
View this post on Instagram
The comfortable naturist
One of the reasons why we found this survey so particularly interesting is because we often think about what needs to happen to make naturism more socially acceptable and more widespread. For example, we talked with people on nude beaches who told us that they would never want to visit a naturist resort. When we ask why, the most common response is that they fear
being pressured into being naked
when they don't want to.
As regular visitors of naturist resorts, we know that most of the time it's not that black or white. Yes, you are expected to be naked, otherwise it wouldn't make sense that you visit this kind of resort. But if you don't feel comfortable walking around naked, having dinner naked, or doing naked yoga, a sarong or even some clothes are often accepted.
But that raises the question of what this does with the comfort of the others. Let's say that there are 10 participants during the yoga class at the naturist resort and 9 of them decided to cover up. That's not a great feeling for the unfortunate number 10. Even though this person feels comfortable enough to do yoga naked, the presence of clothed people might totally disturb this comfort.
View this post on Instagram
Comfort vs body confidence
The person who conducted the survey made the very interesting choice to also test how physically attractive the participants find themselves. We could say that in a naturist environment, physical appearance doesn't matter, but this link does say a lot about the influence of your body image on your comfort of being naked.
It probably doesn't come as a surprise that people who find themselves the least attractive also are the least confident with nudity. If you don't like what your body looks like, you don't want others to see it either. And vice versa, those who find themselves the most attractive seem to have the least comfort issues.
This brought up some interesting things. On the question "How comfortable are you being naked around your family?", the difference between the most attractive and least attractive participants is the smallest. On the other hand, on the question "How comfortable are you with being naked around your friends?", the difference is huge. This means that body image doesn't matter much when it comes to getting naked among family members, but it matters hugely when it comes to getting naked among friends.
We often recommend first-time naturists to take a friend, maybe we should recommend them to take a family member in the future? Not really, because even though body image doesn't seem to play a particular role, only about 30% of the participants claim to feel comfortable being naked with family members, while about 50% feel comfortable being naked among friends.
View this post on Instagram
Being clothed among naked people
In our perfect world, nudity is considered nothing but a state of dress. A choice. This doesn't mean that everyone will be naked all the time, but that naked people and clothed people can live in perfect harmony. The requirement for us, naturists, would be that we are comfortable being naked among the clothed. But we often forget that there are many clothed people who don't feel comfortable among the nudies. This survey also brings proof of this.
About 60% of the participants says that would feel comfortable when clothed among naked people. Interestingly, clothed women claim to be more comfortable among naked women than among naked men, while clothed men also claim to be more comfortable among naked women. The difference for men is negligible, but for women, it's quite significant. 67% of the women say that they would feel confident being clothed among naked women, while only 50% would feel confident being clothed among naked men. Where does this difference come from? And why is there almost no difference for men? Is it fear of harassment? Fear to be overpowered? Unfortunately, the survey doesn't answer this.
What's also interesting is that here too, body positivity plays a significant role. The participants who find themselves the most attractive are much more likely to feel comfortable being clothed among naked people than those who find themselves the least attractive. So even when clothed, body image controls the perception of nudity. Is that because we will reflect their appearance on our own? Are we afraid that if we see bodies that look better than ours, we will feel worse? Even when the other person can't see our body? Oh boy, so many questions.
View this post on Instagram
Where are you the most comfortable naked?
The survey tested three different scenarios: Being naked on a nude beach, being naked during a professional photo shoot, and being naked in a sauna.
What we found very interesting is that the number of people who would feel comfortable naked at a nude beach is almost the same as those who would feel comfortable during a photoshoot. Interesting, because the setting couldn't be more different. On a nude beach, you are naked among other naked people and everyone is (supposed to) mind their own business. During a photoshoot, on the other hand, you will likely be the only naked person and all eyes will be on you. What does this mean? Our guess is that the word "professional" is a very important factor. Photographers are supposed to be concerned about their pictures and not about what your body looks like. It's like going to a doctor, those people are professionals.
Nevertheless, the sauna gets the highest score. Of all 3 scenarios, the participants claim to be the most comfortable naked in a sauna. This doesn't come as a surprise either, because where we are from, Belgium, the naked sauna culture is growing much faster than naturism. The reason behind this, we believe, is that the focus at the sauna is not on the nudity. The words "nude beach" and "nudism" literally speak for themselves, and also naturism is very much linked with nudity. Whereas the sauna is a place where you come to relax, destress, enjoy, and where you just happen to be naked for hygienic reasons.
View this post on Instagram
How comfortable are YOU naked?
The survey had scenarios in which the participant is clothed and others are naked, but unfortunately not vice versa. A statistic that we would have loved to see because it would test the water about how many steps still need to be taken to get towards our perfect world.
So the only thing we can do is ask you, our dear readers, about your experiences. Do you feel more comfortable naked when others are also naked? When others are clothed, is that a reason for you to get dressed too, even if you'd rather be naked? Have you ever been in situations in which you didn't feel comfortable naked? And if so, did this have to do with yourself (e.g. body image) or with the others?
We're looking forward to hearing your experiences in the comments section!
---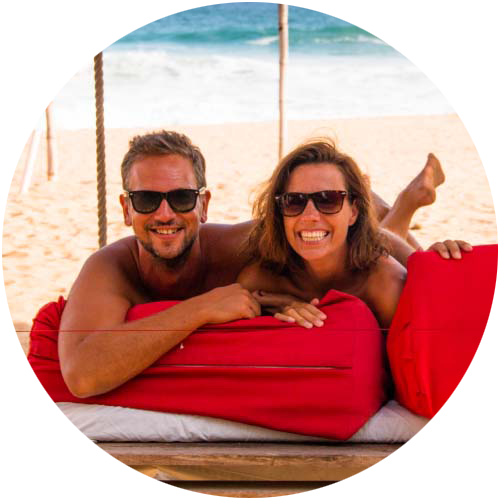 Support Naked Wanderings
Do you like what we do for naturism and naturists? Did we make you laugh or cry? Did we help you find the information you were looking for? Then definitely join our Patreon community!
---