Oh boy, how much would we have loved it if someone had said "How you doin' cowboy" when we arrived at the DeAnza Springs Resort! This truly is the wild west. An open desert full of rocks, cactuses, and coyotes, and only the sound of the wind. Every moment we expected some tumbleweed passing by, or maybe a couple of cowboys or Indians on a horse. This is the place you've seen in so many wild west movies. Although neither of us has ever shot a gun before, over here we felt the urge to put some cans on poles and start shooting at them. Or just put one foot at the side of our trailer and tip our cowboy hat while chewing on a grass halm.
But we didn't have any guns (luckily) and neither did we bring cowboy hats. Maybe we could complete the image by getting some tequila shots or getting into a fight at the saloon (read: the campground bar), but the saloon was closed that day. In fact, other than Kim who works at the reception there appeared to be few other people in our new cowboy village. The emptiness did add to the atmosphere though and while we sat at the porch of our rental camper, watching the sun go down over the desert, we knew that this was going to be a nice experience.
NOTE: Unfortunately, Deanza will not be naturist/nudist anymore after September 2023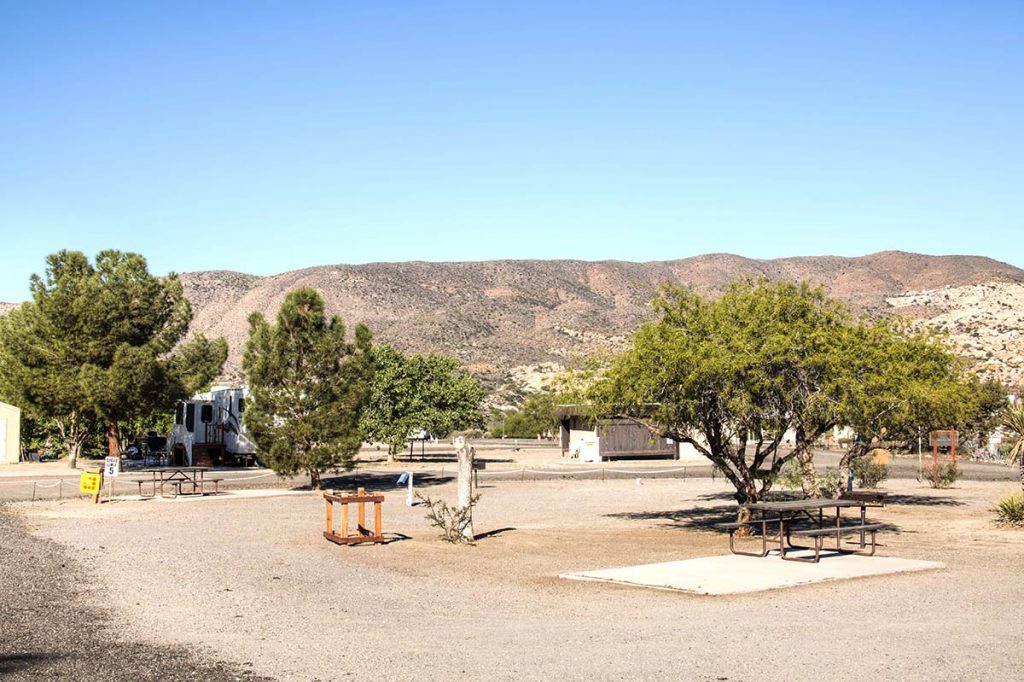 How to get to DeAnza Springs Resort
We know that we've been using the term "end of the world" a couple of times before when describing the location of a nudie place, but we're afraid we'll have to do it again. DeAnza Springs Resort is located at about 100 kilometers east from San Diego city, right at the Mexican border and in between several Indian reservations (yes, we also think that this term sounds strange but apparently that's how you officially describe these places). The nearest supermarket is at about 30 kilometers on the way back to San Diego in a town called Alpine, we learned this the hard way, and so is the nearest Mc Donalds.
Jacumba is a town that you could pass by in the blink of an eye, so keep your eyes open when you're driving on freeway eight. Not only because you might miss the only exit but also because the landscape is absolutely stunning. Once you get off the highway there are two gas stations, a road into town, and a dirt track. The latter will bring you right into DeAnza Springs Resort.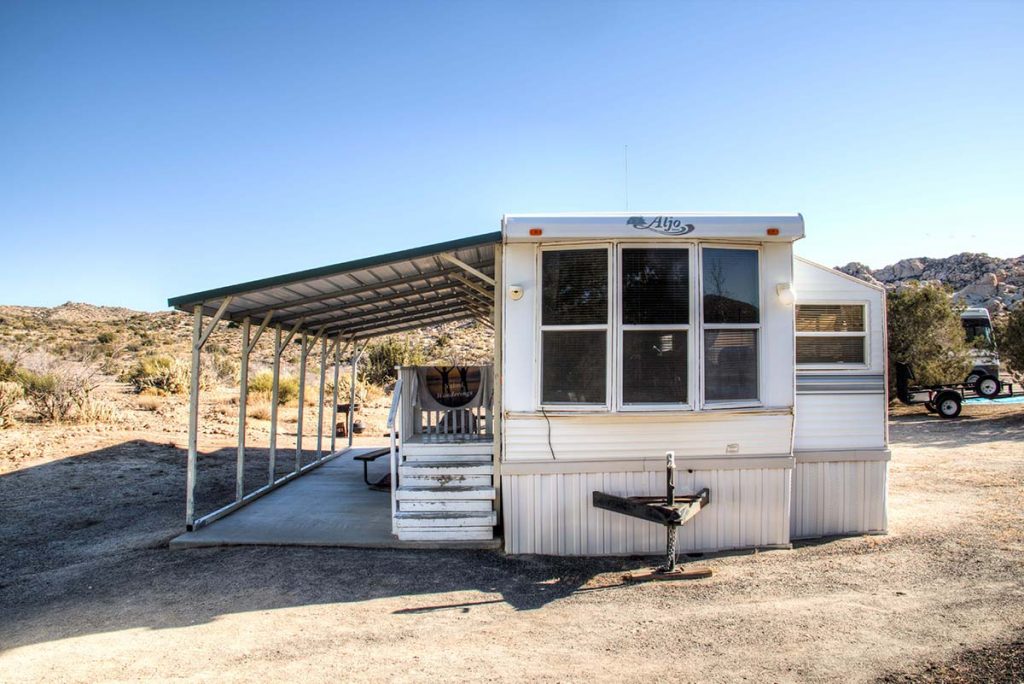 Where to stay at DeAnza Springs Resort
DeAnza Springs Resort is mostly an RV camp and many of the campers seemed to bring their own accommodation. Or better said, have brought their own accommodation a long time ago and started building around it so they now have some kind of desert villa on wheels. Some of them even took off the wheels because they knew the thing wasn't going anywhere else.
For those arriving in a Hyundai Elantra instead of an RV (yep, ourselves), there are a couple of rental options available. One is a room at the motel and the other one is a "park model unit", which we took. Basically this is one of those campers without wheels which has a bathroom, bedroom, living room and fully equipped kitchen and a very nice porch where we would be spending lots of time looking over the desert, drinking wine, eating pre-made salads we've got at the supermarket in Alpine and writing for Naked Wanderings of course.
What to do at DeAnza Springs Resort
For a campground in the middle of nowhere, we have to say that they have quite some facilities. Next to the bar and restaurant, there are two swimming pools, an indoor and an outdoor one, there's a tennis court, a fitness center, a library/indoor relax room and there are almost daily activities ranging from aqua aerobics to water volleyball to quizzes, karaoke and dance nights.
Many of the amenities and especially the swimming pools and their surrounding parasols and deck chairs look like they haven't been replaced since the late seventies. We've had quite a heavy discussion about this (as far as a discussion can be heavy while we were lounging with our bare asses in the sun next to the pool) but we didn't come to an agreement. One of us said that this old fashioned style completely added to the atmosphere while the other said that this place urgently needs some refurbishments. We're not going to tell you who said what, but we'll leave it up to you to decide who was right. (but please let us know, we're keeping stats!)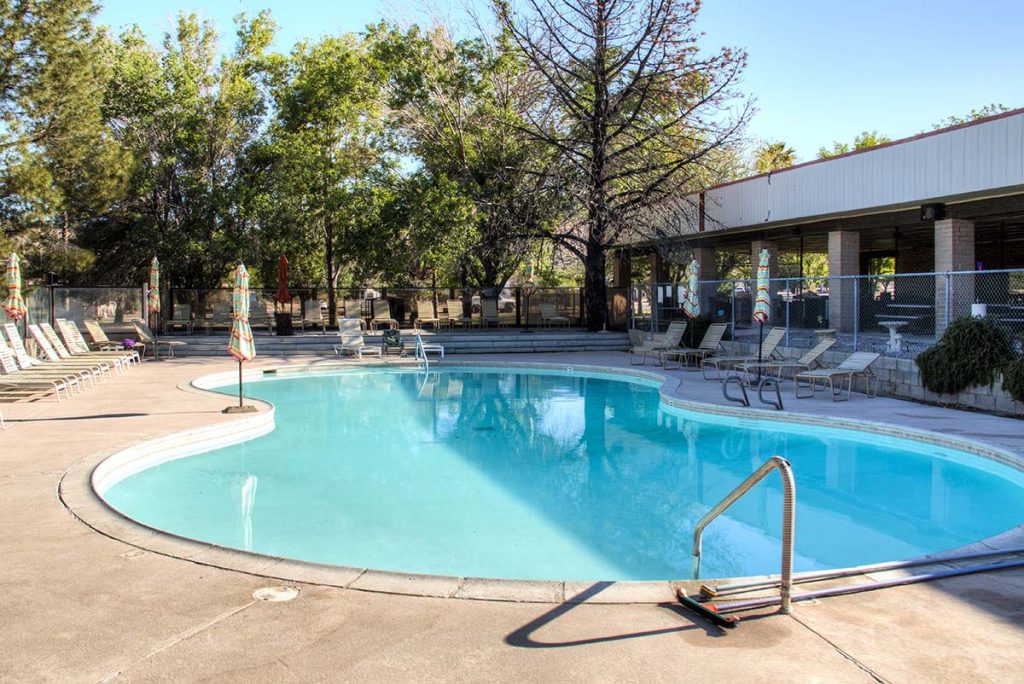 Around DeAnza Springs Resort
One of the facilities we didn't mention above because we believe that they have the right to be at the beginning of a paragraph is the walking trails. We've already told you that the area is stunning and the owners of DeAnza Springs Resort have made several hiking trails in the environment. And here's some more good news: Because no sane person ever comes to this desert it's completely possible to hike all of the trails naked. How cool is that?
You'll be hiking through the Californian desert, get amazing views over the surrounding mountains and valleys, over the resort, and if you get high enough even over the Mexican border. Along the way, you may run into a typical wooden far west house or an old train track, complete with an abandoned train. You'll rarely find better photo opportunities if you're into that.
Beware though, it does get hot in the afternoon so bring enough water and also there are rattlesnakes in the area. They won't attack you unless you step on them, so keep an eye on the ground.
Staff of DeAnza Springs Resort
You may call it vanity and although we promise you that we haven't gotten light it the head (except from the Californian wine maybe), we have gotten a bit used to the fact that when we mention our names or at least the name Naked Wanderings, people start smiling and give us a warm welcome. Yes, we are the couple who travels the world from one nudie spot to another. To our big surprise, when we mentioned our name at the gate, the lady at the reception said she had never heard of us and also didn't know about a reservation. Big bummer.
It took us some time explaining who we were and once we mentioned the name of the person we've been talking to, eventually the gates went open.
Such a big place like this must have quite a number of staff, but we've never been sure who was who, except for Kim, the lady at the reception who did assign us a place although we weren't in her booking system and who showed us around. From time to time we would see someone passing by in a golf cart but we've never been sure whether it was someone from the staff or another visitor (many visitors over here have their own golf carts).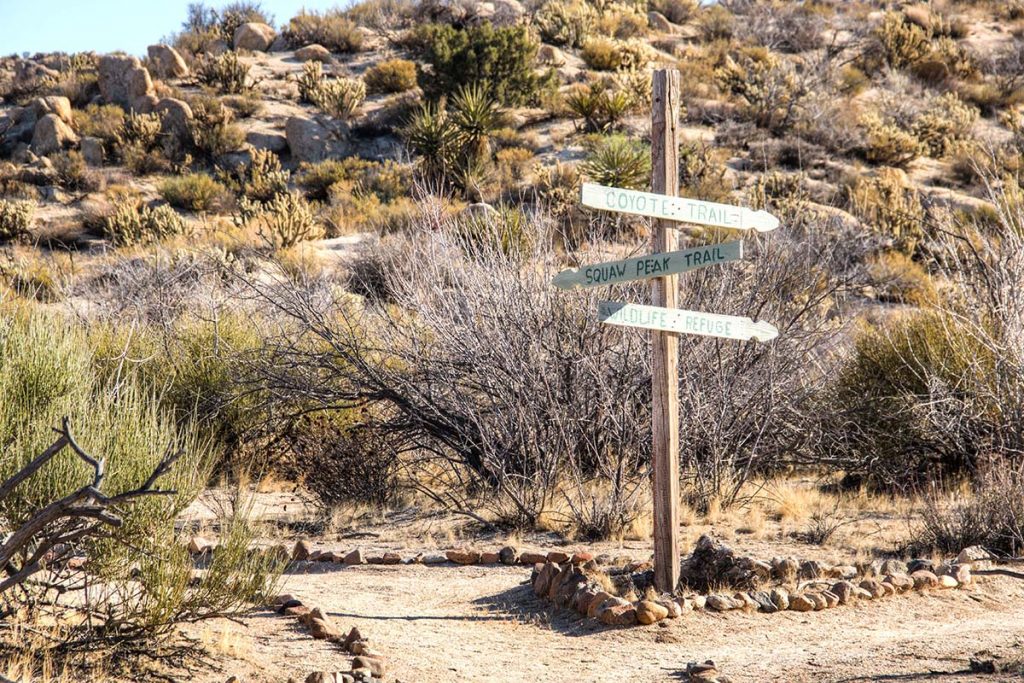 Guests at DeAnza Springs Resort
When we arrived (on a Wednesday), DeAnza Springs Resort was a ghost town, the campground is quite large and widespread so if there were other guests, we hadn't noticed them. On Thursday the place got a little more crowded, in the sense that we met one guy at the swimming pool and another one while we were walking around the camp. But on Friday a huge group of naked hikers came along and that was the signal that the weekend was about to be very busy. Or at least busier than Jacumba town.
Most of the other guests seemed to be from the area and visit their camper van during the weekends. The trick we often used in Europe, check out the license plates, didn't result in much more info. Most license plates were Californian except a single one from Texas. No foreign plates to be spotted, but then again, our Hyundai also has a Pennsylvania plate.
Summary
We can truly understand that people have different opinions of DeAnza Springs Resort. It's nothing like any place we've ever been to. It's a camp in the middle of the desert and you have to appreciate this in order to appreciate DeAnza. All we can say is that it's an experience, it's unique, and that alone could be a reason for you to get your naked ass over here.
Naked Wanderings' Ultimate Guide for Nudism in California ebook

Are you looking for great nudist resorts and nude beaches in California?
Are you looking for the best tips for a nude vacation in California?
Then our ebook will be the perfect resource for you!

Learn More
Need help with planning your trip? Check out our Resources Page for an overview of the best companies we use during our travels
Disclaimer: We have been invited as guests of DeAnza Springs Resort, but of course all opinions are our own.
---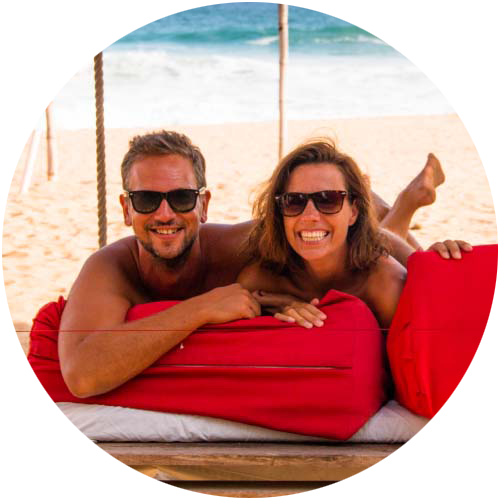 Support Naked Wanderings
Do you like what we do for naturism and naturists? Did we make you laugh or cry? Did we help you find the information you were looking for? Then definitely join our Patreon community!
---