We have recently been asked to do a short Q&A with a number of non-naturist content creators who were going to visit a naturist resort for the first time and report about their experience on their blogs, vlogs, and social media. As one of the reasons why we started this blog was to inform people about what's really going on at a naturist resort, we happily said yes.
One of the questions that came up was whether they will have to be naked all the time. This didn't come as a surprise, because we've had this question many times before from first-time naturists. We've even identified this as something that stops people from giving naturism a try. It's not the fear of going nude, it's the fear of
being pressured to be naked
when you don't feel comfortable.
View this post on Instagram
Nude when possible, clothed when practical
The mantra of many naturists is "nude when possible, clothed when practical". Both "possible" and "practical" mostly refer to the weather and the environment. A sunny afternoon next to the swimming pool of a naturist resort is definitely both possible and practical. A meeting with your boss on a cold winter evening is neither possible nor practical.
We too follow this mantra quite strictly. If we can't see a practical reason to wear clothes, we don't wear any. But we are also aware that this is very personal. What is practical or possible for us, may not be for you. At which temperatures do clothes become practical? 20°C? 10°C? Never? Ten different naturists will likely give you 10 different answers.
Even more difficult are activities. Is it more practical to
dine clothed than nude
? How about setting up your tent? And then we haven't even mentioned sports yet. Some naturists will tell you that the best way ever to do any sport is without clothes. While others feel that all those moving body parts become a physical restriction and a mental distraction.
View this post on Instagram
The resort decides on the rules
While the mantra is a beautiful idea, it's easy to see that it's impossible to use this as an actual rule. Therefore, every resort gets to decide for themselves on the dress code. The rules will slightly differ from place to place, but you can roughly divide the resorts into 3 categories:
The nude obligatory resort
The rule at these resorts is that the only purpose of clothes is protection. Clothes should only be worn if there's no alternative. Read: If it's freezing, if you're working a chainsaw, or if there's a high chance that you'll be chased by a bear later today. Although we doubt that in the last example clothes will be that much of a help. This type of resort is common in the USA.
The advantage of such resorts is that there's often a strong sense of community and equality because everyone is naked all the time. Some will also argue that being thrown into the deep end is a much better way to become comfortable in your own body than taking baby steps, but we believe that this is something personal. The disadvantage of these resorts is that such a strict rule scares away beginning naturists and doesn't leave space for those who like to swim or sunbathe naked, but nothing else.
The no-bathing-suit resort
The rule at these resorts is that you should be naked in any circumstances where you would be wearing a bathing suit in the textile world. Meaning, in all the water facilities, in the sauna or the spa, on the beach, etc. In other spaces like the sports courts or the restaurant, wearing a sarong or clothes is allowed. HOWEVER, bathing suits are never allowed, because then you could as well be naked. This type of resort is very common in Europe.
The advantage of such resorts is that they attract all kinds of naturists, from those who only want to enjoy a couple of hours naked next to the pool to those who want to spend every minute of the day without clothes. The disadvantage is that it's hard to maintain a balance and that clothes can have a snowball effect. Maybe you are totally comfortable dining naked, but not with being the only naked person in the restaurant. We have noticed that in places where a lot of naturists do like to wear clothes (like in the restaurant), they often unintentionally influence the others to get dressed as well.
The clothing-optional resort
As the name suggests, the rule at these resorts is that there isn't any dress code. Whether you want to be clothed or naked is completely up to you. These resorts are actually quite rare, and the name is often abused. When resorts want to step away from the term "naturist" or "nudist", their choice often goes to "clothing-optional". Even though clothes are not an option and they maintain a nude obligatory policy. True clothing-optional resorts can mostly be found in places that mostly rely on tourists, like the Caribbean.
The big advantages of clothing-optional resorts are that the choice of what to do naked and what not is completely yours and that you can travel with people who are not naturists to the same resort. The disadvantages are that these resorts will more easily attract voyeurs and that the clothed guests might outnumber the nude ones, which could make you feel uncomfortable.
View this post on Instagram
Which type do we enjoy the most?
If you've been following this blog for a while, you probably know that we are strong supporters of the clothing-optional concept. Mind the word "concept" though, because we also learned that the beauty of this idea (everyone is free to do what they want) is often not the reality (nude people can be a minority and this makes you feel vulnerable and/or uncomfortable). We've learned that the clothing-optional concept seems to work particularly well in high-end resorts. You're not going to risk getting kicked out if you paid several hundreds of euros per night, and neither do you pay that much if you (or your company) do not intend to go naked.
We personally prefer the no-bathing-suit resort over the nude obligatory resort, because we like having the choice. This is kinda interesting because you'll see us wearing the same amount of clothes at no-bathing-suit resorts as we would in nude obligatory resorts, none unless we really have to. We just believe that strict rules don't match with the idea of liberation that is so typical of naturism. But once again, this is just a personal opinion and not necessarily one you'd like to follow.
View this post on Instagram
Which type should you go for?
The following paragraphs are primarily for aspiring naturists and those who have taken the first step but didn't feel the resort was a good match with what they had in mind.
We see two reasons why you would like to visit a clothing-optional resort for your first or second naturist experience. One is because you're travelling with a friend/spouse/colleague/… who doesn't want to go naked at all but has no problem with being around naked people. The other reason is that you've chosen this specific resort for its amenities or location and it happens to be clothing-optional.
If that is not the case, we would much rather send you to a no-bathing-suit resort. Here you can take things at your own pace, but you will be feeling that gentle push in the back. At one point or another, that swimming pool will start calling your name and you'll know that the only way to get in there is by finally taking off that sarong.
In case you know of yourself that you really need a big push in the back before you do anything out of your comfort zone, you want to look into nude-obligatory resorts instead. Call it the big shock or the short pain, but know that you'll only have to go through a couple of uncomfortable moments before the scary step is completely behind you.
Personally, we think that every naturist should experience a nude obligatory resort at least once in their journey. We believe that it's thanks to our visits to these resorts that we are as comfortable being nude as we are today. We would never have thought that nude volleyball was so much fun before we were at a place where it was either nude volleyball or no volleyball at all.
View this post on Instagram
How to find a resort that suits your dress code needs
The difficulty is that while we made this distinction of three categories, this is not something official. In fact, the term "no-bathing-suit resort" is something we've just made up. The first place you want to look is at the website of the resort. If there are clear dress code rules, it's obvious that you will have to follow those. If they mention that you should be nude whenever possible or only wear clothes for protection, it will quite likely be a nude obligatory resort. If the rules are rather vague or hard to find, you will probably be looking at a no-bathing-suit resort or a clothing-optional one.
Another good way is by looking at online reviews. Naturists who expected a nude obligatory resort but ended up around clothed people (or vice versa) are likely to complain about this. By reading the reviews, you can get an idea of the written or unwritten rules at the resort. But the very best thing is to just go over and have a look for yourself. Even if it isn't what you initially expected, it might still be your best experience ever.
What type of resorts do you like the most? Let us know in the comments!
---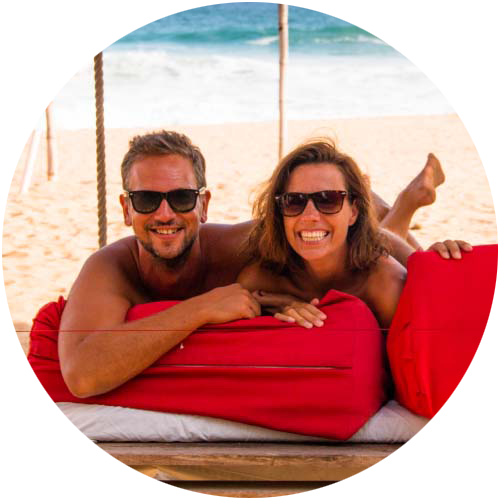 Support Naked Wanderings
Do you like what we do for naturism and naturists? Did we make you laugh or cry? Did we help you find the information you were looking for? Then definitely join our Patreon community!
---