Naturist places tend to be very safe and naturists are known for keeping an eye out for each other. And for each other's belongings. Especially in private resorts, we can honestly say that we've never heard stories about theft. On the other hand, there are several times when we've forgotten something and found it back at exactly the same place the day after. Or in the case of something valuable, at the resort's reception desk.
Also on most nude beaches, we feel that our stuff is safer than on textile beaches. But of course, nude beaches are public and are more likely to be visited by those with less genuine intentions. So it's definitely important to be a bit careful. Here are some tips to keep your essentials safe on the nude beach.
1. Only bring what you need
As nudists, we already learned to carefully select our stuff before walking out the door. We don't have pockets, remember, so either we have to take a bag or take everything in our hands. Especially when visiting nude beaches, this is something you want to consider. "Do I really need this?".
When we're clothed, there's lots of stuff in our pockets that we don't really need. The car keys could easily have stayed in our room. Our wallet as well. Driving license, passport, jewelry, none of that belongs on a nude beach (or any other beach), so there's absolutely no need to drag all that stuff along.
2. Be discreet with your stuff
We've all heard horror stories about people who got robbed during their vacations. But honestly, people are often asking for it. They get on crowded subways with their wallet in their back pocket. They wander dark alleys late at night tapping on their expensive smartphones or they visit busy markets with their purse wide open. This is something we've learned a long time ago when we backpacked through South America: If it doesn't look like you're carrying a lot of valuables, your chances of getting robbed are reduced significantly.
This is also something that can be applied to nude beaches. Make sure to hide your valuables under clothes or in a bag and only take them out when you absolutely need them. Only take out your wallet to pay the icecream vendor.
3. Go with friends
One of the best ways to keep your stuff safe is by having something who takes care of it. If you're going to the nude beach with friends, you can take turns to go into the water/to the toilet/get a beer so there's always someone watching everyone else's stuff. Just make sure to bring the right friends. We know people who are absolute experts in losing their things.
4. Get a waterproof pouch
When on the nude beach, the most common time when you leave your items unattended is to go skinny dipping. Most of what you bring to the beach is probably not waterproof. A waterproof pouch really comes in handy here. This way, you can keep your phone and your money close to you even when you're underwater.
Waterproof pouches and bags come in different sizes and at different prices. They don't have to be expensive but don't buy the very cheap ones if you want your stuff to survive.
5. Rent a kayak
Or a paddleboard, a surfboard,… Rental offices almost always have lockers where you can leave keep your belongings safe. You don't even have to use the kayak. Some bars and restaurants also have this service. Get a beer or a burger and ask if they can watch your stuff for a while when you're at the beach. It often works.
6. The diaper trick
This is definitely one of the best tricks in the book. Buy an (unused) diaper and use that to put your belongings in. We can promise you, nobody will ever pick up a diaper that they find on the beach. What also works (but less funny) are empty food packages.
There is a side mark though: Naturists respect nature and often clean up nude beaches. So when you go into the water, it's best to put a towel over the diaper. Someone who's cleaning the beach will never move other people's towels. Someone who purposely moves other people's towels will never clean up their trash.
7. Know what to do if your stuff does get stolen
Even if you follow all these tips, there is still a minor chance that your things do get stolen. Make sure to have an overview of everyone you have to contact in this case. This doesn't just count for beaches, by the way, this can come in handy everywhere. Write down the number to get your credit cards blocked, get the number of the embassy in case your passport gets stolen, learn how to block your driving license, and so on. It's also interesting to get a
PayPal
account, so friends or family can quickly send you some money in case everything is gone.
---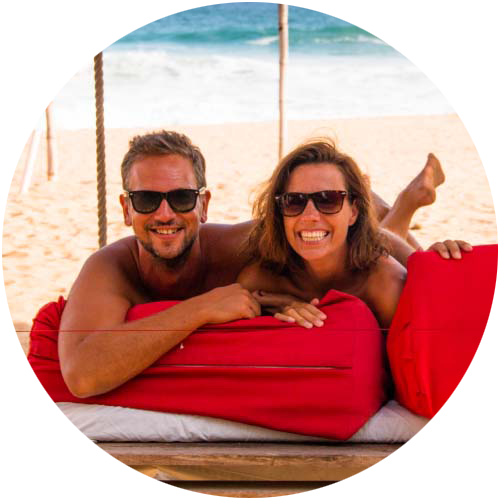 Support Naked Wanderings
Do you like what we do for naturism and naturists? Did we make you laugh or cry? Did we help you find the information you were looking for? Then definitely join our Patreon community!
---