When we were recently talking about Naked Wanderings and all the places we have visited over the years, we were approached by a woman with a physical disability. She could still walk, albeit not very far and on not too rough terrain. Her wheelchair took her to most places but also required at least a bit of a flat underground. The gravel roads of the naturist resort where we were staying at the moment were not particularly ideal for her movements.
She asked whether we had any tips for traveling to naturist places with physical disabilities. Being gifted with still a young and vivid body, this is not a topic that we think about much. We've met others, often elderly naturists, who told us that they could not visit the nude beaches that we enjoyed because the road to get there was too long or too steep (or often both). But at naturist resorts in general, we always figured that they were pretty accessible for everyone. Especially given the ramps at the restaurant and the shower blocks and the special toilets for the less mobile. Many places even have adjusted rental units for people with a disability.
How they have to get from one place to another, was something we never really considered. Nor could we give any good tips at the moment.
In this video, we took a naturist in a wheelchair to a nude beach.
This was a real eye-opener for us.
How to do well for everyone
The topic got stuck in our heads that evening. How could we adjust this place so people who can't walk well or have a wheelchair can use the gravel roads to get from their camping spots to the toilet blocks and to the main facilities? The easiest solution would be to put a big layer of concrete over the gravel, making the roads flat and smooth. Which immediately rose a new question: Is that what we really want? Concrete roads would definitely take away much of the natural atmosphere of the campground. Instead of camping in nature, it might feel more like camping next to a highway.
We started searching for alternatives. A part of the road could be replaced with flat stones, like some kind of bicycle lane. These stones could be in the same color as the gravel, so it wouldn't disturb the overall view. Or we could put tracks in the gravel, like small train tracks, at the same width of wheelchair wheels. This asks of course for a large investment from the campground owner. This particular campsite didn't have more than 1 kilometer of roads, other campsites have many more. And then we're still not covering the problem of hillsides.
The Naked Wanderings solution
The further these people have to set up camp from the main facilities, the more difficult it gets. So the logical idea would be to provide designated spots close to the facilities. If supermarkets can provide those places on their parking lots, why wouldn't campsite owners provide them at their campgrounds? Then again, the supermarket doesn't particularly earn from the spot where you park your car. Whereas for the campground, it's their main source of income. In high season, when the campground runs full, you don't want to keep several pitches free, because maybe someone with a disability will show up. Or maybe not.
The best solution we could come up with was indeed a system of designated pitches at strategic places. But instead of using the "supermarket-system", we could use the system that's typical on public transport. Anyone can use those places, but if someone with a disability gets on the bus, you got to move to another spot. All campground visitors would get the chance to choose one of the well-located pitches, but if someone really needs them, you'll have to move to a further located less accessible pitch. It does sound quite logical, doesn't it?
Naturist camping with a disability
Given this particular chat, we've been mostly talking about people with walking issues. But there are many other types of physical disabilities. The other day we received a message from a blind person who had bought one of our
Naturist Guides
. With modern technology, it's not very hard to understand that, even though this person can't actually read the guide, there's enough software that can read it out loud. But what if this person actually wants to visit one of the places that we mention in this guide?
We've never seen a naturist resort that was completely adjusted for blind people. On the other hand, at pretty much every naturist resort we've ever visited, there are numerous other naturists who wouldn't hesitate to give someone a helping hand. To guide a blind person the right way. To push a wheelchair up the hill.
In
Canada
, we met several deaf people, who praised naturist resorts and naturists for being so accepting of them. For really taking the effort to talk to them in a way that they could understand from the lips and body language. In such cases, the naturist mentality largely replaces the need for special amenities. In other cases, unfortunately, that alone won't do the trick. Then it remains the question of how much a resort can invest to make a visit from the less mobile just a little bit more comfortable.
As mentioned in the introduction, we don't know what it's like to live and travel with a disability. To naturist places or anywhere else. This post is just the result of a brainstorming session that we wanted to share with you. If you are a naturist with a disability or you know lots about it, please leave your insights and tips in the comments section.
UPDATE: 
In the MeWe group
Naturists with Disabilities
, you can share information with other disabled naturists and ask for help and opinions.
---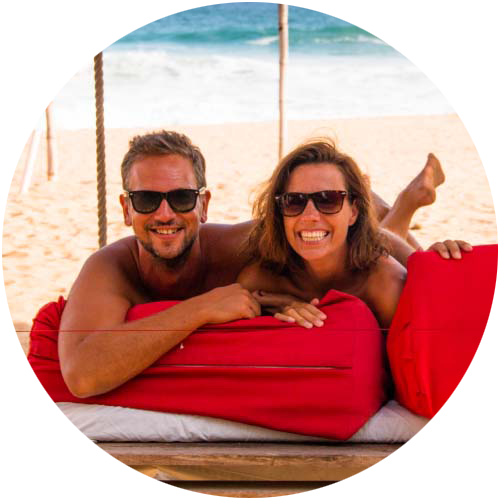 Support Naked Wanderings
Do you like what we do for naturism and naturists? Did we make you laugh or cry? Did we help you find the information you were looking for? Then definitely join our Patreon community!
---