Corsica is an island of contradictions. It's a part of
France
, but it's closer to
Italy
. Signs are often in both languages and also the cuisine is some sort of mix. The high mountain range and the many natural parks make Corsica an excellent destination for nature and adventure lovers. The surrounding coastline with endless white beaches then again makes the island very attractive for beach lovers.
The people in Corsica are known for their grumpiness, but also for being welcome and inviting to strangers. The island has a strong religious culture but also has one of the largest nude beaches in Europe. We knew none of this before we set foot on Corsica. We fell from one surprise into another and wished that someone had told us all this long time ago (especially about the huge nude beach).
If you like to explore everything for yourself as well, please stop reading now. Because we're going to tell you all about the amazing naturist options on this wonderful French (or was it Italian?) island.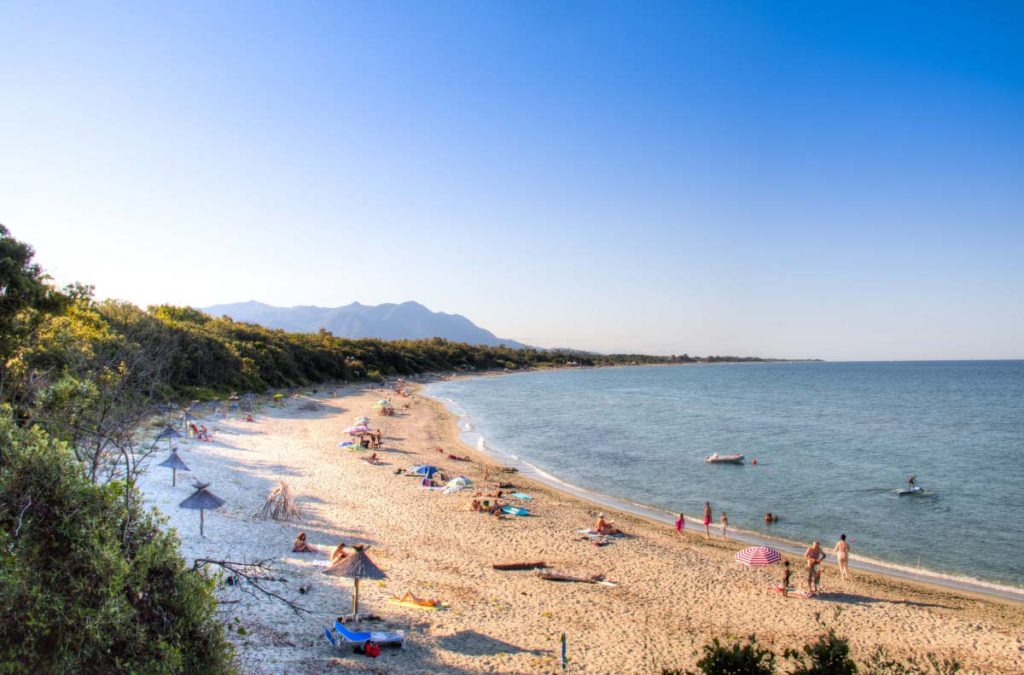 Naturism in east Corsica
That one huge nude beach we talked about in the introduction, can be found on the eastern side of Corsica between the towns Linguizzetta and Aléria. The official name is Linguizzetta beach, but you might also find it under the names Bagheera beach, Riva Bella beach, or Tropicana beach. The several naturist resorts located at this 5-kilometer nude beach just like to call the beach their own.
It's one long stretch of sandy nude beach, with direct access to the crystal waters of the Mediterranean sea. If you're planning to visit this part of Corsica, we highly recommend at least a day (and preferably a week) to explore Linguizzetta nude beach. The walk from the beginning of the beach to the end is not just great exercise but will take you past several of the beachside naturist resorts and will provide lots of opportunities to sit down at the many beach bars for a snack or a drink.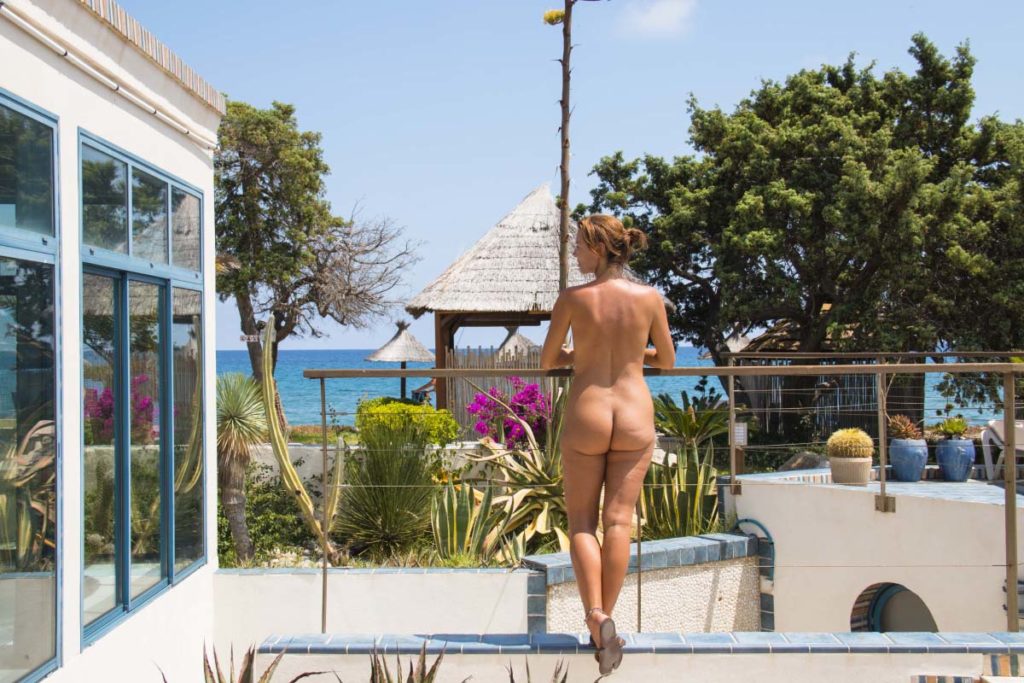 Naturist campsite Riva Bella
On the very south of Linguizzetta nude beach, you can find one of the largest naturist campsites on Corsica island: Riva Bella. The beach section at Riva Bella is separated from the main beach, which gives it a very private feel. The campsite is one long stretch with several campsites and rental options right on the beach or in the surrounding forest.
Riva Bella is also popular for its spa center that provides many different treatments to get your skin in perfect shape while getting your mind in perfect zen mode. The daily activities and the excellent restaurant are just cherries on the cake to make your stay an unforgettable one.
? Read the complete review of Riva Bella here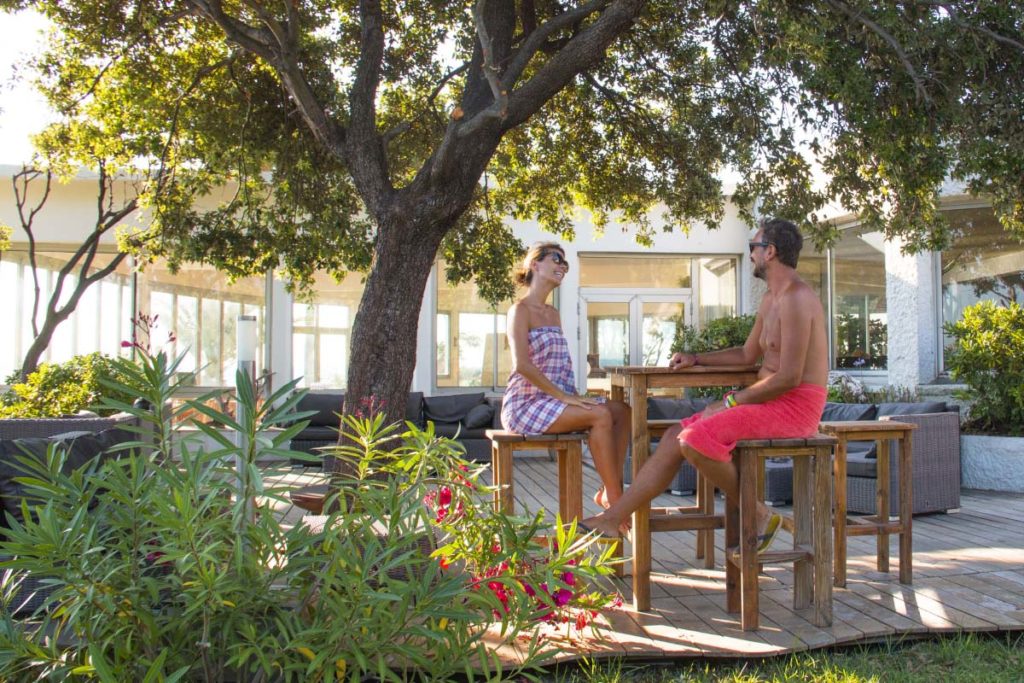 Bagheera naturist campsite
Further up north from Riva Bella, you get to the main section of the Linguizzetta nude beach and the first naturist resort you find there is the wonderful campsite Bagheera. An excellent mix of camping in nature and high-quality holiday accommodations. The quality is what makes Bagheera really stand out and is something you'll find in every aspect. From the nice rental villas to the excellent service and the great restaurant.
The main highlight of Bagheera is its nude beach section. This part of Linguizzetta nude beach is so wide and well maintained that most of the guests prefer to spend pretty much their complete vacation on the beach. There are plenty of options for water activities such as kayaking, peddle-boarding, or pedal-boating.
? Read the complete review of Bagheera here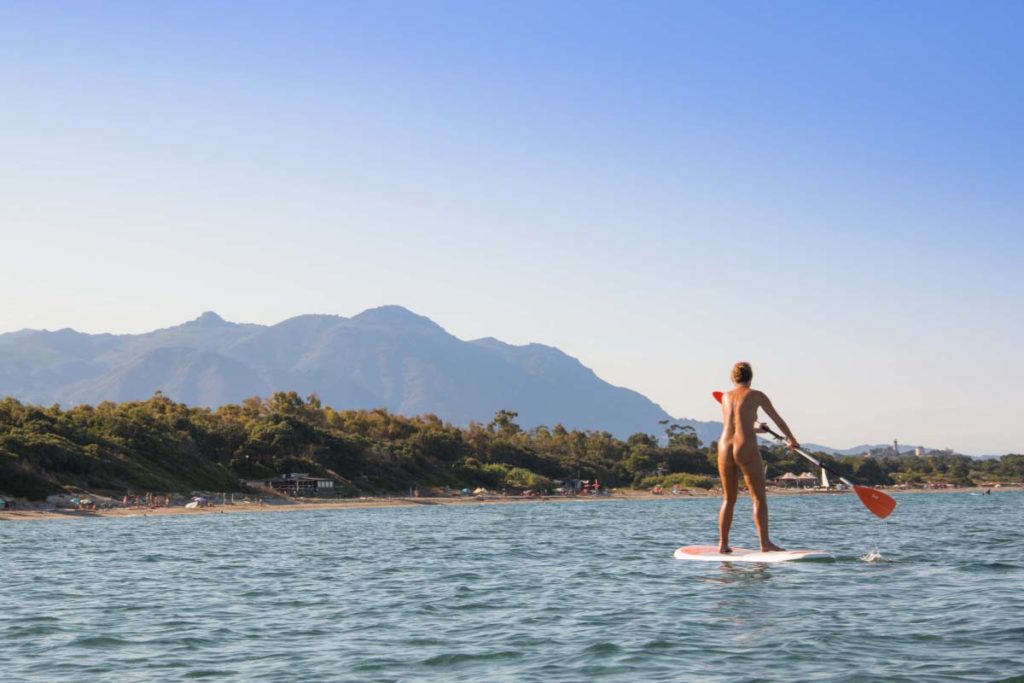 Club Corsicana
When you get further north on the beach, it may suddenly seem as if you ended up in Germany. Not weather-wise, but language-wise. When you walk up the beach and at a certain point hear nothing else but German, you know that you've arrived at
Club Corsicana
. This beach resort has only rental accommodations, a great beach bar, and a sailing school.
Private accommodation near Linguizzetta nude beach
If you don't want to stay in any of the large resorts, we recommend finding a place in the town Marine de Bravone. This village is right in between Riva Bella and Bagheera resorts and gives direct access to the nude beach. Have a look at
the different options on Airbnb
, there will definitely be something you like.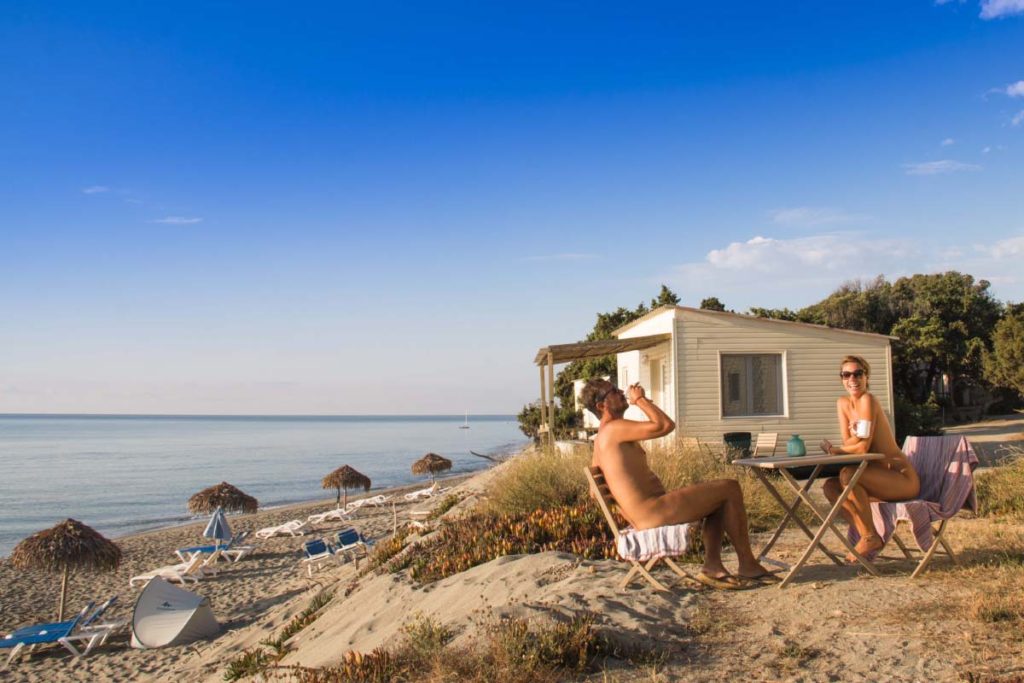 Naturism in south Corsica
La Chiappa
The most popular beach to get naked in the south of Corsica is called Chiappa beach and is part of
naturist campsite La Chiappa
. Ideally located on a small peninsula near Porto-Vecchio, La Chiappa provides a variety of camping and rental options and two large swimming pools for those who don't like to refresh in the sea.
U-Furu naturist campsite
This may sound surprising, but there's one naturist campsite in Corsica that is not located directly at a nude beach. In fact, it's not anywhere near. But that doesn't make
naturist campsite U-Furu
less interesting. On the contrary. The wild Furcone river runs straight to the resort and provides excellent refreshments. Several waterfalls add a sense of adventure and the background for amazing pictures.
Stagnolu Beach
In the Gulf of Ventilegne, there's another stretch of excellent nude beach of about 300 meters to be found. It's said that Stagnolu beach is one of the wildest beaches in Bonifacio while fairly easily accessible. Naturism is officially allowed on this beach, but there are no naturist accommodations in the neighborhood. You can find
lots of textile hotels in Bonifacio on Booking.com
and an equal amount of
private rentals on Airbnb
.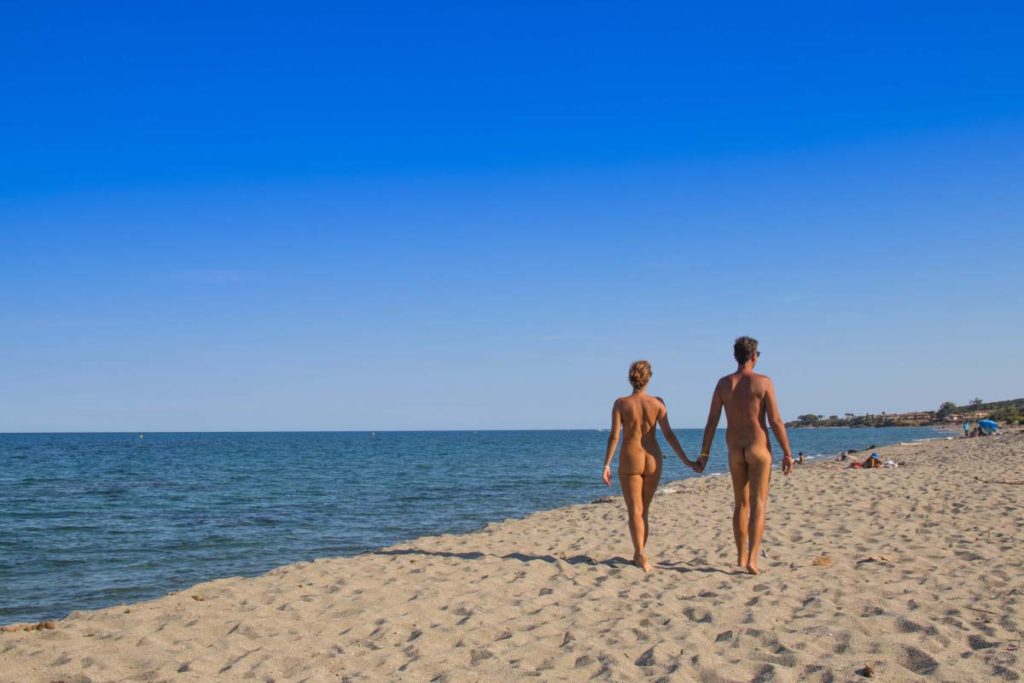 Naturism in west and north Corsica
While the south-eastern side of Corsica may be known as the most nude-friendly part of the island, also in the north-west you can find several unofficial nude beaches. In the very north, close to the port of L'lle Rousse is the Bodri nude beach. Not an official nude beach but frequently visited by naturists. You'll often find a mix of clothed and nude visitors.
If you prefer more wild or secluded nude beaches, the western part of Corsica is where you want to go looking. There's Cala D'Aquila beach, Canusellu Beach, and Portigliolo Beach near Belvédère-Campomoro. Grand Capo Beach and Tahiti Beach can be found near the island's capital Ajaccio. The beautiful Capitello Beach in Porticcio and San Giuseppe Beach near Sagone complete the list.
Keep in mind that these beaches are no official nude beaches but known to be frequented by naturists. Sometimes they are difficult to find and to get to, but that just adds to the experience, right?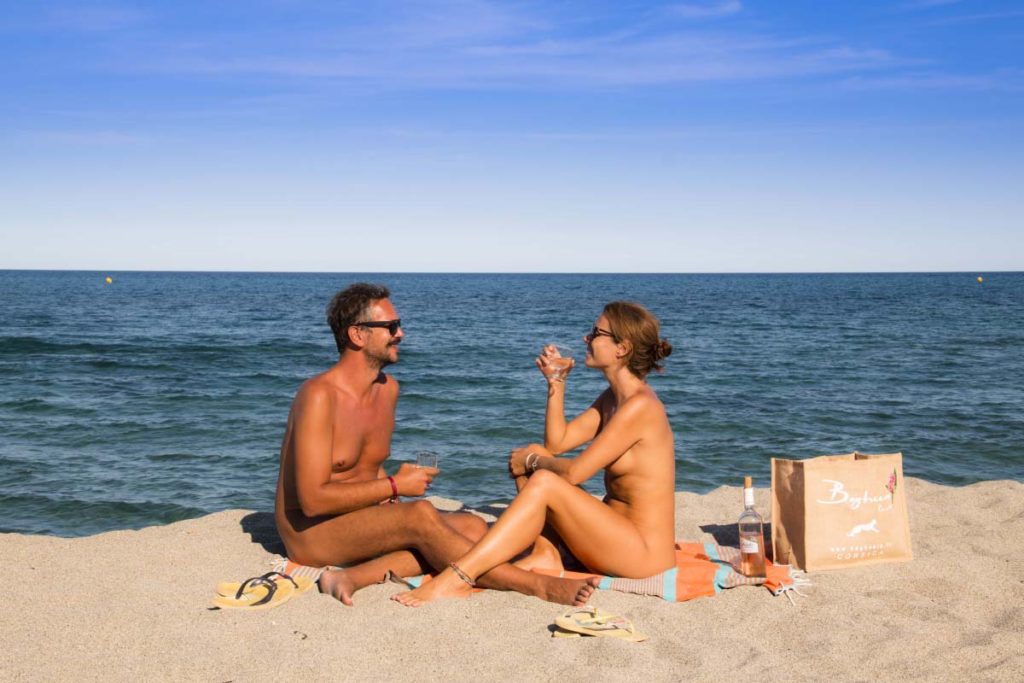 Corsica: The naturist paradise
No matter whether you want to camp, stay in a mobile home or have your own villa, no matter if you want to stay in a naturist resort or in private accommodation, no matter if you want to get nude on the beach or in the wild, at a nude beach or a secluded cove, it's all right there in Corsica.
Add to that some of Europe's most impressive landscapes and excellent food and you know that you can have an amazing naturist vacation on Corsica.
---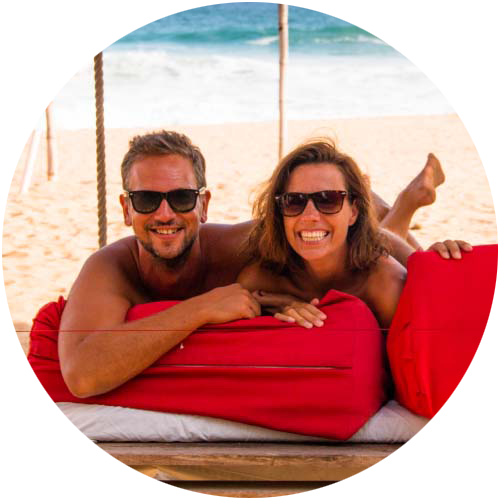 Support Naked Wanderings
Do you like what we do for naturism and naturists? Did we make you laugh or cry? Did we help you find the information you were looking for? Then definitely join our Patreon community!
---