The online naturist world is a weird one. That much is sure. For many, it has been a blessing. People living in countries where social nudity is forbidden by law, now have the chance to interconnect with each other. Naturists that have a partner who's not into social nudity can find their peers online. Probably all of us have found a great new
naturist vacation destination
somewhere online. And also for ourselves, naturist bloggers, this very blog wouldn't exist if it wasn't for the worldwide web.
Earlier today, we were writing a blog post for our Dutch naturist blog on the Athena website. We were discussing the topic of online naturism and doing a bit of research on the dark side of the internet. You know, when you Google "naturism" or "nudism" and suddenly end up on a variety of porn sites. For our test, we googled "family nudism". It's a test that we've probably done a million times before when we wanted to make a point. It used to bring us to numerous malicious websites where you could buy packages of family naturist pictures. We believe that people should pay us to look at pictures of their children, but apparently, many others think differently.
Just like that, family nudism was gone
Although Google did tell us that they found about 152 million results for "family nudism", they only showed us about 30. That's 3 pages. How on earth did that happen? To give you a point of comparison, we also Googled "cheesecake", which showed 250 pages (about Google's maximum), and even when the cat ran over our keyboard and typed "qsdfghjklm", Google still managed to show 115 results. This is something that intrigues us quite a lot. Apparently, if you're interested in "qsdfghjklm", you'll find 4 times as much information on Google than if you're interested in
family nudism
.
Why we can't blame Google
Google has been our best friend for a long time. Without Google, we may have never been able to pass highschool. Also today, Google brings people to our website. Naturists, who are looking for vacation destinations. But, since recently, no more naturists who want to learn about naturism within the family. It's a hard nut to crack because we are absolutely sure that we have brought joy into families that are interested in naturism.
Ever since the very beginning of our naturist blogging life, we have been the first to complain about all the dirt that was available online. About how
naturist pictures get stolen
and used in the wrong way. Every single time that we googled "family naturism" and were directed to a variety of paysites before our own Naked Wanderings showed up, felt like a stab in the back. Today, we feel like collateral damage. If in order to remove all the online crap, Naked Wanderings has to be removed as well, we're happy to take that hit. Because we are sure that people will keep finding us through other channels. And we can only hope that this isn't the same for those other websites.
The difficulty of online naturism
Some of you may wonder, "how can you just be ok with this?". Here's the difficulty: Companies like Google rely on algorithms. Processes that can make decisions without human interference. In naturism, algorithms have always been against us. Naturism is such a human thing that you just can't put it into computer processes. Think about it, what's the difference between a genuine naturist image and an erotic image. We've all seen the pictures of the nude young girl on the beach, legs at a certain angle, eyes straight at the camera. They're being shared as naturist pictures, but we all know better. Then there's the other picture, similar pose but the woman is having a nap, reading a book, or chatting with another person. Suddenly, it's genuine naturism.
There's no algorithm that can make the difference. Eroticism is in the eyes, not in the body. It's in the intention behind the picture. Something a human can see in the blink of an eye, but something a computer can never recognize. It's the same with websites. For us, naturists, it only takes seconds to figure out whether a certain website genuinely promotes naturism or is just some fake portal to promote dating or to sell pictures of naked people. But how's a computer to know?
It's the struggle we currently also see on social media. Facebook and Instagram just don't have a clue of how to build an algorithm that differentiates sexual nudity from non-sexual nudity. So they just ban nudity altogether. Apparently, Google is somewhat moving in the same direction. If we can't separate the chaff from the wheat, we'll just throw the wheat completely down the drain.
Is this a success or a disaster for naturism? Only time can tell.
---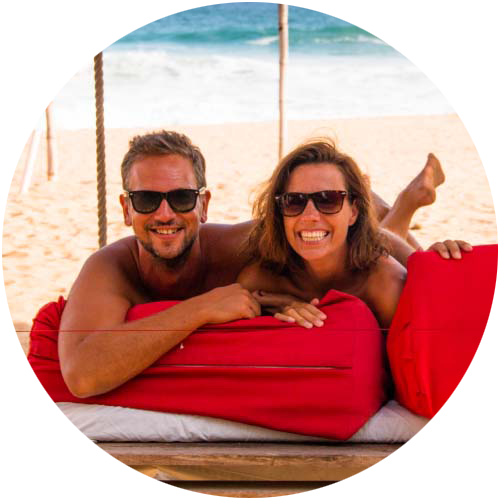 Support Naked Wanderings
Do you like what we do for naturism and naturists? Did we make you laugh or cry? Did we help you find the information you were looking for? Then definitely join our Patreon community!
---