Many of our blog posts are inspired by Twitter conversations, and this one isn't any different. It all started when Hector Martinez asked the question "
What are the biggest problems naturism faces in 2021?
", to which we responded that the current terminology of "naturism" and "nudism" (and in some regions "FKK") doesn't cover the whole scope of social nudity anymore.
It used to be pretty simple. If you believed in the ethical side of naturism, you called yourself a naturist. If you rather got naked for the comfort or an equal tan, you were a nudist. Yet, there must always have been an overlap. We can't imagine that not a single naturist recognized the comfort of being clothes-free, or that all nudists couldn't care less about respect for nature and other humans. But that was pretty much the consensus.
Naturism in the 21st century
Today, we see more and more subgroups appearing. There are vacation naturists, home naturists, online naturists, 24/7 naturists, beach naturists, event naturists, and so on. Feel free to replace the word "naturist" in the previous sentence with "nudist" if that makes you feel better. The point is that birds of a feather flock together.
On the other side of the spectrum are the long time naturists, also called traditional naturists or ethical naturists. These are seeing more and diversity in their way of living that used to be so nicely structured. Suddenly, naked people are arriving at their nude beaches in polluting cars, who smoke, drink beer, and have barbeques.
The different groups find their leaders and separate from each other.
The danger in division
Back in Belgium, we have seen something similar happen in amateur theatre. Maybe not the most obvious link, but it's also a small community in which people don't always agree with each other. Imagine a group of 20 amateur actors. Half of them want to do more comedy, the other half wants to do more serious plays. So the group splits up.
Now there are two groups that both are restricted to plays with 10 actors maximum. And also the audience gets divided. While the whole group used to play for 200 spectators a night, they now both get a 100 a night. So the budget needs to be reviewed. Half of one group thinks that a nice expensive venue is the most important, the other half thinks that the money should go to a professional director. The group splits up again.
It becomes a mess and nobody's happy, while everyone thought that they were actually working towards something better. How did that happen? They had lost their "why".
Find your why
In the bestseller "
Find your WHY
", author Simon Sinek explains that the key to making the right decisions is to focus on why you do things instead of how you do them. All the amateur actors really wanted to do was create a great play and entertain an audience. But instead, they got lost in how everyone thought that this should be done.
We see the same in naturism, nudism, or whatever you want to call it. We all have the same dreams and visions of a better world. One in which everyone is treated as equals, where body-shaming doesn't exist, and where nudity is considered normal and natural. Yet, we're so much focused on how we think that this should be accomplished, that we are losing the bigger picture. Instead of treating each other as equals, we condemn them because they are not doing the things how we would do them. Instead of working together, we work against each other.
It's time that we retrieve our why.
Why is this so important?
On a personal level, you may not experience immediate benefits. On the contrary, you'll probably have to make concessions. You may have to share your beach with someone who drinks alcohol. You may have to share the dinner table with someone wrapped in a sarong. You may end up in a conversation with someone who only gets naked on vacation. Just like the actor may have to agree with hiring an expensive director instead of playing in that great venue.
But in the long run, we will all benefit from this. If a government wants to close down a nude beach, who's going to stand up? Who will they listen to? A group of a handful of people that exactly thinks the same or a large group of people who may not completely agree on everything but does share the same "why"?
If we want to normalize nudity, we'll need more people on our side. How are we going to convince the world that we're not a bunch of weirdos? With 50 small groups who all say something different or as one front?
If we focus on the values that we share instead of those in which we differ, and if we agree on who we all are instead of pointing out what the others are not, we can get there. But we'll have to act like one community, a community with a strong why.
---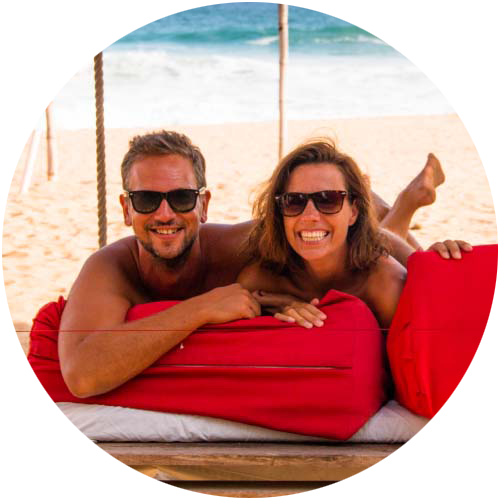 Support Naked Wanderings
Do you like what we do for naturism and naturists? Did we make you laugh or cry? Did we help you find the information you were looking for? Then definitely join our Patreon community!
---