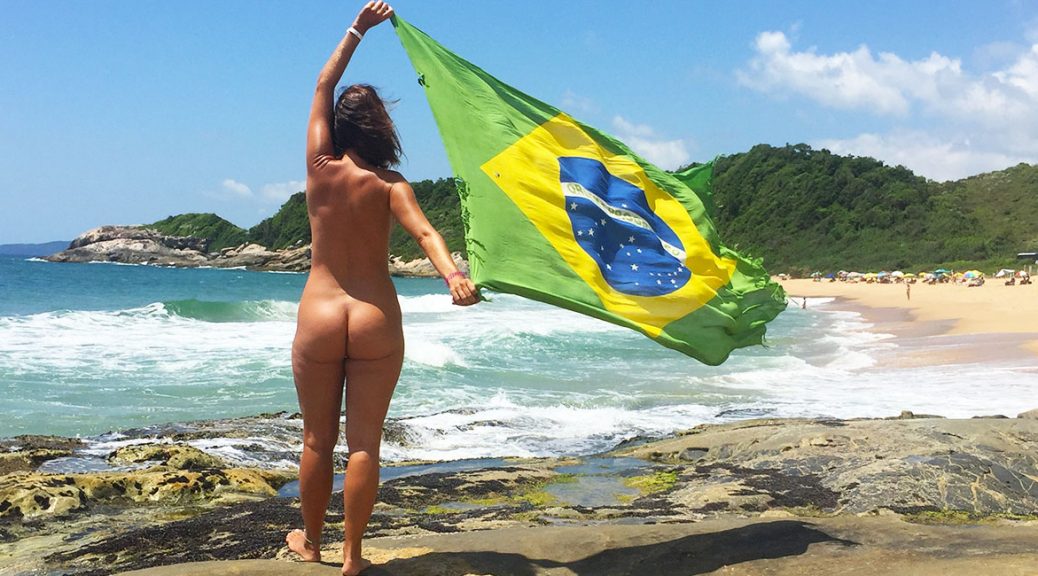 Nudism in Brazil: A Complete Overview
Nudism in Brazil: A Complete Overview
Everybody seems to have an opinion about Brazil and it's not always about football. When it comes to nudism in this enormous South American country, the ideas tend to differ a lot. On one side are those who believe that every step, every move or every whatever the Brazilian makes has a sexual undertone. That it's a country which just breathes sex and where non-sexual nudity could never happen. On the other hand are those who think that every other beach in Brazil is a nude beach.
Well, we've spent three months looking for the best possibilities about nudism in Brazil and we can tell you that both are wrong. If you want to learn the truth about what's possible for naturists in this impressive country, do read further.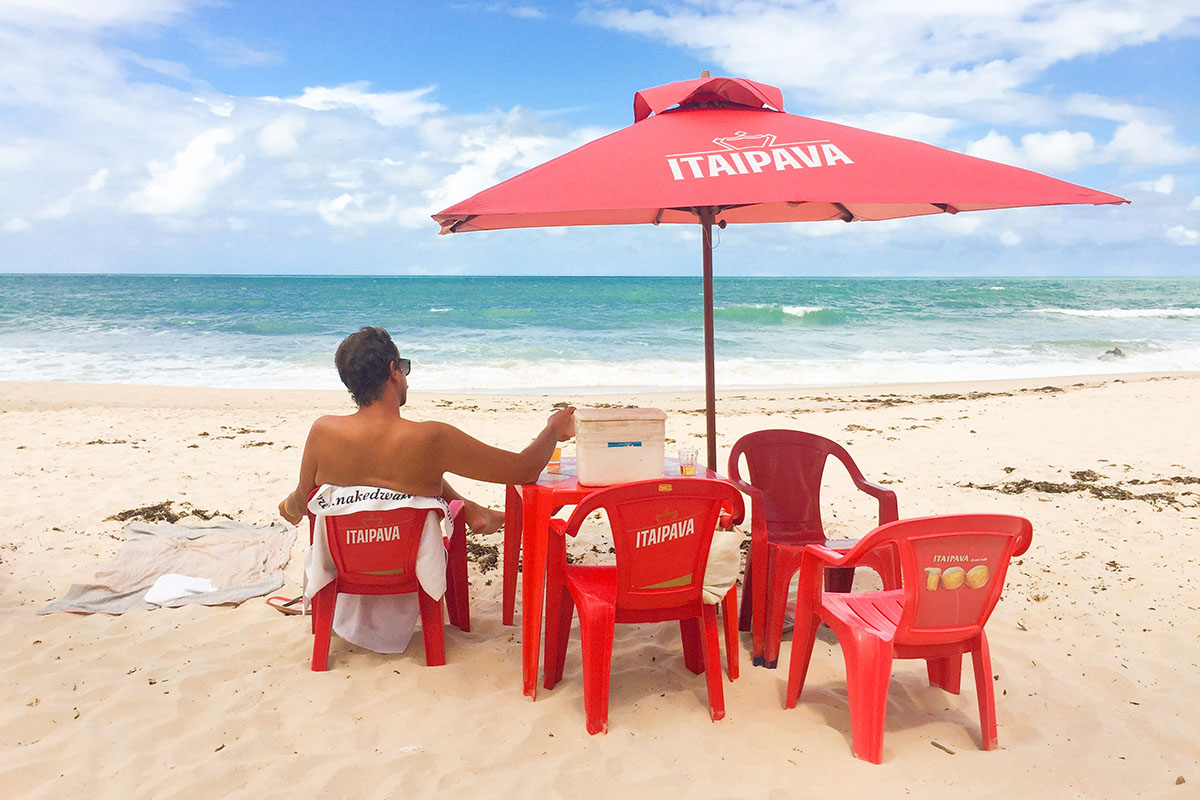 About nudism in Brazil
Let's first give you some basic information about naturism in Brazil. We jumped into it head first (which is our favourite way) and we ran into quite some difficulties. Some things are just better to know upfront. Trust us.
While in Europe and the USA the naturist federations, organisations and associations are losing power, they still are quite a big thing in Brazil. How unorganised this country sometimes appeared to us, naturism is pretty decently arranged.
We'll talk about the organisation later in this article but just know this: If you're not Brazilian, you'll probably never find out how things really work. Maybe not even if you are Brazilian. The good news is that you don't really need to. We can give you the necessary info to have a great nude vacation in Brazil without having to face the difficulties in the system.
If you're traveling from Europe, the
USA
,
Canada
or any other country with a long history in naturism, the most important tip we can give you is to forget most of what you know. While the naturist philosophy in Brazil is really just a copy of the
INF-FNI statements
, the naturist lifestyle is still pretty new in this country. The
FBrN
, the Brazilian Naturist Federation for example only exists since 1988. The advantage of such a young federation is that they don't get the heavy background of naturism which we experience quite often in the west. We were surprised about the amount of young people, women and families who engage in naturism in this country. Naturism in Brazil is also not a purely white world and the single male problem (or at least measures against this problem) is not such an issue as in many other countries.
More than once we thought "this is actually what the western federations are dreaming of…"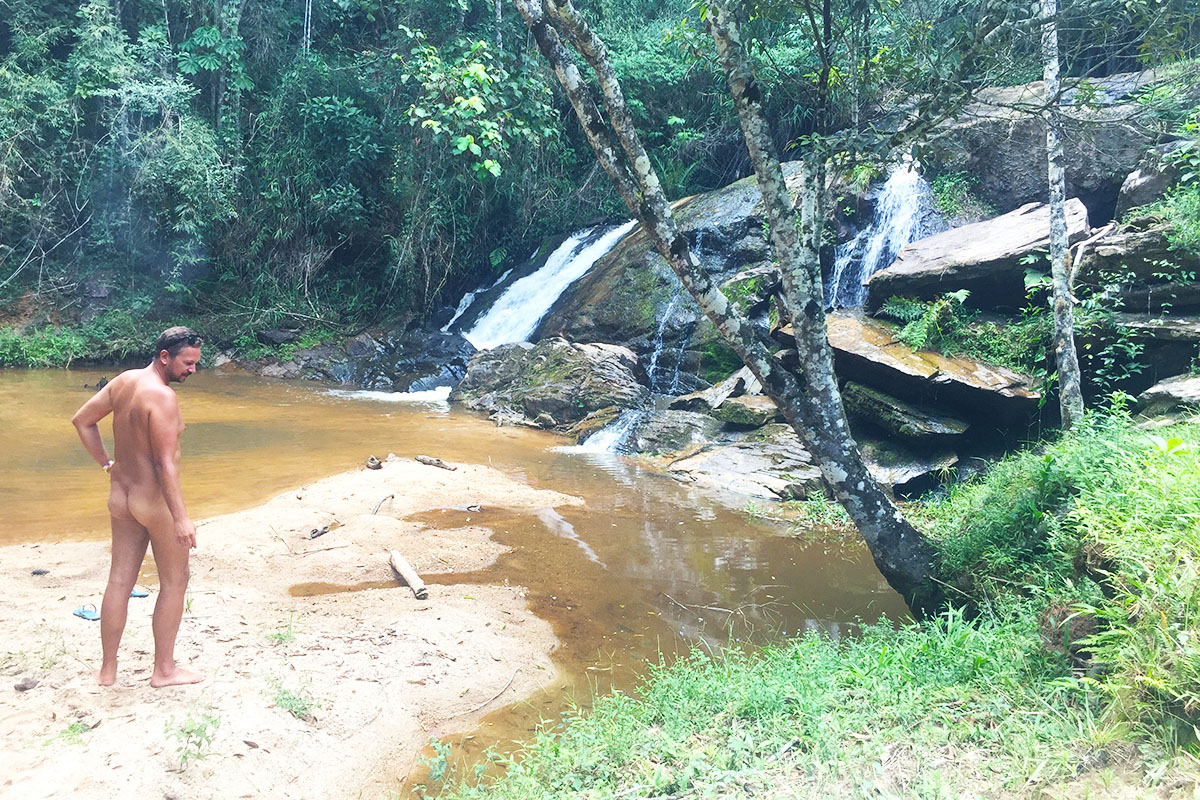 Naturist associations and federations in Brazil
As we said before, the whole system might make complete sense for a Brazilian but for us it was a maze we got stuck in more than often. Luckily we made friends along the way who tried to explain to us how things work and what you'll read below is what we understood from it. Just remember that our Portuguese is not perfect and that we did get lost in translation from time to time.
The main federation is of course the
FBrN
, the Federação Brasileira de Naturismo, which covers naturism all over Brazil. But this country is huge and distances are far. National gatherings do occur but mostly the events are organised by associations or clubs.
Naturism is officially practiced in 10 out of the 26 states of Brazil. Each of those 10 states has one or more associations. In total there are 13 of those. Then there are also 8 official nude beaches (of which we visited 6) that are somewhat controlled by an association.
Then it starts getting difficult (wasn't it already? No, certainly not).
There are clubs, resorts, campings, pousadas and who knows which other kinds of naturist facility. Sometimes a club is also a resort, sometimes a resort has nothing to do with the whole association or even the national federation, sometimes part of a resort is managed by a club and the other part is privately managed and we might probably find other cases as well.
Pretty confusing, but just know this: For your naked holiday it doesn't really matter a lot. If you're a blogger trying to write a decent article about naturism in Brazil, it's quite a pain in the behind.
Naturist resorts and nude beaches in Brazil
While for some reason there are people who think that nudity is allowed at pretty much every beach in Brazil, that's certainly not the case. We tried to visit as much naturist places as possible in the country and we believe that we can proudly say that we did a decent job.
For your convenience we'll organise them per state, going from south to north.
Nudism in Rio Grande do Sul
Colina do Sol naturist resort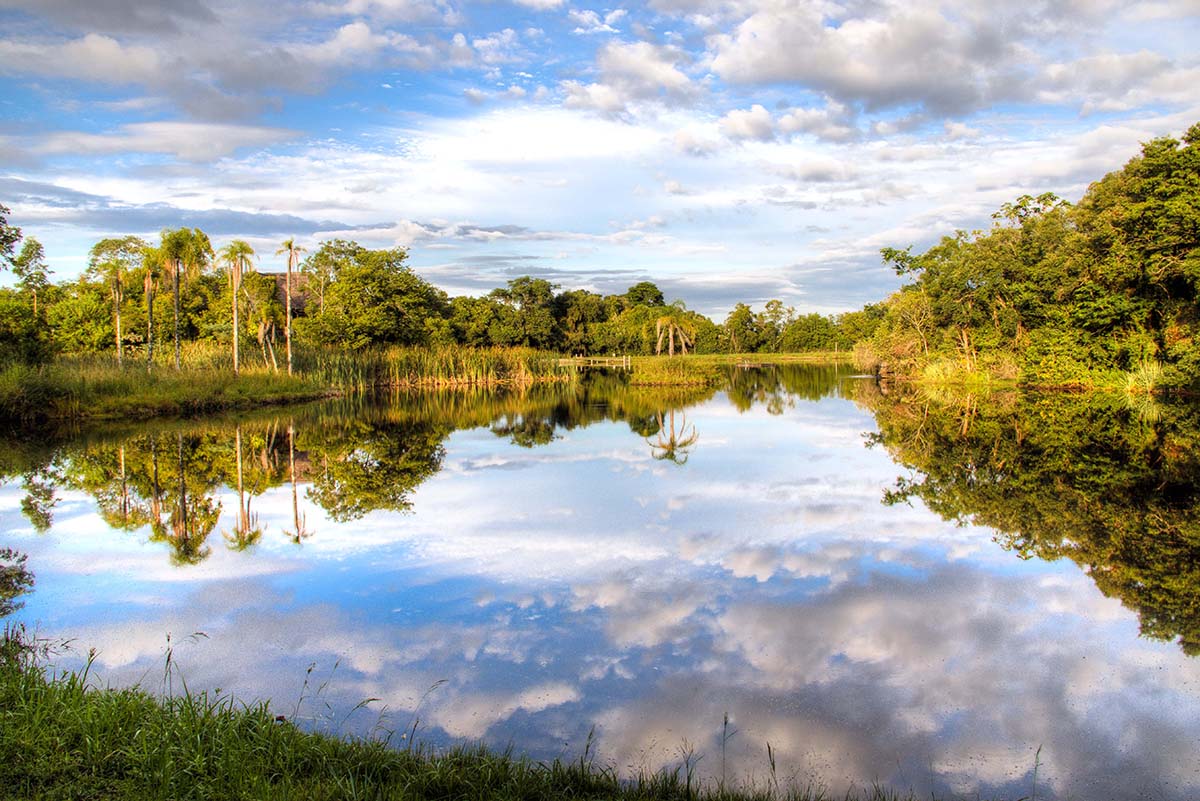 Colina do Sol is said to be the first naturist resort in Brazil which is not at a beach. It's a 64 hectare wonderful natural environment with several lakes, two swimming pools, sports facilities, and lots of nature to enjoy and wander around in. The resort also has a grocery store and a restaurant.
Nudism in Santa Catarina
Pedras Altas nude beach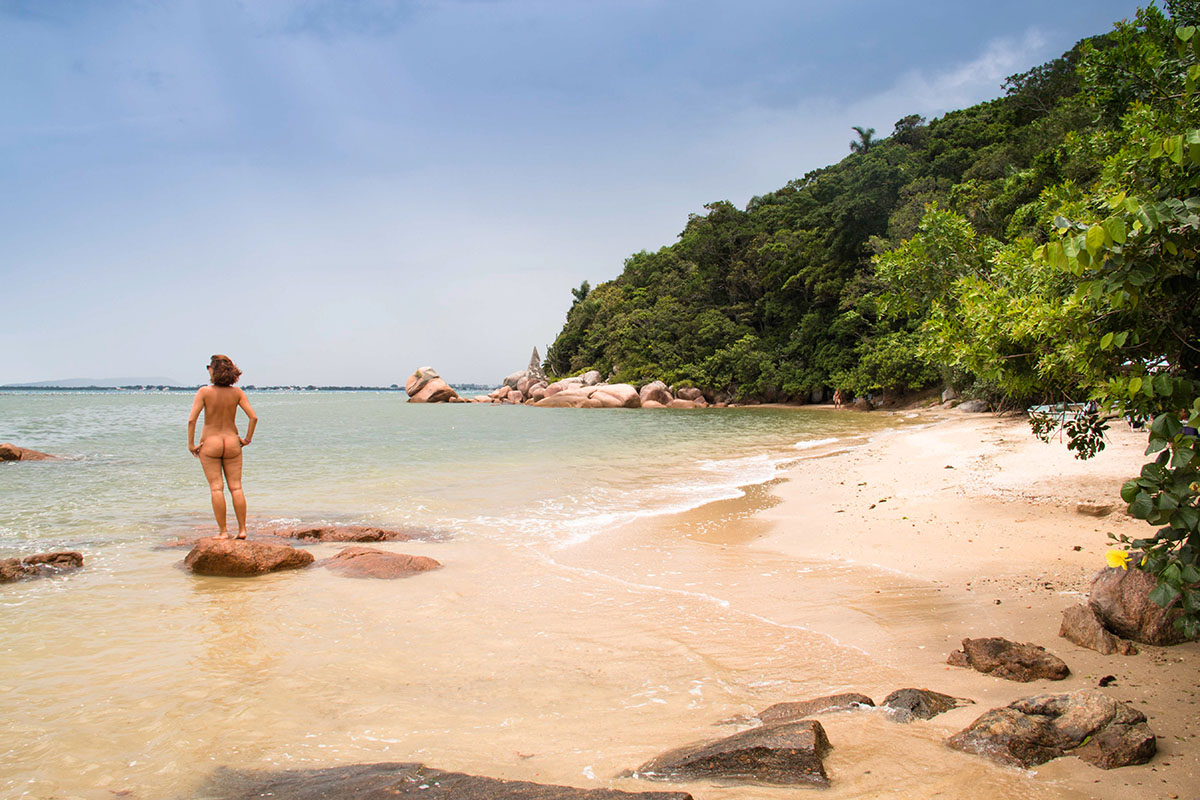 There's very little info we could find about this nude beach located at an hour south of Florianopolis. Neither did one of our contacts tell us about it. We just somehow stumbled upon it while searching online for naturist opportunities in the Santa Catarina state and we figured we should give it a try. Maybe it was because we went there with no expectations at all, but what we found was a beautiful little nude beach, maybe 50 meters or so wide with a nice calm green -blue sea.
Even more surprising was that there's also a small camping next to the beach, another thing we hadn't heard of. We honestly have no idea about how reservations at this camping have to be made, maybe it's members only or maybe you just have to show up.
Anyway, Pedras Altas is certainly worth a day trip if you're in the area. The nude beach has no facilities but there's a reasonably priced bar at the textile part of the beach where you can buy drinks and bring them over to the nude part. You can also use the toilets at this bar.
When we were there, only a handful of other people were on the nude beach, all nude.
➡️ Click here for accommodation near Pedras Altas.
Praia de Galheta nude beach
Praia de Galheta is the only nude beach on Santa Catarina island, where also Florianopolis is located. There are two ways to get to this nude beach. Either you enter via Morro beach and when facing the sea you walk left until you find a path through the rocks. Follow this path to the end and you're on Praia de Galheta. The other way is via a long, steep and exhausting trail going from Barra de Lagoa. Unless you like a good long hike before relaxing on the beach, we wouldn't recommend this way.
Both times we visited Praia de Galheta, the large majority (let's say about 85%) were textiles. The nudists were spread over this 1km stretch of beach but the majority seemed to pick a spot at the far end, so away from the path to Morro beach. Unfortunately we also think we found out why. At the entrance of the beach some men like to hang around who made us feel pretty uncomfortable, not only by their constant stares but also by the way they kept touching themselves. Anyway, the far end is a much better place to get naked. Somewhere near one of the two beach bars also works well.
➡️ Click here for accommodation near Praia de Galheta.
Praia do Pinho nude beach & resort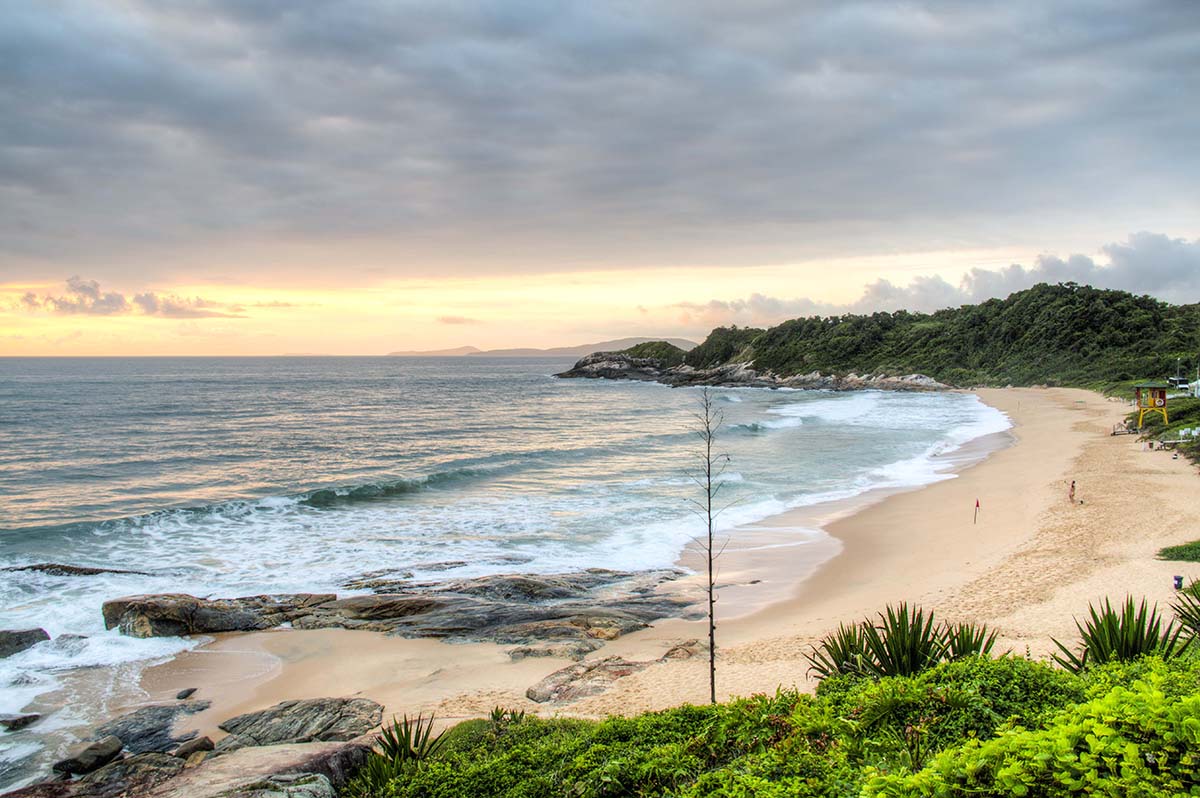 The crown jewel of naturism in Santa Catarina state is certainly Praia do Pinho. A wonderful stretch of nude beach with its own naturist camping and pousada.
Because this beach is controlled by the camping, the rules are much more followed than at for example Praia de Galheta. Nudity is obligatory and taking photos of other naturists is strictly prohibited. The staff controls the beach and so do the lifeguards.
The camping has about 200 pitches, a kitchen and a shower/toilet block. The pousada has several nice rooms in different price categories. There is bungalow type accommodation as well.
Praia do Pinho has two bars and restaurants, the beach bar is significantly more expensive than the other one.
➡️
Click here for our Naked Wanderings review
➡️
Click here to book directly
.
Nudism in São Paulo
Rincão Clube Naturista naturist resort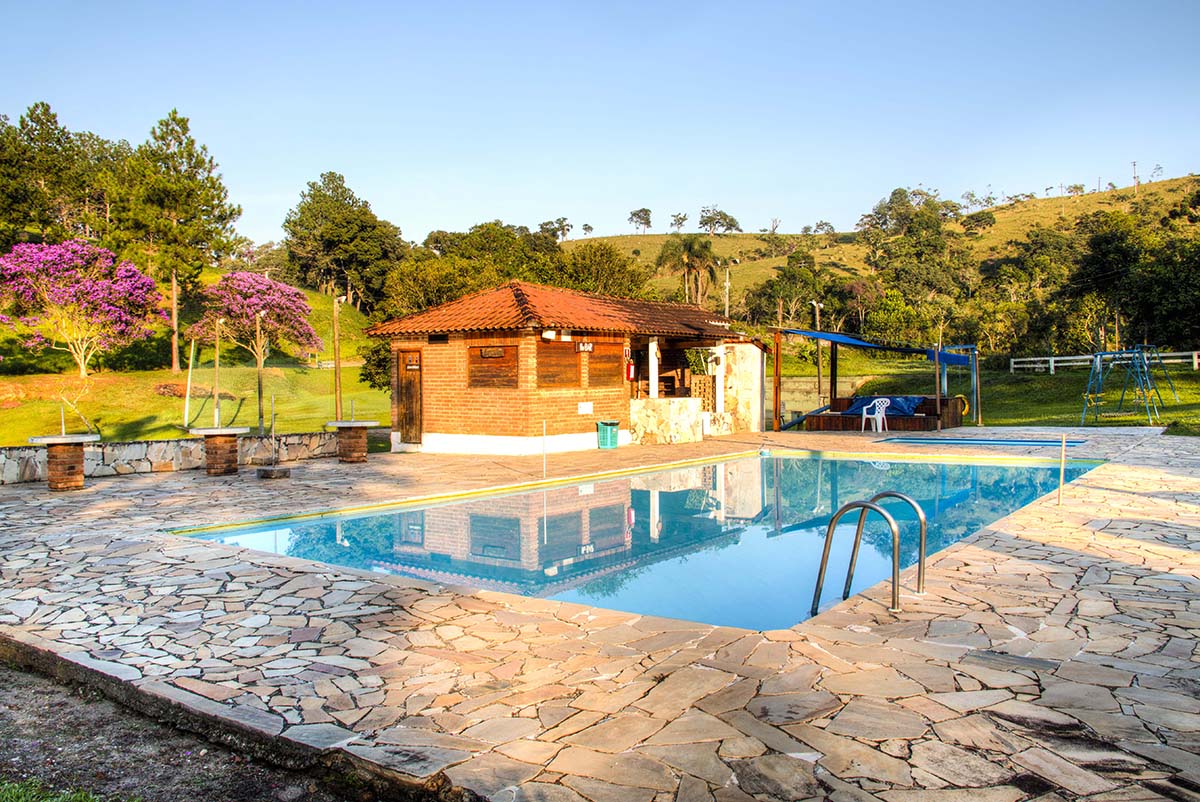 While São Paulo has several naturist associations, we found it surprising that the state has only one naturist resort. And a fairly unknown one as well. But what a beauty!
Rincão Clube Naturista may not have a beach like Praia do Pinho or the size of Colina do Sol, but it's a wonderful oasis of tranquility in the hills of Guaratinguetá. Right in between São Paulo city and Rio De Janeiro. There is a camping area as well as rooms in the pousada or bungalows for rent.
The swimming pool with pool bar is where most visitors tend to spend their days relaxing in the Brazilian sun. There are several lakes surrounded by trees with purple flowers, a restaurant serving delicious food (only in weekends) and a sauna for those who think Brazil is not hot enough yet. A must do during your visit is the hike to the waterfall. This waterfall isn't all that spectacular but the 30 minute walk to get there can be done in completely nude and gives you some amazing views of the surroundings. Also in the waterfall you can bathe naked.
➡️
Click here for our Naked Wanderings review
Nudism in Rio De Janeiro
Praia do Abricó nude beach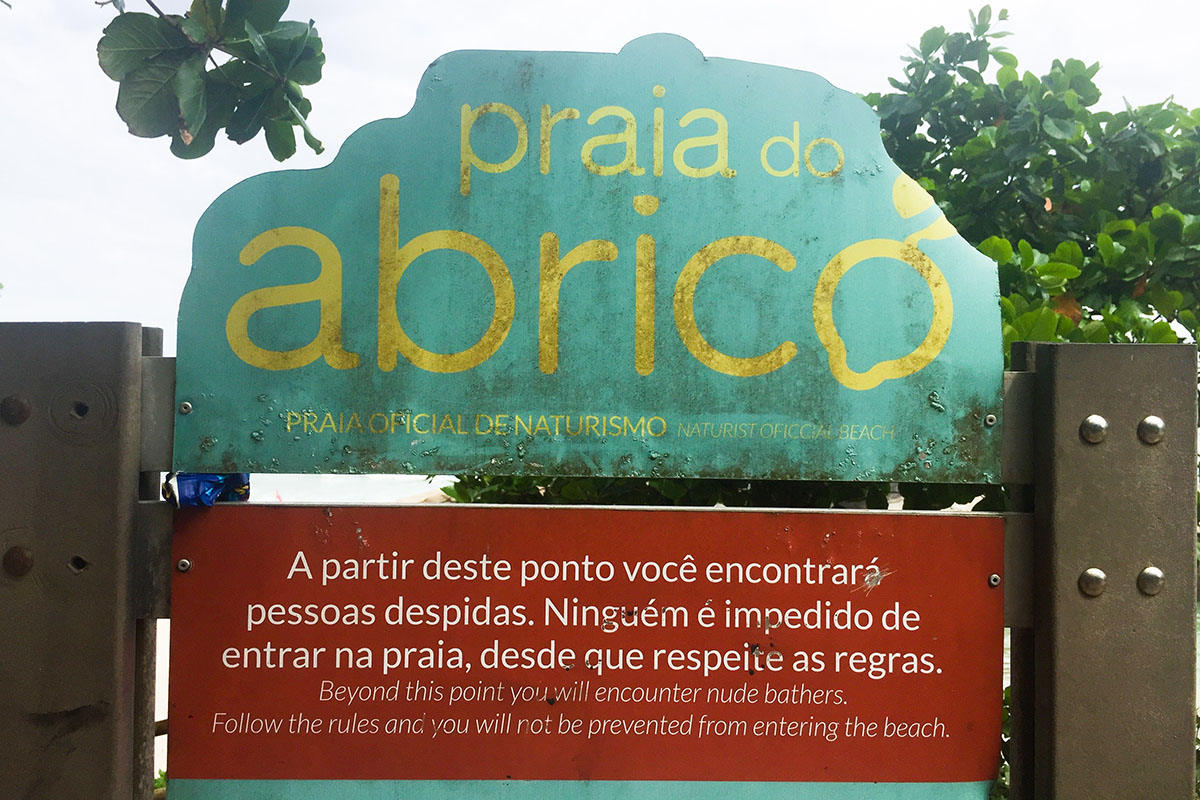 Our visit to Praia do Abricó can be considered a bit of a… ehm… strange experience. We had been warned by the friendly people from ANAbricó (the association which controls the nude beach) to only visit when they are present. Which is supposed to be more or less every Saturday and Sunday. We figured that this warning was to prevent us from having a situation like we had at Praia de Galheta where the large majority of the visitors would be clothed.
So we went on a Saturday but due to the weather conditions (it was clouded with a high chance of rain) the federation had decided not to come. What we found on the beach was just weird. First of all there were no women and most of the men were single. None of them were lying down or swimming in the ocean. They were just standing there. A couple of meters from each other. Checking each other out. The atmosphere was very uncomfortable and we felt like every second an orgy, a drugs deal or a terrorist attack could happen. We watched this awkward scene for a couple of minutes and then decided to leave.
We wanted to give the beach another chance so we went back the day after, on Sunday. This time the association was present and things couldn't have been more different. A completely relaxed atmosphere, none of the weirdness from the day before could be seen anywhere. People were relaxing and enjoying themselves, there was a bar serving beers and a guy giving massages. By the way, if you ever visit Praia do Abricó, we must stress that you have to take a massage from Marco Antonio. They are just heavenly!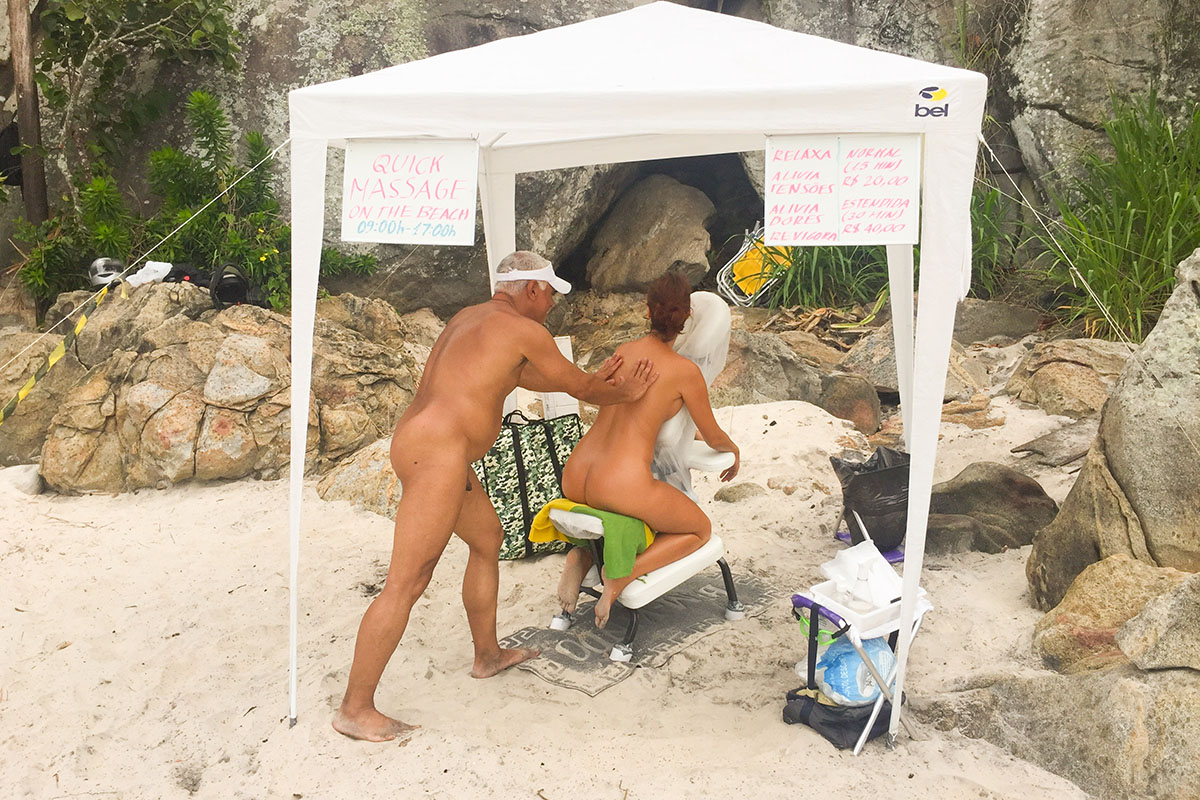 These are the two most important things you should know about Praia do Abricó: Have a massage and make sure to go when the federation is present! The second you know from signs at the entrance of the path, flags on the beach and people with green or red hats on. If you don't see those, turn around and visit another day.
Praia do Abricó can be reached from downtown Rio in about 2 hours via public transport so it's recommended to take an
Uber
instead. We decided to stay in Recreio dos Bandeirantes which is the town right at Praia do Abricó and can very much recommend the
Ramada hotel
.
➡️
Click here for more accommodation options near Praia do Abricó
.
Olho de Boi nude beach
This is a nude beach located near the famous party city Buzios, north of Rio De Janeiro. We did not visit this beach so we can't give you any first had information. If you've been there, please let us know what it's like.
➡️ Click here for accommodation options near Olho de Boi.
Nudism in Bahia
Praia de Massarandupió nude beach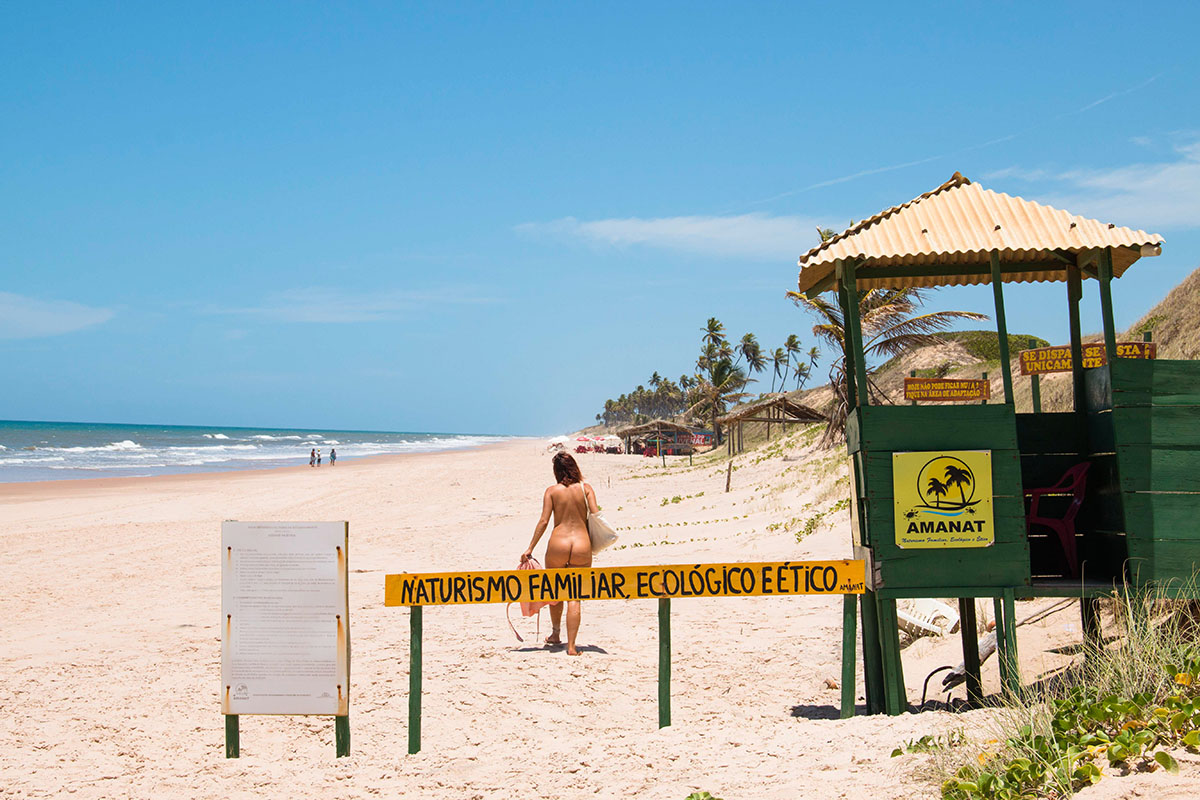 Massarandupió was the first nude beach we had ever visited outside of Europe, now more than 6 years ago. And we loved it from the first moment we dropped our pants at this beach. Needless to say that we were very much looking forward to visit this place again after all those years to see what happened with it.
Spoiler alert: We loved it even more!
While in the past there had been only one sign saying that you're entering a nude beach and are supposed to get rid of any fabric, today it's much better signposted. You can see that the local association has gained control over the beach and puts a lot of effort in improving it.
On the other hand, Massarandupió has not lost its wild character. It's not yet overcrowded, it's just a very large and wide sand beach with a bunch of nudists having a great naked time. Imagine the Atlantic nude beaches in
France
but with less people, better weather and the sea with a temperature like bath water.
While there used to be only one bar, now there's a second one. We tried them out both (yes, that's what we do for you, dear reader) and have to say that we still recommend the original: Baracca Do Juvenal. Great food and cheap drinks, what more do you need to make your day at the nude beach complete?
➡️
Click here for accommodation options near Massarandupió
.
EcoParque and EcoVilla da Mata naturist resort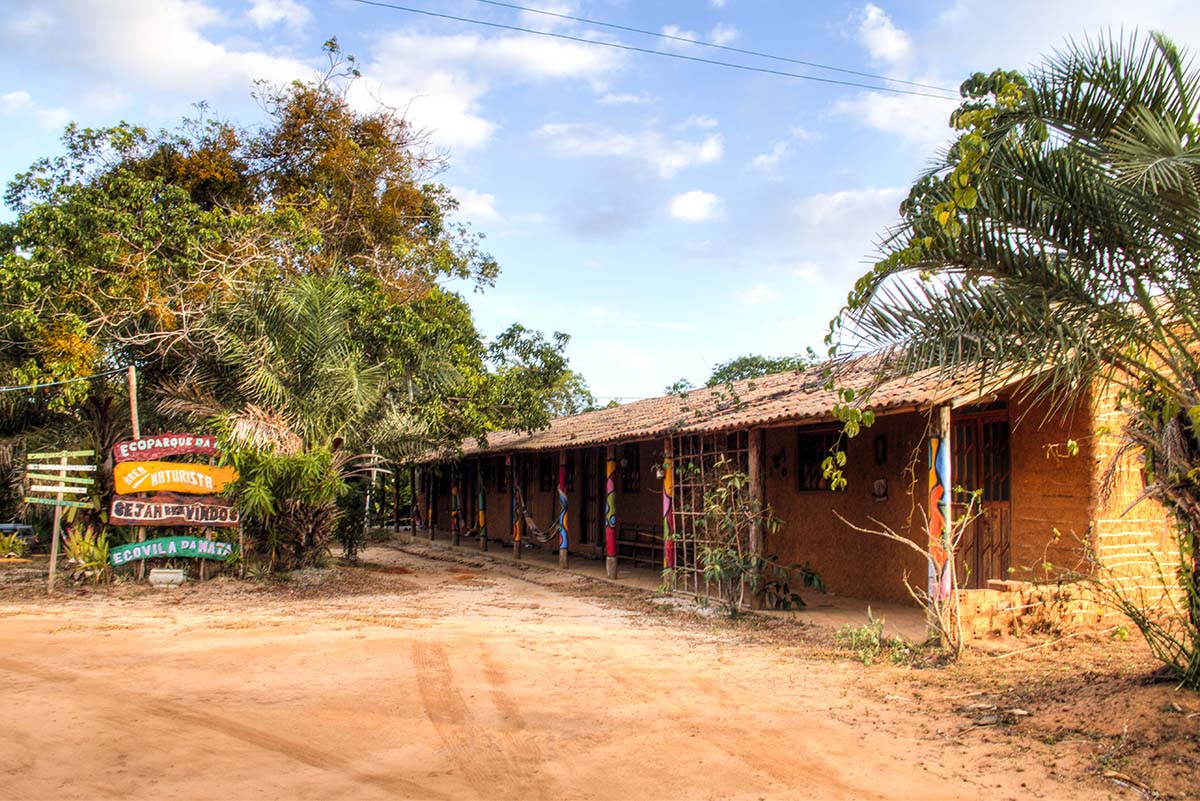 Theoretically these are two different places but technically they are just one. The difference is that EcoParque is a naturist camping and pousada while EcoVilla contains real houses in a naturist domain of which some are for rent and others for sale. So you can actually go live in EcoVilla.
Waldo, who runs both places is one of the most inspirational people we've met in a long while. He's a waterfall of information about
naturism and spirituality
and while he always looks extremely relaxed, he must have a million things on his mind. Waldo not only runs the two naturist places, he also does ecological projects in the region, works together with local tribes, works for preservation of the forest, takes care of animals in trouble (there was the cutest baby owl at EcoParque when we were there) and who knows what else he does.
EcoParque and EcoVilla are also more than just a naturist getaway. They are often visited for yoga, meditation or wellness retreats and four times per year they organise their own retreats. Because the whole resort is eco-minded, the accommodation is certainly not high-end. Don't expect a big screen TV or air conditioning but the sounds of nature instead.
➡️
Click here for our Naked Wanderings review
Nudism in Paraiba
Praia Tambaba nude beach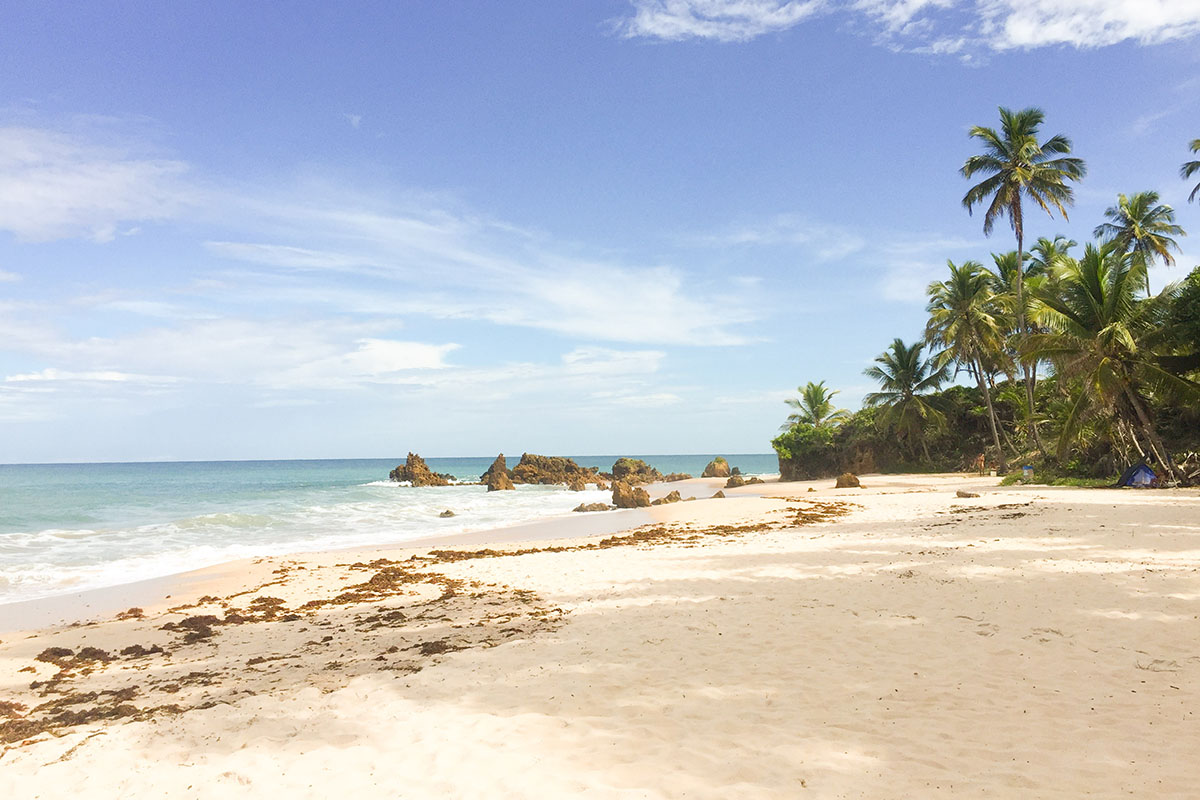 We had been told that Praia Tambaba is supposed to be the most beautiful nude beach in Brazil. This was the last one on our list and honestly, we had our doubts. We had seen the emerald green waters at Pedras Altas and the magnificent white sands of Massarandupió so how much more impressive could it possibly be?
Now we can tell you in all honesty… Praia Tambaba IS the most beautiful nude beach of Brazil. Probably one of the most beautiful ones in the world. It's just the combination that does it. Warm blue-green water, white sand, a long stretch of beach on one side and several smaller coves at the other. It's one of those places you just have to see to believe it.
But we can't give them all the credit though. We also have to mention that the bar at Tambaba is more expensive than the ones at Massarandupió or Pedras Altas and that this is also the only naturist place in Brazil that seemed to have a rule for single men: They are only allowed when they have a "naturist passport". Whatever that may be.
The bar at Praia Tambaba is run by the local naturist resort called
Pousada Tambaba
. They have accommodation which seemed a bit overpriced to us but then again, you do wake up right at Brazil's most beautiful nude beach. If you want to go camping, there's a clothing optional eco camping nearby called Matuxi which we didn't have the chance to visit, because we didn't bring a tent.
We stayed in the nearby town Jacumbá in a textile hotel called
Pequena Sereia
, but we can't recommend it.
➡️
Click here to find better accommodation than ours near Praia Tambaba
.
Naturism in Amazonas
As you could read in our introduction, there are several naturist clubs in different Brazilian states which are not directly linked to a nude beach or naturist resort. Because most of these clubs only organise about one even per month it was difficult for us to get the timing right. Only at our last stop, the Amazonas province, our agendas had a match and we participated in
an event of the local naturist club GRAUNA
.
We didn't list any other clubs in this overview because we didn't have the chance to meet them, but if they are anything like GRAUNA we can assure you that you should go to one of their events if you have the chance. We had
a great day with the amazing people of GRAUNA
.
If you're interested in joining GRAUNA as well, please check their
website
.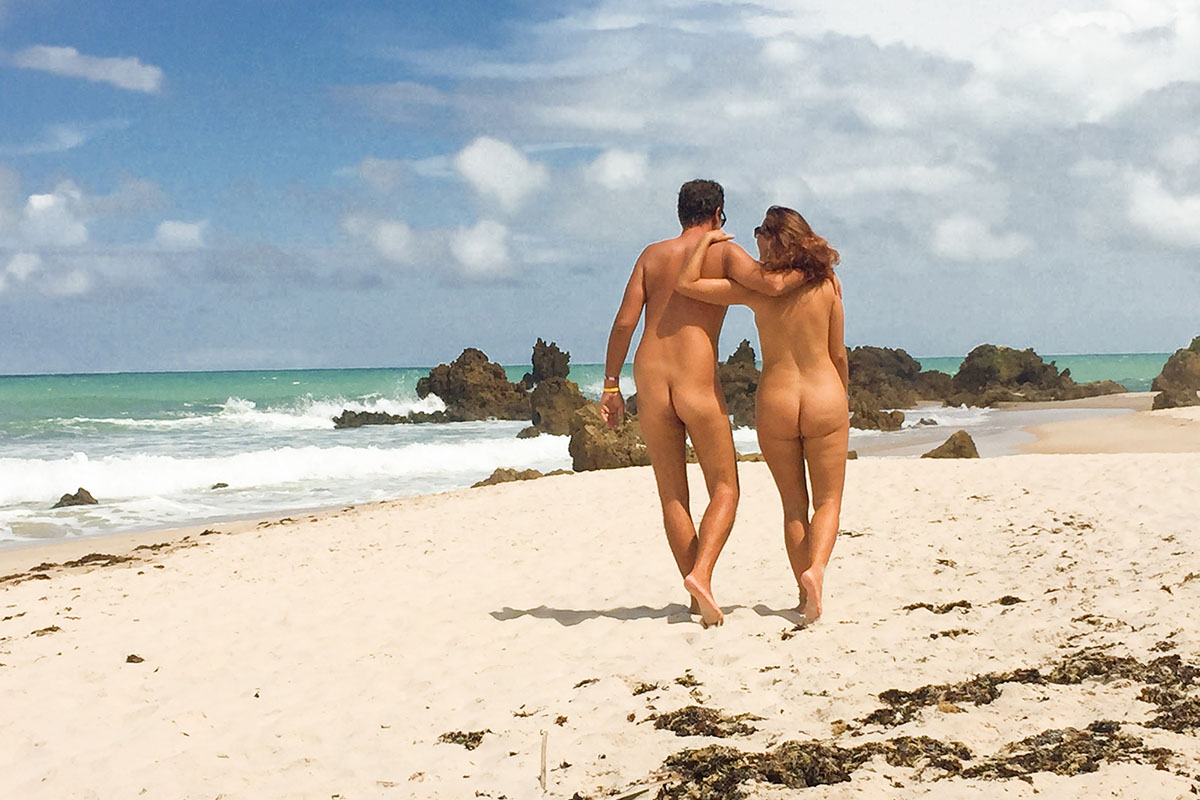 Should you go on a nude holiday to Brazil?
Brazil is not exactly high on most naturist's list of future places to visit. Which is a shame. But we can understand it. The news coming from this large South American country is not always the best and for most naturist travellers it's a long way to go if you're not sure where you will end up. We hope that with this overview and with our previous blog posts about naturism in Brazil we might have been able to tickle your interest.
If you enjoy tropical nude holidays, lots of nature, amazing nude beaches, lovely people and great food (and then we don't even mention the cheap drinks), you really want to consider a trip to Brazil for your next nude vacation!