Everybody seems to have an opinion about Brazil and it's not always about football. When it comes to nudism in this enormous South American country, the ideas tend to differ a lot. On one side are those who believe that every step, every move, or every whatever the Brazilian makes has a sexual undertone. That it's a country which just breathes sex and where non-sexual nudity could never happen. On the other hand are those who think that every other beach in Brazil is a nude beach.
Well, we've spent three months looking for the best possibilities for nudism in Brazil and we can tell you that both are wrong. If you want to learn the truth about what's possible for naturists in this impressive country, do read further.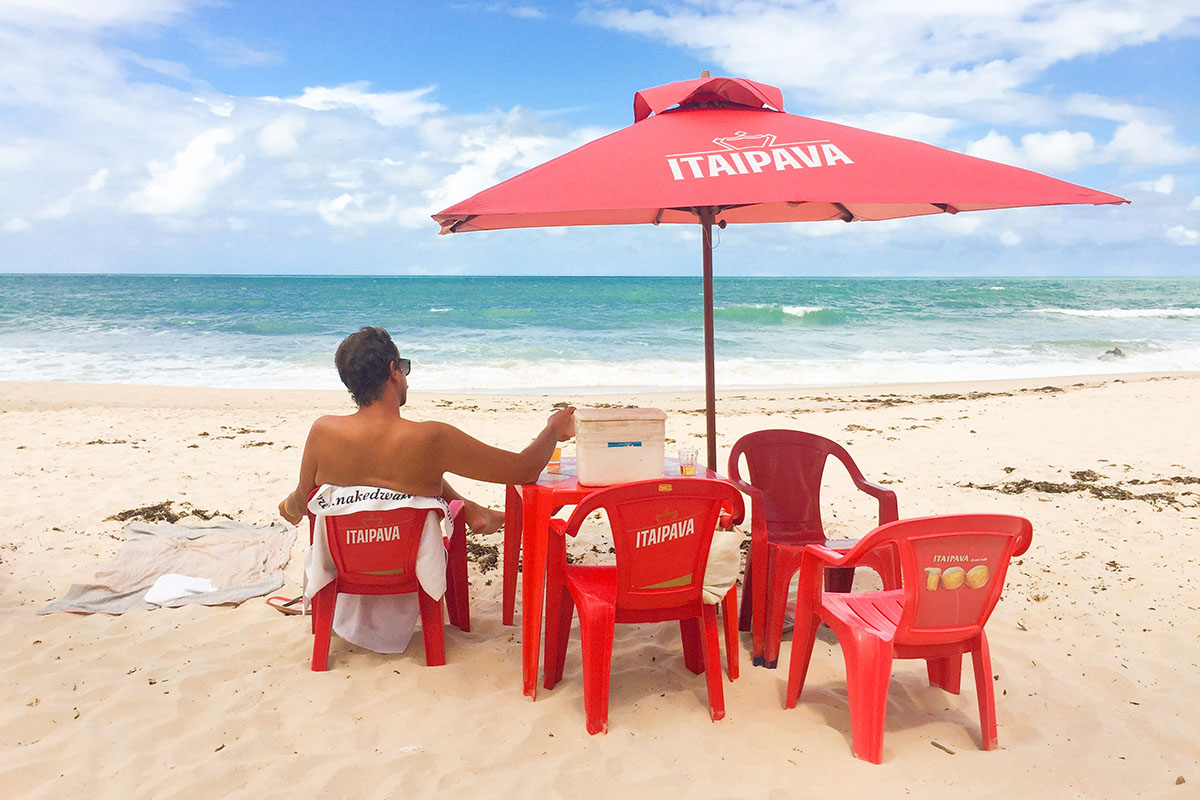 About nudism in Brazil
We'll talk about the organization later in this article but just know this: If you're not Brazilian, you'll probably never find out how things really work. Maybe not even if you are Brazilian. The good news is that you don't really need to. We can give you the necessary info to have a great nude vacation in Brazil without having to face the difficulties in the system.
More than once we thought "this is actually what the western federations are dreaming of…"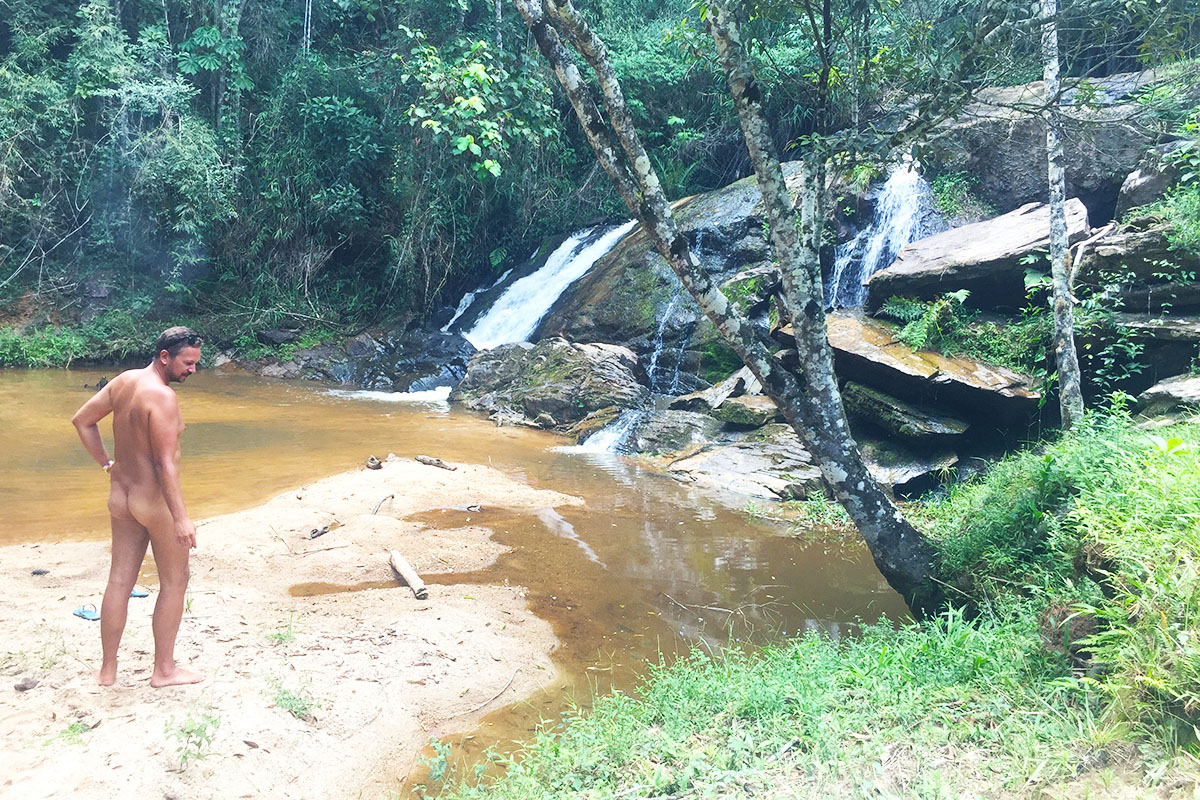 Naturist associations and federations in Brazil
As we said before, the whole system might make complete sense for a Brazilian but for us, it was a maze we got stuck in more than often. Luckily we made friends along the way who tried to explain to us how things work and what you'll read below is what we understood from it. Just remember that our Portuguese is not perfect and that we did get lost in translation from time to time.
Naturist resorts and nude beaches in Brazil
Nudism in Rio Grande do Sul
Colina do Sol naturist resort
Colina do Sol is said to be the first naturist resort in Brazil which is not at a beach. It's a 64-hectare wonderful natural environment with several lakes, two swimming pools, sports facilities, and lots of nature to enjoy and wander around in. The resort also has a grocery store and a restaurant.
Nudism in Santa Catarina
Pedras Altas nude beach
There's very little info we could find about this nude beach located at an hour south of Florianopolis. Neither did one of our contacts tell us about it. We just somehow stumbled upon it while searching online for naturist opportunities in the Santa Catarina state and we figured we should give it a try. Maybe it was because we went there with no expectations at all, but what we found was a beautiful little nude beach, maybe 50 meters or so wide with a nice calm green-blue sea.
➡️ Click here for accommodation near Pedras Altas.
Praia de Galheta nude beach
Praia de Galheta is the only nude beach on Santa Catarina Island, where also Florianopolis is located. There are two ways to get to this nude beach. Either you enter via Morro beach and when facing the sea you walk left until you find a path through the rocks. Follow this path to the end and you're on Praia de Galheta. The other way is via a long, steep, and exhausting trail going from Barra de Lagoa. Unless you like a good long hike before relaxing on the beach, we wouldn't recommend this way.
Both times we visited Praia de Galheta, the large majority (let's say about 85%) were textiles. The nudists were spread over this 1km stretch of beach but the majority seemed to pick a spot at the far end, so away from the path to Morro beach. Unfortunately, we also think we found out why. At the entrance of the beach, some men like to hang around who made us feel pretty uncomfortable, not only by their constant stares but also by the way they kept touching themselves. Anyway, the far end is a much better place to get naked. Somewhere near one of the two beach bars also works well.
➡️ Click here for accommodation near Praia de Galheta.
Praia do Pinho nude beach & resort
Nudism in São Paulo
Rincão Clube Naturista naturist resort
Nudism in Rio De Janeiro
Praia do Abricó nude beach
Our visit to Praia do Abricó can be considered a bit of a… ehm… strange experience. We had been warned by the friendly people from ANAbricó (the association which controls the nude beach) to only visit when they are present. Which is supposed to be more or less every Saturday and Sunday. We figured that this warning was to prevent us from having a situation as we had at Praia de Galheta where the large majority of the visitors would be clothed.
So we went on a Saturday but due to the weather conditions (it was clouded with a high chance of rain) the federation had decided not to come. What we found on the beach was just weird. First of all, there were no women and most of the men were single. None of them were lying down or swimming in the ocean. They were just standing there. A couple of meters from each other. Checking each other out. The atmosphere was very uncomfortable and we felt like every second an orgy, a drug deal, or a terrorist attack could happen. We watched this awkward scene for a couple of minutes and then decided to leave.
We wanted to give the beach another chance so we went back the day after, on Sunday. This time the association was present and things couldn't have been more different. A completely relaxed atmosphere, none of the weirdness from the day before could be seen anywhere. People were relaxing and enjoying themselves, there was a bar serving beers and a guy giving massages. By the way, if you ever visit Praia do Abricó, we must stress that you have to take a massage from Marco Antonio. They are just heavenly!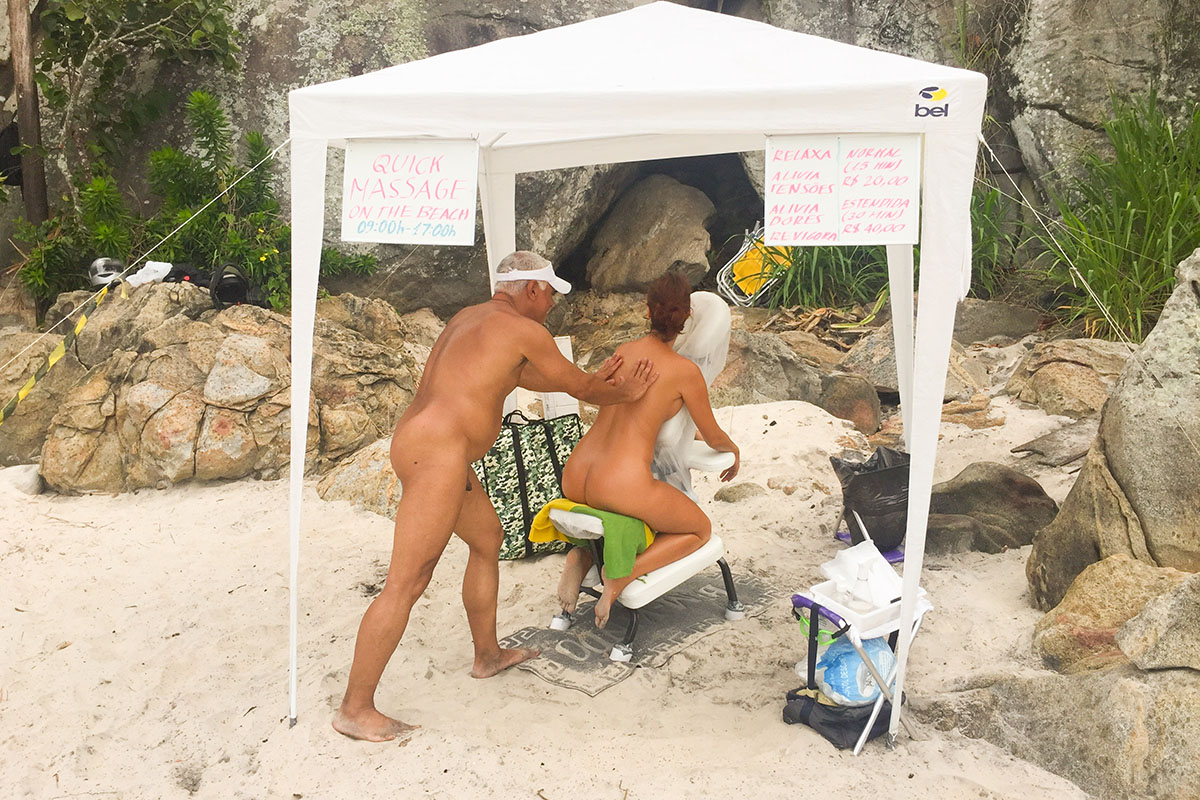 Olho de Boi nude beach
This is a nude beach located near the famous party city Buzios, north of Rio De Janeiro. We did not visit this beach so we can't give you any first-hand information. If you've been there, please let us know what it's like.
Nudism in Bahia
Praia de Massarandupió nude beach
EcoParque and EcoVilla da Mata naturist resort
Theoretically, these are two different places but technically they are just one. The difference is that EcoParque is a naturist campground and pousada while EcoVilla contains real houses in a naturist domain of which some are for rent and others for sale. So you can actually go live in EcoVilla.
Nudism in Paraiba
Praia Tambaba nude beach
We had been told that Praia Tambaba is supposed to be the most beautiful nude beach in Brazil. This was the last one on our list and honestly, we had our doubts. We had seen the emerald green waters at Pedras Altas and the magnificent white sands of Massarandupió so how much more impressive could it possibly be?
Now we can tell you in all honesty… Praia Tambaba IS the most beautiful nude beach in Brazil. Probably one of the most beautiful ones in the world. It's just the combination that does it. Warm blue-green water, white sand, a long stretch of beach on one side, and several smaller coves at the other. It's one of those places you just have to see to believe it.
But we can't give them all the credit though. We also have to mention that the bar at Tambaba is more expensive than the ones at Massarandupió or Pedras Altas and that this is also the only naturist place in Brazil that seemed to have a rule for single men: They are only allowed when they have a "naturist passport". Whatever that may be.
Naturism in Amazonas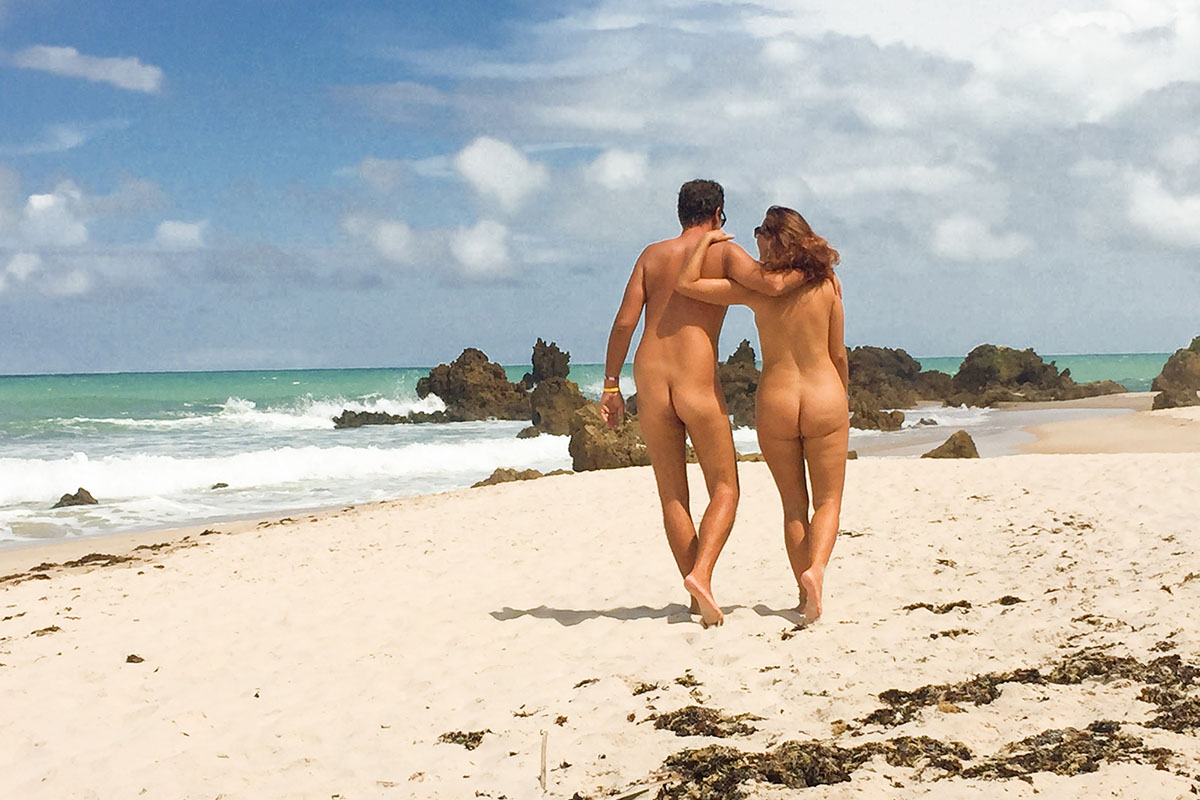 Should you go on a nude holiday to Brazil?
Brazil is not exactly high on most of naturist's list of future places to visit. Which is a shame. But we can understand it. The news coming from this large South American country is not always the best and for most naturist travelers it's a long way to go if you're not sure where you will end up. We hope that with this overview and with our previous blog posts about naturism in Brazil we might have been able to tickle your interest.
If you enjoy tropical nude holidays, lots of nature, amazing nude beaches, lovely people, and great food (and then we don't even mention the cheap drinks), you really want to consider a trip to Brazil for your next nude vacation!