December is an interesting month to visit Spain's Alicante region. Mass tourism has largely left and the cities and towns return to the relaxed atmosphere that's so typical for the Mediterranean coastal regions. The weather at this time of the year loses its "perfect for sunbathing and ideal for skinny dipping" status and becomes a bit unpredictable. During the ten December days that we've already spent in the region, we've seen warm and sunny, windy and chilly, and even a handful of raindrops. When our weather forecast app turned to warm and sunny again, we knew it was time to find ourselves a nude beach.
Truth to be said, we didn't find it all by ourselves. The Spanish Costas are home to countless official nude beaches and from experience, we know that some are much nicer than others. So we contacted the
Spanish Naturist Federation
for advice. Helpful as always, Ismael, the federation's representative, didn't just share his preferred beach, he also got us in touch with a local group of naturists who would happily accompany us.
Down the rabbit hole
On this sunny Saturday afternoon, Luis would be waiting for us at the nearest train stop to Racó Del Conill nude beach. About halfway between Villajoyosa and Benidorm, at an hour from Alicante (for practical info, see the end of this blog post). Once we got off the train, the setting wasn't particularly spectacular and could best be described as city outskirts. But Luis promised us that a 45-minute hike later, we would arrive in paradise. Big roads turned smaller and eventually, we took a turn into a dirt road which we would later, on our way back to Alicante, describe as the "rabbit hole".
Panoramic vistas of the Mediterranean Sea appeared in front of us, and we passed by places where scenes of the movies
Asterix at the Olympic Games
and
The Garden of Eden
had been filmed. Eventually, the path dropped down and the Racó Del Conill nude beach appeared in front of us. The midday sun and the handful of naturists who already found their spots on the beach invited us to drop our clothes and enjoy a warm December sun. Just like Alice, we had found our way to wonderland.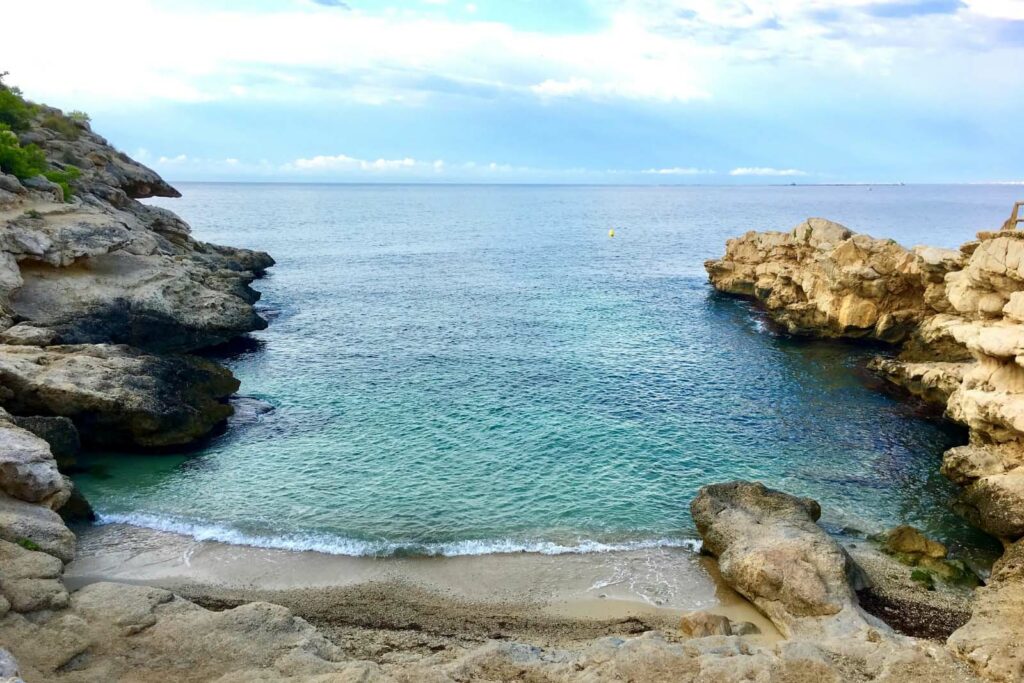 The summer crowds
Racó del Conill is the kind of nude beach we had been hoping for. Not just beautiful, but also very local with naturists from the region. Unfortunately, we heard that this isn't always the case. The beach has a large parking space just steps away. Great for the naturists, but when they appear on traveler's maps, these assets are also attractive to visitors who have no intention of getting naked.
It's something we have seen around the world, when the main beaches run full during high season, people tend to move away to nearby beaches. Including the nude beaches. Often not knowing or caring that their textile presence is disturbing the balance and eventually endangering the "nude beach status".
If you've been reading this blog for a while, you probably know that we believe that clothing-optional places are the way forward. Live and let live. Let's all enjoy the beach together, naked and clothed, with respect for one another. But balance is important. We have also learned that clothing-optional works best when there's a majority of naked people. Half-half still does the trick. But when 90% of the visitors keep their clothes on, it becomes significantly harder for the naturists to enjoy their dedicated nude beach. Let alone that anyone of us likes to be the only naturist on the beach.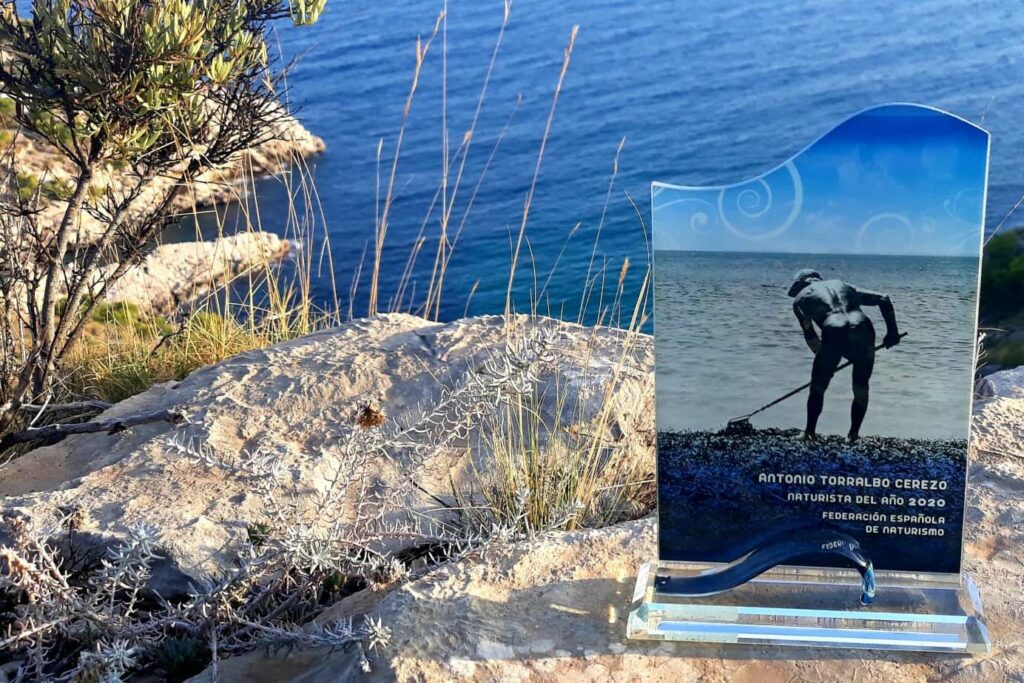 Power to the naturists
We met Antonio at the beach, who recently received the trophy of "naturist of the year" from the Spanish naturist federation. For many years, Antonio has been walking through the hills from his home to the beach on an almost daily basis. While he's there, he cleans up the garbage that others have left behind. Although Antonio is already in his eighties, he still regularly does the hike. Racó del Conill is his back yard and he wants to keep it clean. Knowing that tomorrow he'll just have to start all over again.
Antonio is not the only person concerned about the beach. Luis and his friends all take action to conserve their favorite nude beach. They created flyers and information material to explain what a nude beach is, where the tradition comes from, why you shouldn't take pictures of the naked people, and that if you're not planning to get naked, there are thousands of other Spanish beaches waiting for you.
They also designed a logo. Racó del Conill is Valencian for "rabbit corner". So the group figured that if the people don't want to listen to the naturists, maybe they will, like Alice, follow the example of the rabbit.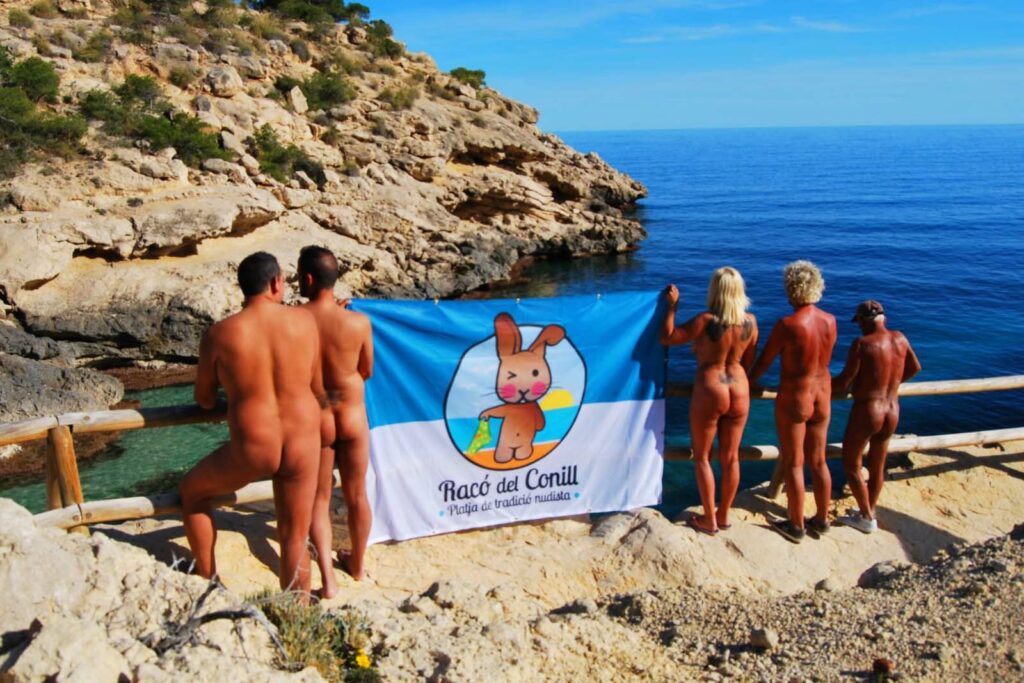 Practical info
Getting to Racó del Conill is very easy by car and there's a parking lot near the beach.
By public transport, you can take Tram L1 from Alicante to Benidorm and get off at the Hospital Vila Stop. From there it's about a 45-minute hike, or you can take a taxi.
Coming from Benidorm, a 20-minute hiking trail to the beach starts from the Cala de Finestrat region.
Lavinia Naturist Resort and Finca Pura are at a scenic hour's drive from Racó del Conill. If you like to stay nearby, there are plenty of hotels in Benidorm.
Naked Wanderings' Ultimate Guide for Naturism in Spain ebook

Are you looking for great nudist resorts and nude beaches in Spain?
Are you looking for the best tips for a nude vacation in Spain?
Then our ebook will be the perfect resource for you!

Learn More
Need help with planning your trip? Check out our Resources Page for an overview of the best companies we use during our travels
---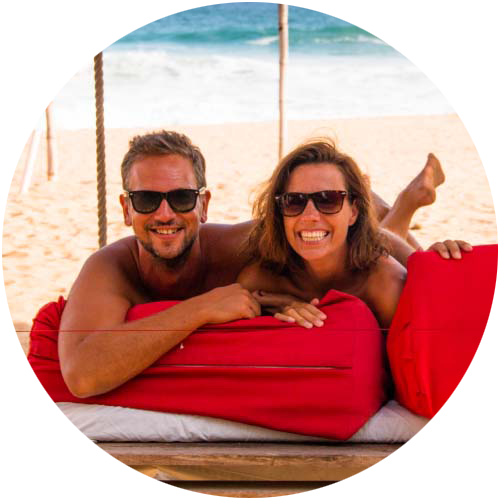 Support Naked Wanderings
Do you like what we do for naturism and naturists? Did we make you laugh or cry? Did we help you find the information you were looking for? Then definitely join our Patreon community!
---