Lisbon, the capital of Portugal, is one of Europe's most famous city trip destinations. A city that's full of exciting architecture and culture and delicious foods and drinks. Then there is its historical importance as being the gateway to new worlds. Some visitors make it across the Tagus river, to awe at the huge statue of Christ, and to eat in one of the many picturesque fish restaurants of Almada.
Something many don't know is that this peninsula south of central Lisbon also has a coastline with some excellent beaches. The Costa da Caparica. This coastline was exactly the place where we were planning to go. We were going to explore the three official nude beaches around Lisbon and we were lucky to have found the most perfect guides for this journey. On a sunny Saturday morning, we met with Paula, Joaquim, Daniël, and Paulo. Members of the local naturist association
Alma Naturista
.
Time to hit the nude beaches!
Praia da Bela Vista nude beach
Although in reality, we visited these beaches in a different order, in this blog post we'll tell you about them from north to south. Starting with Praia da Bela Vista. Roughly translated the "beautiful view beach". Soon we would find out that this name can be interpreted in different ways.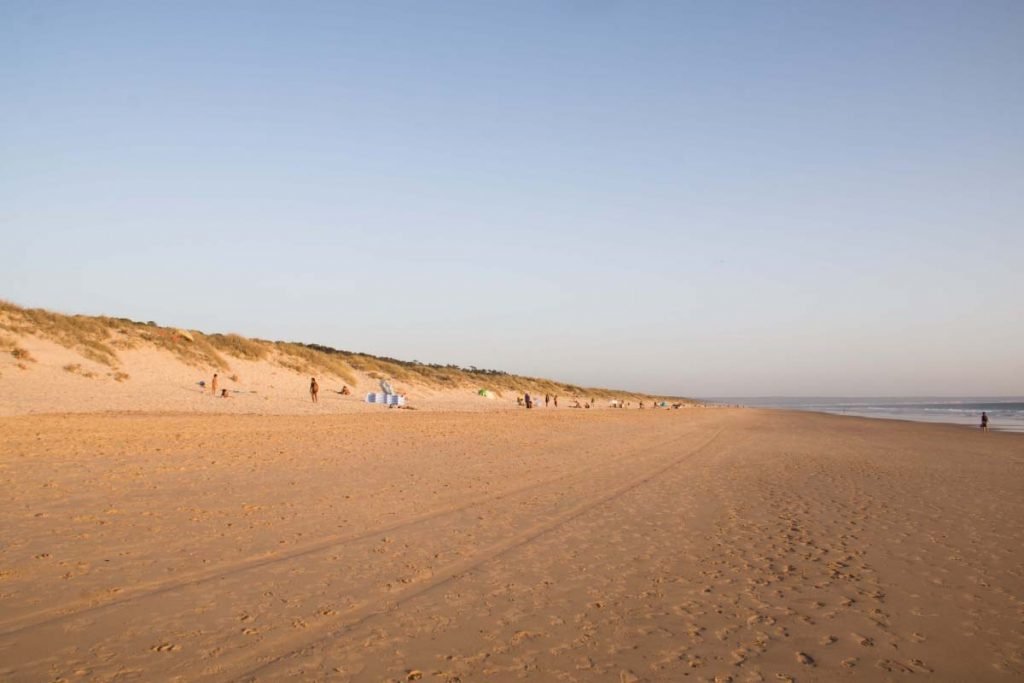 As soon as we set foot on Praia da Bela Vista we understood where the name comes from. This beach is gorgeous. Wide and sandy with low dunes at the back. Unfortunately, these same low dunes happened to be the reason for the other interpretation of "bela vista". We had been warned by our Alma Naturista friends from before. Praia da Bela Vista nude beach has a problem of "meerkats".
It didn't take long for us to notice them. Getting on their hind legs in the dunes to enjoy the beautiful view of the naked people. We don't really care much anymore about
peeping Toms at the nude beach
. As long as they don't bother us, we let them be. If you don't feel comfortable with the idea of being looked at, we recommend you to visit one of the other two beaches instead.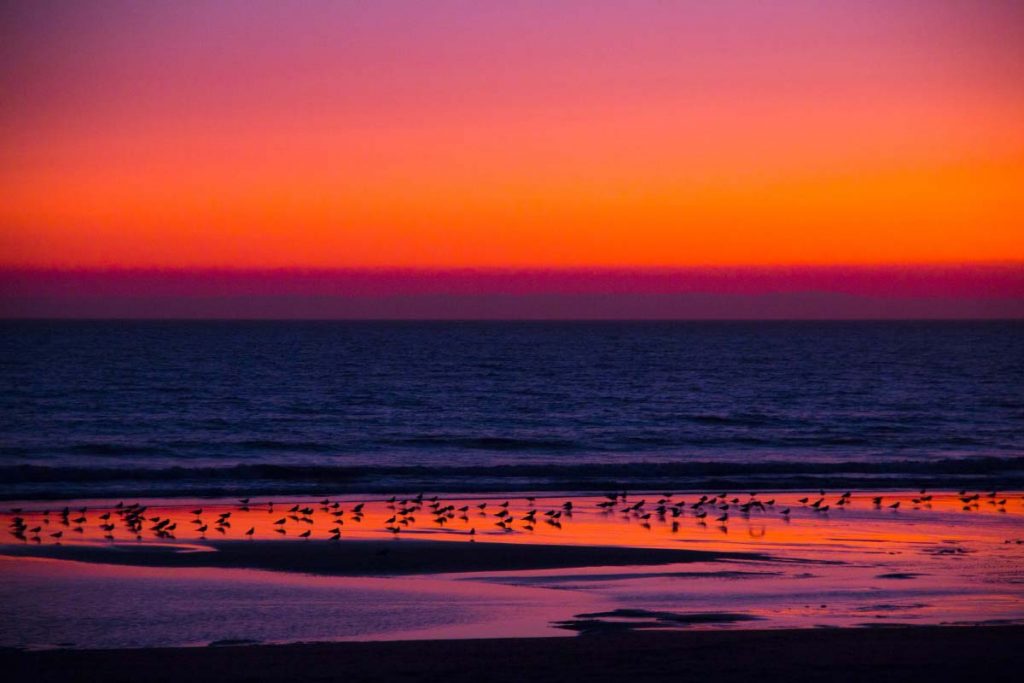 Nevertheless, Praia da Bela Vista is definitely a wonderful beach. And easy to get to. You can park your car at beach bar Casa da Praia and when facing the sea it's about a 400-meter walk to the left before arriving at the naturist section. There are no signs, just look for the naked people. In the evenings the road back tends to get very full. Don't waste your time in traffic jams but stay an hour more in the beach bar and enjoy a spectacular sunset.
Praia da Adiça nude beach
At Praia da Adiça there were no meerkats to be found. Most probably because there are no dunes but instead some impressive high cliffs against the backdrop of the beach. These cliffs make Praia da Adiça nude beach one of the most impressive beaches we've ever seen. It's absolutely stunning. Because of the current, the ocean is also much better to swim in (if you're not afraid of cold water) than the other nude beaches.
Praia da Adiça is also the most relaxed beach of the three. Mainly because it's fairly difficult to get to and also because the bar is a bit of a walk away. Visitors at Praia da Adiça come here to for resting. To sunbathe or to read a book away from the crowds. Nevertheless, quite a lot of people chose this beach for their Saturday afternoon nude getaway. Luckily Praia da Adiça is that large that even if there would have been thousands of other naturists, it would never feel packed.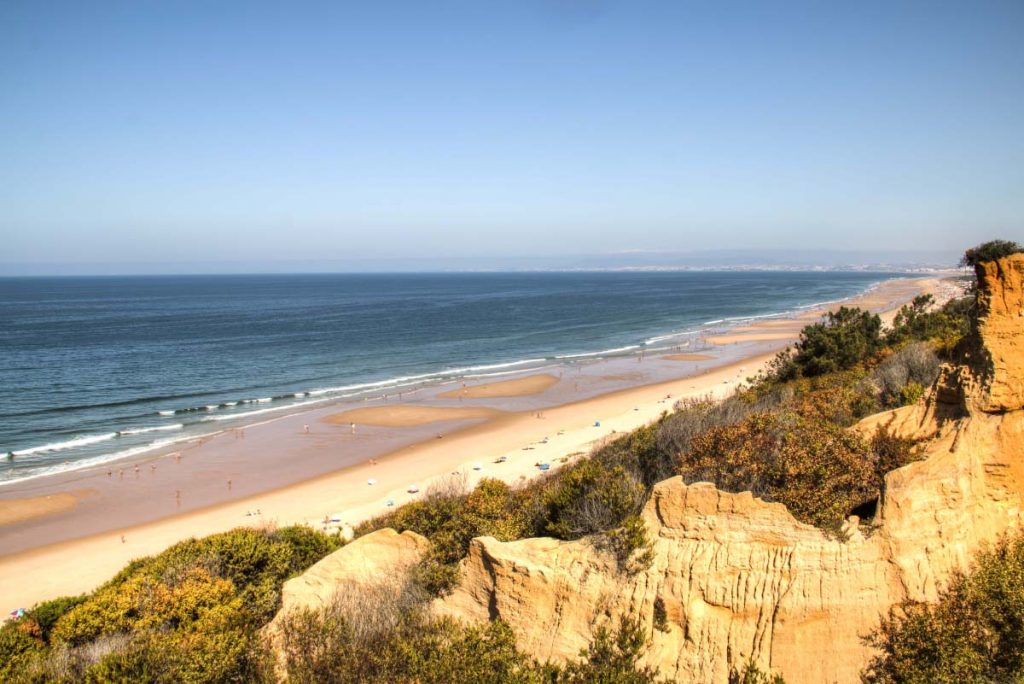 There are two ways to get to Praia da Adiça. One is to park your car in Fonte Da Telha and turn left when facing the ocean. The other (much more scenic) way is to park your car at the main road and walk the trail via the cliffs. This way you'll get some magnificent views of the beach and you will also avoid heavy traffic jams at the end of the day. But… Finding the trail is quite difficult. There are some blue paint signs but you really have to know which direction to follow. For your first time, better go with someone who has taken this trail before.
Praia do Meco nude beach
For the last beach, we almost traveled as far as the southern tip of the Costa da Caparica. When we announced this trip to Lisbon, we got many messages from residents of the city telling us that Praia do Meco is their favorite nude beach in the region. It didn't take long for us to understand why.
Praia do Meco is like a great combination of both before mentioned beaches. It also has some cliffs in the background like Praia da Adiça (and its lack of peepers) and it has a friendly busy atmosphere like Praia da Bela Vista. Including two beach bars (non-naturist) to get a refreshing beer or some great seafood. If we had to mention one downside of Praia do Meco, it would be that the high waves make swimming a bit difficult.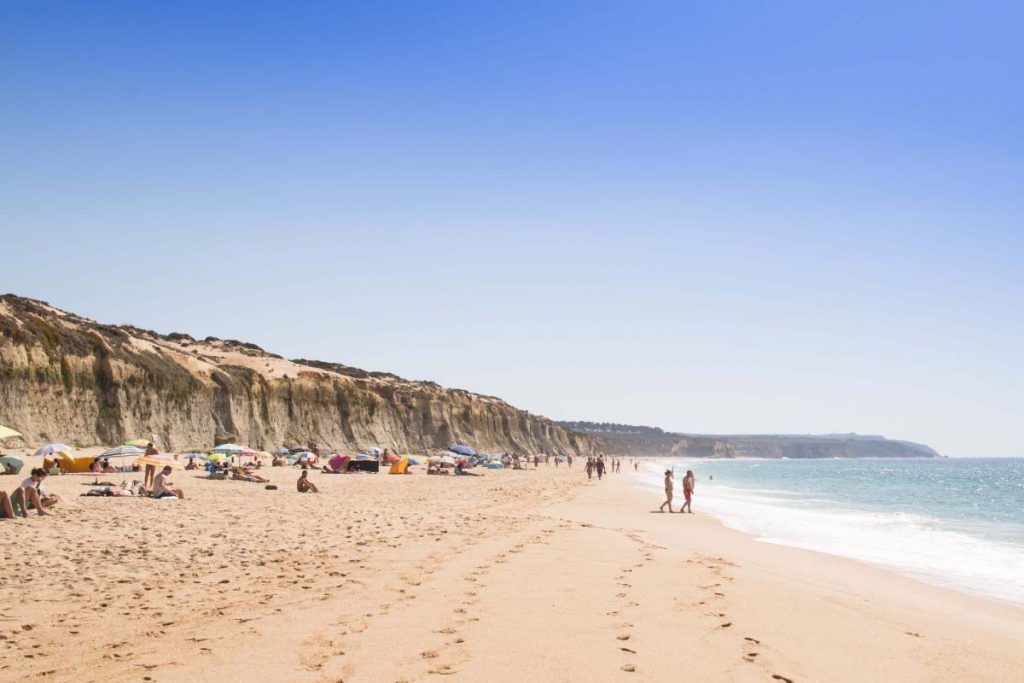 Parking space is available nearby the bars of Praia do Meco. Once you arrive at the beach, facing the sea, turn left, and start walking. There used to be a sign announcing the beginning of the naturist part, but it has been stolen. We can only hope that the villain did something useful with it. So just like at the other two beaches, just keep walking until you spot other naturists before dropping your clothes.
Who is Alma Naturista?
Finding nude beaches in a place we've never visited before has rarely been that easy. And we had an amazing time visiting the nude beaches around Lisbon. This was of course thanks to our new friends of Alma Naturista. A fun bunch of naturists from Lisbon who helped us find the way and kept us company. But Alma Naturista members are much more than excellent nude beach guides.
One reason why we like the Alma Naturista association so much is that we share a lot of the same ideas about naturism itself and about the future of our wonderful lifestyle. Just like Alma Naturista we also believe in a live and let live principle. That clothing-optional will prove to be the future of naturism. And that naturism shouldn't be practiced behind a fence or a huge gate. We both believe in the foundations of naturism: non-sexual social nudity based on respect for oneself, others, and nature.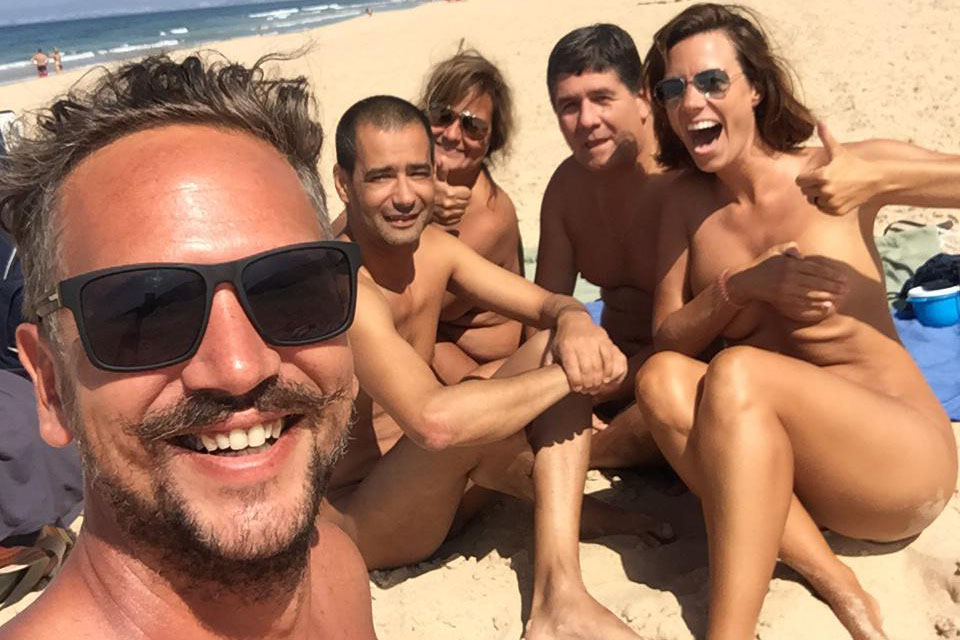 Alma Naturista proves to highly value these principles by organizing naturist events as well as events to protect the environment. Like beach cleanups. They work together with local governments to strive for more opportunities for naturists in and around Lisbon. It's not a surprise that Alma Naturista is a fast-growing naturist association. Their name, meaning "naturist soul", couldn't have been better chosen.
If you are living in Lisbon or visiting the city and you want to do something else than soaking up the history and taking the famous elevator up and down, we highly recommend to get in touch with Alma Naturista and join them on one of
their naturist events
. Not only will you have a good time, but you might also make some cool new friends as well.
Find more information on
the Alma Naturista website
.
Find guesthouses and private accommodation at the Costa da Caparica on Airbnb: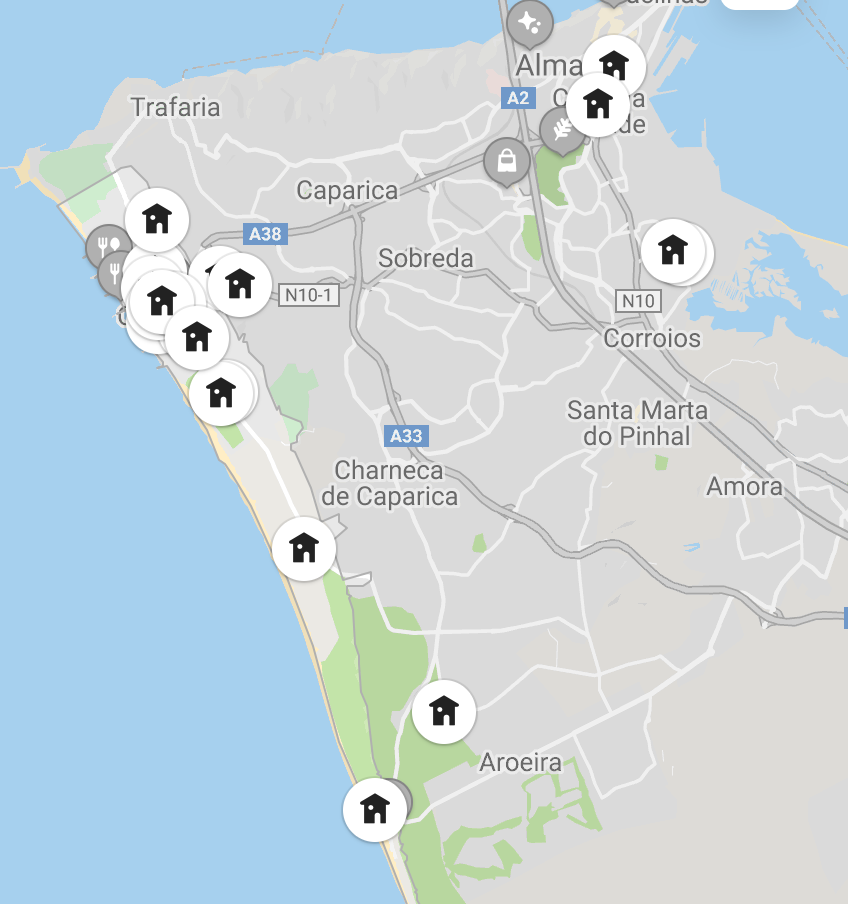 ---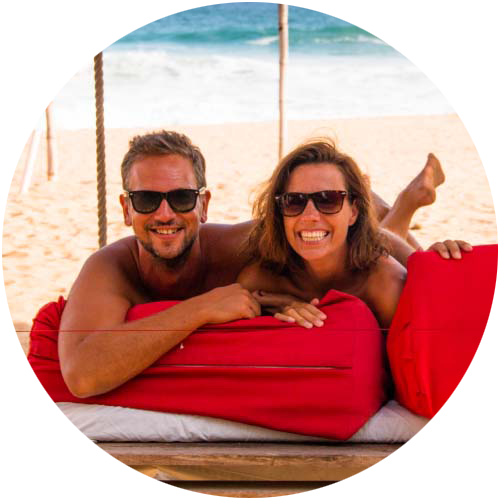 Support Naked Wanderings
Do you like what we do for naturism and naturists? Did we make you laugh or cry? Did we help you find the information you were looking for? Then definitely join our Patreon community!
---