A couple of years ago, we've been front row spectators of one of the saddest scenes that we ever encountered on our naturist travels, and we've seen quite a lot. Remember, we've been to
Cap d'Agde
once. This had nothing to do with sex though. We were lazing away in the sun beds of a very genuine naturist resort and in the corner of our eye, we saw a new couple arriving from the reception desk.
They walked towards us, but after a couple of steps, they made a sudden stop. A smile appeared on the guy's face. The dark-skinned face of the woman, on the other hand, turned bright white. She turned her eyes away and started marching towards the bungalow that had been appointed to them. This would be the first and the last time that we saw her for the whole week that the couple had booked at the resort. Apparently, the husband had come up with the marvelous idea to book a vacation at a naturist resort and not telling his wife about the plan. "Surprise, honey!".
Going naked for the first time is a big deal
Maybe that man had read one of our blog posts where we say that "going naked for the first time is like a jump into cold water. You just need to go for it". But this wasn't what we meant. Going naked among strangers is most of all a step out of your comfort zone, something you need to mentally prepare for and certainly not something you want to have forced upon you.
When something uncomfortable happens to us, our instincts tell us to hide. To cover up. This was also one of our own biggest fears when we went to a naturist venue for the first time. All the possible scenarios raced through our heads. What if everyone looks at us? What if everyone is having sex with each other? What if we do something wrong? What if we do something stupid? Daunting thoughts on themselves, but multiplied by knowing that if those things would happen, we would be standing there in our most vulnerable state. Butt naked, with our clothes locked up. There would be nowhere to hide. No way to cover up.
The reluctant spouse
Did the guy from the introduction already talk to his partner about wanting to try naturism and did she say no? Or did he mention nothing at all about his desires and just took her to the resort? We don't know. In any case, it was pretty certain that this was not what she had expected from her vacation and that she was quite reluctant to give it a try. Reluctant partners are common in naturism and we receive many messages, mostly from men, about how to convince their partner to start going naked.
One of the main struggles is exactly what we felt during our first naturist experience. The fear that they might like to cover up at a certain point, but won't have the chance. This is a reason why naturist resorts can seem so scary. To us, the large resorts are specifically appealing because we will get the chance to do many things without clothes. Other than swimming and sunbathing, at those places we can do sports, go to the shop and have dinner in a restaurant naked. We can wander around for hours naked and meet lots of bare others along the way. But to many aspiring naturists, it's an all but pleasant thought that they WILL HAVE to do all those things naked.
This may sound like an unjust judgment. With the uprise of the sarong, we all know that you can easily cover up if doing yoga or grocery shopping naked is that one step too far out of your comfort zone. But that solves just one part of the problem. In many cases, the pressure doesn't come from the resort rules, but from the partner. The partner who does want to dine nude and go for a naked hike. The partner who, often without realizing, creates the uncomfortable pressure to go naked when you don't really want to.
Each at their own pace
This is one of the reasons why we started to embrace the clothing-optional idea. Not for ourselves. When we are naked, we also feel that there's a better balance if everyone else is naked too. But we also realize that more people would eventually get to enjoy social nudity if it wasn't forced upon them. This is something we specifically notice a lot at clothing-optional beaches. Just because there's no pressure, it's much easier to give skinny dipping or nude sunbathing a try. There's always an easy way back.
And as naturists, we know that going back rarely happens. Once you've enjoyed social nudity in a safe and comfortable place, you're very likely to do it again. And again. If the guy from the introduction had taken his wife to a clothing-optional beach instead and didn't pressure her to go full monty from the first moment, eventually she may have given it a shot. Or maybe not. But she most certainly wouldn't have to lock herself up in a bungalow at a tropical naturist domain for a week.
PICTURE CREDIT: Cover image by Neto Soares
---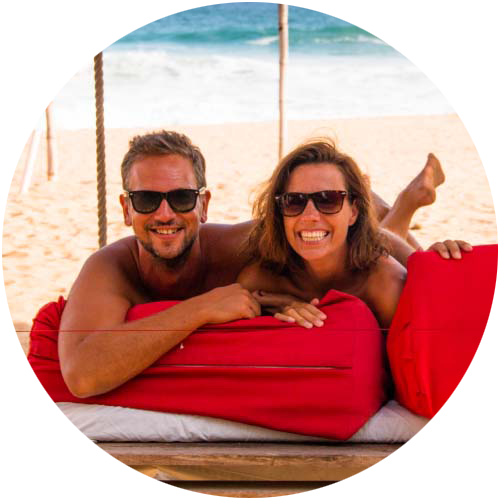 Support Naked Wanderings
Do you like what we do for naturism and naturists? Did we make you laugh or cry? Did we help you find the information you were looking for? Then definitely join our Patreon community!
---