Dubrovnik is a gorgeous city, a wonderful city. It's not a big surprise that it's a famous city trip destination for many Europeans. But in summer, tourists tend to flock here for longer vacations. Of course, Dubrovnik is not a Rome or
Paris
, where you could spend weeks if you wanted to, so people are looking for other opportunities outside of the city as well. The Dubrovnik Riviera is where they usually end up. It's a connection of small villages each with their own beach or several beaches, resembling a little with the French Riviera, where it obviously got its name from.
When we arrived in the Dubrovnik Riviera, we weren't exactly that thrilled, to be honest. It was only the start of the holiday season and yet the towns were already overcrowded, the beaches even more crowded and the prices in the bars and restaurants had skyrocketed. But we were there on a mission, to find out about the FKK beaches (nude beaches) near Dubrovnik.
Spoiler alert: We were a bit disappointed.
Plat
The village of Plat is in the middle of the riviera, about 15 kilometers from Dubrovnik city. This was the place where we decided to set up camp, not on a nudist campground, because those, unfortunately, don't exist in the area, but we found a nice little place called Laguna. The main reason why we decided to stay in this village was that it was said to have a nude beach. One of the only three nude beaches in the riviera. We wouldn't smile for long.
On our first day, we went directly on a search for the nude beach. It didn't take long before we found it, at least, what was left of it. Next to the main beach, there was a small secluded beach that was supposed to be used by nudists, although it was crowded with textiles. We knew we were at the right spot because the word "FKK" (which is German for nudism, Frei Korper Kultur, but is used all over Europe to point out nudist places) was written with graffiti on a rock. But someone else had made a big red cross through the word… By this, we knew we wouldn't be welcome. Talking about a bad start.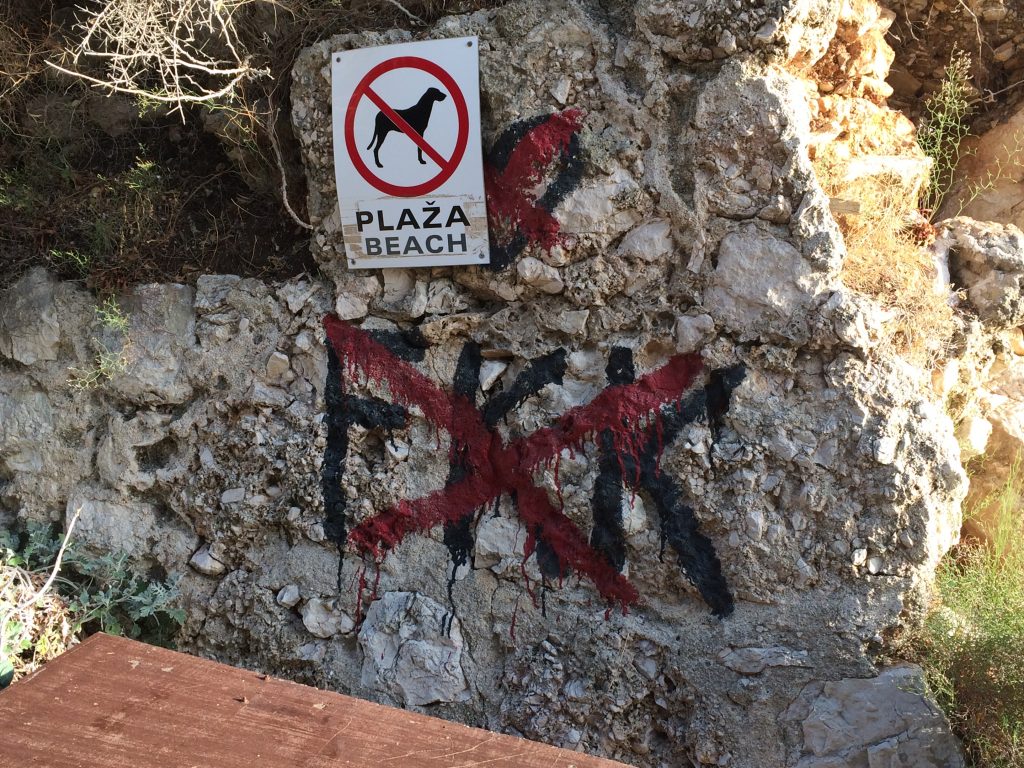 Cavtat
Of course, we didn't give up that easily, there were two more places to explore. The next morning we went to Cavtat, one of the major tourist attractions in the area, except for Dubrovnik of course. In Cavtat it was said that part of the beach of Hotel Croatia was nudist, so that's exactly where we went. There are two ways to reach the hotel's beach, either all the way around or straight through the hotel. Because it was a hot day and we already took the wrong road twice, we chose the latter option… Through the main entrance, upstairs, past the swimming pool and down the stairs. Actually we don't think we were supposed to do that, but we must have looked confident enough so nobody asked us any questions.
And yes, here we found our first nude beach in the area, one with an actual sign pointing to the nudist part (which is quite uncommon in Croatia). And it was a pretty cool nude beach as well, there were several concrete terraces between the rocks where we could chill out and relax in the sun. There's also one access to the sea, but because the water was quite rough and there were some pointy rocks nearby, we decided to stay dry this time.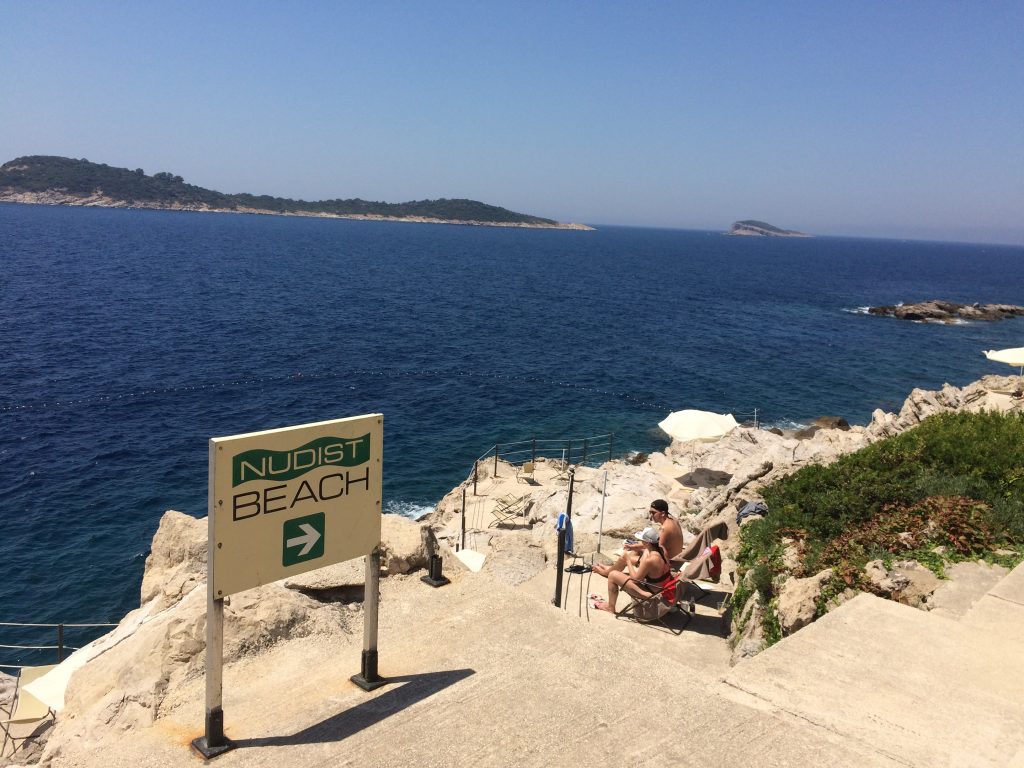 Mlini
Save the best for last, they say. Our third and last stop on the Dubrovnik nudie trail was in Mlini village, about 2 kilometers closer to Dubrovnik than Plat. Just like Plat, Mlini is not much more than a couple of vacation houses, some hotels, bars, restaurants, and of course a beach. While traveling through Croatia, we had a theory that the nude beaches are always on your right when you're facing the sea on the main beach. Mlidi proved us wrong.
When you arrive at Mlidi beach, you have to walk to the left towards a place called Beterina. There are no signs about this on the main road, you really have to go to Mlidi to find directions. Anyway, we started walking. When we were close to the nudist beach we started noticing graffiti signs on the ground saying either "nudist" or "FKK", so we knew we were on the right way. And this time they weren't crossed through. We have to admit that when we finally arrived at the nude beach, we were a little disappointed. It was a concrete platform of about 15 square meters and that was it.
There were already three Croats and a German couple on the platform and with us joining them, the place was literally full. Luckily we soon noticed that next to the platform there was another, much longer beach with lots of more space. With its easy access to the sea and the much calmer water than in Cavtat, this was by far the best nudist beach in the area.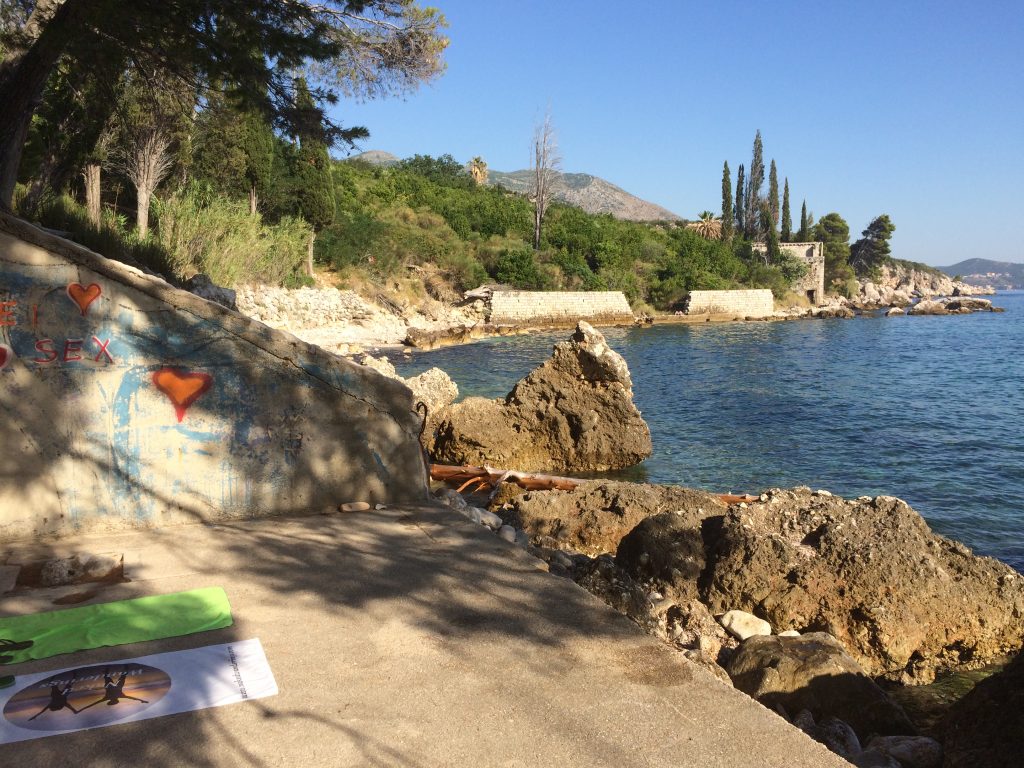 Summary
First, we have to set something straight. During this article, we have been talking about three nudist beaches in the Dubrovnik Riviera, but in fact, there are four. The ones we've visited are on the mainland and the fourth one is on an island called Supetar, but unfortunately, we didn't have the time to visit this one as well.
All in all, if you're researching your perfect nakation, the Dubrovnik Riviera might not be what you're looking for. But if you find yourself in the area you do have a couple of spots to enjoy an afternoon with your naked ass in the sun. Just know that Plat is not one of them.
Find the best nudist accommodation in the area on NUDE
Naked Wanderings' Ultimate Guide for Naturism in Croatia ebook

Are you looking for great nudist resorts and nude beaches in Croatia?
Are you looking for the best tips for a nude vacation in Croatia?
Then our ebook will be the perfect resource for you!

Learn More
Need help with planning your trip? Check out our Resources Page for an overview of the best companies we use during our travels
---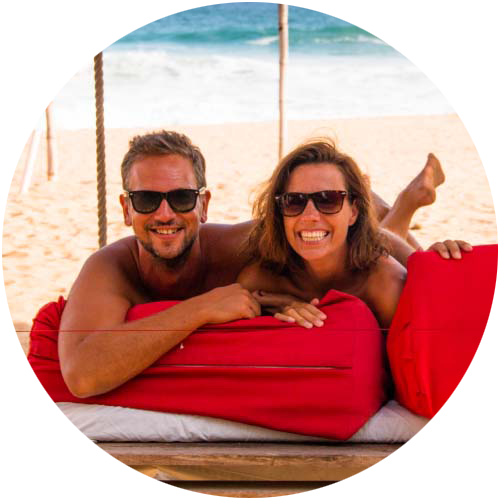 Support Naked Wanderings
Do you like what we do for naturism and naturists? Did we make you laugh or cry? Did we help you find the information you were looking for? Then definitely join our Patreon community!
---