Naturism and vacations have always gone hand in hand, even in times long before the commercial resorts. In those days, the local naturist club was a great weekend getaway, and during the summer holidays, the tent was packed or the caravan hooked up to spend some time without clothes at a club a bit further away.
Then someone must have realised that they were missing out on an opportunity. There must be naturists who are not proud owners of camping gear, or who prefer sleeping on a more comfortable mattress. A bed and nightlamp were dragged into the garden shed. Maybe there was even a small fridge, we don't know, we're just making this story up, but one way or another the first rental was introduced.
View this post on Instagram
The popularity of naturist rentals
Today, there are still naturist clubs where camping is the only option. But when we start looking towards the popular holiday regions, it's hard to find a naturist resort that doesn't have rental options. And those things are in high demand, we know a number of resorts where you better book next year's accommodation at the end of this year's vacation, or you might be missing out.
This is not a surprise. On one hand are the Gen-Z who, according to
this report by RMS Cloud
, is the first generation that chooses glamping over camping. And then there are the older generations who may not feel as comfortable in their tent or camper as they used to and are also moving towards a different type of accommodation.
View this post on Instagram
Rentals for everyone
Soon, the refurbished garden shed had to make place for a safari tent, dome, yurt, chalet, or bungalow. Campsites slowly turned into holiday villages, and meanwhile, other types of naturist accommodations found their place on the market. Naturist hotels started popping up, naturist bed and breakfasts, and even naturist cruises.
The days when being a camping enthusiast was a mandatory aspect of being a naturist were officially over. Pretty much every type of accommodation that you find in the clothed vacation industry is now available for naturists as well. From this point of view, naturists can now be divided into different categories based on their preferred type of accommodation, as well as on their preferred type of resort. And, while we're at it, on the amount of money that they are willing to spend.
View this post on Instagram
Luxury naturism
Not too long ago, the most luxurious naturist accommodation that one could find was a rental apartment in one of the naturist urbanisations on the Spanish Mediterranean coast. It looked like an apartment anywhere else in Spain, except that you didn't need to cover up when you sunbathed on your terrace or walked out of the door.
Today, those have shifted towards the "rather basic" category. Last summer, we found some great examples on Corsica in France.
Bagheera resort
has been upgrading most of its rentals with a more modern look, and the success speaks for itself. Right next door, at
Riva Bella resort
, brand new mobile homes had been installed. Not the kind where you can barely turn around without hitting three walls, but rather a place to organise a line dance party for the family.
View this post on Instagram
New naturist destinations
Naturist vacation destinations also started popping up outside the borders of Europe and North America, and in most cases, luxury is the only option. The Caribbean region became a leader in upscale naturist vacations and gave a whole other meaning to the term "luxury naturism". We're talking about all-inclusive hotels here, and rooms that come with a private jacuzzi and personal butler. Definitely not kind to the budget, but if you like to be pampered during your vacation, those are the places to be.
On the other side of the world, in
Thailand
, naturism started to get a foot on the ground as well. Just like the Caribbean, they benefit from excellent weather year-round which provides them with a season that lasts 12 months. No need to close during the colder months, because even then you're likely to have better weather than during the summer in northern France.
Thailand started slowly with naturist guesthouses and small hotels. Then COVID hit and tourists were banned, but now they're back on track to securing their place in the naturist tourism market. A couple of weeks ago, we visited the rather new Dragonfly Naturist Resort (review coming soon) and we got the feeling that this resort might lift naturist tourism in the country to an unseen level. The Caribbean got competition, that much is sure.
View this post on Instagram
Naturist, nudist, or clothes-free?
Meanwhile, we've been to more than 150 different naturist resorts around the world. From small clubs campsites to the most luxurious places in the world. We've seen most of the spectrum. We experienced waiting for the fire to warm up the water for the shower at
Yatan Rumi
and eating smoked salmon for breakfast, lunch, and dinner at
Hidden Beach Resort
. We enjoyed the homely feel at
Lavinia
and the anonymity of being among 10 000 other naked people at
Euronat
.
But when we're downing Cuba Libres at the swim up bar, surrounded by a huge concrete resort, we do sometimes wonder what is left of the original idea of naturist vacations. With the expanding possibilities invariably came an evolution in naturism. Your naturist vacation can be in a completely different style than ours.
So the question arises: Can we still talk about naturism? Or nudism? As these terms kinda have a monopoly on social nudity, it's hard to avoid them. But isn't it time that we start looking for a new term? Naked vacations maybe? Or the softer-sounding Clothes-Free vacations? That is not up to us to decide, but we'd love to hear what you think!
---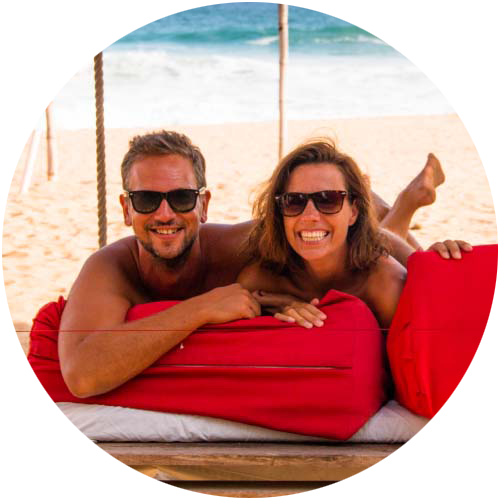 Support Naked Wanderings
Do you like what we do for naturism and naturists? Did we make you laugh or cry? Did we help you find the information you were looking for? Then definitely join our Patreon community!
---