About a year ago, we visited the
Racó del Conill nude beach
, just south of the Spanish city Benidorm, for the first time. Little did we know that due to the upcoming travel restrictions, this would become our naturist getaway for months to come. We loved spending time at this beach. It was the middle of winter, but thanks to the surrounding mountains that blocked the cold wind, clothes-free sunbathing and even an occasional skinny dip were possible on every sunny day.
The textile problem
During weekend days, the hiking trails surrounding Racó del Conill tended to get somewhat busy and now and then some of the clothed hikers found their way down. The beach was a good place to have a look over the Mediterranean (or maybe a quick peek at the naked people), but the naturists always outnumbered the clothed people by quite a high percentage.
This doesn't always seemed to be the case though. When we talked with the local naturist group of Racó del Conill, they told us that textiles on the nude beach were becoming a serious problem in the summer months. You have to imagine that the main beach of Benidorm runs completely full during the high season. We're talking sunbed after sunbed after sunbed for the whole 2-kilometer stretch. If you'd fly a drone over it, there would barely any sand to be seen. The idea of a perfect beach vacation for many, but not for everyone.
So the tourists who want to get away from the busy main beach find their way to the surrounding coves. Including the nude beaches. This isn't just about Racó del Conill, by the way. Exactly the same thing is happening at Cala Tio Ximo, the nude beach just north of Benidorm. Most naturists don't care about a handful of clothed people, but if the clothed vs naked numbers start hitting 9 to 1, it does become quite uncomfortable.
View this post on Instagram
Excessive building on the Spanish coast
A couple of weeks ago, we were in Torrevieja, another popular beach destination about 100 kilometers south of Benidorm. Here too, we found a nude beach that is very much in danger. Cala Mosca is a small cove on the last piece of undeveloped ground around Torrevieja. For several decades, the city has been expanding and more and more nature gets turned into a concrete jungle. Vacation homes, apartment blocks, and urbanizations keep popping up to cater to the increasing number of tourists.
Starting from the mid-eighties, the virgin coastline between Torrevieja and Campoamor got pretty much fully built, except for this last kilometer. Needless to say that the land of Cala Mosca is in high demand and construction companies keep increasing the pressure by trying to get (not always in a very legal way) deals with the local governments.
At the time of writing, another one of these deals is on the table. A local group of activists called
Salvemos Cala Mosca
(Save Cala Mosca) is trying to fight it off and to protect the nature and the nude beach. The question is whether they will be listened to and if they have a chance against a multimillion-euro project.
Nudists, don't run away
These are just two examples on the Spanish Mediterranean coast, but the negative influence of mass tourism on nude beaches is spread worldwide. More than 4 years ago, at the very beginning of our Naked Wanderings adventure, we wrote the blog post
Nudists don't run away
. It was about the nude beach on the Greek island Antiparos, one of the very few official nude beaches in Greece. Wide, sandy, warm crystal clear waters, just picture perfect. Except that pretty much the whole nude beach was overflown by bathing suits and we had to walk to the very end, where the sand was replaced by sharp rocks, to find naked people.
Not much later, we traveled around the coast of California where we heard about several nude beaches that had disappeared in recent years due to changing local laws. Also topless sunbathing is prohibited on many beaches in Los Angeles. Even on Venice beach, the beach where The Doors were founded. If Jim Morrison had still been alive, this would have made him cry. Or he would have started a riot. Probably the latter.
View this post on Instagram
Why mass tourism keeps following us
There is a pattern in all of this. Naturists, artists, and many other free-spirited minds who don't really care what you wear or if you wear anything at all, tend to seek out places away from the crowds. Places where they can do their own thing without being judged or disturbed by the masses. They create their own communities where they can peacefully live together.
The problem is that the masses often don't like mass tourism either. They are always looking for new destinations to make their own. Tulum on the Mexican Riviera Maya coast is the perfect example. Back in the sixties and seventies, Tulum was a hippy village with roughly 100 inhabitants. By the nineties, there were 2000 people living in Tulum. Add another 10 years and another 10 000 inhabitants. Today, the population of Tulum is more than 40 000 and the town receives about 2.5 million visitors each year.
Something similar happened in Ibiza. Until the mid-20th century, the island was only inhabited by artists who tried to escape the regime of the Spanish dictator Franco. It was a hippy island pur sang. Today, it's mostly known as the place where the rich and famous dance to the beats of top-class DJs and drink 50€ cocktails.
View this post on Instagram
Is there a stop to this?
We hope that the COVID pandemic and climate change will be eye-openers for everyone who wants to travel. That people will realize that sustainability is more important than low-cost hotels and flights. That mass tourism is destructive for nature, for the local people, and eventually for ourselves as well.
Will this have an influence on naturism too? One could argue that if the masses will be better spread and will start visiting less popular places, chances are that they'll crowd our nude beaches even more. Therefore it's important to keep raising awareness. In Spain, the national naturist federation is currently running
a campaign to put signs on the nude beaches that say "nude use recommended"
. It's one step in the right direction, but it will take much more activism and lobbying if we want to protect the nude beaches from the mass tourism industry.
---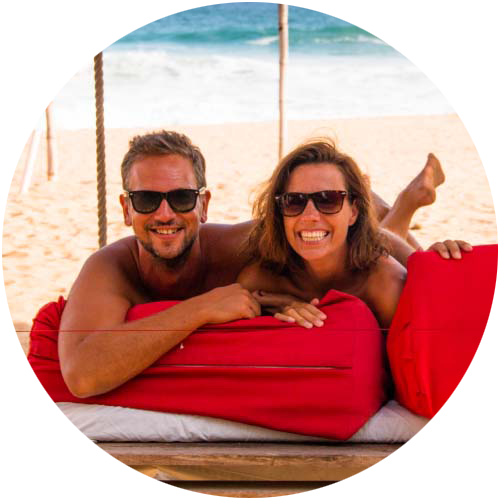 Support Naked Wanderings
Do you like what we do for naturism and naturists? Did we make you laugh or cry? Did we help you find the information you were looking for? Then definitely join our Patreon community!
---