Where can you find the largest naturist resort in the world?
YES! You're right! In Argentina. How did you know this?
You didn't, did you? No worries, we had no clue either until we started researching naturist places in Argentina and stumbled upon a 1200ha (this is not a typo) naturist resort called Yatan Rumi. Naturism in Argentina is not exactly a huge thing (yet), but still, they have the largest place in the world, how is that even possible?
Well, don't expect some kind of Cap d'Agde in Argentina. Yatan Rumi is something completely different. The best way to describe it is a huge natural park that allows nudity. The camping only takes a very small part of the whole domain and the rest is just pure nature. Amazing, wonderful, pure nature.

How to get to Yatan Rumi
Yatan Rumi is located in the sierras surrounding Cordoba city, in a village called Tanti. If you're coming from anywhere within Argentina or from some of the surrounding countries, you can fly directly to Cordoba international airport (its official name is: Ingeniero Aeronáutico Ambrosio L.V. Taravella International Airport). This airport is also reachable directly from Madrid, Spain with Air Europa and as of mid-2019, there will be a direct American Airlines flight from Miami, USA as well.
From any other country in the world, you'll have to connect in Buenas Aires.
At the Cordoba bus terminal, you can take a bus that goes to Tanti and there you can get picked up by the team of Yatam Rumi. Make sure to arrange this pickup service upfront.
Another way to get to Yatan Rumi is by your own transport. Several
car rental companies
are available at Cordoba airport and the drive to Tanti is very scenic, passing the huge lake of Carlos Paz.
Here's a big warning though: From the main entrance of the Yatan Rumi domain it's still 4km to the camp on a road that's… Well, let's say that you better have some great driving skills and that good car insurance might not be a bad idea. We've seen non-4WD's arrive at the campground and we honestly have no clue how they did it. One thing is sure, we certainly could not. This driveway is not for those who are not used to driving on rough terrain. Several who gave it a try decided to leave their car halfway and walk the last 2km. Just saying.
Ask for GSP coordinates if you're willing to take the risk.

Where to stay at Yatan Rumi
At a place that much hidden in nature, we believe that by far the best way to experience Yatan Rumi is to camp. The campground is a large grass lawn surrounded by a hilly landscape, in the night you hear nothing but crickets and birds and you can really see a million stars. If being far away in nature is your thing, it does get even better: You don't really have to stay at the camp. There are several other amazing spots on the domain where it's very cool to camp, next to one of the rivers for example. Here you will be completely alone in nature. You can choose to bring your own tent but Yatan Rumi also has several rental tents available.
The central building at the camp is the common area slash restaurant slash guest house. For those who are not really comfortable sleeping in a tent, there are several other accommodation options as well. Private double rooms are available as well as more economical dorm beds. You can be sure that there will be something that will fit your budget and comfort needs.

What to do at Yatan Rumi
In these mountains, you can't expect the top-quality facilities you find in the city. There's no need to worry though, you don't have to do your thing behind a bush (although you perfectly could, nobody would notice). Yatan Rumi has a toilet block with real flushable toilets and an indoor communal shower with hot running water. This water is heated by a wood stove that burns the whole day when there are many people but only at certain times when there's a smaller crowd. So you may have to plan your showers.
We've gotten so used to seeing electricity lines everywhere that we barely even notice them anymore… until they're gone. There are no artificial lines above Yatan Rumi, but there is a limited amount of electricity available. Enough to give you light during dinner and to charge your phone and for the really heavy stuff, like the beamer and boxes for karaoke night, there's a generator available.
Yatan Rumi has its own restaurant that serves breakfast, lunch, and dinner. There's no menu and everyone sits at the same table eating the same thing. If you have allergies or food constraints we're sure that they'll keep that in mind though. This wouldn't be Argentina of course if there wasn't an unlimited amount of wine (and beer and soft drinks as well) available.
Several events are organized at Yatan Rumi, the season starts on the first Sunday of December with the naked run (which they call a marathon but is actually just a 6k run. We did hear that they're planning to have a 15k one of the next years).
There's a New Year's Eve event, the birthday of Yatan Rumi (February 16th), a carnival celebration, and the season finishes with an Easter party during Semana Santa, the week before Easter.

Around Yatan Rumi
Yatan Rumi just IS its surroundings. 1200 hectares… Do you have any idea how large that is?
To give you an indication: Yatan Rumi has its own mountains, rivers, waterfalls, and ruins. Guided naked walking tours lasting several hours are organized on the domain and you only discover one small part. During the naked run, 3 participants got lost. Do we need to say more?
If you like hiking naked in nature you will just LOVE this place. You can do actual day hikes on the domain. You can swim in rivers, relax on hillsides, and just expose yourself to genuine nature.
The lost participants of the run were retrieved pretty fast, but we imagine that you can get really lost so do ask for instructions about where to walk. Some of the major tracks are signposted, but there's so much more to explore. Make sure to take enough water and sunscreen and to have focus points, like the sugar bread mountain (not the one in Rio, it's not THAT high).
If you do want to get out (for some weird reason), Tanti is a nice sleepy village with some shops and small restaurants. Ideal to do groceries. Carlos Paz is much bigger and has a very nice lake which is fun for a walk, a clothed one though. Day trips to Mina Clavera or Cordoba should be possible but you'll have to rise early because it will take some time to get there and back.

Staff at Yatan Rumi
The managers of Yatan Rumi are Miguel and Nora, an amazingly friendly Argentinian couple who've started the nudist camp almost 16 years ago. They are the face of Yatan Rumi but we're sure that they could never make it without their volunteer staff. The first one we met was Marcello "the Brazilian", who risks his life pretty much every day by driving up and down the dangerous driveway to pick up your food, your drinks, or yourself in Tanti. Then there's Mario who's responsible for putting that food on your table and Vero who talks little but maybe does most of all. We don't know, we're just guessing.
What we do know is that they make an awesome team that makes sure that you have a clean toilet, great food, cold beers, and a very good time whatsoever.
Guests of Yatan Rumi
We visited Yatan Rumi during one of their event weekends so we can't really tell you how the place is on a regular day. When we arrived on Friday it was still quite calm with twenty-ish other guests. We remember José who was full of jokes, Schumacher and his wife, two lovely ladies whose names we unfortunately forgot (we really have to learn to write these things down), and several others. On Saturday the crowd for the run started arriving and on Sunday there were more than a hundred guests of whom 62 participated in the naked run.
What struck us the most was the diversity of guests. Singles, couples, and groups of friends of all ages were present. Other than a couple from the UK, Schumacher (originally German but living in
Uruguay
), and a French guy who has been living in Tanti for the last 10 years we were the only foreign guests. Other guests came from all over Argentina. We met so many lovely people and were very happy that one Argentinian couple actually knew about Naked Wanderings.

Info & booking
We normally don't make a separate section for this but here we believe we have to because we also didn't really know how to get in touch at first. You have to know that in Argentina WhatsApp is huge. Everyone uses it and for all kinds of reasons and it has more or less completely replaced e-mail.
The best way to contact Yatan Rumi is direct via the WhatsApp of Miguel:
+54 351 156 590 289
The second and third best way is via
Facebook
and
Instagram
Summary
If you like unspoiled nature, naturism, and a lovely atmosphere, we have one tip for you: Don't just put Yatan Rumi on your bucket list. Put it right on top! This is a place you have to experience at least once in your life because there's nothing like it in the whole world.
Read more about Yatan Rumi on  
NUDE
Disclaimer: We have been invited as guests of Yatan Rumi, but of course all opinions are our own. We are super confident you will love this place as much as we did!
---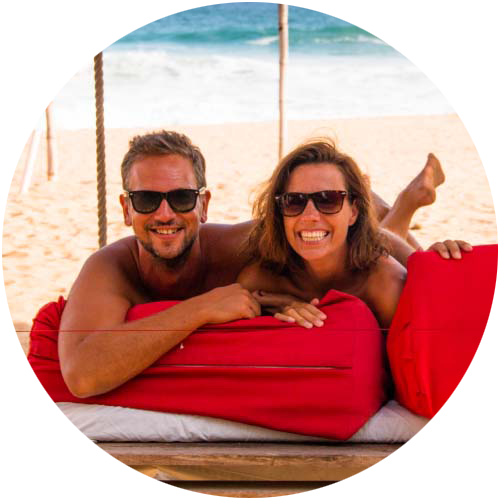 Support Naked Wanderings
Do you like what we do for naturism and naturists? Did we make you laugh or cry? Did we help you find the information you were looking for? Then definitely join our Patreon community!
---