Last week we've celebrated our one year "travelversary"… Indeed, for already more than a year you have been reading about our naked travels all over the world on this website. Pretty amazing, right? Well, at least it is to us. Time is going so fast, it seems like only yesterday when we stepped on that airplane in Brussels with a one way ticket to
Croatia
in our pockets. The very start of an epic adventure.
We roughly had an itinerary in our heads, but by now we can tell you that little of it remained to the original plan. And that's amazing! If we would have been able to predict everything that was going to come on our way for the next months, it would have been far less fun. The surprises, the changes, the people we met who gave us amazing tips for other places, it's all part of the game.
Although we are very happy to receive those many messages of you thanking us for the insights and the help to take the first steps, it was never our intention to educate. In fact, those many other websites about nudism and naturism which all sounded way to patronising were one of the main reasons for us to do something completely different with Naked Wanderings. And also because they didn't answer our own questions, what's keeping away the youth for example.
Our goal was to learn and what we learned we would share with you. And boy did we learn!
Travel is the way to open your mind
We had been nudists for about seven or eight years before we started this adventure and we figured that we knew most of the lifestyle. We often spent afternoons in spas, when the weather was fine we went to a nude beach in Belgium or the Netherlands and in summer we went to nudist campgrounds in France or Croatia. We thought that was it, what more could nudism or naturism eventually have to offer?
It didn't take more than a couple of weeks on the road before we started realising how wrong we were.
Until then, nudism had been very black and white to us. On one hand there was the textile world, which obviously didn't want to have anything to do with public nudity. They would think we were perverts for exposing ourselves to strangers and they would think that we were having huge orgies behind our fences. And on the other hand were we, the nudists, a struggling minority anxiously protecting our grounds. We would think of every clothed person that entered our beaches as a pervert, a voyeur, someone waiting for an unguarded moment to take a good look at our naked selves, or even worse, take a picture of us.
A big eye opener came when we were only little more than two weeks traveling and volunteered at a
clothing optional camping in Montenegro
. "Clothing Optional" was kind of a new thing to us and we had figured that it was just another term for nudism. Something softer, with less of an undertone. In this black and white world, we would never have guessed that clothing would actually be an option at this place. However, by learning to be comfortably naked among the clothed, by seeing how one could respect the other without prejudices and by seeing how some of the textiles eventually gave nudity a try, we learned to appreciate this new form of nudism. Our black and white world suddenly had a huge grey zone.
Nudism in culture and religion
We would see more of this clothing optional thing on nudist island 
Ada Bojana
, at the whole other side of Montenegro, which more or less was a whole clothing optional island. And then just one border crossing later, into Albania, all options to get naked were suddenly gone. From days of wearing whatever we wanted (and most often nothing), we moved on to a country where we could be thrown in jail if we got caught naked. Skinny dipping was not a possibility anymore unless we were very very careful and talking about nudism was also not an option. We had become closet nudists.
This didn't take long though, two weeks later we were in Greece where naked sunbathing on the beach was pretty common again and where we experienced luxury nudism for the first time,
in a real naturist resort
.
Greece would be the source for many other new impressions, and then we're not talking about the great food and wines. We would see a darker side of the clothing optional scene at the nude beaches on
Antiparos island
where nudists felt pushed towards the very end of their own beach and we would also get a new perspective about religion.
In Western Europe, many people have their opinions about nudism and their reasons not to give it a try. Body confidence, jealousy, insecurity and the link with sex are common, cultural and religious reasons not so much anymore. But then we met Ralf and his family in Greece, all dedicated Orthodox Christians and equally dedicated nudists. They had found signs in the bible which pleaded in favour of nudity, especially in a natural environment and found that their religion and nudist lifestyle went hand in hand. A philosophy we could very much appreciate.
It's not always like this, once we moved on to Asia,
more specifically to Sri Lanka
, we would notice that the link Ralf had made was very uncommon. It didn't take long to realise that we hadn't made the smartest choice by picking Asia as the next step in our naked journey. Long story short, Sri Lanka appeared to be a big NO when it came to public nudity, India was supposed to be our next destination, but the more we read about it the more we got convinced that it would also be pretty difficult over there with no nudist resorts, no nude beaches and only a couple of secret meetups scattered over this immense country.
This is where fate never fails to help us out. A couple of days before we were leaving to India our visas got rejected and we only had three days left on our Sri Lanka visa. We took a map, looked for the nearest country that we could enter without a visa and half an hour later two flights to Malaysia were booked. A Muslim country where social nudity was considered making porn. Our plan for Malaysia was to try again to get a visa for India, but meanwhile we hadn't been able to get naked somewhere out of our hotel room for quite a while and that was exactly what was not our plan for this trip.
We noticed there was an
actual nudist resort in Bali
, changed our plan and moved over there. This was where we learned that it doesn't mean that when a country has a private place where you can be naked, nudism is socially accepted. Bali appeared to be as conservative as can be. Although in a bit of a weird way. It was pretty common to see men and woman bathing naked in a river without any shame, we had the chance to go to a public bath house which was connected to a temple (of all places) and where nudity was completely normal. But the nudity needed to have a purpose. Being naked just for the sake of it could end you up in jail for a long time. Because we were there in low season we did find some empty beaches for a quick skinny dip, but the thought about Balinese jails was never far so neither were our bathing suits.
New and old nudism
Off we went to
Thailand,
the only country in Asia that actually has a couple of nudist resorts and after the struggles of the previous months we decided to visit all of them. Truth has to be said, we have seen very little of the tourist spots in Thailand. We spent a month traveling from one nude resort to another and being as much naked as possible. We loved it!
All over Asia,
Thailand,
is known as the number one nudist destination and nudists from all over the continent travel here to get comfortably naked among others. An interesting side note: these nudists were often about our age. We had found the solution to our question about the age difference: Moving to Thailand. An interesting thought, but there was so much more world left to explore. The only question was where to go next. By visiting Bali and Thailand we had covered all official nudist spots in Asia, a continent where we had initially planned to stay about a year. We couldn't decide about our next destination. Maybe Japan, where they have onsens (thermal baths that are often visited naked), maybe Taiwan which appeared to have a nudist federation or maybe India anyway?
There came fate again. A friend sent us an e-mail that she was throwing a party in New York and that she'd love us to come. This was completely not in line with our original itinerary but it would provide a lot of options. Some time later we were crossing the Pacific ocean on a flight from Bangkok to New York. Meanwhile it was late April but the New York weather forced us into jeans, sweaters and jackets. This wasn't exactly a huge step forward towards more naked time.
New York wouldn't be New York if it didn't provide options and few days after we had landed we found ourselves completely naked with about twenty five others in
a nude yoga studio in central Manhattan
. While moving from the downward facing dog towards the warrior pose, we would see the golden lit skyline of New York through the windows. There are worse places to practice.
Naked yoga wasn't new to us, we had done this before
in nudist resorts
where the sessions are very casual. Much more about just having a good time in a good atmosphere than about actually learning yoga. Our
Naked in Motion class
was pretty much the opposite. This was serious business. Where the instructors in resorts often leave out poses which might be a bit too compromising for the average nudist, over here it was all about doing yoga as it should and about gaining confidence being naked, no matter in which position.
A revolutionary experience and somehow we thought that we had found a modern kind of nudism, but then we got catapulted back to the time of the early nudist camps when the instructor started reading the rules. The obvious things like "don't stare", "you have to be naked" and "don't touch each other" passed by, but then more uncommon (at least to us) rules like "don't compliment anyone about their appearance", "don't ask anyone to have a drink after class" or "put down a red card if you don't want the instructor to touch you". Very specific boundaries were created. Quite uncommon for two young European nudists who had learned that freedom was an important pillar of nudism. But then again, most of these people were not nudists…
Nudist, naturist, clothing optional or …
This was probably the biggest insight we got during that hour of naked yoga. After class we asked our instructor how long she had been a nudist. Her answer was: "Oh, I am not a nudist! I do go to
a naked spa
once in a while, in summer I go to nude beaches and I teach naked yoga, but I'm not a nudist". So this twenty something year old girl did all the naked things we had been doing for years, but did not consider herself a nudist. That evening we would hear several others saying the exact same thing. At the time we had no idea what to do with this information, but we would see a similar movement when we traveled to an American state with much better weather than New York:
California
.
California would be like Thailand all over again, moving from one nudist resort to another and spend as much time as possible being naked among others. When it came to the average age at the resorts, we were back to European style. Either we were the youngest or certainly among them. But when we went to the nude beaches we would see a much younger crowd.
One day we were sitting at a resort with the president of a local nudist club talking about how they struggle to gain new, younger members and the next day we would be on a nude beach with loads of twenty and thirty somethings. Where was the missing link? We had never felt this close to the answer to our initial question about what keeps youth away from nudism. But we could not touch it yet. Our grey zone had expanded even more. We had found out that there are nudists, textiles and clothing optional environments where both were combined, but now we also had people who loved to be naked but didn't call themselves nudists or naturists.
The piece of the puzzle finally fell a month later when we were invited to a barbecue organised by the nudist club of Guadalajara in Mexico.
Hector, the president of the club
and meanwhile also of the national nudist federation of Mexico was only twenty six years old and had been able to attract a huge young public. At that barbecue, our age was actually the average one. Hours and hours, fuelled with lots of beer and wine, we have talked about this subject. Was it because Hector was this young that he could attract young people? Was it because he used a lot of modern forms of communication, social media and youtube instead of newsletters and magazines? Or was it something else?
An important point, according to Hector, is the fact that nudism in Mexico is something new, something few people have ever heard of. "So, tell me again, you do regular things with a bunch of other people but everyone is naked?". This tickled people's curiosity, especially the young who love to try something new. We remembered, years ago, when we had engaged in nudism for the first time that it was for the exact same reason. We were curious.
The nude trip around the world continues
Clearly, a conclusion we have to make about all this is that either nudism is completely misunderstood or that the definition of it is just not attractive and that people are finding new ways to accomplish pretty much the same. And what does that means to us, the western nudists? Unlike the Mexicans we do have a historical background in nudism, should we redefine it? Should we make it more attractive? Should we just drop the name and call it something completely different?
We don't have those answers yet, but we do feel that we're coming closer. Will we ever be able to answer the question about how to secure a future for nudism? We don't know. What we do know is that the time to go home has certainly not come yet, we have much more to learn and to experience. Maybe other parts of Mexico will teach us more, maybe we'll gain more insights in Canada or in France or maybe somewhere else. We keep searching for answers and we believe that fate will help us a hand where necessary.
---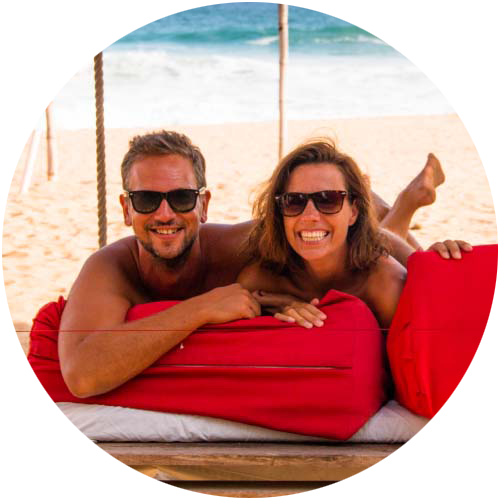 Support Naked Wanderings
Do you like what we do for naturism and naturists? Did we make you laugh or cry? Did we help you find the information you were looking for? Then definitely join our Patreon community!
---