Nudist camping in Croatia is almost as old as naturism itself. From way back in the former Yugoslavian times, nude beaches in Croatia were crowded by both locals as tourists. Today this results in some of the most beautiful nudist resorts and clothing-optional resorts in Europe. Large naturist campings (or FKK campings as they are often called here) are spread along the coast and especially at the islands and the Istria peninsula. Polari, Valalta (which is part of the famous Valamar group) and Koversada are probably the best known but also campings like Kanegra, Kovacine or Baldarin stand for a magnificent setting at the wonderful Adriatic coast. And then there are some of Europe's most amazing nude beaches, spread along the coasts of Istria, the mainland and the Croatian islands.
History of naturism in Croatia
Just like in several other European countries (or countries around the world if you like), skinny dipping already existed from long before the term "naturism" was invented. The first important step towards a general acceptance of the lifestyle came together with the British king Edward VIII who visited a beach on the island of Rab together with his mistress Wallis Simpson during their summer holiday in 1936. Apparently even an English king can't fight the attraction of the Adriatic coast and soon both got naked and went for a swim.
The Yugoslavian government saw this royal skinny dip as a sign that naturism could improve tourism in the region. Probably a pretty progressive thought at the time but we imagine them smiling in their graves when they see the Croatia of today. Anyway, soon after the king's visit, this beach became one of Europe's first official nude beaches and was baptised "English beach". Most other English weren't attracted those days but the beach did become popular among the Germans and Austrians in whose countries naturism was really getting a foot on the ground at the time.
Naturism in Europe really took off after the second world war, especially because of the founding of the INF in 1953. Several years later, the owner of a German naturist travel agency founded the first commercial naturist camping at the Adriatic coast on the island Koversada which hosted the international INF congress in 1972.
The Yugoslav wars in the nineties chased away most naked (and clothed) tourists from the Adriatic beaches but it didn't take long for the region, from then on called Croatia, to reinvest in tourism and especially the kind that prefers to travel without clothes. Once again, Croatia was turned into a naturist heaven.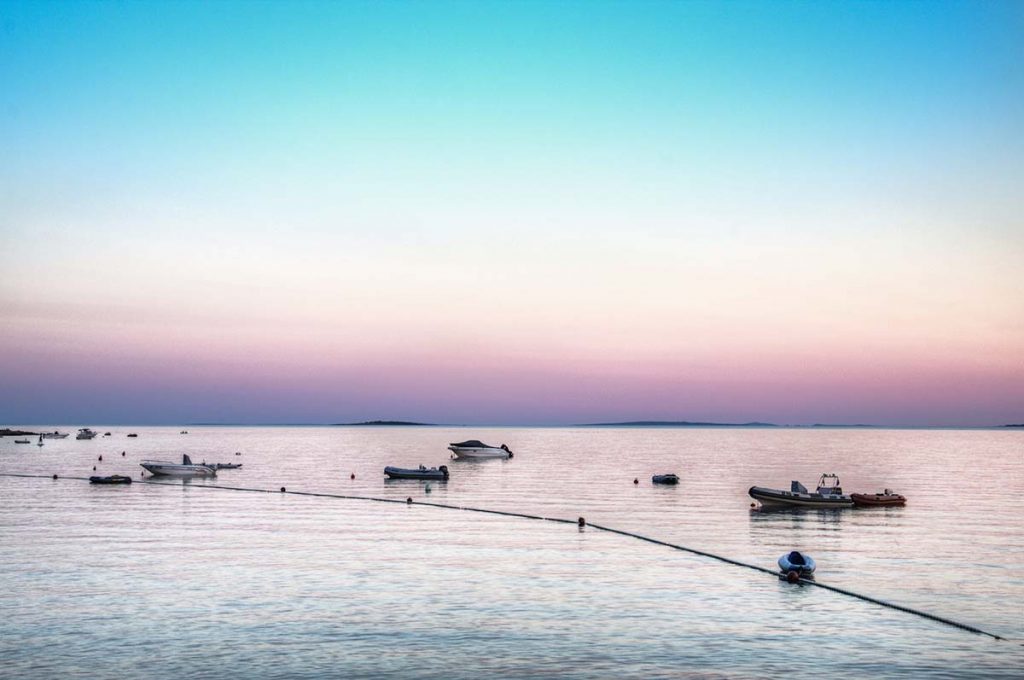 Best time to visit Croatia
Croatia has three climatic regions but the one we'll be focusing on is of course that of the Adriatic coast. The Mediterranean climate means cool but rainy winters and hot and dry summers.
The summer months July and August are weather wise of course the best insurance for great swimming weather and awesome equal tans but the Adriatic coast tends to get very crowded during this period and prices of camping pitches, rental accommodations and food in restaurants go up.
During the "shoulder season", which happens from May to June and in September and October the weather might not be as reliable as in summer but you will certainly get some nice sunny weather unless you're really unlucky.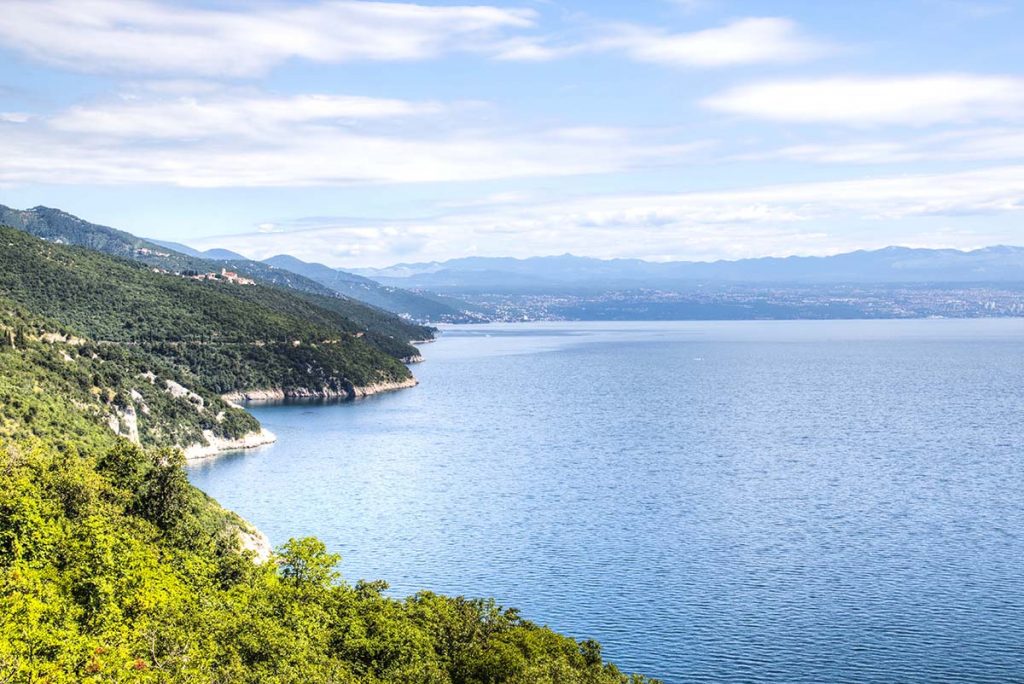 Where to go
Naturist opportunities in Croatia are centred near the Adriatic coast and on the islands. Most naturist resorts on the mainland can be found on the Istria peninsula in the north of the country. Naturist campings and beaches are often signalled with the sign "FKK", which means FreiKörperkultur, German for "free body culture". The Croats have inherited this term from Germany and it's still very commonly used.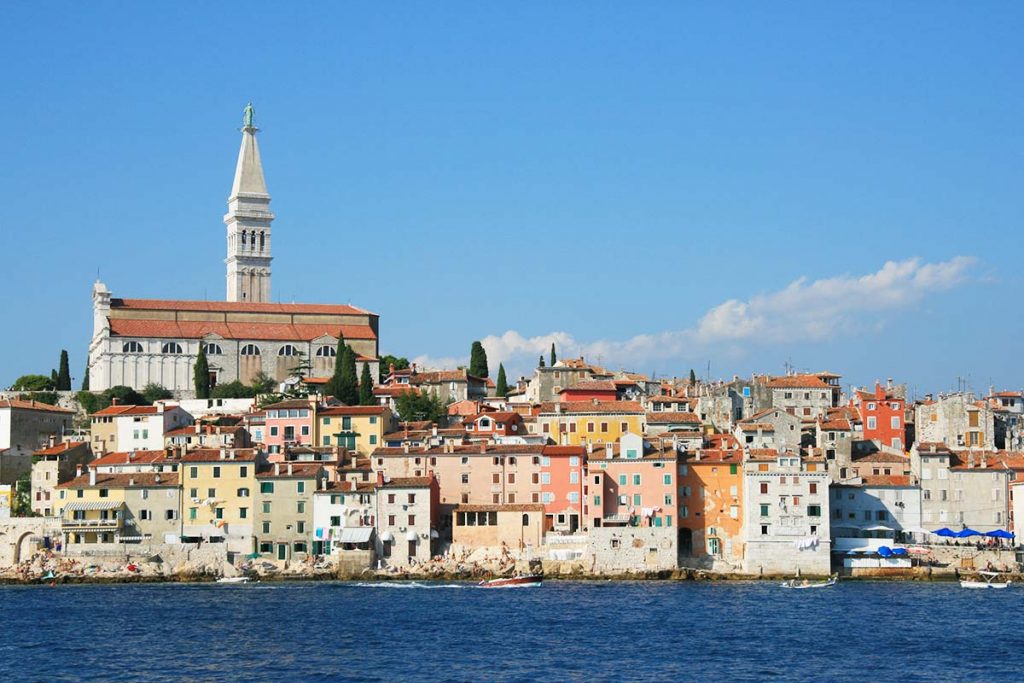 Istria
8km north of Umag in the town Savurdija you can find this wonderful wild beach which has a restaurant and bar as well as changing rooms, showers and a public toilet. Naturists do have to share this beach with surfers.
Some 5km south of Umag near the town Karigador is a nice rocky beach called Ladin Gaj. Toilets, showers and changing rooms are available as well as sun beds. Only the southern part of this beach is naturist. Nearby are a store, restaurant and bar but you'll have to put clothes on to visit those.
Sv. Nikola is a small island right at the coast of Poreč. At the southern part of the beach there's a rocky stretch of about 100m marked with FKK signs. There are no facilities and no shade. A free shuttle boat runs from Poreč town to the beach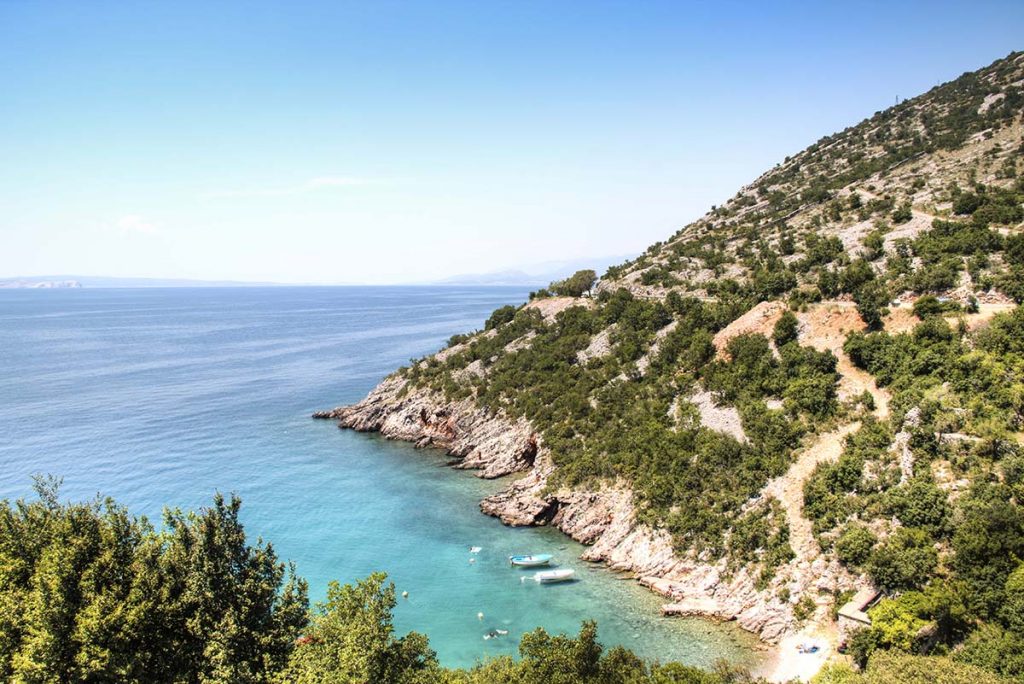 Crveni Otok or "Red Beach" is a small island of the Rovinj archipelago. Actually, the island is a merge of two islands called Sv. Andrija and Maškin. The beaches on Crevni Otok are pebbled and attract a lot of naturists during summer months. Getting there can be done via a 15 minute boat ride from Delfin port in Rovinj. Boat transfers are free for guests of the Hotel Istra.
The uninhabited stretch of land just south of Rovinj offers quite a lot of opportunities for the naked sunbather. Lots of small unofficial nude beaches can be found in this area, especially around the auto camps Colona and Mon Perina and nearby the Barbariga fortress.
Right at the southern most tip of Istria, just south of Pula town, lays a small village called Premantura on the Kamenjak peninsula. Around town al lot of coves and lagoons can be found which are often visited by naturists.
More up north but on the eastern side of Istria peninsula is the popular summer resort Rabac. 1.5km of its pebble beach is considered unofficially nudist and attracts a lot of naked visitors. All facilities are on the textile part of the beach.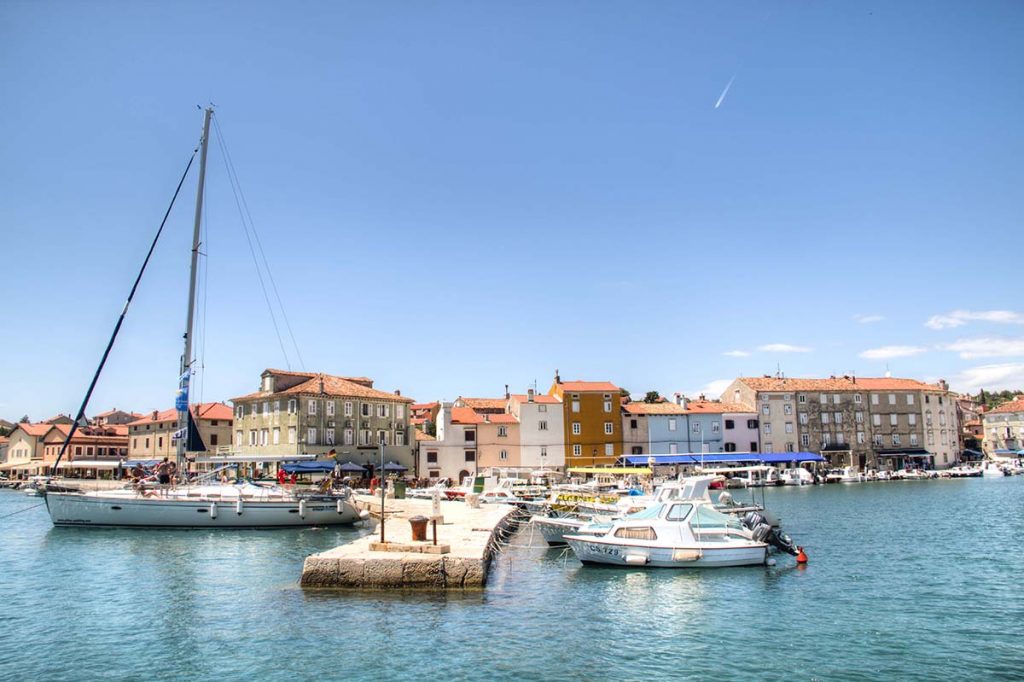 Kvarner
Mainland
Nearby the entrance to the island Krk at 2km from the town Crikvenica is the small peninsula Kačjak. Follow the signs from the textile beach to get to the nude part. There are several other bays in the area that tend to be frequented by naturists.
Cres island
Unije is a small island without hotels or campings where naturism is quite common on its beaches if you walk away from town. Getting there is only possible by boat from Lošinj, some private rental accommodation can be found for those wanting to stay overnight.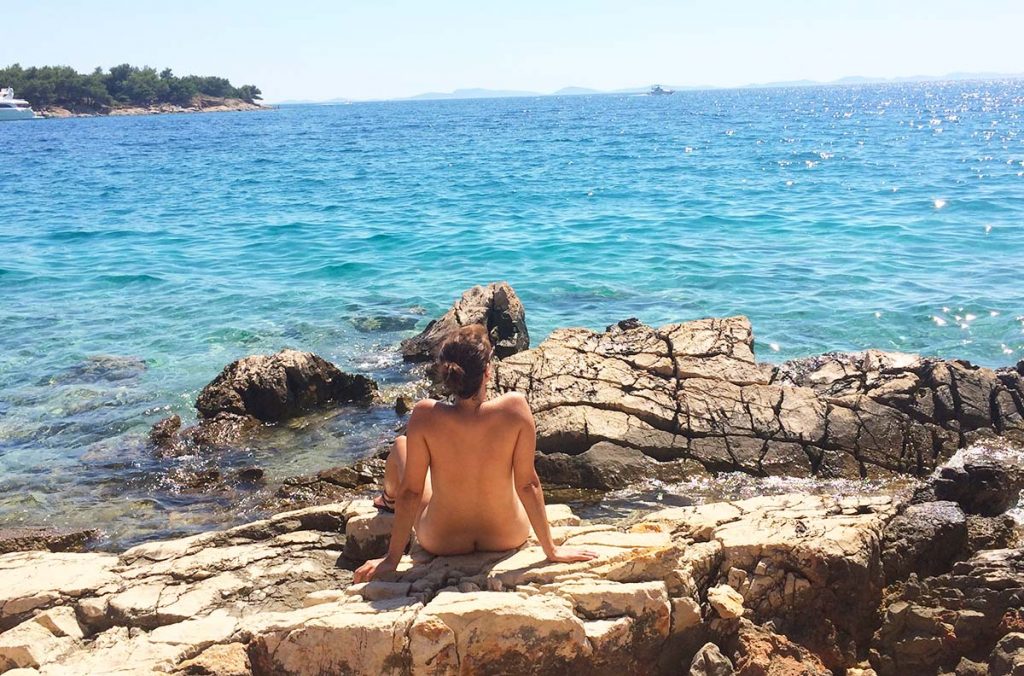 Susak is another wonderful small island at the coast of Cres and its beaches are very popular among naturists. The entire island is made of sand and so are of course its beaches as well which make them more comfortable than many others in the area. There are no roads or cars on the island.
Nearby the town Mali Lošinj you can find the nude beach Sunčana uvala at about 200m from the Vespera and Aurora hotels. The beach consists mostly of coves which are perfect for naturists who prefer some privacy. Sometimes a colony of dolphins can be spotted.
Krk island
Rab island
Or otherwise called the famous "English beach". This is where Edward VIII went for a skinny dip and meanwhile set a spark for Yugoslavian naturism. The 1.5km nude beach consists entirely of rocks which makes for crystal clear water. Showers and toilets are available, there's a restaurant on the beach and deck chairs for rent.
A sandy naturist beach on the northern tip of the island. Ciganka (meaning "gypsy woman") can currently be considered the most popular nude beach on the island. The most easy way is to come by boat but road access is available as well. In 2011 CNN called this area one of the most desirable ones for tourists around the world.
Right around the corner of Ciganka beach is another nude beach called Sahara. More wild than its northern neighbour and it doesn't have any facilities. Sometimes a boat comes by offering food and drinks. Most visitors prefer to come by boat but road access is available from Lopar.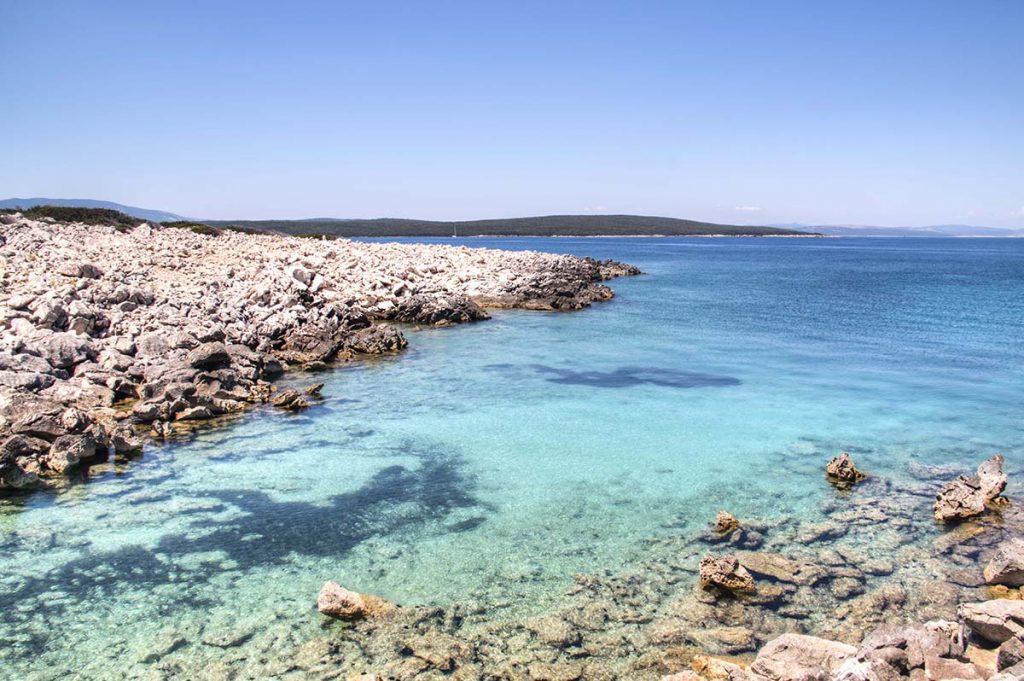 Pag island
Nearby Gajac town in the north of Pag is one of the most popular beaches of the island. This is a party beach and attracts lots of visitors especially during the high season. The naturist part is all the way to the right in the coves.
Also called the "Holy Spirit" beach has one half reserved for naturists. The beach is mostly pebbled and more spots to get naked can be found in the surroundings. Facilities are available at the nearby auto camp but can't be visited naked.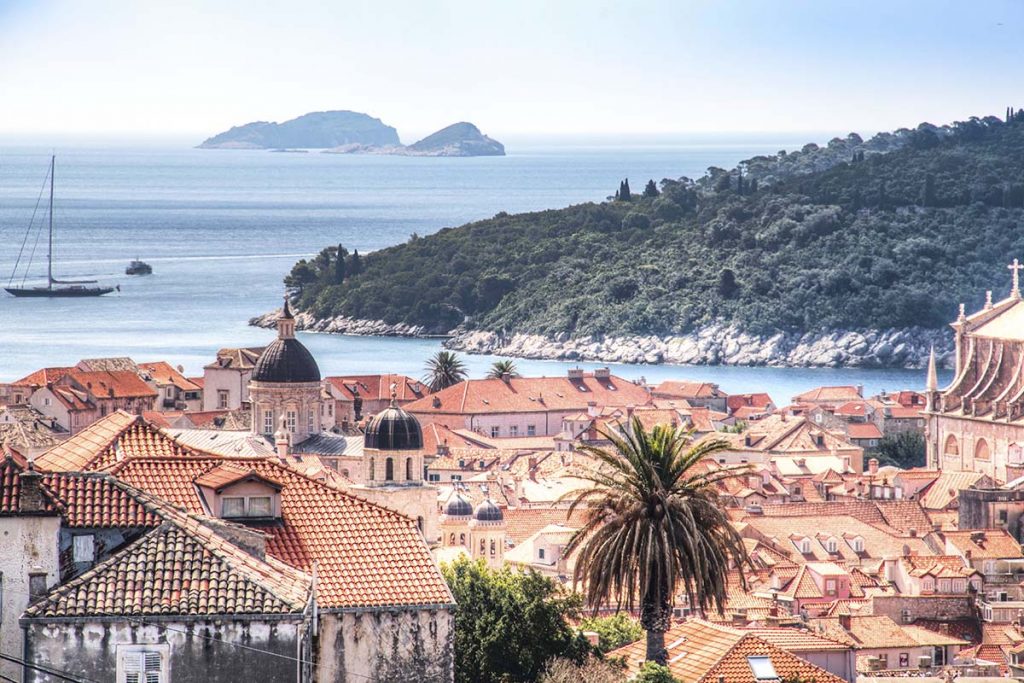 Dalmatia
This is Croatia's most visited region and certainly not without any reason. Long beaches, crystal clear water, natural parks and historical cities, it's all just there. The best known spot in Dalmatia is of course Dubrovnik. This romantic walled town at the southern tip of the country has been the setting of many movies and TV series like Star Wars, Robin Hood and Game of Thrones. Another charming city in the region is Split where you can indulge in ice cream on the Riva, the city's promenade. And then there's the often neglected Zadar, the wonderful Plitvice Lakes national park, numerous of islands to discover and lots of places where you can get a skinny dip.
Around Zadar
A sandy lagoon in the north of this beach at only 5km from Biograd is designated for naturists. It has been declared one of the most beautiful beaches in the region. Facilities are available on the textile part of the beach.
Punta Skala is a forested peninsula at just 5km from Zadar city. Until the eighties there used to be a naturist resort here but now it has been completely turned to textile. One part of the rocky beach is still reserved for naturists and can be found near Planika Apartments. There are showers on the naturist part, other facilities can be found on the textile part.
Just across from Biograd is this little island Sveta Katarina (Saint Catherine) which is completely designated for naturists. The beach is mostly rocky and the trees provide a lot of shade. You can get there with a taxi boat from Biograd.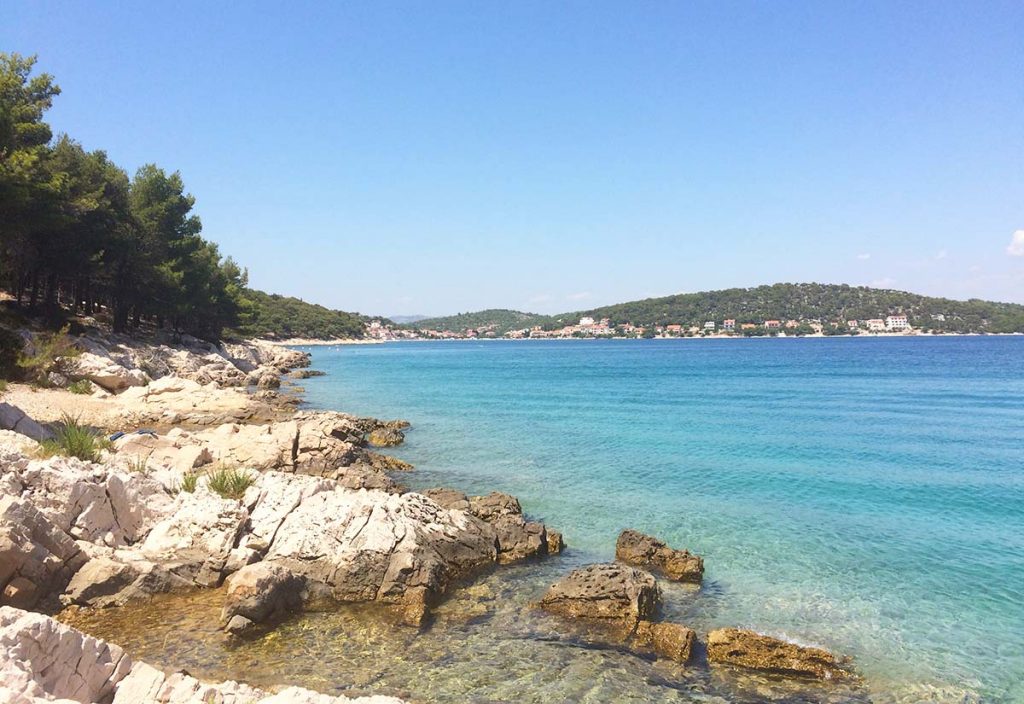 Just north of Murter town is what's said to be the most romantic beach of the peninsula. Several bays around the main beach are available for naturists. Facilities can be found at the nearby auto camp (not naturist).
A rocky beach just south of Tisno on Murter island. To get to the beach you'll have to go on food through the forest. No facilities are available so make sure to bring your own.
A small island on the Sibenik archipelago. The naturist beach on this island is located south of the harbour in Sepurine village. The beach is rocky and has several coves.
This unofficial nude beach in the north of Pelješac is popular among naturists because of its many natural coves. The beach is rocky and rarely gets too crowded.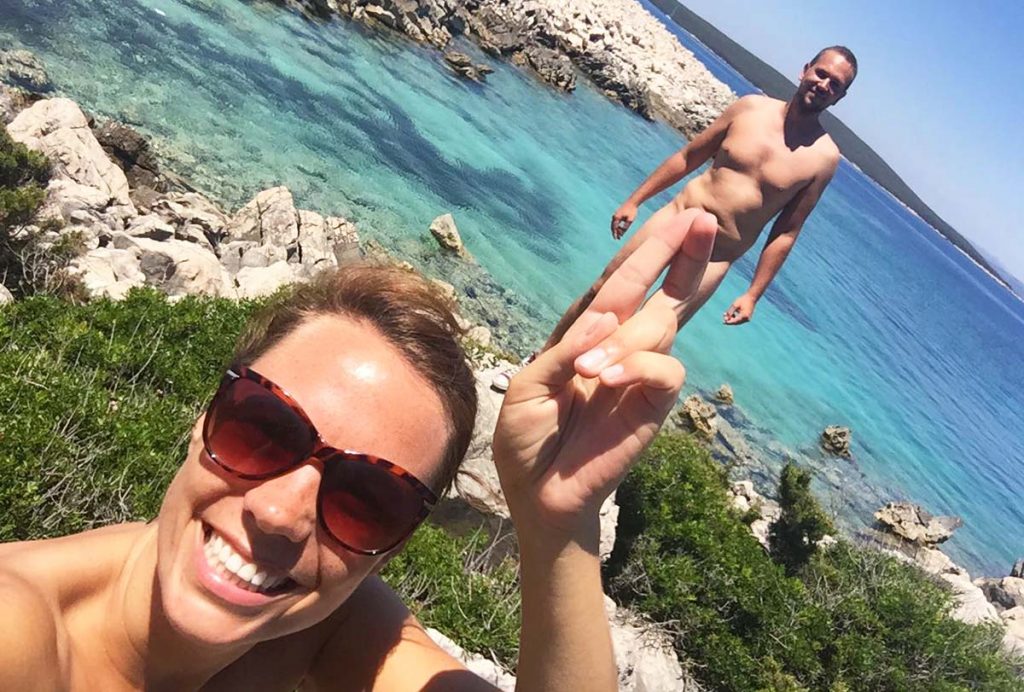 Around Split
Kašjuni is a small naturist beach at the foot of Marjan hill in the western part of Split. The beach is rocky and water shoes are recommended. During high season this place tends to become overcrowded. Showers, change rooms and two bars are available.
Located at about 7km south of Omis in Ruskamen village. The beach can be found near a hotel with the same name. It's fine gravel surrounded by pine trees.
In Makarska near Brela you can find the small Vrulja beach. The setting is idyllic with pine and olive trees and the beach itself consists of fine gravel. Getting there by foot is difficult, most visitors prefer to go by boat. A part of this beach is reserved for naturists.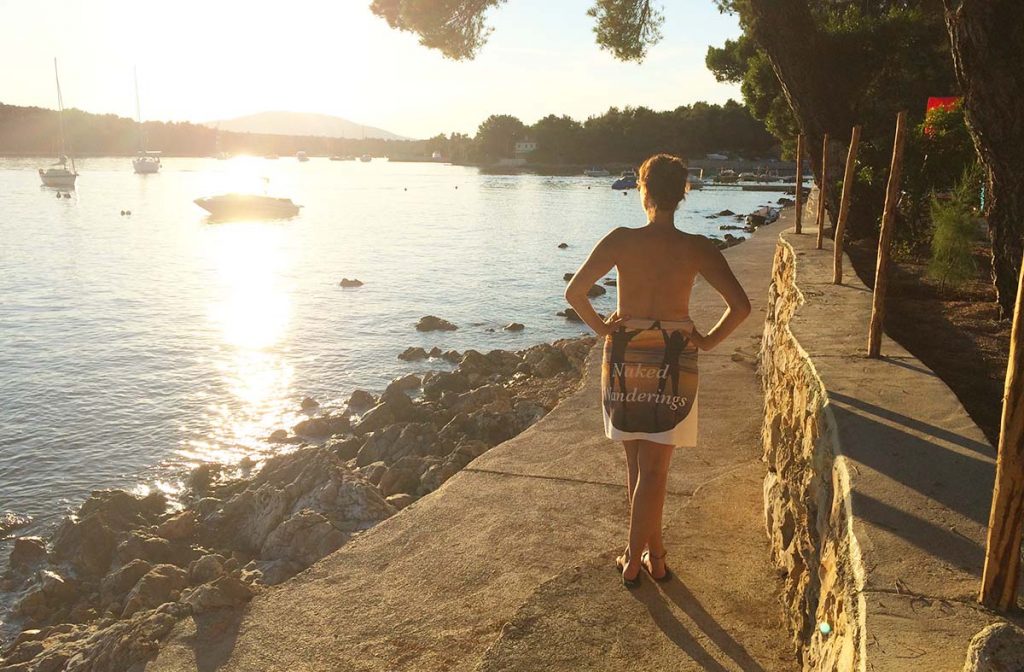 Around Dubrovnik
This is the only sandy beach in the Dubrovnik region. Beach chairs are available for rent and there are two restaurants in the textile section. The walk from hotel Grand is beautiful and takes about half an hour. Boat taxis are an easier option to get to the beach.
Located right next to the famous Copacabana beach at 60km south of Dubrovnik you'll find Cava beach. The naturist part doesn't include any facilities. You can get there by following the FKK signs from hotel President. In summer months this beach can get crowded with textiles who are trying to escape busy Copacabana.
The most beautiful nude beach in the area is found on the island Supetar in front of Cavtat town. The sea is very clear on this island and there are some facilities like a restaurant. You can get there by taxi boat from Cavtat which takes about 15 minutes.
Just south of Cavtat on the Sustjepan peninsula. The hotel Croatia has a private beach which is partly naturist and accessible for guests but you'll have to walk through the hotel. It's mostly rocks and concrete which make it very suitable for sunbathing but the sea can be too wild to comfortably swim between the rocks. Hotel Croatia is not a naturist hotel.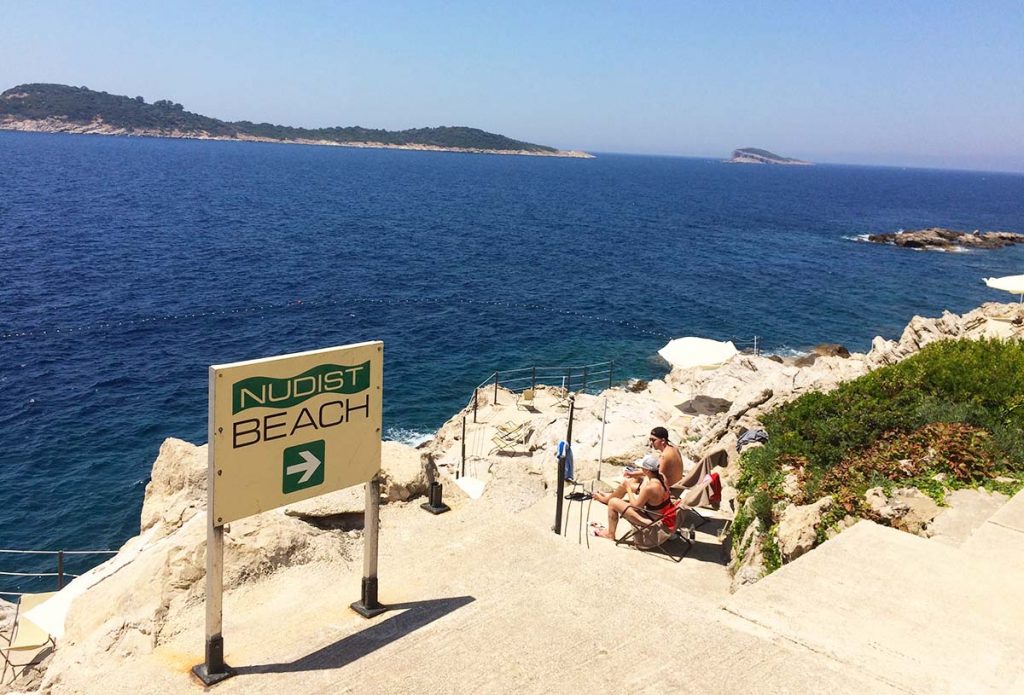 Hvar island
Zavala is located on the south shore of Hvar island away from the busy crowds. This pebble beach can be reached through the tunnel coming from the village Pitve. There are plenty of other hidden coves in the area suitable for skinny dipping.
This beach is part of the Paklina archipelago which is said to have the largest number of sunny days per year in the country. Because of the long tradition of naturism in this region nudity is completely accepted on this beach and on several others nearby like Stipanska and Jerolim.
Pašman island
Iž island
Rutnjak is a small island which is part of Iž and is considered a naturist destination for those who want to escape the crowds and have a quiet holiday. It's a beautiful wild beach but there are no facilities. It's possible to get there via 15 minute boat taxi ride from Veli Iž.
Ugljan island
An official naturist beach in the bay of Sabusa. The beach is mostly sandy and surrounded by olive trees and mediterranean vegetation. Naturism is also possible on several other beaches in the region.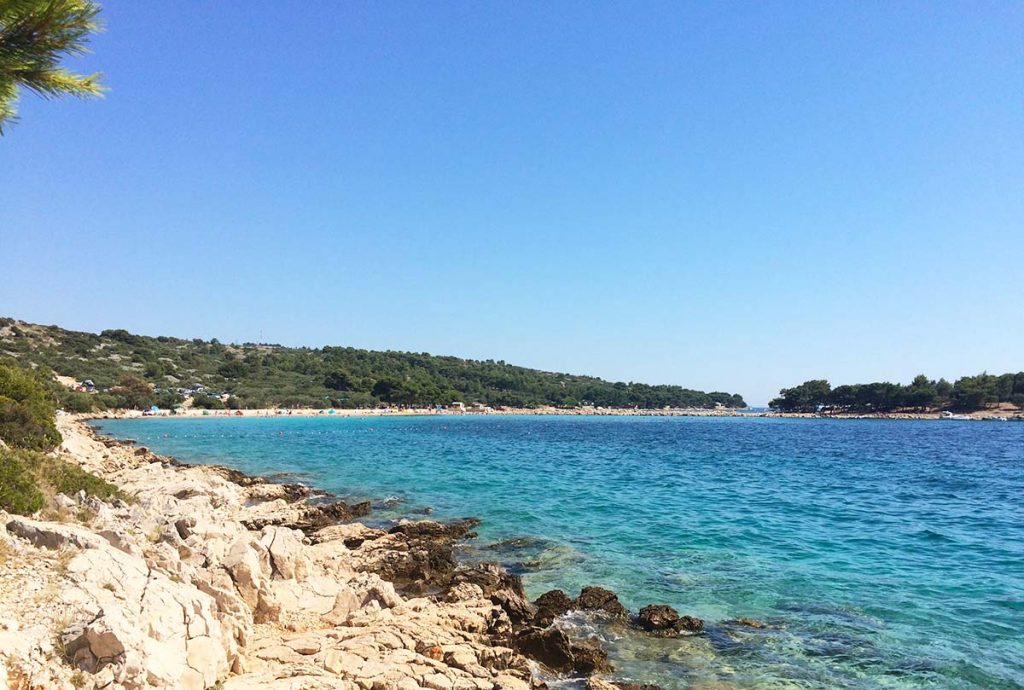 Brac island
Šolta is probably one of the most popular nude beaches in the whole Adriatic region. The beach is mostly pebbled and many of the other naturists can be found in the surrounding coves.
Not to be confused with Supetar beach near Cavtat. This one is a fine pebble beach near the town Zazubić. It can be reached by road from within Brac island and also directly by ferry from Split.
Located on the southern coast of Brac island near the town Bol. Pakline is a pebble beach with many caves that are very popular among naturists. The surrounding forest provides a lot of shade.
Vis island
A rocky coastline between Stonca and Fort George. This is the only official naturist beach on Vis island. It can be reached via a 1km dirt road which goes along the coast. Shade is scarce on this beach so bring sunscreen and an umbrella.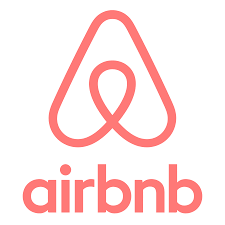 Wanna try something really local? Why not use Airbnb? Create an account and use our special €30 Airbnb Coupon Code for your first booking!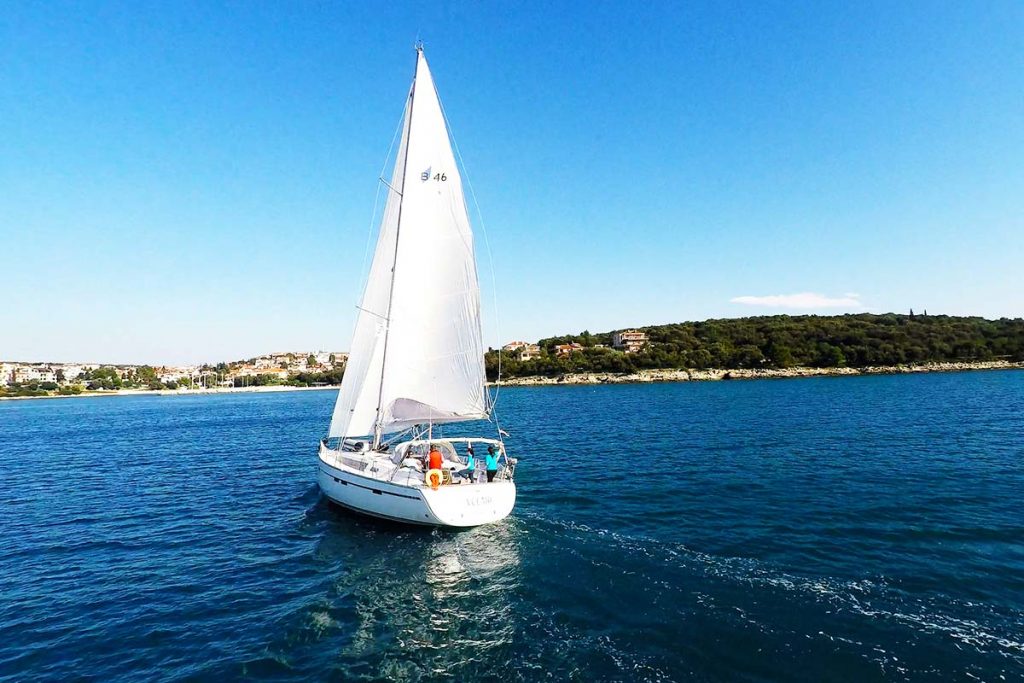 Image by Yacht-Rent.com
Nude cruises in Croatia
Another great opportunity to visit the most beautiful spots in Croatia with an 8 day naked cruise. Highlights of this trip include the Blue & Green Cave, Korčula, Lastovo chimneys, Bol, Šolta, Split and many opportunities for skinny dipping and naked sunbathing. Lots of optional excursions are available as well.
Do you happen to know a thing or two about managing a boat over the Croatian waters? Then why not rent your own and enjoy a unique feeling of freedom? Find your own perfect spots to get naked and enjoy countless skinny dips along the way.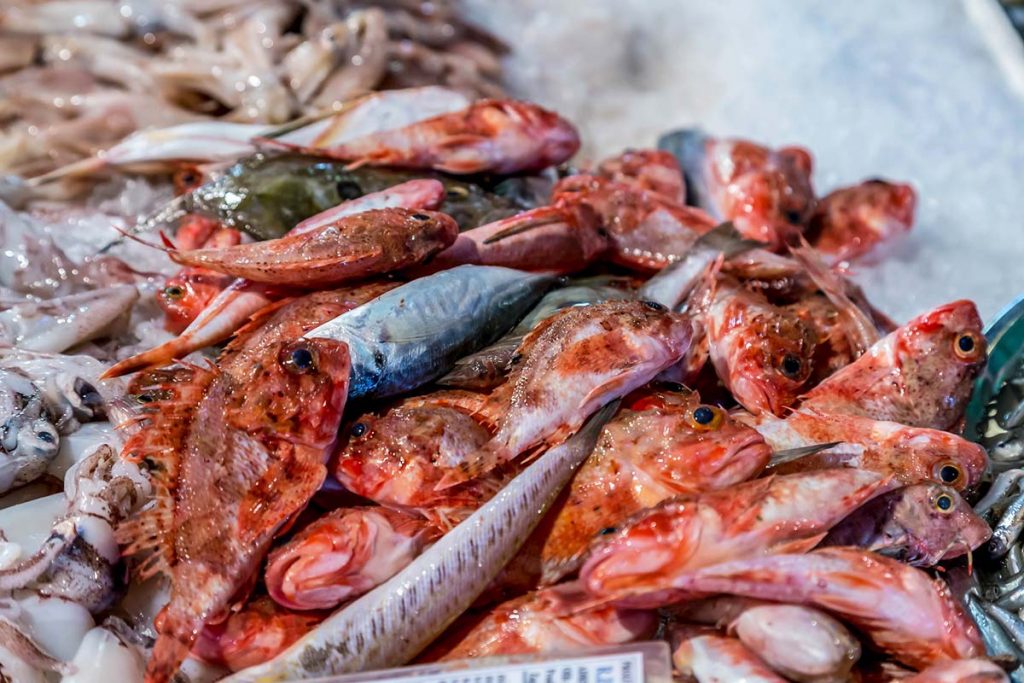 What to eat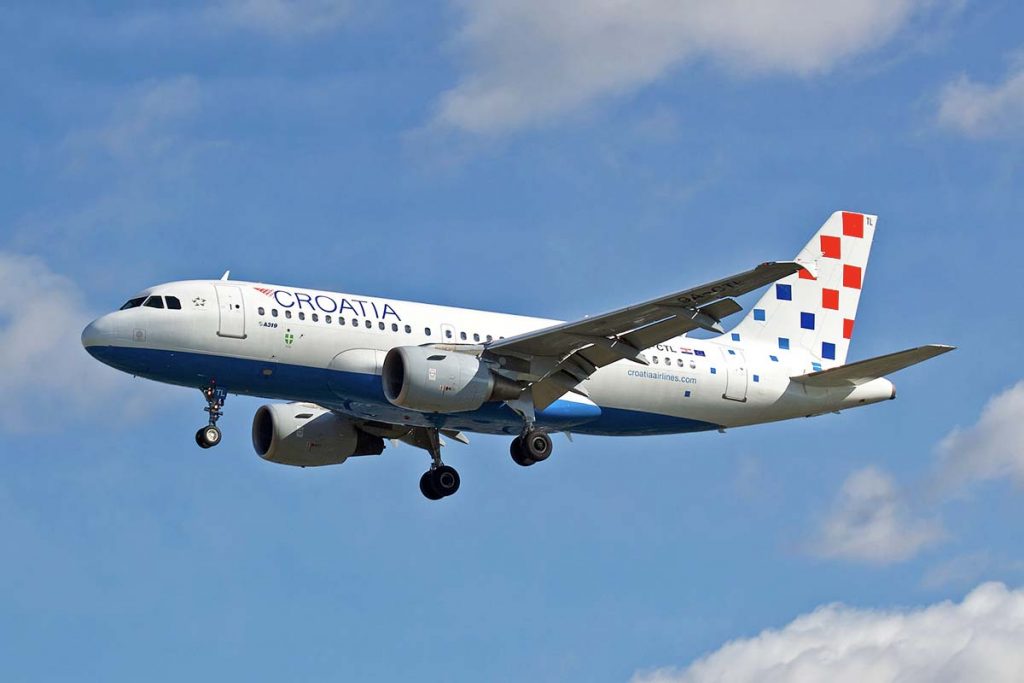 Getting there
Visitors from Italy often prefer to enter Croatia via the water. Various ferries can bring your from Ancona and Bari to Zadar or Dubrovnik. Ferries are also popular for traveling between cities in Croatia.
Due to its proximity to Austria, Italy and Germany and even to the Netherlands and Belgium, many Europeans prefer to drive to Croatia. Especially the Istria region is pretty easy to get to by car. Do keep in mind that driving through Austria, Switzerland and Slovenia requires a vignette.
Getting around
Flying from one destination to another is also an option but not really recommended. Not only is it not ecological but it will also be quite expensive. Ferries are a much better way.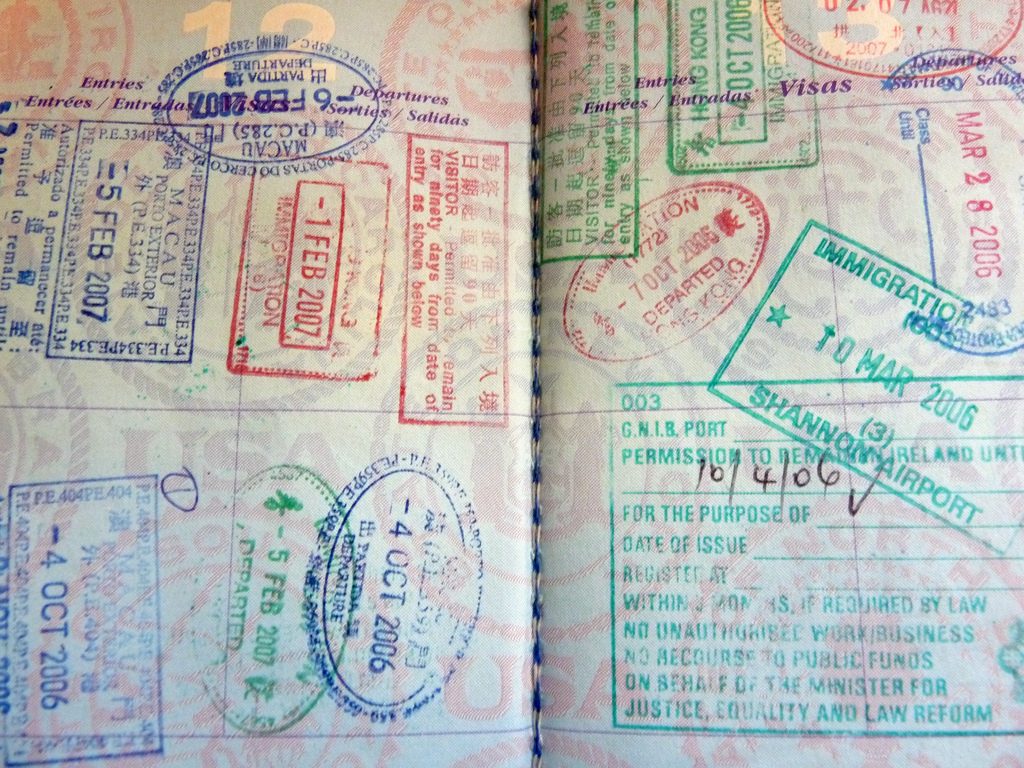 Visa regulations
Croatia is part of the Schengen zone, which means that visitors from the whole European union can visit the country with just a regular identity card. Also visitors from Norway, Iceland, Switzerland and Lichtenstein are not required to get a Schengen visa to enter Croatia (or any other EU country).
Visitors from every other country will have to apply for a Schengen visa. This process often takes 14 to 21 days and requires a valid passport with at least 2 empty pages, proof of accommodation, proof of outgoing flights, travel health insurance and proof of financial sufficiency. Yes, it's a lot, but in return you'll get a paper in your passport which will allow you to travel for 90 days not only in Croatia but in every country which is part of the European Union.
Stay safe
Croatia is in the top 20 of safest countries to visit on earth so there's little need to worry about your safety. Especially the islands and the beach areas are very safe. Petty crime does happen in the cities and especially in Dubrovnik it's advisable to keep your wallet close. There have been reports of car break-ins so make sure to put your luggage and valuables away from the wrong eyes (read: not on your car seats but in the trunk) and park your car preferably in crowded or monitored zones.