It's probably one of the most discussed items about nudism: Where comes the sexual aspect in the picture? Nudists keep saying that their lifestyle is non-sexual, but how does that really work? Are they really not attracted to other naked people? Don't they get excited by seeing all that nudity? If nudism is such a non-sexual thing, are nudists having any sex at all?
At the very beginning of Naked Wanderings we already tackled this subject in the blog post "
What's with the whole nudism and sex thing?
", but we thought it was time for a revision.
Interestingly, this topic is almost always started by a non-nudist. Which is understandable. In the non-nudist world, nudity is very much linked to sex. Think about it, when was the last time you've seen a picture or video including nude people which had nothing to do with either nudism or sex? Even (non-naturist) magazines including nude people without any sexual interaction have the purpose to tickle your imagination in a sexual way. Or did you really think that we believe you've just bought the latest Playboy for its articles?
Why is nudity linked with sex?
To go even further, look at the shower gel commercials. Which woman really washes her hair in such a sensual way?
It's all very commercial, sex sells. Not really the actual intercourse but mostly the idea of sex is what will make you buy this magazine, that car or that kind of shower gel.
Other than that, sex is also power. Through history it has been used to take control over people. There are ample examples. Ever since the beginning of time, both men and women have been using sex both as a reward or as a price. Look at the
#metoo movement
. Sex has become a currency. Even now, in several communities the ruler can pick whichever woman he wants. In many religions, you are only allowed to have sex after approval of God.
As a result, the human body became property. And even the sight of it by others would mean a loss in control. Many nudists express a
feeling of freedom
once they allow their body to be seen. Because it's in a non-sexual way, lots of the oppression evaporates.
To understand what's following, we are going to ask you to do something difficult. Just for the course of this blog post we want you to completely remove the link between nudity and sex in your head. Let them become two completely unrelated things.
Try to see nudity as nothing more than a state of dress and sex as just a behaviour.
Ready?
Why is there such a taboo around nudism and sex?
Only by unlinking the two subjects, you're probably asking yourself the same question. If both have nothing to do with each other, then why is nudism often still such a taboo?
We have to go back to the history of nudism. When the lifestyle got started in the beginning of the 20th century, the idea was certainly not as accepted as it is today. To avoid problems, nudists and naturists moved their practice to secluded areas. Deep in the woods or on private property with a huge fence around it. The first so called nudist colonies.
It didn't take long of course until the word started to spread that there were naked people behind those fences. Groups of them. Men, women and also children. Given the strong link in most people's heads between nudity and sex, it isn't very difficult to imagine what they were thinking. What's going on behind those fences must be terribly terribly wrong. This idea disgusted many and unfortunately also attracted some with completely the wrong intentions.
The nudist community started to react strongly on those rumours by saying that sex is something that doesn't exist in a nudist community. That everything that could only be slightly considered sexual should be avoided by all means. While nudism was a taboo in the outside world, sex became a taboo in the nudist community.
Do nudists have sex?
Today, two decades into the 21st century, some of these taboos still remain. There are people who still can't believe that a group of naked people can be together without having sex. And many things that can be considered as sexual are still forbidden or very much frowned upon at nudist places. Some of these are universal and somewhat became part of the
nudist etiquette
. Erections for example are to be avoided or at least covered up. Women are asked to keep the distance between their legs at a decent level. Couples are not supposed to touch each other's genitals or breasts.
Some nudists clubs or resorts are even going a step further and disapprove on the general touching of each other, commenting on each other's bodies or talking about sex. But those are becoming less and less.
Do you still have nudity and sex disconnected in your head?
Then you probably see that this
nudist etiquette
is actually nothing different than the textile world. Men who get an erection at any beach will probably also try to hide it from the others. Women in bathing suits won't relax next to the local swimming pool with their legs wide open. And few will start massaging their partner's privates when they're at the bar of the Marriott or the Hilton.
Everywhere in this world, we're keeping our sexual activities behind closed doors. That's exactly the same at nudist places. Of course nudists also have sex. In their rooms, just like everyone else.
Don't nudists ever get attracted to other nudists?
We're going to ask you one more time: Do you still have nudity and sex unlinked?
Great, then we can reply to this question without you going all "See! I knew there was something!".
Of course nudists get attracted to other nudists. It would be very unnatural if it wasn't so. But the interesting thing is that this attraction has nothing to do with the nudity. We would also be attracted to that person if he or she was wearing a bathing suit. Or was dressed like an eskimo.
It's also not because all of us happen to be naked that we suddenly loose control over our animal urges and start jumping each other right there and then. Relationships are formed at nudist places but just like everywhere else they most often start with a good conversation or dinner and a movie and what happens next is nobody's business.
Nudism in an age of casual sex
This blog post was almost ready for publication when we stumbled upon a
great insight from the Meandering Naturist about nudism and sex
. This is the 21st century and casual sex has taken a prominent place in many people's lives. The newspapers now and then give you the statistics about how many decide to be "happy singles" these days. Where "happy" is certainly not a synonym for "without sex".
Today we even have apps that help us being sexually active singles. Although some couples who've met on Tinder eventually do get married, the platform is most often used for casual sex dates. This technology wasn't the beginning of casual sex though. Even before Tinder and Grinder and who knows which other apps, who has never heard silent screams coming from a bar toilet at two in the morning?
At nudist places, casual sex is almost completely linked to swinging. It should certainly be avoided and a quick hookup at your nudist club might have you banned for life. If we keep claiming that the topic of sex is exactly the same with or without nudity, where does this take us when it comes to casual sex?
Are nudists pretending to be holier than textiles by banning casual sex? If we keep pretending that this doesn't exist at nudist resorts and punish the ones who do cross the line, will we ever be able to break that old taboo of nudism and sex?
Naked Wanderings' Complete Guide for the First Time Nudist ebook

Do you still have questions about nudism or naturism?
Are you looking for even more tips and tricks?
Our ebook will be the perfect resource for you!

Learn More
---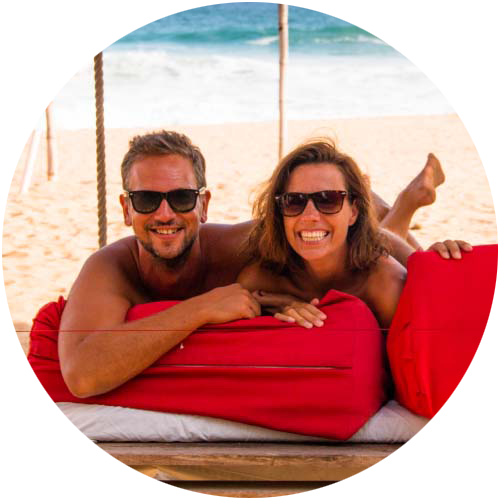 Support Naked Wanderings
Do you like what we do for naturism and naturists? Did we make you laugh or cry? Did we help you find the information you were looking for? Then definitely join our Patreon community!
---