After 4 years of Naked Wanderings, we like to think back to how it all started. How we had this crazy idea to quit our jobs and start traveling the world in search of naturist places. How we decided to be completely open about our naturist life and share every aspect of it on this blog and social media. How scary it was the first time that we appeared butt naked in a newspaper and not much later
on TV in the USA
.
We think about what has changed since then. How we have changed because of the people we met and the things we learned. How our perception of naturism has changed and on a larger scale, our perception of the world. We think about how we managed to already double the two years of traveling that we had initially in mind. And we're still
not planning to stop in the near future
.
Helping (aspiring) naturists
One question that keeps popping up in our minds is whether we've been able to make a difference. Naked Wanderings started from the idea that we wanted to show the world how great naturism really is, and to inspire others to give naturism a try. Because that's the thing with naturism: you have to try it to understand it. Actually, this is probably the same for every experience. You don't really know what it's like to dive, to bungee jump, to travel to places where you don't speak the language, or to eat at a three-star restaurant, before you've given it a shot.
You know that feeling when you're seeing something on TV and think "that looks cool, but it's probably not something for me". Those were the people we wanted to reach. We wanted to tell them that naturism IS something for them. That they should at least give it a try. It's not particularly hard and
doesn't need to be very expensive
. And the cliché comparison that we've meanwhile used in many interviews: "Naturism is not like getting a tattoo on your face, if you don't like it, you just put your clothes back on and you're not a naturist anymore".
Anyway, it worked. We have a folder on our hard drive with screenshots of messages from people who thank us because we've helped them taking the first steps into naturism. Or who found their new favorite naturist resort thanks to us. Or who finally dared to introduce a friend or partner thanks to our writings. Yes, we are that vain that we keep those things. They will remember us why we do what we do if we ever lose track.
Making a big difference, like really big!
Did we make a difference? We like to believe that we did. On a small scale, at least. When we wrote
our book in Dutch: Alles Uit!
, we said that if this book would convince one person to not run away when they see a nude beach sign, but think "Hey, I read about this in that – very cool – book, maybe I should give this a try", then all the work would have been worth it. We meanwhile received several messages from people who tried naturism thanks to our book. Mission successfully completed.
But, of course, we also like to look at the bigger picture. If we could set a goal for Naked Wanderings, without having to think about time, resources, or any other restrictions, what would it be? Normalizing (non-sexual) nudity. Simple as that. Make the world see that a naked body is nothing more than a naked body. Just like you have one and everyone else who does or does not read this blog post.
How do we measure the normalization of nudity?
If we want to achieve something, we need a way to measure success. Will more naturist resorts or nude beaches prove that it works? We would definitely like it if that happens, but it wouldn't take away the "us and them" aspect. There would still be places for naked people and other places for clothed people. You can't really call that normalization.
How about changing the law so that we are allowed to be naked everywhere we want? Some people would definitely love this, but those are fewer than you'd think. In Spain, nudity is legally allowed on every beach. Yet, we've only seen naked people on designated nude beaches. In cities like New York and Toronto, women can legally be top-free everywhere. How many topless women have you already seen on 5th Avenue?
The only solution would be to change the mindset of our society. To make sure that everyone (or, let's say, 90%) when they see a naked person just thinks "oh there's a naked person". Or better, not think anything at all and just continue with whatever they were doing.
What does a world where nudity is normal look like?
An important question that we need to ask is what does a world where nudity is normal look like? Does it start with a big bonfire where all clothes in the world are ritually burned? Will the police give you a fine when you're dressed outside and it's over 20°C? Will people gawk at you or call you a pervert if you're wearing clothes on the streets? Will your colleagues think that you're weird when you're not naked in the office?
For us personally, a world where nudity is normalized is a world where bathing suits just stop existing. Because let's be honest, those don't have any purpose other than covering your bits that are not supposed to be seen. When it's perfectly fine that they are seen, the bathing suit would disappear.
This means that it would be normal to be naked in every place where people wear bathing suits these days. In the local pool, on the beach, in the park, in your car, on the streets,… In the shop, someone might look at you and think "that's not really appropriate", but there it would stop. But you won't have to get naked if you don't want to. If you want to wear an Armani suit on the beach, fine. someone might look at you though and think "that's not really appropriate".
So what is the next step?
Did we just write a 1000-word introduction to promote clothing-optional again? It wasn't our initial intention, but it seems like this ramble is definitely going in that direction. What's wrong with the world today is the growing polarization. We're seeing things very black or white, while pretty much everything is grey.
We need to learn that it's not because we believe that our ideals are good, that the opposite ideals are by default bad. We need to learn to respect people's choices, whether we agree with them or not. And that is – watch out, here it comes… – exactly what clothing-optional is about. It's about respecting people's choices. You want to be naked and I don't. Fine. Whatever. If this puts us in a situation where both of us are happy, it's pretty perfect. And if the whole world would think like this, we've probably normalized nudity.
---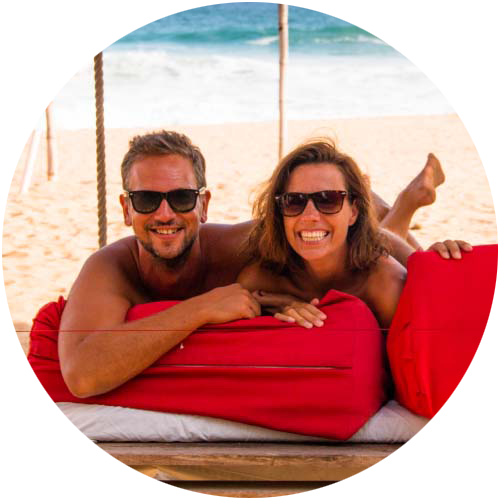 Support Naked Wanderings
Do you like what we do for naturism and naturists? Did we make you laugh or cry? Did we help you find the information you were looking for? Then definitely join our Patreon community!
---