Guys, here's a nice experiment for your next Friday evening in the bar: Suddenly shove a picture of a full frontal nude picture of a woman under the eyes of the guy next to you. Well, you don't actually have to try it, we all know what's going to happen. Some will tell you about how they'll go through the Kamasutra with her, some will pretend they didn't see it and others will start giggling like a little girl.
Now try the same with a full frontal nude picture of a man…
In some cases the sexual comments may remain but the chances on some swear words or a black eye suddenly rise.
Why is that? It's just a naked body.
"Oh men", our female readers will sigh when they read this, but we encourage you to perform the same experiment on your next girls night. The naked man may receive some comments on his shape and size but the red cheeks will be there as well. When the naked woman appears, depending on her body shape she may be either brave, a slut or a show off.
The shock effect of frontal nudity
We are not used to see full frontal nudity in our daily life. As naturists we have seen thousands of naked bodies but only on moments and in places where we expected them. In the sauna, on the nude beach or during our
last nakation in Greece
. But we'd also look twice if we saw a naked person in front of us at the grocery store.
Porn addicts watch naked people in compromising situations for hours a day and yet they'll immediately click away the pop-up of the half naked woman when they try to download the latest Tarantino movie.
Seeing the obvious in moments when it's not that obvious suddenly makes it all a bit strange.
In the past, this was exactly how naturism was promoted. We all remember the human interest programs in the eighties where a couple of naturists were shown full frontal naked while telling the world that naturists are just like everyone else.
Seriously?
The average naturist we know (and we've met quite a few along the way) doesn't have the slightest intention to be broadcasted in their birthday suit for the whole country. Yes, they feel confident about their bodies, yes, they like to be naked, no, they don't have a problem with being seen naked, but they feel no need at all to showcase their bodies for the whole world.
Types of nudism and naturism
Someone once told us that "there are as many types of naturism as there are naturists".
Of course there are naturists who, if they were allowed, would be naked wherever and whenever they can. They would go naked to the bakery, they would go naked to work, they would appear naked at their causin's wedding (note that we said "appear", not after 2.5 bottles of wine) and they would have no issues with being naked on TV.
These are the naturists who others, less familiar with the lifestyle, see as the examples. But they are the extremes.
Have you ever noticed that Lewis Hamilton (for those of you who don't know him, first of all: shame on you! And secondly: 4 times world champion Formula 1) was never used in an advertisement for a driving school?
"Drive like Lewis"… Not the best slogan, right?
People have lots of reasons why they want to learn how to drive a car. Some got tired to ride their bicycles through the rain, some were driven crazy by the millionth time their train was cancelled, for some it's convenience, for some it's prestige but very few have the intention to drive like Lewis. Equally, very few naturists have the intention to let it all hang out for the whole world to see.
And that's perfectly fine.
The average nudist doesn't appear on TV, they go to the sauna, to the naturist resort, to the campground or to the club. They spend some time of their life in the nude, enjoying it very much, have great conversations, have dinners, volleyball games, massages, hikes, whatever without pants on, but there it stops.
You're not a real nudist if you don't go frontal nude online!
You have no idea how many conversations on our
Twitter
,
Facebook
or
Instagram
somehow lead to the question "please send me a naked picture".
Our standard reply is: "have a look at our
Instagram account
, it's full of naked pictures". And then they answer "yes, but I want to see boobs/penis/pussy". When we decline, they try to tell us that if we are real nudists, we would send them such a picture.
Of course, we all know that there are a lot of sad weirdoes on social media, but sometimes we get this kind of responses from an unexpected angle.
Some time ago we agreed with
H&E magazine
(the leading naturist magazine in the UK) to tell our story for their next edition, with some pictures. We've sent them the story of Naked Wanderings including several pictures similar to those on
Instagram.
We got a reply that they preferred "uncensored" pictures.
Since our pictures are never censored with black squares or smilies, we understood that they wanted boobs/penis/pussy. When we told them that this is not the way we roll, they replied that this is what their readers expect…
IMPORTANT NOTE ADDED: H&E did publish the Naked Wanderings article with our originally suggested photos.
At Naked Wanderings we have a certain style, you've probably noticed this if you've been following us for a while. We promote all kinds of nudism and we believe that you can appreciate the lifestyle in whichever way you prefer. We are not the kind of nudists you'll see on TV (well, actually we
did appear on TV
, but heads only) and we're just fine with that. Nudism is something for everybody, whether you go to the club every day, go to a resort once in a while or just spend two weeks of yearly holidays at a
Greek nude beach
.
Our experiences of naturism may differ, but we all share the same values.
Naked Wanderings' Complete Guide for the First Time Nudist ebook

Do you still have questions about nudism or naturism?
Are you looking for even more tips and tricks?
Our ebook will be the perfect resource for you!

Learn More
---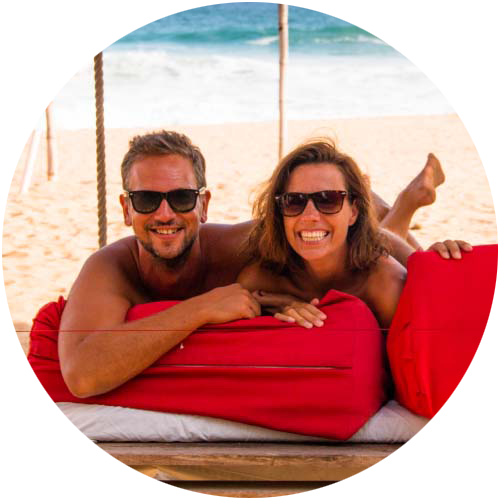 Support Naked Wanderings
Do you like what we do for naturism and naturists? Did we make you laugh or cry? Did we help you find the information you were looking for? Then definitely join our Patreon community!
---