It's often said that a first vacation together is a great test for young couples. Even if you already moved in together, you probably still spend a lot of time not together. At your job, hobbies, or with friends. But once you hit the road, you suddenly become like siamese twins. 24 hours per day in each other's proximity. Some of that even in very confined spaces like hotel rooms and cars. It's often said that this is how you really get to know each other.
Of course, this isn't 100% true. In the end, a vacation is nothing like everyday life. You're likely to have much less stress, much fewer chores to do, no long days at the office and you're seeing these great sights and doing cool activities in a very short period of time. But what if this lifestyle becomes your life?
Our big sabbatical
We have been blessed with a common urge for exploration. After only being together for a couple of months, and definitely not living together yet, we went for a week to Iceland. Half a year later, for a month to Malaysia. During the following years, many more exotic places would follow. We got bitten by the travel bug. When we were not actually traveling, we were thinking about where our next journey would go to. And saving money to get it started as soon as possible.
After college, we had basically rolled directly into jobs and into the rat race, and by the time that we reached our late twenties, the idea that "this will be what our life will look like for the next several decades" became too suffocating. We needed some time to breathe. We took a gap year. For exactly one year, we would travel from the very southern tip of Argentina all the way to Venezuela in the north of South America. Without taking a plane.
This is a completely different concept than a couple of weeks away. Just the idea of boarding a flight to the other side of the world without having a return ticket might be stressful to some, but for us, it was extremely liberating. The world was our oyster, and we would enjoy every single bit of it.
When living together becomes "Living together"
The first month or two were not such a huge success, as one of us preferred good nights sleep and early mornings to get the most out of our destinations, while the other half got a taste of enjoying the "hostel life" (aka sleep all day, party all night). We'll leave in the middle who was who.
This is when we learned that compromising would be key. If we wanted to do this together, we needed to find a balance. Obviously, we did. And what at first seemed like an attack on our full individual experience, appeared to give us eventually a broader perspective, now that we were enjoying the best of two worlds. Giving and taking are important in every relationship, but a lot more when you're constantly together.
Also on an emotional level, you spend all the good times together, but also the not-so-good times. The times of being homesick, the times of food poisoning, and those when you wonder "what on earth am I doing here?". It's shared joy and shared suffering. We get that this can drive people away from each other, but we found that it only brought us closer. Luckily, because there would be more of this pretty soon.
Endless travels: Naked Wanderings
When we got back to Belgium, we had difficulties joining the rat race once again. We had seen what other amazing things we could be doing instead of spending our days in an office. We had taken a bite from the forbidden fruit. But the downside of the story was that we were pretty much broke.
We tried to get enough positive energy from our friends, family, and hobbies. We rolled more and more into naturism. We still traveled several times a year for short vacations, but we knew that this was not the life that we wanted. We wanted to get back on the road. Long story short: We saved a lot of money, decided that naturism would be an amazing goal for this new trip, started Naked Wanderings, left our jobs once again, and started our search for naturist destinations around the world.
Naturist traveling as a couple
We had been naturists for almost a decade when we started this journey and had visited many naturist venues together before. So, for us, whether we were in naturist places or anywhere else, that didn't make that much of a difference. But we know that a first naturist vacation as a couple can put some pressure on a relationship, so we would like to elaborate on this.
There are two main reasons why a naturist vacation can go wrong: jealousy and pressure. If you feel threatened when your partner sees other people naked (or they see him or her)… well… you understand the difficulty. The best thing that you can do is just be open and honest about this with your partner. Say where your limits are and how you feel at the moment. We have also noticed that naturist vacations can actually help against jealousy.
Pressure is the other difficulty
. Or better: expectation. Make sure that your expectations are in line. If one of you only likes to sunbathe nude and the other one wants to naked as much as possible, it's not a problem. It only becomes a problem when you expect the same from the other.
But the naturist part wasn't much of a struggle for us. On the contrary, we strongly believe that adding the naturist aspect to this journey has actually improved our experience a lot.
Working as a couple
Naked Wanderings grew much quicker than we ever expected and soon we realized that if we took this seriously, it could have a lot of potentials. But that meant that we had to treat it like a company. After being lovers and travel companions, we now became colleagues. A new road in our lives that would come with the necessary potholes.
It wasn't too hard to determine who would do which part of Naked Wanderings, the hardest part was to make sure that both sides didn't each go in their own direction. That everything fit together in the end. That all visions were explored, all ideas taken into account, and all wishes fulfilled.
Also here, compromising would be the answer. And it's the only reason why, after all these years, we're still doing this, and still doing this together.
---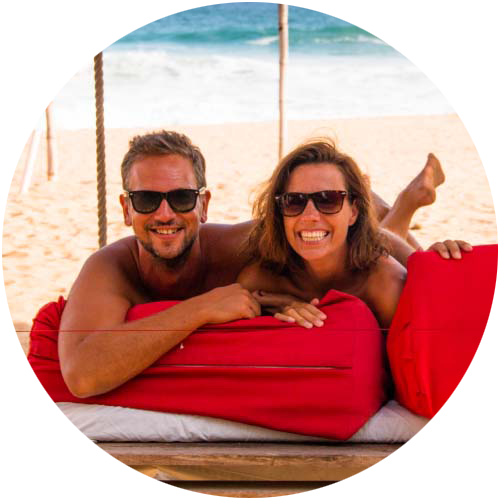 Support Naked Wanderings
Do you like what we do for naturism and naturists? Did we make you laugh or cry? Did we help you find the information you were looking for? Then definitely join our Patreon community!
---