We are nudists. Or naturists if you will. Or just people who enjoy being nude outside of the bedroom and bathroom. Alone or in the presence of others. And this habit of ours has absolutely nothing to do with sex or some kind of fetish. We just enjoy being nude.
This is how we often describe our lifestyle to others who don't know anything about it. We don't really care about how they call us (unless it's "creeps" or "pervs") and we don't really like to use one specific term for our clothing-less habits either. We'd like you to respect that. Because if there's one thing on which our lifestyle is 100% reliant, it is respect. The reason why we can spend time nude in all comfort, around a bunch of other people, is because we know that nobody will make a remark on how we look.
This is very
liberating
. Feeling comfortable while being completely exposed. Finding strength in our vulnerabilities. Being able to see full nudity without sexual desire. That's because we consider nudity as something normal. For us, a bit of fat is not different than a bit of muscle. A scar is, just like a tattoo, a story written on your body. A breast, penis or vagina are nothing more or less than any other body part.
But is that really true?
Is it ok for nudists to sell their nude pictures?
A couple of weeks ago, we published a blog post asking the question of
whether we can justify nudists who sell their nude pictures online
. Most of that blog post was about the struggles of earning money as a nudist influencer in an anti-nudity world, but yet we received some very interesting responses. So we'd like to tackle that topic again. Why should a nudist never sell nude pictures? Why shouldn't this be any problem at all? Can the selling of nude pictures be anywhere related to nudism at all?
We talked about how nudist influencers try to earn some lunch money by selling "uncensored" content via websites like Patreon. Most of you agreed with our conclusion: Being an influencer comes with a responsibility. Our goal is to show the world what social nudity is all about. Since that world is often already very much confused about how nudity and sex are for us not linked together, the last thing we want is to confuse them even more. We can't just give the speeches about how wonderful and non-sexual nudism is and then ask money if they want to see our funny bits.
Wait a minute. What funny bits?
Didn't we mention earlier that for us, a vagina or penis isn't any different than a nose, an elbow or a toe? Are we admitting now that sudden body parts do have a different connotation than others?
Can we use our strength to exploit the textile world?
We probably all agree that as nudists, we wouldn't buy pictures of other nudists. Why would we do that? We get to see nude people all the time. It's like trying to sell a picture of a burger to the kid that works at Mc Donalds. Yet, nudist pictures do sell. So who buys them? Textiles do. Because for them, pure nudity is still very much linked to sexual pleasure and thus nudist pictures are worth something.
As nudist influencers, the last thing we want is to confuse the textile. We want to educate them. So we're not going to mess with their minds by making them pay for pictures that give them sexual pleasure. That's not what nudists do.
But what with the non-influencer? What with the nudist who doesn't have a blog, Facebook page, Instagram feed or YouTube channel? What with the nudist who doesn't promote nudism at all? Is there anything wrong with them selling their nudity?
On one hand, we could say that this is basically selling your body. It leans towards being a Playboy Bunny. On the other hand, if we do believe in "body part-equality", so to speak, why should it make a difference? If we would be able to make a living by selling pictures of our nose or fingers, would anyone NOT do it?
Dick pics and other people's nude wives
Talking about selling pictures, we are planning to publish a book soon called "Penises from around the world". Just kidding, but if we had actually saved all the dick pics that we received in recent years, we're pretty sure that we could make a whole encyclopedia with all possible shapes, sizes and colors. The sequel would be called "Pictures of my wife (that's not really my wife)".
We always wonder, what do those people expect from us? Keeping in mind that as nudists, we've seen quite a lot of penises already. And other people's nude spouses as well. Do they want to shock us? (Oh No! A picture of a penis! The horror!) Do they want us to congratulate them? (Wow, that's the largest penis we've seen in the last 25 minutes) Or maybe they want us to shock them? (Dude, that's definitely gonorrhea, go see a doctor quick!)
We have to admit, when we wake up in the morning with another two dick pics in our inbox, we do get pretty disturbed. Not as much anymore as we used to, but still, we find it annoying. But why? You can probably guess where this is leading. If they would send us a picture of their left eye, would it bother us as well? We'd think it's pretty awkward, yes, but it wouldn't disturb us as much as a picture of a penis.
Do we really consider nudity non-sexual?
The reason why we're not selling uncensored content of ourselves and why we still get annoyed when we receive headless nude pictures is the idea behind it. The fact that we do consider every body part by default non-sexual only works within a nudist environment. There's the respect from our introduction again. In a nudist environment, we can expose ourselves to others without having to fear sexual remarks on how we look. Or without having to fear that some guy will flash his penis in our face to get sexual satisfaction. Well, those things might happen at nude beaches, but not by nudists who agree with our definition of the lifestyle.
In the outside world, we know that the large majority still links nudity to sex. And we know that the people who buy nudist pictures or videos rarely do so to enjoy the beauty of nudism in its most genuine way. So to answer our own question in the title: No, we don't always consider nudity normal. We've been comfortably nude among others many times, often even when everyone else was dressed. But only at places where nudity is accepted and respected. Outside of those safe places we know that our nude bodies would be objectified.
During our lives as nudists, we've been through many phases. We had to learn to feel comfortable being nude and we had to learn to feel comfortable being among nude strangers. From
volunteering at a clothing-optional camping
, we learned to feel comfortable nude when others are clothed. At nude beaches, we learned not to give a damn about the guy looking at us from the dunes. Will this be the next phase? Feeling comfortable nude in front of others who don't know what nudism is about or respect our nude body for what it is?
Time will tell.
---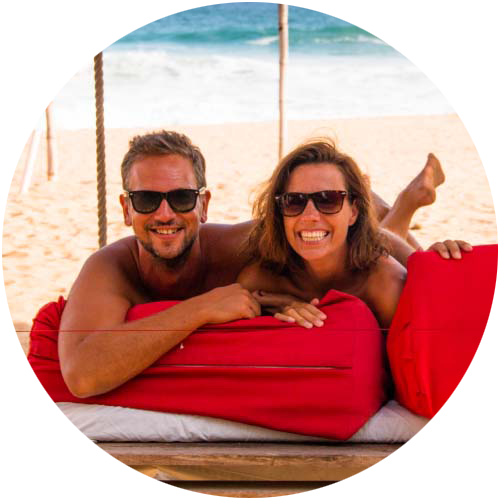 Support Naked Wanderings
Do you like what we do for naturism and naturists? Did we make you laugh or cry? Did we help you find the information you were looking for? Then definitely join our Patreon community!
---