While certain changes of plans are not uncommon when you're living a traveling life like ours, the last 15 months have been by far the strangest ones of our lives. Absolutely nothing went according to plan. We had to escape Cuba just hours before the island would close its borders, then we got stuck in Mexico for three months, then things got a bit better and we went on a
camping trip through France
, but by the time it was over, the virus took the upper hand again and new lockdowns appeared everywhere around us.
Just before Belgium would implement a complete travel ban, we managed to flee to Spain. We arrived in Alicante and hoped to travel south from there, maybe even all the way into Portugal. But the Spanish government decided otherwise and closed the provinces. Today, we are still at less than 50 kilometers from the airport where we arrived almost 6 months ago. North of it, in fact. The only time when we went south of the city was to
celebrate Nick's birthday at Finca Pura B&B
.
Never waste a good crisis
When your whole life plan is based on the idea of traveling from one place to another, it's quite a shock when that suddenly stops. We were like "now what?". How can we keep holding on to our quest to travel to naturist places around the world and talk about them online, when there are no places to go to anymore?
Well, that is not exactly true. There have always been options. We could have boarded a plane back to Mexico, or to a handful of other countries that still allowed travelers. But that just didn't feel like the right thing to do. Instead, we started thinking about new ways to talk about naturism than blog posts and
Instagram pictures
.
We had been messing around with videos before, meaning that we merely created crappy slideshows of the pictures we took. Then, at the start of the pandemic, we launched the
Virtual Resort Visits
. When nobody could travel, we asked resort owners to show us around their place with a short video. Later, we gave birth to the
Nudist News Show
, where we talked about fun news facts that were related to naturism. And we started doing video podcasts with naturist resort owners, called the
Naturist Resort Sessions
, to learn about their experiences.
The Virtual Resort Visits were a huge success and on the Naturist Resort Sessions, we regularly received the remark that viewers had hoped to see a bit more of the resort. This made one thing very clear: There is an interest in videos about naturist destinations. This could be the next big step for Naked Wanderings. Next to writing about places and taking pictures, we could make videos as well. Welcome to the
Naked Wanderings Vlog
.
Naked Wanderings 2.0
Another issue we started struggling with was that it started to feel as if we were continuously telling the same stories to the same people. Along the way, we managed to gain many dedicated readers who enjoyed our naturist travel stories and our visions about naturism in general. But with traveling being reduced to little to none, so did our travel stories. And for the general naturist blogs, we more and more lacked inspiration and new insights.
We started wondering, if we would be long-time followers of Naked Wanderings, would these blog posts still be as appealing to us as they used to be? Back in the day, we started Naked Wanderings to provide the information that we personally, as young naturist travelers, couldn't find online. Today, it feels as if we are drifting away from that idea.
Of course, much of this has to do with the pandemic. If we can't travel, we can't share travel experiences. And when all of this is behind us, we will hopefully be able to start traveling again (in fact, we're already quite sure about it, but that is something for the next blog post). But it made us think about the concept of "the traveling naturist". We are not the kind of traveler who lays naked next to the pool all day. We love spending time at naturist places and nude beaches, but we also like to absorb cultures, try the local cuisine, enjoy art and nature. Even if that requires us to put some pants on.
On our blog, it would be ridiculous if we would start publishing blog posts about the best things to eat in Rio de Janeiro, the historical treasures of Florence, or our favorite temples in Bangkok. But we do see this opportunity with video. In our
video about Villajoyosa
, for example, we take you to the nude beach but also to the colorful town and introduce you to the local – very delicious – seafood. And we feel that this is exactly what the younger versions of ourselves would have appreciated as well (and so would the current and probably future versions too).
Connecting the dots
Naturist destinations aren't the only important thing though. The main reason why we are still on this journey is that we believe that we haven't experienced every possible aspect of naturism yet. When we started in 2017, we had this European idea that naturism is better than nudism and that naturists only camp. Because of our travels, we've seen so many different angles of this story. We've talked with so many people who showed us that things can be different than how we think they are. And that they are equally amazing.
This will remain to be an important red line of Naked Wanderings: How naturism is experienced around the world. It will be more difficult with video, many naturists don't mind if we write down their story and publish it under a possible fake name, but appearing on camera is a whole other thing. We'll see how that works out.
And we also want to explore the other things naturists care about. In our recent blog post about
whether naturism could become a trend
, we mentioned the connections with many other aspects in life like mindfulness, eco-awareness, and sustainability. We would like to move away from just the being naked thing and get a grasp of the whole possible concept.
Your Naked Wanderings
The scariest part of it all is that, even though we may think that we have amazing new ideas, it all depends on you. If you think that our newly gained visions are pure baloney, we'll end up talking to a big black hole in the world wide web. And we, obviously, don't really want that.
So we would appreciate it if you'd share your thoughts in the comment section of this blog post. Do you think that Naked Wanderings 2.0 is a good idea? Do you think that we should just be doing what we've done all this time? Do you think that video is the best or worst idea ever? Should we focus on naked places and nothing else or should we expand our vision? Do we really need to care about what other naturists think or just promote our own ideas?
We are not Naked Wanderings, we are just Nick and Lins. Everyone who has been inspired by our writings in any possible way is part of Naked Wanderings. So your opinion is as valuable as – if not more than – ours.
---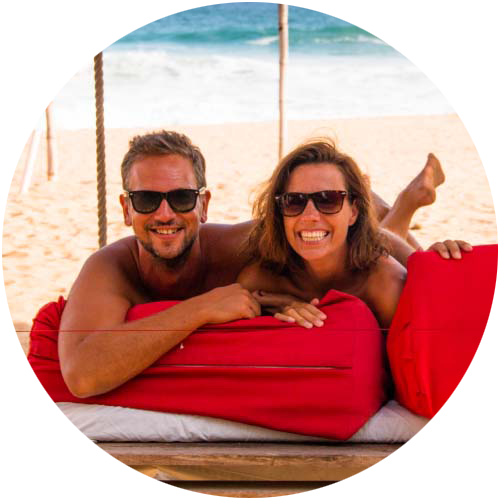 Support Naked Wanderings
Do you like what we do for naturism and naturists? Did we make you laugh or cry? Did we help you find the information you were looking for? Then definitely join our Patreon community!
---