Toen we met Naked Wanderings begonnen, hadden we nauwelijks een idee wat het betekende om "bloggers" te zijn. We waren gewoon graag bloot, we ontdekten al die leuke plekken voor naturisten, vol met mensen die onze mening deelden en wilden deze leuke blote levensstijl met zoveel mogelijk anderen delen.
We hadden nooit durven denken of dromen dat iets meer dan een jaar later we een effectief boek zouden schrijven. Een ECHT boek! Eentje van papier, met verhalen en foto's en zo. Hoe fantastisch is dat?
Waarover gaat Alles Uit! ?
Ons doel was om niet nog maar eens een traditionele bijbel voor naturisten te schrijven. Met Alles Uit! wilden we vertellen over naturisme in onze eigen woorden. Ons eigen verhaal. Over hoe we meer dan 10 jaar geleden die bange eerste stapjes in de blote sauna zetten. Hoe we de eerste keer op een naturistencamping terecht kwamen. Hoe we onszelf overtuigden dat het niet gek, raar of vies was wat we deden, maar eigenlijk heel mooi en leuk.
En natuurlijk vertellen we ook over Naked Wanderings. Over hoe we op het idee kwamen om ontslag te nemen op het werk, onze vrienden en familie vaarwel te zeggen en om aan een reis rond de wereld te beginnen. Op zoek naar plekken waar wij bloot konden zijn en waar we zo veel prachtige mensen ontmoetten.
De rode draad van Alles Uit! is het naturisme door onze eigen ogen. Maar ook door de duizenden ogen van iedereen die ons inspireerde. Het is een fysieke en mentale reis door een wereld zonder kleren. Ga je mee?
---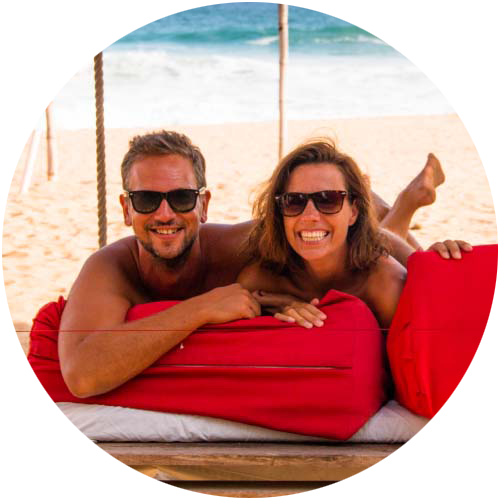 Support Naked Wanderings
Do you like what we do for naturism and naturists? Did we make you laugh or cry? Did we help you find the information you were looking for? Then definitely join our Patreon community!
---