Are you a naturist or a nudist? Or something else?
This question is a very common topic in naturist communities, especially online ones. Until about five years ago, we would have told you that we are naturists. No doubt. Because where we come from, if you can come up with any other reason to enjoy being naked except for just the sake of it, you are a naturist.
In fact, to us, the term "nudist" has always had a bit of an undertone. Naturism was defined as more than just being naked. It was about respect and about enjoying your surroundings to the fullest. Whereas nudism leaned more toward exhibitionism. If you prefer to call yourself a nudist instead of a naturist, this must mean that you don't agree with the principles of naturism. And if that is the case, we probably won't agree with your reasons to get naked. Right? It wouldn't take very long until we've learned that it's not that simple.
View this post on Instagram
Freikörperkultur
We were about 2 days into our big Naked Wanderings journey when we already stumbled upon a new term. We were searching for the naked part of a beach on the Croatian coastline, but there were no signs mentioning anything like "nudist", "naturist", or even "nude beach". Instead, we found the cryptical term "FKK". Honestly, we had no idea what that meant and used Google Maps instead to figure out the appropriate place to take off our clothes.
Only later, we would learn that FKK is short for Freikörperkultur, which is German for Free Body Culture. It's the most commonly used term in German-speaking countries to describe a non-sexual nude lifestyle. We were a bit stuck with this. The "free body" part says nothing about respect or nature, but only about freeing your body. So it leans a bit towards nudism. But it's a culture, so it's more than just being naked for the sake of it, which then made us think of naturism again. Where do we put FKK on our (pretty limited) spectrum of social nudity? Is it a term that we would like to adopt, or rather not use?
We hadn't much time to think about this. We figured out that
Croatia
uses the term FKK because of the many Germans that visit the Croatian nude beaches in the summer. Once we left the country, towards southern Europe and soon after to
Thailand
and
Bali
, naturism became the norm again. Until we crossed another ocean.
View this post on Instagram
Nudists in the USA
Once we arrived in the
USA
, everyone started calling us nudists. We didn't really like that. We had our reasons for getting naked and the naturist philosophy was meanwhile flowing strongly through our veins. That is until someone explained the difference in that part of the world. In fact, the way she described "nudism", was basically how we saw "naturism", as a way of living based on respect. Naturism, on the other hand, was explained to us as something way deeper than how we experienced it. Basically leaning toward living in the woods and hugging trees.
We were confused. Not in the likes of an identity crisis, but mostly because over the last year our blog had been growing fastly and we had both a large American and European audience. Which term did we want to use? Do we keep using naturism and have the Americans think that we are barefoot treehuggers? Or do we switch to nudism and risk that the Europeans will think that we're just naked for the sake of it?
View this post on Instagram
Nude recreation and lifestyle
The largest organization for nudists (or naturists?) in the USA is
AANR
, short for The American Association for Nude Recreation. Nude recreation, another term that we had never heard before, but one that we particularly started to like. When people ask us what naturists actually do, we often explained that we basically do the same things as everyone else, except that we like to do some of those things without clothes. "Nude recreation" kinda summarizes this. We recreate in the nude.
But the Americans also have their ways to make things complicated. We often talk about naturism as a way of living or a lifestyle. We say things like "our naturist lifestyle". Or when it's really obvious that we're talking about naturism, we cut that down to just "our lifestyle". We had noticed some frowns when we said this, but we just figured that it probably just wasn't an American thing to talk about naturism/nudism as a lifestyle. For us it was, so we just kept doing this.
Until someone said to us "Dude" (this happened in California) "you got to stop talking about lifestyle, everyone will think that you're swingers". We were like "Dude" (we easily pick up words) "what's that supposed to mean?". Then they explained to us that the word "lifestyle" was a term the swingers used because they don't want to talk about swinging. We thought about how many times we had ignorantly talked about "our lifestyle" and realized that we might have sent out many wrong messages.
View this post on Instagram
What about nothing at all?
Another interesting thing happened when we were in the States, more particularly while taking a
nude yoga class
in Manhattan, New York. Our yogi was in her late twenties, early thirties and seemed super confident in her nude body. So we asked how long she had been a nudist, thinking that she was probably raised in a nudist family. Her reply was: "Oh no, I'm not a nudist. I teach naked yoga and go to nude beaches, but I'm definitely not a nudist".
This blew our minds. From the first time we had visited a nude beach, we had considered ourselves naturists. And we figured that this is just how it goes. You try it, you like it, you become it. Apparently, that's not always the case. Later in our travels, we would meet many more people who enjoyed certain forms of social nudity but didn't identify with the term naturist or nudist. Or sometimes stronger, didn't want to identify with those terms.
Once again, we were confused. How do we integrate this into our blog? Should we just stop talking about naturists and nudists? We tried to introduce the term "nudie" but quickly figured out that this wasn't working. A lot of our blog visitors find us via Google, and nobody ever Googles the term nudie. So we decided to stick with "naturist" and "nudist".
View this post on Instagram
Naturism has already been taken
More and more, we started questioning the purpose of terminology. Instead of bringing people together, we felt like this was actually separating people. The scope of social nudity wasn't just divided anymore into naturists and nudists, but then there were also those who identify with nude recreation, with FKK, or with no terms at all. While we all believe in the same values, we also like to think that our term is better than the others.
We started to think that the terminology was kinda ridiculous, and proof of this came very soon, once we started traveling through Latin America. The Brazilians also use the term "naturism", while all the other Latin American countries use the term "nudism"? At first, we figured that it must have something to do with influence from the USA. But the answer was much more obvious.
Naturism/nudism/social nudity is still quite a young movement in Latin America, and by the time it finally got a foot on the ground, the term "naturismo" was already taken by the health industry. In most Latin American cities, you can find naturist shops on every street corner. But don't expect to find sarongs, nor to be allowed to shop naked. This only happened in Spanish-speaking countries, which explains why naturists in Brazil (where they speak Portuguese) could still claim the term "naturismo".
View this post on Instagram
What's in a name?
When we were in
Vera Playa
, a couple of months ago, a Dutch lady started telling us why she is a naturist and did not want to be called a nudist. We understood what she was trying to explain, we had been thinking the same only several years ago. But now we knew better. For a brief moment, we considered telling her about all our experiences in Europe, Asia, and the Americas. But we didn't.
In the end, it's your choice. If you want to call yourself a naturist, nudist, or something else, or nothing at all. For some people, sticking to a certain term gives them a sense of belonging. And that is perfectly fine. But because of our experiences, the different terms have mostly lost their meaning. We don't want to call ourselves "nothing", because that feels so empty. Most likely, we're just a mix of everything.
---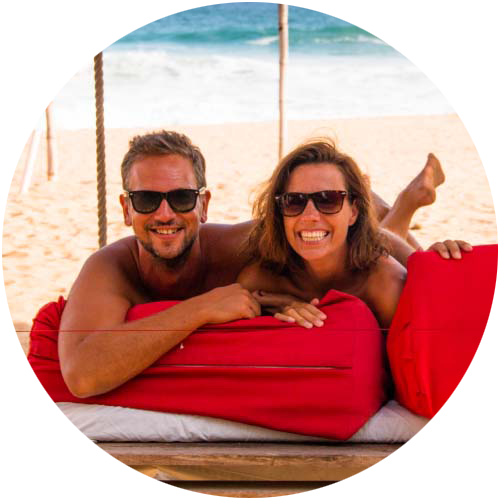 Support Naked Wanderings
Do you like what we do for naturism and naturists? Did we make you laugh or cry? Did we help you find the information you were looking for? Then definitely join our Patreon community!
---