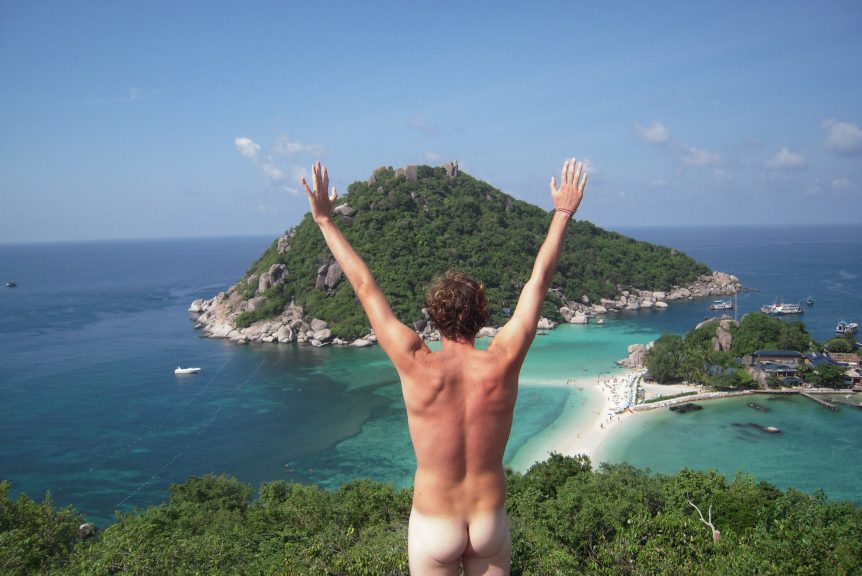 The ultimate nudist's bucket list
The ultimate nudist's bucket list
The time of new year's resolutions is already behind us, resolutions we've managed to fail to achieve within the first week. Well, that's how it goes every year.
Time to get back to what really matters, our bucket list!
If you check out other people's  bucket lists (one Google search will give you about 28 million examples) it's quite striking how many have added "visiting a nude beach" to their list. If everyone decides to do this in 2017, we urgently need more nude beaches!
It looks like people are not looking at nudism with aversion anymore, but rather with curiosity and excitement. It's something of which they hope to one day have the guts to give it a try.
And we all know… once you get a taste of the nudie life…
Of course, for us nudists, an afternoon on the nude beach is not really something to put on our bucket list. Luckily, there are many other options.
Naked yoga is slowly becoming a favourite hobby for nudists, but also non-nudists seem to see the advantages. With not a single fiber restricting you, you feel free and focused on your body.
Once in a while a clothing store gets the luminous idea to organise a nudie event, mostly because of the free publicity they get in return. The idea is that people arrive naked and leave clothed, receiving a nice discount on the clothes they were able to put on within a certain amount of time.
These events don't occur very often, so be on the outlook!
Spencer doesn't work with paid models but instead he always tries to get a group together via the internet and social media. Everyone can participate.
Of course you don't have to wait for an invitation from Spencer to become a subject in naked art. Why not get a naked photoshoot of yourself? Maybe with your partner or family.
Or why not become the subject of a painting? Many art classes are looking for nude models for their painting and drawing classes. If you're lucky, someone might even make a statue of you. How cool is that?
Here's a good testimony of first time nude model Tha Naked I.
Yes, you read it correctly: organise.
Certainly one of the coolest nude events on Earth. Literally, as you can join a naked bike ride in almost 150 cities all over the world.
What originally started as a protest ride against air pollution and for safety for cyclists has turned into a huge worldwide event. Still as a protest for the same reasons, but also promoting body-positivity, equality and public nudity.
We were not actually planning to include any sports in this list. Nude swimming or table tennis is for many of us rather a weekly activity than a life goal.
If you like it a bit more rough, naked rugby might be something for you. Honestly we doubt that the flexibility you gain by being naked outweighs the risk of getting punched in all the wrong places, but if you want to give it a shot, please let us know how it went.
Some photos of the New Zealand Nude Rugby Team can be found HERE.
Nude running is gaining a lot of popularity among nudists. It's a sport that can be practiced in any area (nude camp, nude beach,…), it's for every age and the only thing you might need are shoes.
It gained so much popularity that several nudist organisations and resorts started to organise nude races. The most popular series of races in the USA is The Nude Run 5K, but many places have their own race.
The internet told us that surfing is a sport that was meant to be practiced nude. There is some confusion about whether the first waves were ridden in Hawaii or Indonesia but on one thing all websites agree: There was no need for board shorts!
Many surfers still cherish their nudie past, so much that there's even a Nude Surf Day.
In Hawaii on the deserted beaches you may still encounter a nude surfer, but at the moment the most nude surfing is done in Australia, where even nude surfing events are organized.
If you prefer to be below the water surface, this is a perfect solution.
Both diving and nudism give a huge sense of freedom… Imagine the two combined…
One important side note here is that the purpose of the diving suit is not uniquely to hide your privates. It's also a protection against sun, rocks and mordacious animals. Just saying.
Now that we're talking about sports anyway, why not include them all?
Many nudist resorts organise yearly nude games in honour of the ancient Olympic Games where the participants were also naked.
Saunas can be found everywhere these days, some people even have one at home. So why bother putting this on our bucket list?
Well, we're talking about sauna the hard way, the rock 'n roll way, the Finnish way.
You'll be sweating like an animal in a small wood stove sauna in the woods of Finland. Outside temperature is about -20°C and there's more than half a meter snow. When your time is up, you run out of the sauna and make a snow angel. Or you jump into a freshly dug hole with ice water. That's sauna.
Finally there is a way to combine the comfort of traveling by cruise ship with the comfort of nudism. The nude cruise. Spend your days on the deck of a huge ship, having the occasional swim or margarita, completely naked. The only reason why you put on some clothes is for dinner or for an afternoon visit at Cartagena city.
Visiting a nudist resort has been checked on this list a long time ago. But Cap d'Agde in France is something different. It's the mother of all nudist resorts. It's a nudist village.
The history of Cap d'Agde is mostly based on rumours and legends. Are there really 40 000 visitors in the resort at peak season? Can you really buy anything without having clothes on? And what about the public sex stories?
There's only one way to find out.
The problem with this one is the definition of "long". What is long?
You can fill in whatever you think would be an accomplishment. 24 hours, a week, a month, forever?
In our case we would like to aim for a month. How great must it be to not having to wear any clothes for a whole month?
This takes the term "feeling the wind over your body" to a whole other level. How crazy must it be to jump naked out of an airplane, only carrying a backpack with your parachute. What an adrenaline rush must that be…
Many nudists have shown interest in bodypainting, and it's beautiful. Instead of wearing clothes and expressing something capitalist and anonymous, you're wearing art, which you saw being created on your body and which can't be bought.
What's a better way to get familiar with bodypainting than a real festival, right?
How would we tell our family?
Tip: You could also convince a friend into having a nude wedding. This way you get all the fun and stay out of the spotlights…