For almost two years we have been publishing two articles per week for nudists. Tips, tricks, stories,
Naturist Talks
and lots of reviews of all the nudist places we've visited.
Well, sorry to all our nudist friends, but we thought it was time for a change. This article is not for you. This one is for the textiles.
The idea was brought to us via an e-mail from one of our readers. Many nudists have textile friends and family and even though they know a little bit about the nude lifestyle, they know you like to be naked and they know that nudism is not about sex, sometimes it's still a bit awkward. Especially when they unexpectedly ring your doorbell and suddenly you're standing there butt naked in front of them.
Their cheeks turn red.
They have no idea where (or where not) to look.
They want to say something but the words are not coming. Or certainly not in the right order.
And you wonder… "I told her that I was a
nudist
, right?"
What were you supposed to do? It's your best friend for god's sake. Should you be putting on pants and a bra for your best friend?
Some time ago we already gave you
this basic guide for living with a nudie
that you could send around to all your friends, family and colleagues to explain in a nutshell what nudism is all about. Here's an addendum for the guide, which explains how THEY should behave.
So actually… This article is for you anyway.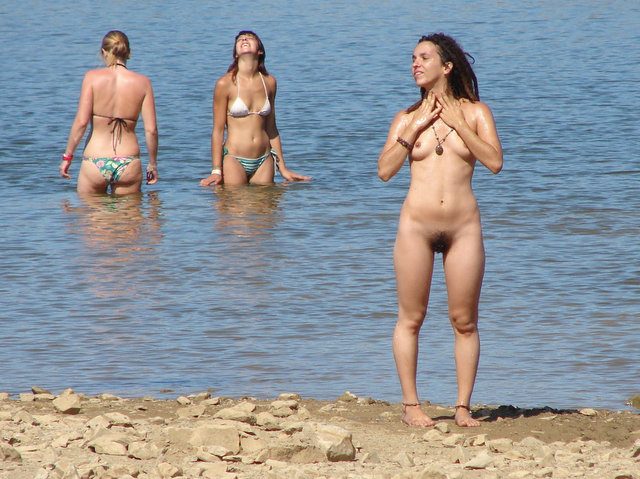 Textiles on the nude beach
Before we start talking about how to behave among
nudist friends
, there's something else we'd like to address first. During our travels and visits to nude beaches around the world, it occurred to us that many "textiles" (yes, that's how we call you in nudist jargon) have no idea what the sign "
Nude beach
" means.
Many think that the sign is put there for them, as a warning that they may encounter naked people. So they think "whatever, I don't mind seeing a butt or two when I'm on the beach". This is not true. Oh and by the way, it's certainly not an invitation like "Come over here to look at the naked people". A nude beach is not a zoo. Just saying.
That sign is actually put there for us, the nudists, to mark the part where we can be naked without having a policeman chasing our naked butt. The general consensus is that if you have no plans to get naked yourself or you're not joining a nudist friend, there's no reason for you to be here at all. Seriously, there are thousands of kilometers of beaches where we are not allowed to be naked, why don't you go to any of those? It's not because we have anything against you, it's not that we are a hateful movement against clothes, it's just that we sometimes feel uncomfortable in your presence.
Here's another
misconception about nudists
: Not everyone of us feels completely comfortable naked all the time. Being naked makes us vulnerable, all the artificial layers fall off. Which is one of the reasons why we actually like being naked and this does give us a
sense of freedom
but only when everyone else is equally vulnerable (read: naked). When textiles come around, the balance changes. You can see all our curves and flaws and whatever while yours are nicely hidden behind your clothes. That makes some of us feel uncomfortable. Typically the beginning nudist does not appreciate this, but some of us don't feel comfortable around textiles for their whole nudie life.
Others, like ourselves, have meanwhile moved on and don't care anymore what everyone else is wearing, as long as we can be naked ourselves. And then the roles are sometimes turned around.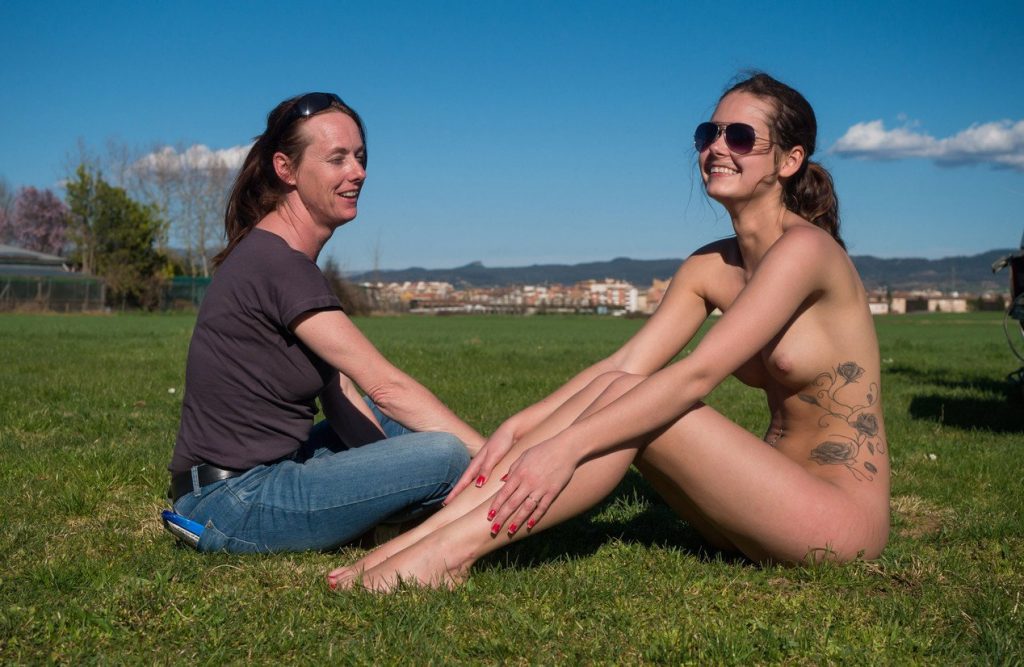 Your nudist friends
If you have a nudist friend and he or she is not comfortable being naked among the clothed, you will normally rarely see them naked. When you ring the doorbell, they'll make sure to put on some clothes before opening the door. But as we said before, some of us just don't care and that might put you in an uncomfortable situation.
You're driving home from work, there's traffic jam and you think "well, I could also pay Bill a visit. It's been a long time".
Although Bill has never made it a secret that he likes to spend his Sundays at the nude beach, this is not exactly the first thing that comes to mind when you think of him. But suddenly there he is, opening his door in all his glory. Why does he do that? What do you do?
First of all, it's Bills house and you can't really expect from him to wear anything else than what he prefers to wear. You have to understand that Bill does not want to shock you and that he certainly doesn't expect from you to drop your pants as well. For Bill, his birthday suit is like his pyjamas or training pants.
The feeling of discomfort you may experience comes from the idea that nudity is something that's supposed to be hidden. If Bill hadn't been a nudist and you had accidentally walked up to him in the shower, both of you would have red cheeks. Now it's not so accidentally, at least not for Bill, so the only red cheeks are yours. And they're certainly not necessary. Bill doesn't care.
But there you stand, looking at the tips of your shoes saying something like "Hey… ehm… Bill. Pretty hot today, right?"
The fact that Bill opened the door naked means that he's comfortable with you seeing him naked. So no need to keep your eyes down. But your eyes might be distracted towards the parts of Bill that you've never seen before. That's completely normal and Bill knows that too. Just try not to stare too much at what's hanging down there, then it will become really awkward.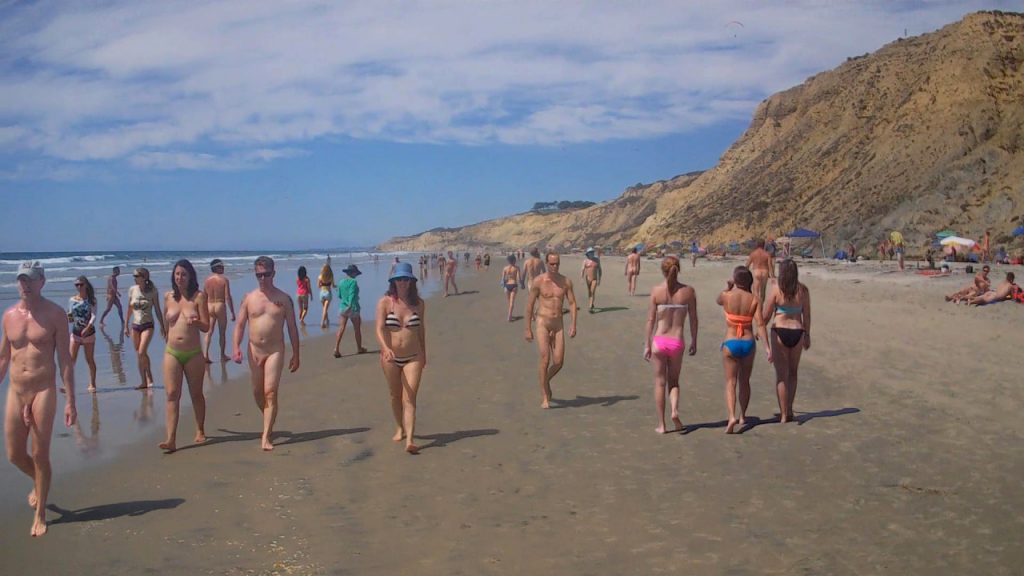 Clothing optional might be the solution
We've said it before but we want to mention it again, by being naked Bill isn't expecting you to get naked as well. We're pretty sure that he'd love it if you'd decide to undress too but it's certainly not the purpose of his nudity. Bill is naked because he likes to be naked. He trusts you and has no issues with you seeing him naked.
When the first shock passes away, another question may arise: "Do you have to say something about it?". Actually, there's nothing wrong with just ignoring the fact that Bill is naked. Get in, have a seat and talk about the things you usually talk about. But this may cause a strange atmosphere, so we think it's better to just name it. You could break the ice with a little joke like "So this is what a real nudist looks like" or you could mention that you appreciate how comfortable he is with you. That's all fine. A new type of dress often asks for a compliment, this doesn't really count for nudity. A "Wow! You're looking gorgeous" might be a strange thing to say to a naked person. Or to hear when you're naked.
Important here to notice is that Bills front door is only an example, you could run into nudist friends everywhere. On that nude beach you weren't supposed to visit or a more accurate example could be in
the sauna
. You are nicely wrapped in a towel or a bathing suit and suddenly Jane (Bill doesn't like saunas) walks in and takes off her towel. It comes down to the same. No need to feel ashamed, no need to feel uncomfortable, say something about it if you want to but "Hey you look nice in that… ehm… skin" might not be your best choice.
One last thing we'd like to mention here takes us back to the beaches. Remember that we said that you don't have any reasons to visit a nude beach if you're not planning to get naked? Well, there's also a thing called "
clothing optional
" beaches. As the name says, clothing is optional. Although on those beaches it's also mostly appreciated if everyone (eventually) undresses, you don't have to if you don't want to. These beaches are perfect if you and Jane want to spend a nice summer afternoon together, she can be naked while you can wear a bathing suit. Maybe you'll get tickled by the idea and eventually decide to give it a try as well. Or maybe you've been thinking a lot about how comfortable she looked that other day in the sauna and you already decided that you want to be like that as well. Next time she asks you to join her at the clothing optional beach, you could surprise her by saying "Meh, can't we go to a nude one?"
SIDE NOTE: Any resemblance to a Bill or Jane you know is purely coincidental.
Naked Wanderings' Complete Guide for the First Time Nudist ebook

Do you still have questions about nudism or naturism?
Are you looking for even more tips and tricks?
Our ebook will be the perfect resource for you!

Learn More
Picture credit: The photos in this post are coming from Google and Twitter. If you find one of yourself and you don't want it to be on our blog, let us know and we'll remove it.
---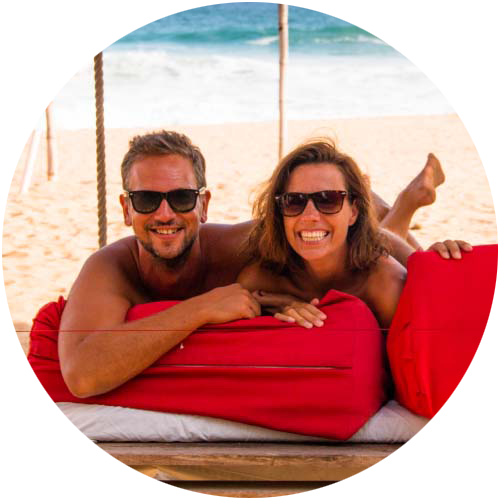 Support Naked Wanderings
Do you like what we do for naturism and naturists? Did we make you laugh or cry? Did we help you find the information you were looking for? Then definitely join our Patreon community!
---