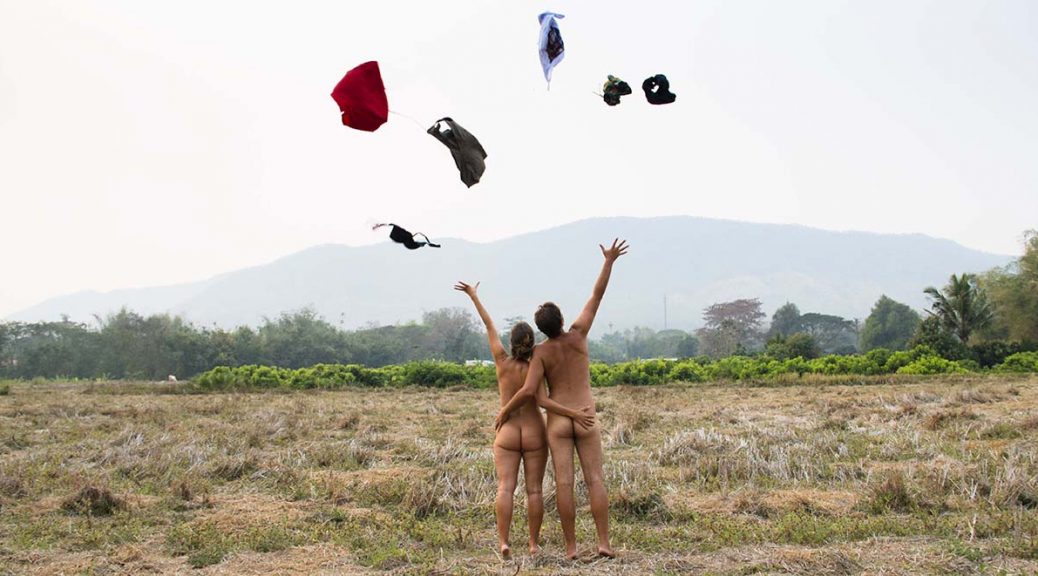 The Naked Truth: One Year of Nakations
The Naked Truth: One Year of Nakations
We roughly had an itinerary in our heads, but by now we can tell you that little of it remained to the original plan. And that's amazing! If we would have been able to predict everything that was going to come on our way for the next months, it would have been far less fun. The surprises, the changes, the people we met who gave us amazing tips for other places, it's all part of the game.
Travel is the way to open your mind
Until then, nudism had been very black and white to us. On one hand there was the textile world, which obviously didn't want to have anything to do with public nudity. They would think we were perverts for exposing ourselves to strangers and they would think that we were having huge orgies behind our fences. And on the other hand were we, the nudists, a struggling minority anxiously protecting our grounds. We would think of every clothed person that entered our beaches as a pervert, a voyeur, someone waiting for an unguarded moment to take a good look at our naked selves, or even worse, take a picture of us.
Nudism in culture and religion
This is where fate never fails to help us out. A couple of days before we were leaving to India our visas got rejected and we only had three days left on our Sri Lanka visa. We took a map, looked for the nearest country that we could enter without a visa and half an hour later two flights to Malaysia were booked. A Muslim country where social nudity was considered making porn. Our plan for Malaysia was to try again to get a visa for India, but meanwhile we hadn't been able to get naked somewhere out of our hotel room for quite a while and that was exactly what was not our plan for this trip.
New and old nudism
There came fate again. A friend sent us an e-mail that she was throwing a party in New York and that she'd love us to come. This was completely not in line with our original itinerary but it would provide a lot of options. Some time later we were crossing the Pacific ocean on a flight from Bangkok to New York. Meanwhile it was late April but the New York weather forced us into jeans, sweaters and jackets. This wasn't exactly a huge step forward towards more naked time.
A revolutionary experience and somehow we thought that we had found a modern kind of nudism, but then we got catapulted back to the time of the early nudist camps when the instructor started reading the rules. The obvious things like "don't stare", "you have to be naked" and "don't touch each other" passed by, but then more uncommon (at least to us) rules like "don't compliment anyone about their appearance", "don't ask anyone to have a drink after class" or "put down a red card if you don't want the instructor to touch you". Very specific boundaries were created. Quite uncommon for two young European nudists who had learned that freedom was an important pillar of nudism. But then again, most of these people were not nudists…
Nudist, naturist, clothing optional or …
California would be like Thailand all over again, moving from one nudist resort to another and spend as much time as possible being naked among others. When it came to the average age at the resorts, we were back to European style. Either we were the youngest or certainly among them. But when we went to the nude beaches we would see a much younger crowd.
One day we were sitting at a resort with the president of a local nudist club talking about how they struggle to gain new, younger members and the next day we would be on a nude beach with loads of twenty and thirty somethings. Where was the missing link? We had never felt this close to the answer to our initial question about what keeps youth away from nudism. But we could not touch it yet. Our grey zone had expanded even more. We had found out that there are nudists, textiles and clothing optional environments where both were combined, but now we also had people who loved to be naked but didn't call themselves nudists or naturists.
The nude trip around the world continues
Clearly, a conclusion we have to make about all this is that either nudism is completely misunderstood or that the definition of it is just not attractive and that people are finding new ways to accomplish pretty much the same. And what does that means to us, the western nudists? Unlike the Mexicans we do have a historical background in nudism, should we redefine it? Should we make it more attractive? Should we just drop the name and call it something completely different?
We don't have those answers yet, but we do feel that we're coming closer. Will we ever be able to answer the question about how to secure a future for nudism? We don't know. What we do know is that the time to go home has certainly not come yet, we have much more to learn and to experience. Maybe other parts of Mexico will teach us more, maybe we'll gain more insights in Canada or in France or maybe somewhere else. We keep searching for answers and we believe that fate will help us a hand where necessary.