Here in Benidorm, a beach town in Spain where we are staying at the moment, we are about 5 blocks away from a beautiful long and sandy beach. Yet, we barely spend any time on this beach. Instead, we take long walks or take public transport to get to
nude beaches in the region
, which are smaller and often less comfortable. Do we really hate clothes that much?
Not exactly. We don't mind clothes. In fact, we like clothes. They keep us warm and they look nice. Everyone will probably agree that there are different types of clothes for different occasions. We have winter clothes and summer clothes. We have clothes for work, clothes for parties, and clothes that we only wear when we're not planning to leave the house any time soon.
As naturists, we have realized that there's an additional layer to this. That there are times when clothes are just useless. Times when the appropriate dress is no dress at all.
The choice to be naked
You'll find a lot of opinions about when naturists are supposed to be naked. A popular saying is: "naked when possible, clothed when necessary". In some cases, this is pretty straightforward. When it's freezing and you're going to work, it's not really possible to be naked and quite necessary to put on some clothes. When you're on a nude beach on a warm afternoon, being naked is definitely possible and clothes are all but necessary.
There's also a large gray zone. At the end of last summer, we woke up one morning in our tent at a naturist campsite in France, and the temperature had dropped to barely 10°C. As soon as we came from under the blanket, we gathered pretty much every piece of clothing that we could find. Looking like Eskimos with the worst taste for color combinations, we got out of our tent. The first thing we see is a naked couple happily walking towards the bar for breakfast. Their walk past our tent proved that naked was definitely possible. But for us, clothes were very much a necessity.
We know naturists who literally have their closet next to their front door. As soon as they get home, they get naked. And they remain naked until the point that they need to go out again. When we get out of bed in the morning and don't really have anywhere to go, we also don't bother to put on clothes. But we definitely don't spend every moment inside naked, even though it's possible. Even though clothes are not necessary. Just because at that very moment we don't feel a need to get naked. Because to us, getting naked or remaining clothed is a choice.
The comfort of being naked
Of course, there are times and places where we'll jump out of our clothes from the first possible moment. Nude beaches are such places. First of all, because being naked is the
etiquette of nude beaches
, but also because clothes don't have any use on a beach. Instead, they only provide discomfort.
For us, wearing clothes on a beach is like showering in a bathing suit. If you've ever found yourself in a communal shower where nudity wasn't allowed or not really socially accepted, you understand the burden. Yes, it is possible to wash all your bits and pieces by just putting your soapy hand inside your bathing suit. Yes, with a couple of acrobatic moves, you can afterward wrap around a towel and change the wet bathing suit for dry clothes. But it does make you realize that life would be so much easier if you could just shower naked.
At the beach, the sand that finds its way into bikini bottoms and boardshorts that remain wet for hours after your last swim isn't going to ruin a good beach day. But if the option exists to avoid his, we happily take the opportunity. Even if this requires a long walk or a bus ride.
The discomfort of being naked
Last year in
Brazil
, we noticed an interesting phenomenon. A woman was sunbathing naked on the nude beach, then put on her bathing suit and went for a swim in the ocean. Once she came back to her spot, she took the bathing suit off again and continued getting an equal tan. This struck us as very weird because we think that skinny dipping is certainly one of the best things about naturism. Nothing really beats a naked swim. We started to worry that maybe there was something in the water that we should know about. But given the number of other naked people in the ocean, that probably wasn't the case.
The obvious explanation was that she was comfortable being naked while laying down in the sand, but that she didn't feel much for walking naked from her spot to the warm Atlantic waters. We've seen many similar cases over the years. In Europe, for example, it's very common for naturists to get dressed for dinner. Even at the restaurant of a naturist resort on a warm summer evening. When we enquire about the choice to be dressed, the response is most often that they just don't really feel comfortable dining naked.
The border between comfort and discomfort is different for everyone. Some people only feel comfortable naked when their body isn't moving. Others don't mind playing naked volleyball on the beach but find sitting naked in a restaurant one step too far. Personally, we didn't really enjoy our first naked yoga session. At least not at the beginning. Not that we didn't like doing yoga without any artificial restrictions, but just because it was hard to concentrate. It was hard to think about anything else than what views we were giving the person behind us.
Embrace your body to get the best of naturism
In the end, it's all in our heads. We didn't care about the naked yogi in front of us, so why would the person behind us care about our bodies? The people in the restaurant are the same as those on the beach, why would they think differently about you when you're eating than when you're playing volleyball?
It's all mind games, really. Before we
volunteered at a clothing-optional campsite
, the thought of being naked among clothed people was very daunting. Afterward, we felt more confident about our nudity than ever before. Before we took a naked yoga class, we were reluctant to do any sports naked, just because there's no control over our body movements. Once we got over our initial weird feeling, we realized that there was nothing to worry about. Not with yoga or any other activity.
Although we mentioned earlier in the blog post that being naked or clothed is mostly a choice, it is important to ask yourself whether the choices you make are what you really want, or whether it's just fear taking over. And there's only one way to find out: Just try it. Just try that walk from your spot on the beach to the sea. Just try that naked dinner or yoga class. Just try getting naked.
---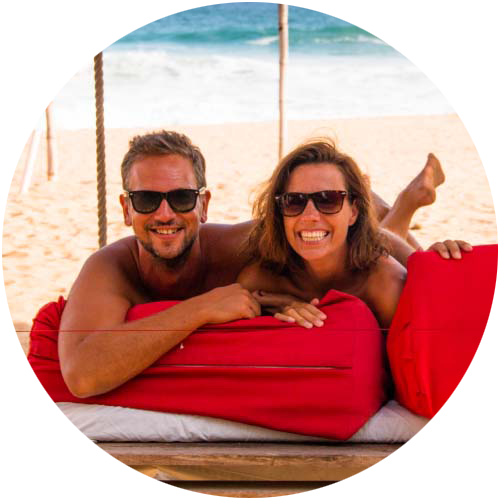 Support Naked Wanderings
Do you like what we do for naturism and naturists? Did we make you laugh or cry? Did we help you find the information you were looking for? Then definitely join our Patreon community!
---